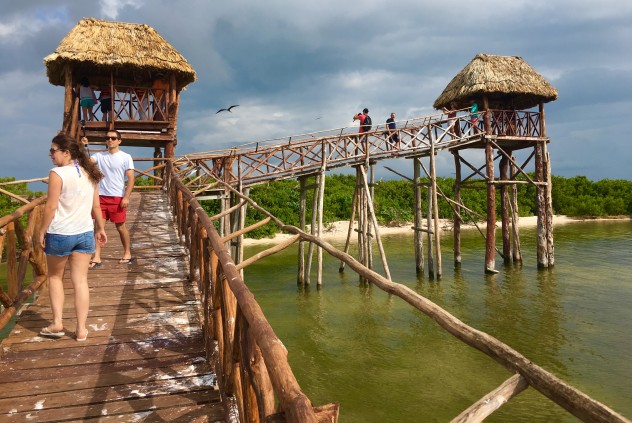 Holbox Island is a great place to visit for a few days. It is a peaceful and laid back island but after sunning on the beach and relaxing  you might want something else to do or see. You have limited options besides going on a whale shark tour when in season, visiting the cork forest on the mainland of El Corchal,  fishing or snorkeling at Cabo Catoche. Here is one Holbox tour that is a great option for seeing birds, the island and nature.
Isla Holbox Tour-3 Points Tour
This is the one of the main  Holbox Island tours. This tour involves going to three points around the Holbox Island. The three places you see are:
Bird Island (Isla Pajaros)
Passion Island (Isla Pasion)
The Yalahau Cenote
Here is what this Holbox tour is like
You will meet your tour and take off in a launcha (small fishing boat). Your guide will talk about the island and the places you will visit. These boats are equipped with lifejackets for you to wear.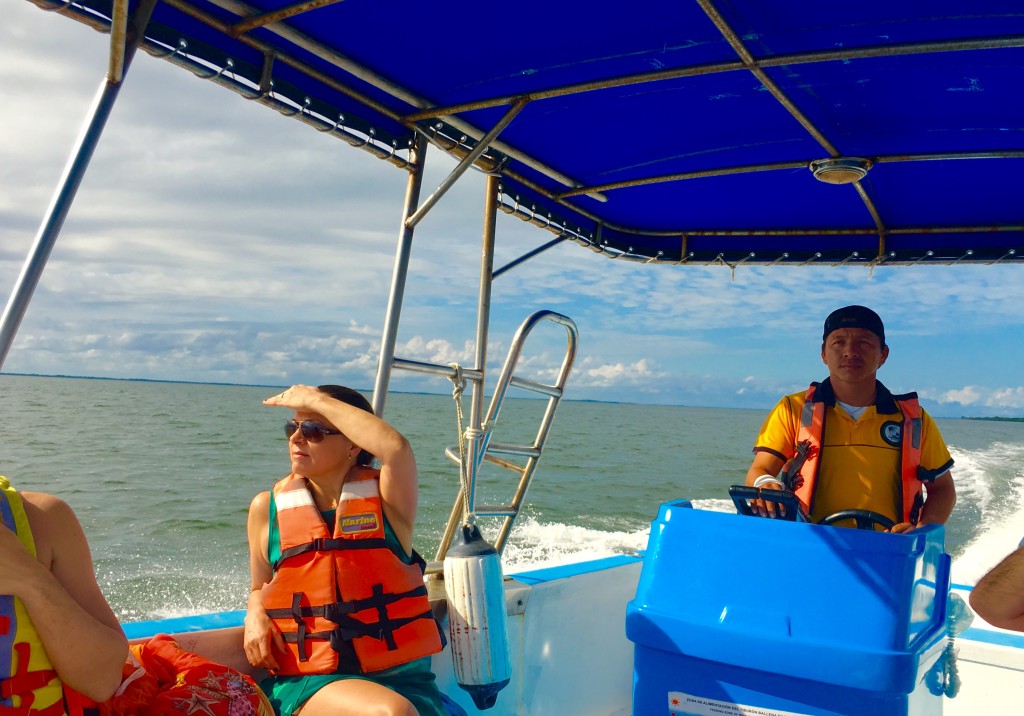 Bird Island (Isla Parajos)
First stop, Bird Island. This small island is the favorite landing place for many large birds. What is nice about this island is that you never touch ground. There is a dock with two observation towers. You can observe and photograph the birds without disturbing them.
You can see in the photo below species such as flamingos, cormorants, frigate birds, wild ducks, gulls, spoon bills, herons, white ibis, grey and white cranes and more. It is very interesting to see so many varieties of birds in one place.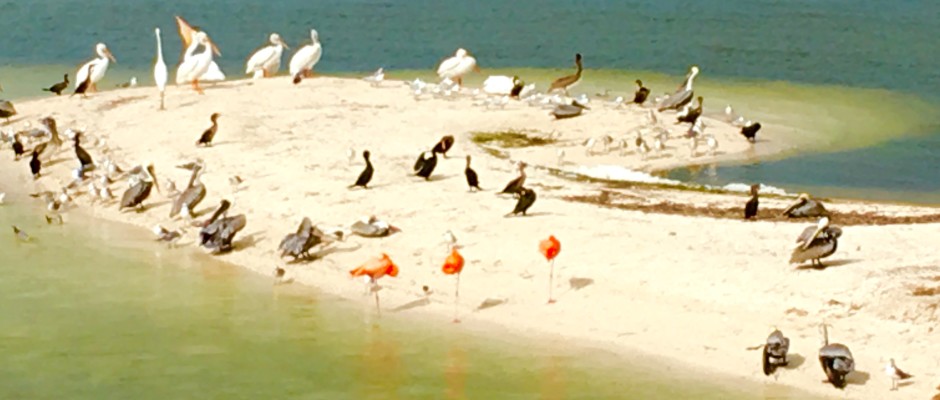 The short shrub trees are favorite sitting spots for the larger birds.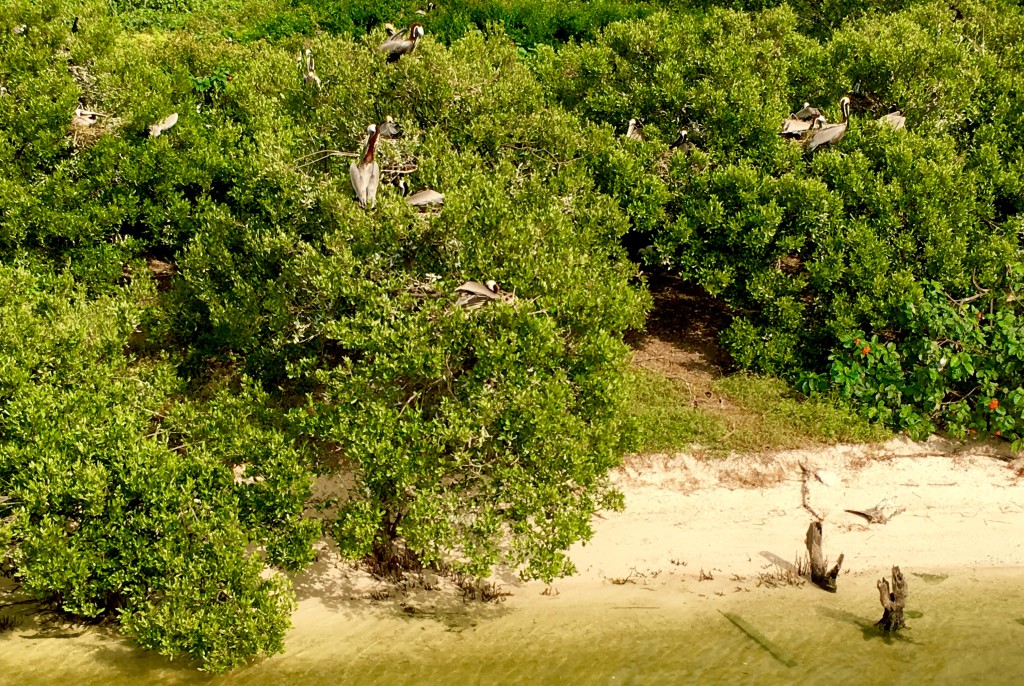 Yalahau Cenote
The next stop is the Yalahau Cenote. You will dock on the mainland and take a small path to this beautiful cenote. What is so interesting is  the water bubbling up in the center of it. Make sure you snorkel to see the hole in the middle where the water comes from!
There is a tower next to the cenote that you can go up in and see the grassland and mangrove area around here. It is pure nature and a beautiful vista! It almost looks like an African safari.
Sometimes at this stop there are locals that fry fish and sell drinks. This is where you can bring some extra money. You are guaranteed fresh fish here.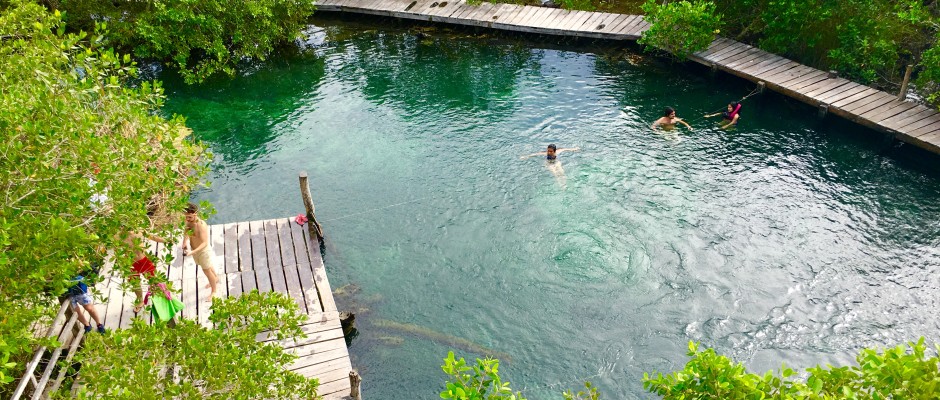 Flamingo Watching
After the cenote stop your Holbox tour will take you into some shallow water near the main island of Holbox. The water is so shallow there are birds walking around feeding. You can see groups of flamingos here among other birds.
The guides are careful to go slowly and maintain a proper distance so as to not disturb the birds.
Passion Island (Isla Pasion)
Then it is a stop on Isla Pasion. There is a dock with observation tower here. This small island is another favorite place for the local birds.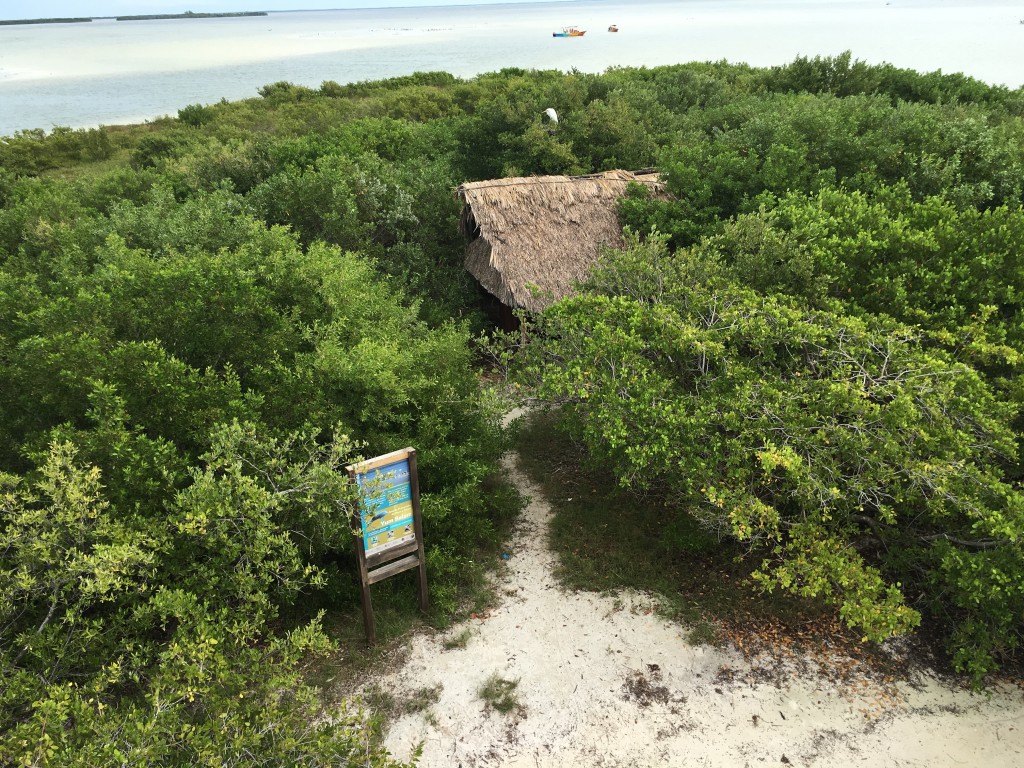 Tips for this Holbox tour
Biodegradable sunscreen and bug repellant. The areas you visit are natural and delicate. Therefore the biodegradable factor is important. The areas are also natural and can have mosquitos, so be prepared.
A towel for drying off after the swim.
10 pesos for the entrance to the cenote.
Optional money for a tip for your guide and snack if available near the cenote.
Sandals or water shoes. All landings are on docks. The path to the cenote can be muddy and you will be taking off your shoes for a swim in the cenote.
You own snorkel or at least goggles or mask so you can see under the water in the cenote.
Binoculars if you have some. It will enhance your visit.
Bag or waterproof pouch for your camera and cell phone. You will be on the boat and on land so you don't need a waterproof camera but if it rains or when you place your camera down in the boat or by the cenote it can be nice to have a waterproof bag.
Our Recommendations and review of this Holbox Island tour
This is a recommended tour to take to see parts of Isla Holbox you cannot get to otherwise. It is very reasonably priced and well worth it even if you don't get excited by the thought of seeing birds. This is a great way to support sustainable tourism and show that people want to see nature and not just have it built on or trashed. If the weather is good you will enjoy boating around the island. This tour really is one of the top activities to do in Isla Holbox. The guides are knowledgeable and you are guaranteed to see a lot of wildlife.
Where can you book this Holbox tour?
One tour operator on the island is Karma Trails. In Holbox you can book this from the front desk of the Holbox Dream Hotel in the center of Holbox.
You can also visit them online at: http://www.karmatrails.com/holiday_locations/holbox-tours/
Have you been on this Holbox Island tour? Let us know what you thought in the comments below. We would love to hear from you.