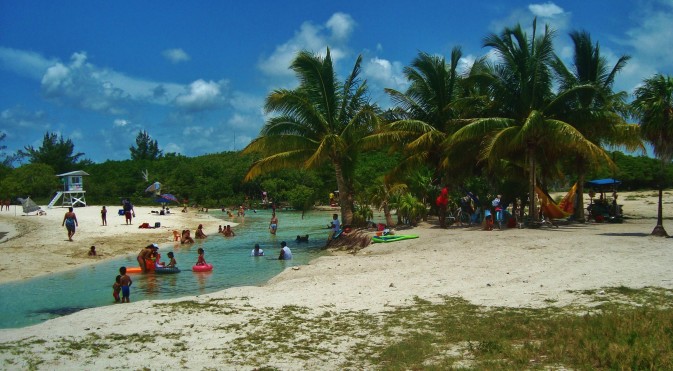 Local beach in Playa Del Carmen
Locals in Playa Del Carmen have been going to this beach for a long time. It is quiet, removed from the tourist area, beautiful and is a great place for children to play. This public beach access is located between two multimillion dollar projects. One being the Paradisus Hotel complex and the Marazul development.
What makes this beach so interesting is the cenote water that flows into the ocean. This cenote acts like a spring bubbling up and creating a small river. The pool of fresh water is large enough for many kids and adults to wade around in. It is no deeper then a meter and provides a great place for kids to swim around in.
Local families come to relax here in the evenings and especially weekend. Some bring a picnic others bring drinks and a hammock to enjoy a lazy day at the beach. There usually is one guy with a tricycle cart selling chips and drinks to those who did not bring anything. This is a great area to mix with the locals and enjoy yourself.
If you go to this beach, there is limited shade under a few trees. If you have kids, bringing some water toys would be awesome here. Make sure you bring what you need for the day in regard to drinks, towels, food and sunscreen because there are no stores near by. There are no bathrooms here. So plan on that.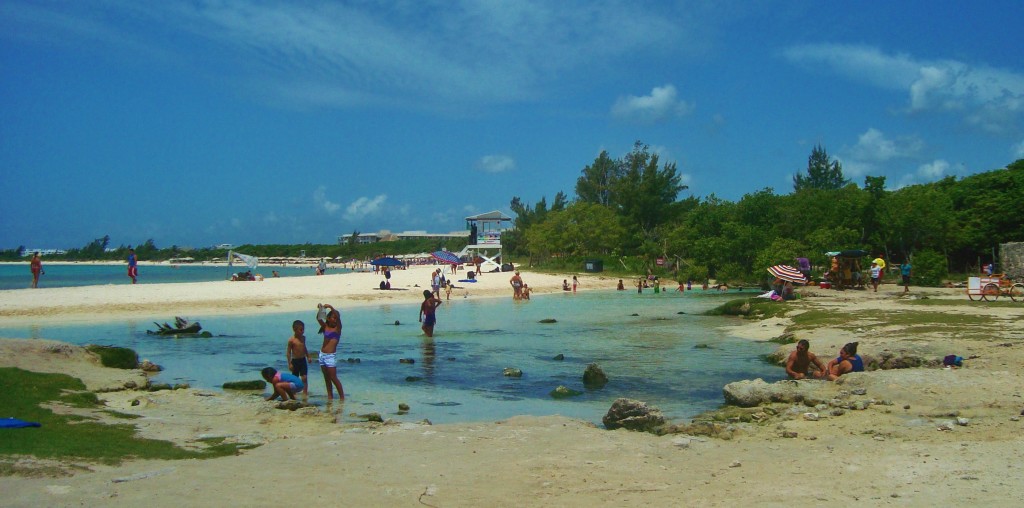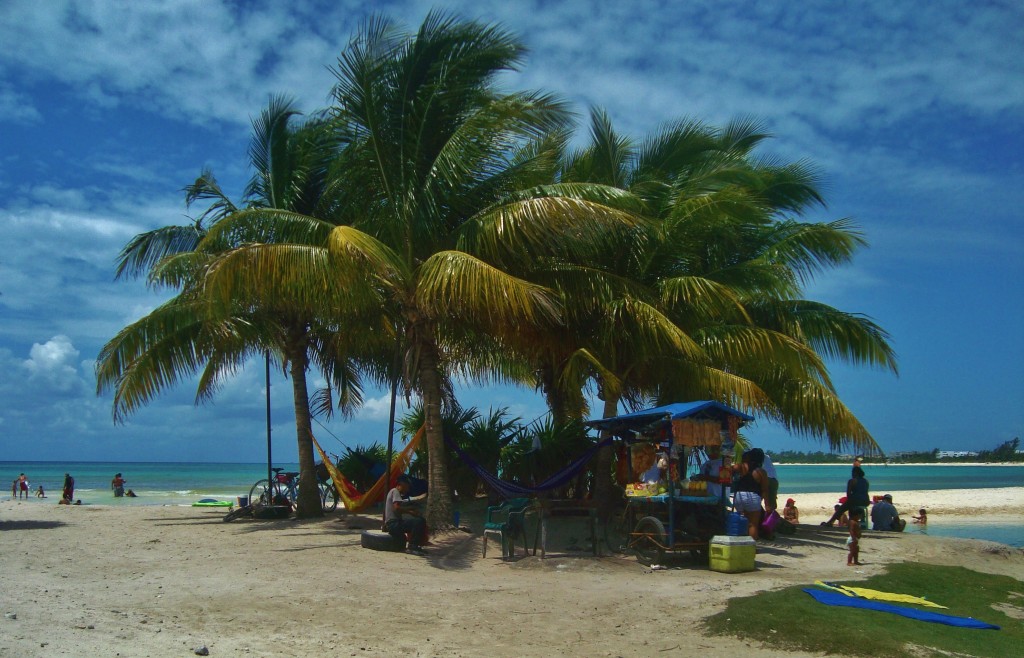 When to go to this beach
If you want to go to this beach without the crowds, timing is important. Most local families have time off on the weekend especially Sundays. The busiest time is Sunday from 11am-6pm when families come for a day at the beach. Saturdays are the second busiest day at the beach and it is best to avoid these two days.
Public holidays will also see a spike in visitors to the beach. During the biggest holiday in Mexico, Semana Santa, the road will be closed off to this beach because so many people will try to park there and it becomes overcrowded.
If your schedule allows, it is beast to visit during the week and before 4pm. This time is more quiet. After 4pm some of the locals that live nearby will come to the beach.
Directions on how to get to this local beach
Technically you can walk up the beach from the center of Playa. It may take you about 30-40 minuets to get there. You will pass the point where Canibal Royal is and the boats are parked in the water. Then there is a long stretch of fairly empty beach. You will pass the Paradisus Hotels with it's beach beds lined up on the beach. Just after that you will come to this secret beach.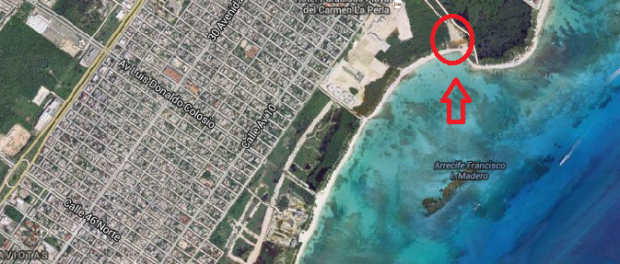 You can take a taxi. You can ask for the Paradisus Hotel entrance and then walk north on the road about 300 meters or ask for the public beach access just past the hotel. Taxis will usually not drive you down the road to the beach because it is a dead end and can get crowded with people trying to park and turn around. It is about a 5 minute walk down the road and will be on your right when you come to the end of the road.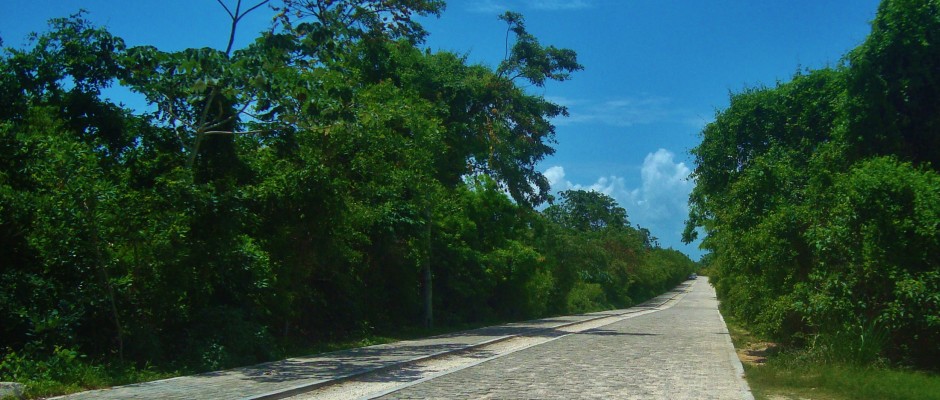 Walking on the streets you can walk on the new extension of 5th Avenue. From CTM Avenue to the beach will take you about 25 minutes. Walk until you pass the Paradisus Hotel and the entrance road will be on your right. Follow the road to the beach and the secret beach will be on your right side.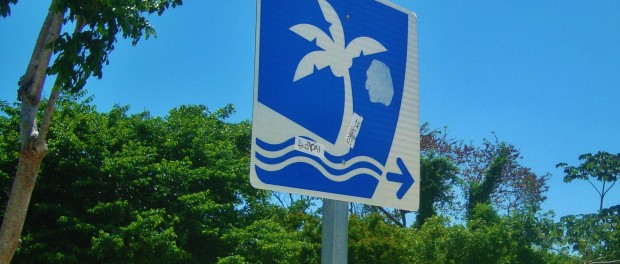 Tip: If you drive, the road for the beach access is narrow and is a dead end. There is one turn around spot at the very end. If you go on a busy day it might get congested with cars going in and coming out. If you arrive early go down the road and turn around to park facing going out. That way when it is more crowded you do not have to turn around and you can drive out easier.
Tip: It is better to park near the beach kind of within sight. Not that it is that dangerous but it is remote and sometimes cars get broken into. Don't leave valuable items in view. The police regularly drive down and sometimes park at the end of the road. It might just be the case in the past where some people get drunk at the beach on their day off and some mischief happens. Like we said, it is not a major issue just something to consider.
We hope you enjoy your day at the beach and don't forget, shhhh, don't tell anyone else about this secret beach. If you also want to know about the secret beach on the south end of Playa Del Carmen, check out our article here about it.