Are you looking for a nice beach to visit while in Playa Del Carmen? There are nice beaches all along the front of the downtown but you might like to know where this secret beach is so you can see what a natural beach looks like (see video below).
The Secret Beach of Playa Del Carmen
This beach is at the south end of Playa Del Carmen.  It does take some walking to get to but you will be rewarded with a remote beach that is naturally beautiful. You could just imagine this is what explorers first saw when landing on the shores here.
Since this beach is a hike, take some snacks and drinks with you ad make a nice day or afternoon of it. Stock up while in the center of Playa because there is nothing nearby and once you start walking from the Cozumel Ferry Pier south there are no good options to buy things.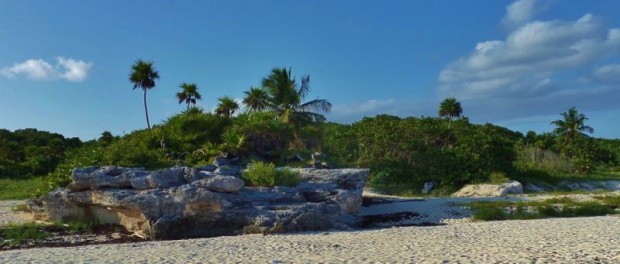 Help keep this beach clean
It is no secret that our oceans have a lot of plastic in them and this has to wash ashore somewhere. In this remote beach where there is no hotel staff to clean, there sometimes is plastic that washes up. This is not necessarily trash from here in Mexico but we do have to deal with it. Why not take a bag with you on this walk and pick up some trash to make it a nicer place. There are some trash cans near where the hotels end where you can deposit it.
Is it dangerous?
This beach is remote and out of sight from any hotels. All beaches in Mexico are public and you have the right to walk on them. However the land behind this beach is private and it is not allowed to trespass on this area. It is also a natural area with wild animals, so this is not a place to be going anyways. There are security guards for the land that walk the boarder of this property. They are not there for your security, but are there for the land. Since this is a remote public area on the beach it is not good to leave things alone while swimming since other people can walk by. Going alone for a walk is fine but some thought should be given especially to single women walking here when no one is around although we say this with not much alarm.
There is a sign near this beach from the hotels saying that you are not on a beach near the resort and to take care. This is a good reminder but this is not known as a dangerous area. So enjoy this remote beach!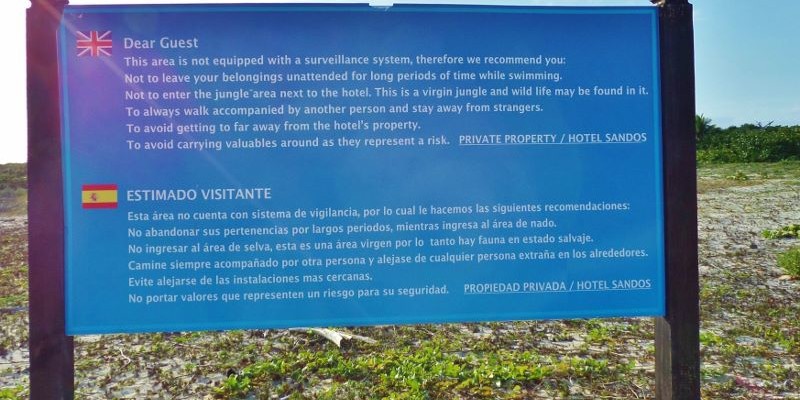 Directions
From the Cozumel Ferry Pier in the downtown of Playa Del Carmen you will walk south on the beach for about 45 minutes. You will pass all of the houses in Phase 1 of Playacar and the large resorts in Playacar Phase 2. After the last hotel you will need to walk just 15 more minutes to find yourself on this remote beach. One you reach the beach, it becomes rocky and after a while it is totally rocky and not really passable. Enjoy the beach before this point.
If this beach is not right for you, just search "beach" in the search box and see all the other amazing places to visit in Playa Del Carmen and outside of town. You can find cool beaches like the other secret beach in Playa where the locals go to have fun.
Here is our video we made about this beautiful beach


Have you been down to this beach? What did you think? We would love to hear your comments below.