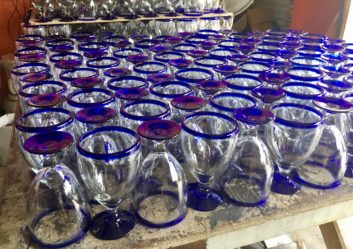 Vidrio Soplado Mexicano blown glass workshop in Playa Del Carmen
A very interesting place to visit in Playa Del Carmen is Vidrio Soplado Mexicano glass blowing workshop. Here you can watch glass blowing and making and shop. They make a wide range of Mexican glass items including the popular blue rim glasses and color speckled glassware.
Update: The store is still open in Playa Del Carmen. The workshop has moved to a new location near Puerto Aventuras. Here is our article about it.
If you buy here you not only will be getting good prices but also supporting directly to the craftspeople that make them. You will also be supporting recycling! All the glass used is old bottles from hotels like liquor bottles. They are all melted and made into beautiful glassware.
See our video below where we show you the process.
Our video introduction to Vidrio Soplado Mexicano workshop and store
We stopped by Vidrio Soplado Mexicano and went on a behind the scenes tour. It was incredible being up close to the action, and hot!
What is the process of making glassware and glass products?
There are many colors and glasses for sale in Vidrio Soplado Mexicano but the basic shape of many are similar. When production of one glass style starts, the team of craftsman work as a team. Each person has one step of the process they do.
In the center of the workroom is the furnace. This furnace is never turned off. It is 1150 degrees Celsius (2102 Fahrenheit). On each side of the furnace there are openings that the craftsman use to heat the glass at different stages.
The recycled glass is melted and then a glob of it is put on a pole. It is then blown to get the shape started. Then part of the stem is formed. Molten glass can be added for the base of the glass and then it is shaped.
If you notice in the photo below, there are workbenches that are specially made for glass blowing. Since the molten glass needs to be turned on poles, the worker sits and rolls the pole on the arms of the bench.
Here is a worker taking the hot glass on a pole to his workbench. He will roll the glass while pulling and stretching out the stem.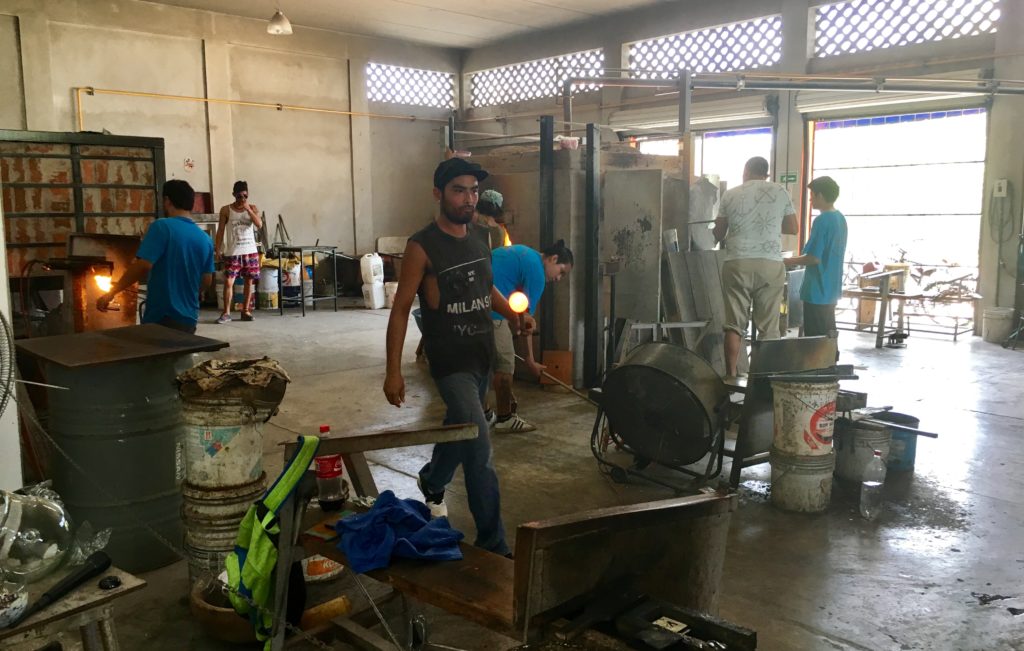 After the stem and base is formed it is time to get the rim formed. It is heated in the furnace again and then the final shaping is done.
The finished glasses get put into a second furnace. This furnace is 500 degrees Celsius (932 Fahrenheit). The cooling process starts overnight. The next morning the glasses are taken out and then gone over for quality.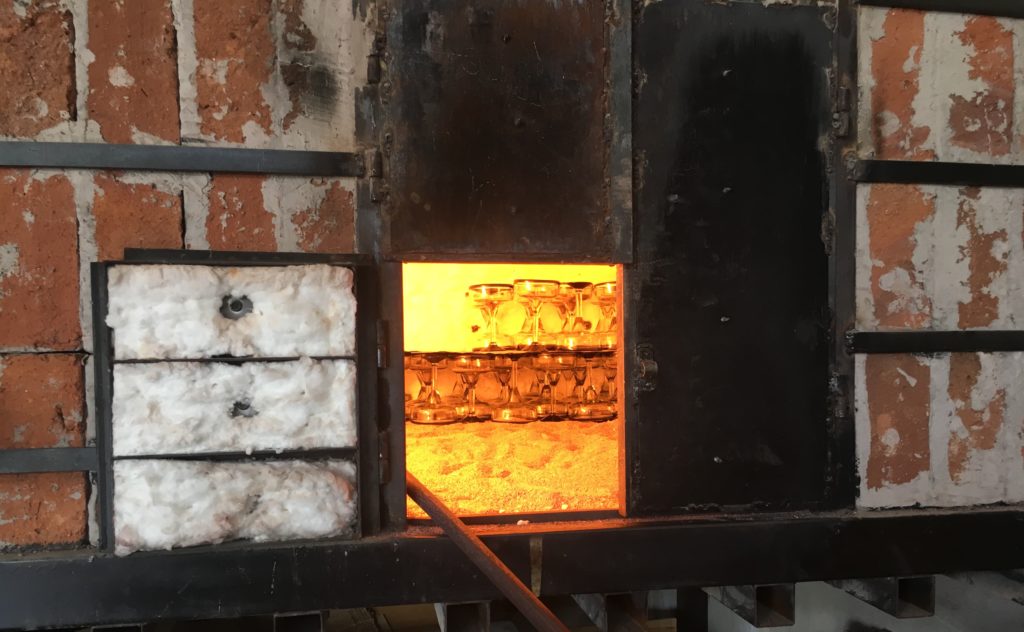 How much are blown glasses at Vidrio Soplado Mexicano?
Here are some sample prices for the handmade glassware:
Shot glasse $3 USD
Wine glass $5 USD
Juice glass $3 USD
glass bowl $6 USD
Water glasse $3 USD
Margarita glass $5 USD
Where is Vidrio Soplado Mexicano store?
The Vidrio Soplado Mexicano store and workshop is in the north end of Playa Del Carmen on the other side of the highway. If you take Avenida 28 de Julio to Avenida Chemuyil and turn right, then go about four blocks you will find the orange building on your right.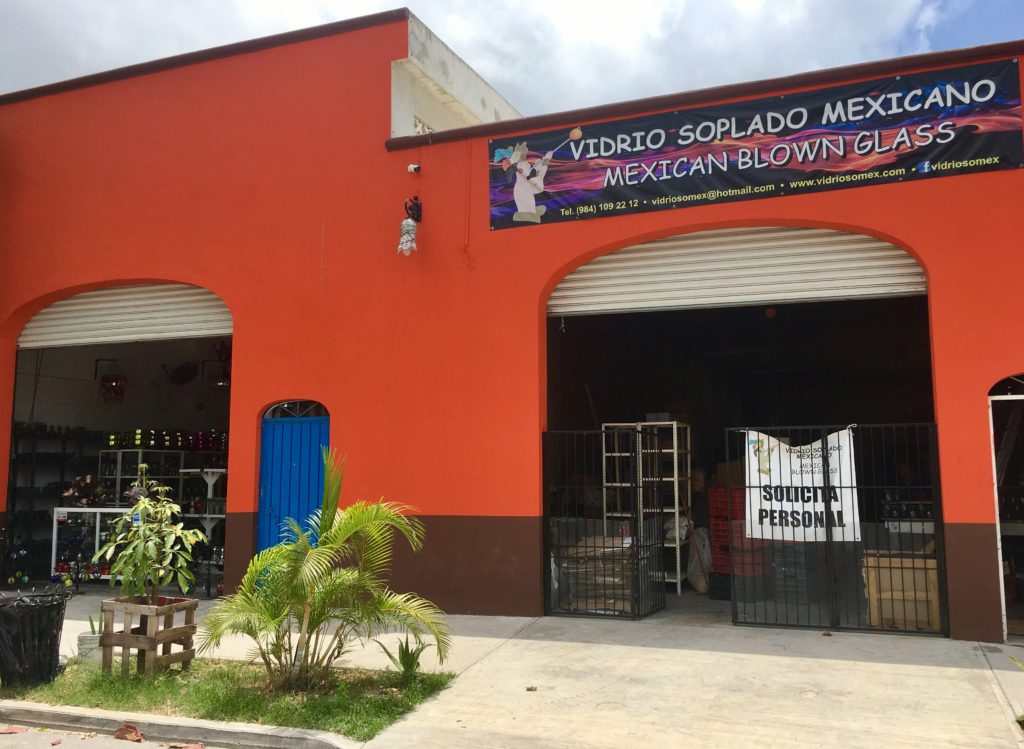 What hours is the glass store open?
Monday-Friday 10:00am-6:30pm, Saturday 10:00am-5:30pm, Closed Sundays
Telephone number
984-109-2212
Email address
Our recommendations for visiting Vidrio Soplado Mexicano
This is not only a great place to buy some glassware but it is also fun to watch the glass products being made. Visiting the Vidrio Soplado Mexicano store is also a good thing to do if it is raining. Once you look around the store you might just want to redecorate your house to accommodate some of their products or have a specialty item made for you. These are true craftsman and we love to share these type of unique places with you.
This is one of the unique places for shopping in Playa Del Carmen and you will find it one our guide here.
If you enjoyed learning about this workshop, you might also like to read and see the video about the handmade candy shop in Playa Del Carmen. Here you can go and watch them making unique candies.
Have you been to Vidrio Soplado Mexicano? What did you think? Let us know in the comments below, we would love to hear from you.