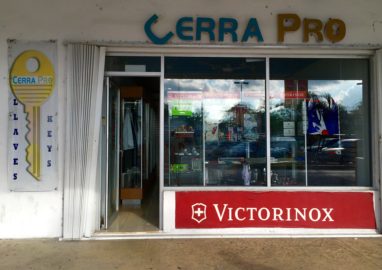 Do you need to finds a place to make a copy of a key or find a locksmith in Playa Del Carmen? Here are a few places to check out near the center of Playa and contact numbers.
In general it is about 15-20 pesos to have a key made.
Home Depot makes keys but some people have found they are not able to copy all types of keys. Below are places in the center where you can get keys made.
Map of where to get keys made in Playa Del Carmen
On the map above you can find places to get keys made. Most of these are small stands and have daytime hours. Click on the map for more of a description.
The one place on the map above that is in a storefront is Cerra Pro. they only make keys and are not a locksmith service. It is next to AKI supermarket in the same plaza on 30th Avenue. They are open Monday-Friday 9:00am-9:00pm, Saturdays 9:00am-8:00pm, Sundays 10:30am-7:00pm.
Locksmiths in Playa Del Carmen
Cerrajeria Nathalia
This small key shop is located on 30th Avenue between 24th and 26th Street on the west side of the street next to the bicycle store.
Services: Open your house, windows, installation of locks, copying keys, 24 Emergency service.
WhatsApp number 984-100-3915 Phone number 984-130-8690
Cerrajeria Alba
This is a small stand on 4th street. Felipe works here.
Services: He opens safes, cars, makes keys, and does home service.
Phone: 984-125-9458
Cerrajeria Ilco
This is the small stand on 6th Street. The man's name is Antonio Hernandez Campos. He has been around in Playa for years and run this small stand.
Services: Keys made, safes opened, cars opened and home services.
Landline Phone number: 984-108-8184
Buying new locks
Home Depot is one location you can buy new locks for your house or condo.
Jako is a smaller local store that has nice hardware and good quality items.
Boxito is a Mexican version of Home Depot. You can find this store on the highway and the corner of 34th Street.
Walmart and Mega, these grocery stores have basic locks and door knobs for sale.
Have you found a good locksmith in Playa or place to make keys? Let us know in the comments below.