Be Playa Hotel is one of the trendy hotels in Playa Del Carmen with a charming rooftop pool. This small hotel opens the roof to the public and is a great option for enjoying good music, drinks and a vista over downtown Playa. Here are the details.
Be Playa Hotel and Rooftop
Rooftop pools in Playa Del Carmen are just one of the good things about the city. These trendy spots are a bit of international flavor with sea breezes can make for a memorable afternoon of relaxing.
While most people are at the beach during the day, the rooftop pools can be quiet. These places get more busy in the late afternoon and even have  DJ's that will start playing some evening. Be Playa's roof is also a nice place to come even if you don't want a swim, it is all about lounging by the pool. Enjoying drinks at the bar and listening to music can be a highlight of your trip. This is very popular after sunset.  Locals also visit here and enjoy this spot,  so this can be considered an insiders tip to visit this place. The crowd here is mainly 24-45 years old and not really any children.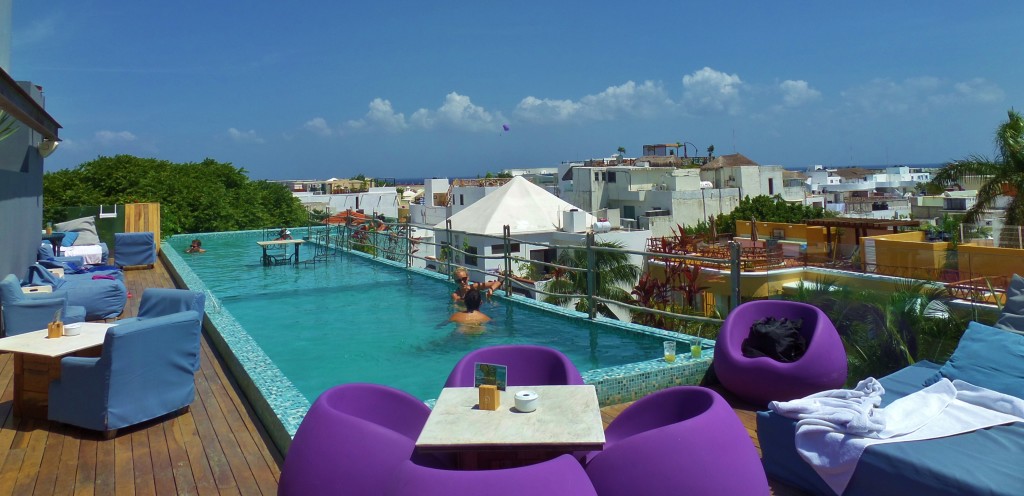 The Pool at Be Playa
The pool is small and not deep but it does provide a nice dip. One side of the pool has a glass wall overlooking the street which is cool. Towels are available but just in case they run out we suggest you bring your own. Lounge beds and chairs are also available. Although there are not a lot of lounges available here.   Small changing areas and bathrooms are available. There is not a lot of shade but you come for the sun right? It is usually not very crowded. Each time we have been there are about 8-14 people.
There is a minimum consumption charge of 250 pesos per person here. That is fairly easy to do since most drinks average about 110 pesos.
Drinks at Be Playa
Drinks are creative and trendy just like the rest of the hotel. Some drinks have a creative twist with mezcal. Prices for drinks range from about 80-120 pesos. They do offer selected drink specials 2×1 from 5pm -8pm.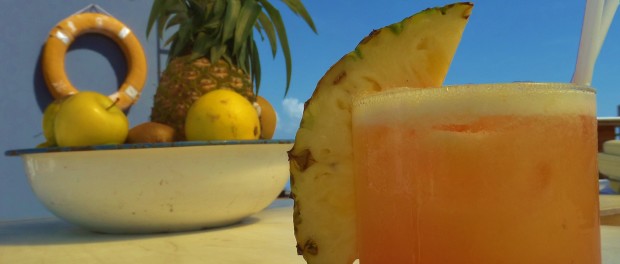 Other rooftop pools in Playa Del Carmen
How does this pool compare to others in Playa Del Carmen? Well  you can read our article on The Palm rooftop pool here. Another great rooftop pool is located at the Thompson Hotel on 12th Street.  Of the three mentioned here Be Playa has the lowest consumption charge at 250 pesos per person. Be Playa is the smallest pool and rooftop. The Thompson Hotel has the most elegant roof and best quality drinks. Both The Palm and the Thompson Hotel have equally great views toward the ocean.
Recommendations
Be Playa roof is good for more quiet days and perhaps going with a few friends because you might go there and not too many other people will be there. Be Playa is locally known more and you will be around less tourist. It is also the roof with one of the lower minimum consumption charges. Some nights there are DJ's here and you can have a small mini party which can be nice.
Note: Be Playa is also a hotel on our recommended hotel list because it is chic and since it is so close to 5th Avenue and the area of popular restaurants.
If you are curious about this hotel and want more information about the rooms, you can click the check price button below.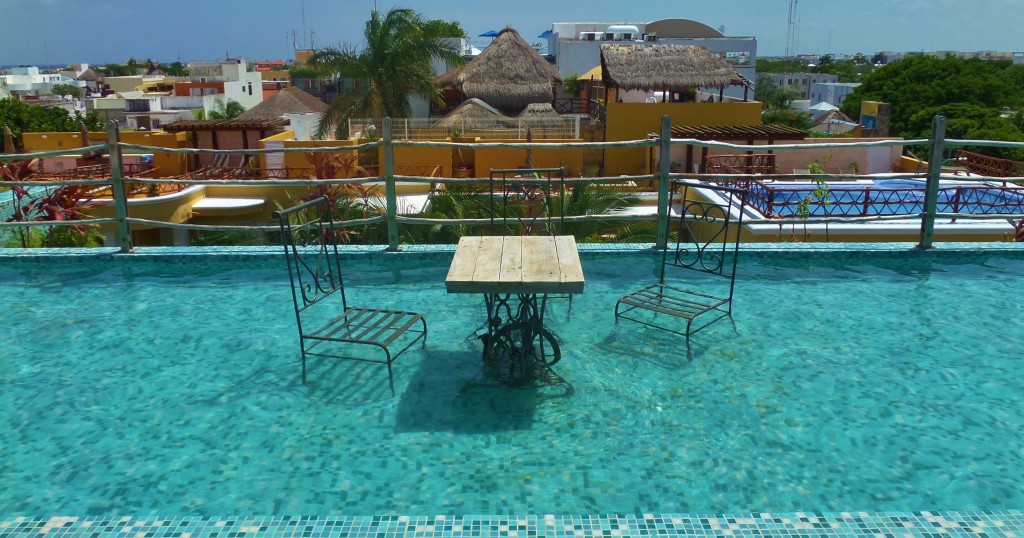 If you like finding out about rooftop pools in Playa Del Carmen, see our complete guide here.
Where is Be Playa Hotel?
Be Playa Hotel is on 26th Street between 5th Avenue and 10th Avenue. Entrance is on 26th St. You can take the elevator to the 4th floor or hike up the stairs.
Have you been to the Be Playa Hotel? What did you think? Let us know in the comments below we would love to hear from you.