Welcome to the 3D Museum in Playa Del Carmen!
Did you know there is a museum here now? The 3D Museum in Playa Del Carmen is one fun place you can go while visiting. This is a great option to get those Instagram and Facebook pictures your friends will love. This is also the first 3D Museum in the Americas. Here is what this museum is like.
What your visit will be like to the 3D Museum
When you arrive you can watch a movie about one 3D street artist and how he began. On the second floor you will take off your shoes to enter the area where the 3D art is. This is done to protect the art that has been printed and applied to the floors and walls. If you do not have socks, some will be loaned to you.
A guide will take you around the museum and show you all the best angles to take photos. At the entrance to each area there are also pictures that other people have taken. These photos will give you an idea of how to pose in the 3D art.
There are about 50 different works of art to have fun with. Expect to spend about 1-2 hours in the museum.
Tips for visiting
Make sure you charge your camera phone.
Wear socks or bring some.
Come with friends so you can have fun taking pictures together.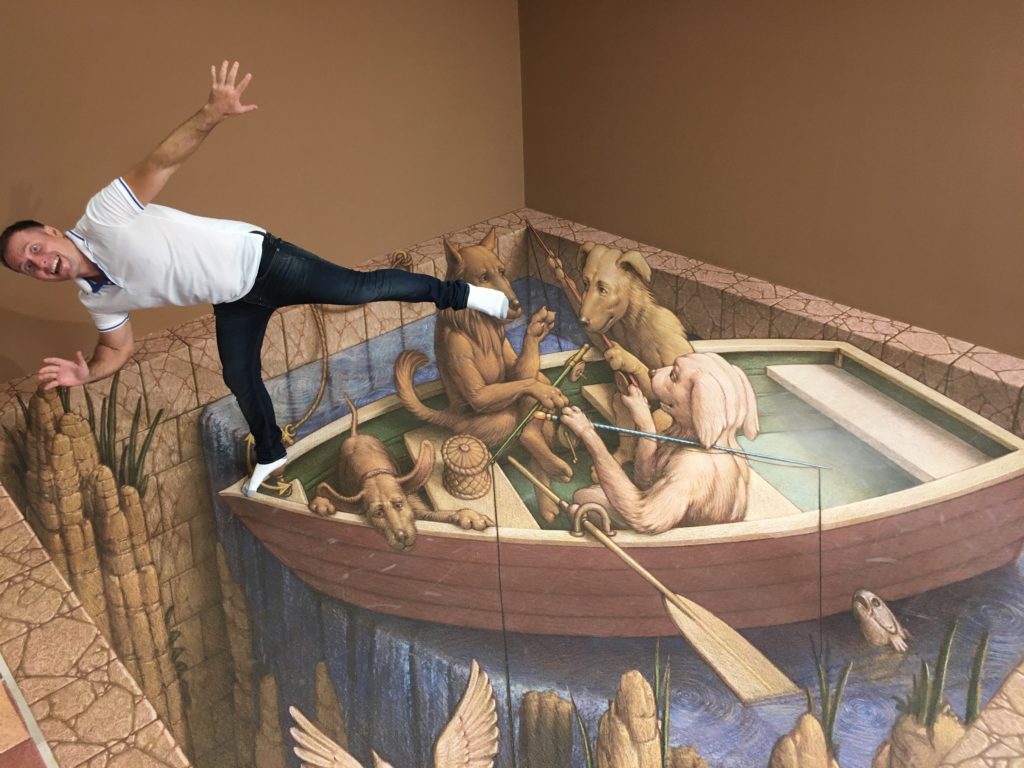 Our recommendations
For a fun time taking photos, this museum will offer you a lot of photo ops. If you are coming into Playa Del Carmen from one of the all inclusive hotels along the coast, why not make this a stop when in town.
If you are looking to get out of the sun for a while or if it is one of the rainy days in Playa Del Carmen, this is a good place to visit.
This is also a recommended place for children and on our list of things to do with young ones while visiting the Rivera Maya.
More details for visiting the 3D Museum
Location
The 3D Museum is in Plaza Pelicanos which is on 10th Avenue between 8th Street and 10th Street. The entrance to the museum is on the north side of the plaza facing the parking lot and 10th Street.
Hours
The 3D Museum is open daily from 9:00am-10:00pm.
Parking
There is free two hour parking in the lot next to the museum. The entrance is off of 10th Avenue between 8th Street and 10th Street.
Ticket prices
Children under 5 years old are free.
Children 5-12 years old are $25 USD.
Adults $30 USD.
50% discount for Quintana Roo residents on Sundays with ID.
50% discount for students and elderly with id. This promotion is available daily.
Purchase your tickets by clicking the button below! It is that easy!

Have you been to the 3D Museum in Playa Del Carmen? What did you think? Let us know in the comments below, we would love to hear from you.