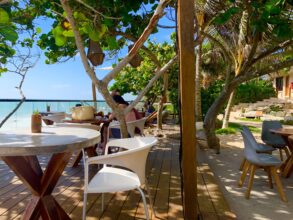 Is there a main street in Tulum?
What is the main street of Tulum? Well, there are two main streets that tourists collect on and some other streets that are up and coming. The original main drag is the 307 Highway that is the only road up and down the state of Quintana Roo. This is where the downtown has developed and along this stretch of road you find mostly tourists' shops and restaurants. The second main street or main drag to visit in Tulum is beach road on the south end, this area is also called the Hotel Zone. Here you can wander among thick palm trees and visit boutique shops which are dotted between boutique hotels. If visiting this area by car, be prepared for traffic and very few parking spots.
Another main street in Tulum is Avenue Coba. This is the road that was the original beach access road. This avenue is a principal way to get to the beach and has more and more businesses on it. The last main strip, and up and coming important street in Tulum, is Avenue Kulkucan. This is the second beach access road. This road will pass by two new areas of Tulum that are largely unbuilt. So, this is a street to watch in the future as Tulum continues to grow.
What is the center of Tulum?
When you visit a place, you often want to be in the center of everything. You don't want to be in the suburbs and have to commute to restaurants and places of interest. In Tulum the most important things are the beach, Hotel Zone, Tulum ruins, and the downtown with all the services.
Tulum has two "centers" where people gravitate to. It really depends on your budget (see our guide on where to stay in Tulum). The Hotel Zone and the downtown of Tulum are the two "centers" of Tulum. You can stay in the Hotel Zone and never leave, or you might stay downtown and only visit the beach once while in Tulum. Both centers have a lot to offer, and most people visit each one at least once on vacation.
It should be noted that the distance between the downtown and the Hotel Zone is about 3 kilometers or more depending on where you are going. So, it does require some planning. You might want to rent a bike, or it is possible to walk, but it is far. Otherwise, you might want to take a taxi or other transportation option. See our guide for Tulum transportation here.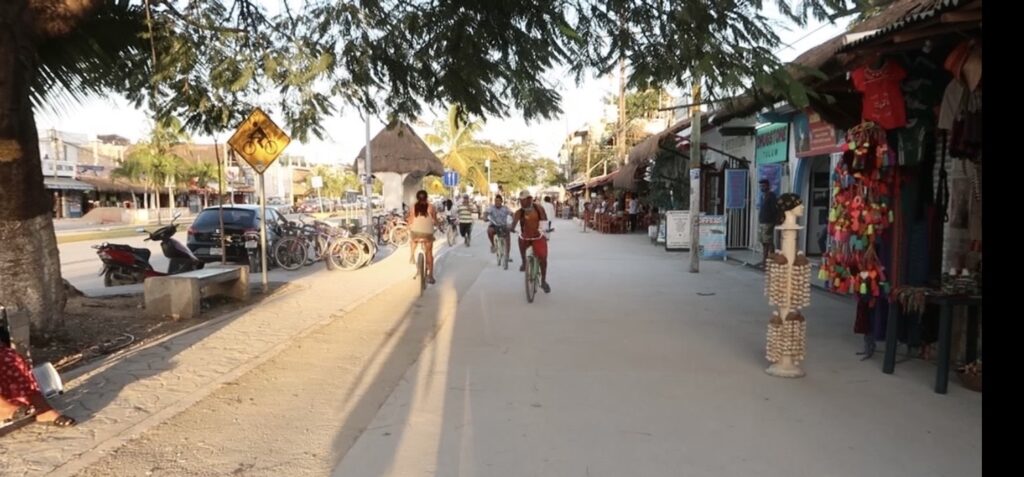 Our map of Tulum for you
We like making maps for readers because they can help you visualize the area and show you different things. On this map of Tulum, we have added several layers.
The largest shape that is dark grey is the area of Tulum that is bikeable. It is fairly easy if you stay in the center of Tulum to bike to the beach or cenotes just outside of town. We don't recommend biking any further because the roads are two-lane, or a four-lane highway and it is not really safe for bikes. Renting bikes in Tulum is very popular and easy to do. Many hotels have bikes for rent or use and there are many bike rental places in Tulum.
The darker orange represents the main streets of Tulum where you will see the most things. There is an "L" shape in the downtown that also include part of Avenida Coba that leads to the beach. Here you can find many of the restaurants and businesses for tourists. The main grocery stores are also found in this area.
The second orange area is in the Hotel Zone of Tulum. This area is where you can find the better hotels and beach clubs.
The yellow area is the areas of Tulum where you can walk easier. This area has sidewalks or space for bike and walking paths. This area included the downtown, beaches, and going to the Tulum Ruins site. Some parts of Aldea Zama are walkable but most people drive to this neighborhood and walk around. If you want to walk on the beach, this is possible but not all at once because of rocky portions that have no beach. It is also important to note that all beaches in Mexico are public but access to the beach is limited. Some areas of the Hotel Zone have very few points where you can access the beach. So, if you want to walk on the beach on the south end of the Hotel Zone, make sure you know where you can enter and exit the beach. If you stay at a hotel or visit a beach club, these will have access to the beach.
Where can you walk in Tulum?
If you are like me, you probably like to get out and walk on vacation. It is a slow way to pass by things and be able to visit small stores and take pictures without having to park and make a major stop. Tulum is a new town, so it has been developing. This means that it still does not have all the infrastructure it needs. Tulum has developed especially fast in the past decade, and you will notice that sidewalks are missing in some places and in general people don't walk large distances in Tulum because it is not that walkable. However, you still can walk some places and we have made a map that will help you get around Tulum.
Here are 6 places to go walking in Tulum
The main street through the downtown of Tulum is the 307 Highway. It has sidewalks and crossings to make walking easier in the center of Tulum. Towards the south end there are less sidewalks, and it is less pedestrian friendly. Also, about two blocks on either side of this road you can find touristic places like restaurants and shops.
Walking to Tulum ruins. Since most people plan a visit to the ruins, you might want to bike or walk there. It should be noted that the parking for cars is paid for, so walking can save you some cash. It is a little bit of a walk and when it is hot, you might want to take a taxi one way. There is a sidewalk all the way from the center to the ruins.
Avenue Coba is the street that goes from the center of downtown Tulum to the beach. This is the original beach access road. There is a bike lane on one side, and it is very walkable. It is a long walk to some of the beaches, but it is possible to walk this area. You can find stores and even the largest grocery store on this stretch or road.
Walking one of the best beaches. The north end of the Hotel Zone is where most of the public beaches are that are good. Here you can find beach bars and some restaurants. Once on the beach you can walk north and south for a way. You can walk north all the way to where the ruins start but no further because the rocks block the beach.
The south end of the Hotel Zone is where you find the nicer hotels and beach clubs. Along the road you can find many boutique stores and restaurants. This area is very narrow and has two lanes of traffic. It often gets crowded with traffic and walking is limited to the side of the road because there is no real sidewalk. However, many people staying in the Hotel Zone stroll up and down this area.
The beach on the south end of the Hotel Zone. Beaches are public in Mexico, however access to them is not allowed unless it is public access. There are limited entrances to the beach on the south end, but once you get onto the beach, you can walk all of it. Just a note, Azulik Hotel has a rocky outcrop so you cannot really walk in front of this hotel. So, you are better off walking the beach south of Azulik.
Thank you for reading our article about Tulum. If you are planning a trip to the area, be sure to check out our guide to activities you can do in the area of Tulum and also how to best get from the Cancun Airport to Tulum.