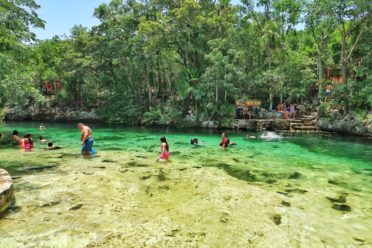 Cenote Yax Kin
Cenote Yax Kin is a beautiful cenote with crystal clear waters. It is located between Playa Del Carmen and Tulum in the Riviera Maya. The cenote is a recently open cenote to the public. It is well landscaped and a nice place to spend an afternoon. Since it is less known and a little further away, you will find more locals here then tourists.
Since some of the more popular cenotes like Cenote Eden, Cenote Cristolino and Cenote Azul have become more popular and raised their prices, this cenote might be a good alternative. The water on one side is pretty clear as you can see in the photos. It also has a nice shallow area for entry and for kids to swim in.
What Cenote Yax Kin is like
The cenote area is large and in a circle. On one side is the crystal clear water to swim in with a shallow entrance. The trails lead around the cenote where there are tables and places to grill. The back side is more like a pond. The water is darker here and more of just a place to see then swim.
Like everything on our website we like to experience it. We visited this cenote and made this video of what it is like to go here.
Services at Cenote Yax Kin
You can rent life jackets, snorkels, hammocks and kayaks. There are area for picnics and grilling. Bathrooms are available. Parking is free.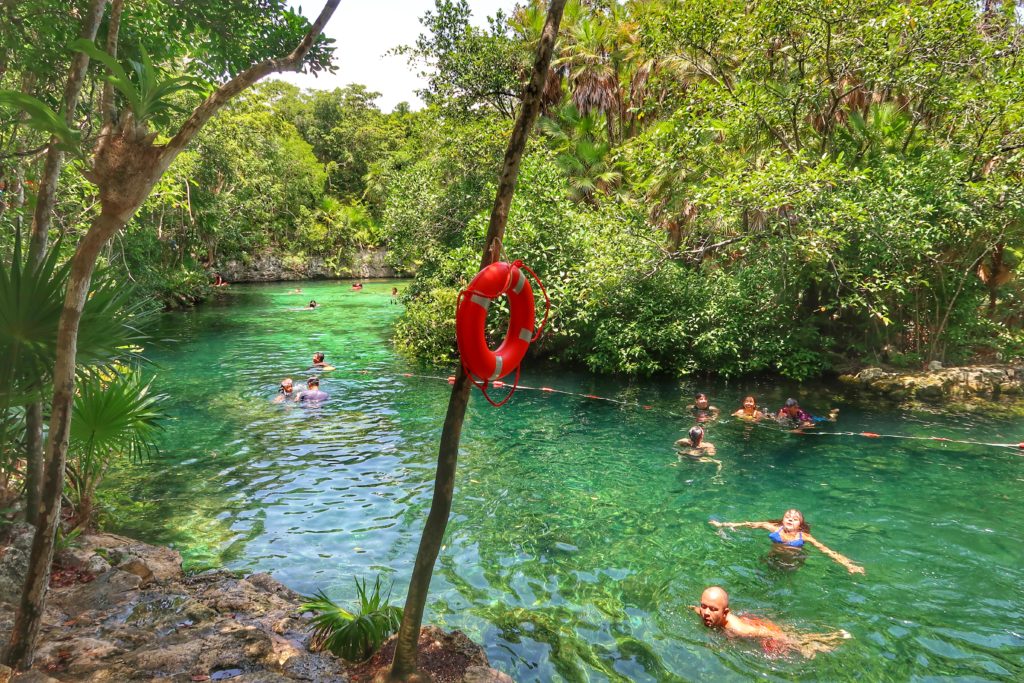 What to bring to this cenote
Bring towels and certainly a swimsuit to jump in! You might want to bring biodegradable bug spray since there can be moquitos in certain seasons. Don't bring regular bug spray if you are getting into the water. This contaminates the water and damages the eco system. No sunscreen is allowed here. Some cenotes allow biodegradable ones but this cenote does not.
What is the entrance price to Cenote Yak Kin?
General admission is 120 pesos. Quintanarroense 100 pesos. Children ages 4-8 are 80 pesos. See the Cenote Yak Kin Facebook page for all the details.
Note: Midweek is usually the best time to visit cenotes since most locals have off on Sundays and cenotes can be busier.
Hours the cenote is open
Open daily from 10:00am-5:30pm.
How to get to Cenote Yax Kin
Cenote Yax Kin is on the 307 Highway between Tulum and Playa Del Carmen. It is an 18 minute drive from Tulum and 41 minutes from Playa Del Carmen. The more exact location is just south of Xel Ha and Dos Ojos Park. It is on the west side of the highway. You will see a sign and small building at the entrance where you pay.
Note: If you are coming from Tulum you will need to pass the entrance and take the next return to go back down the west side of the highway.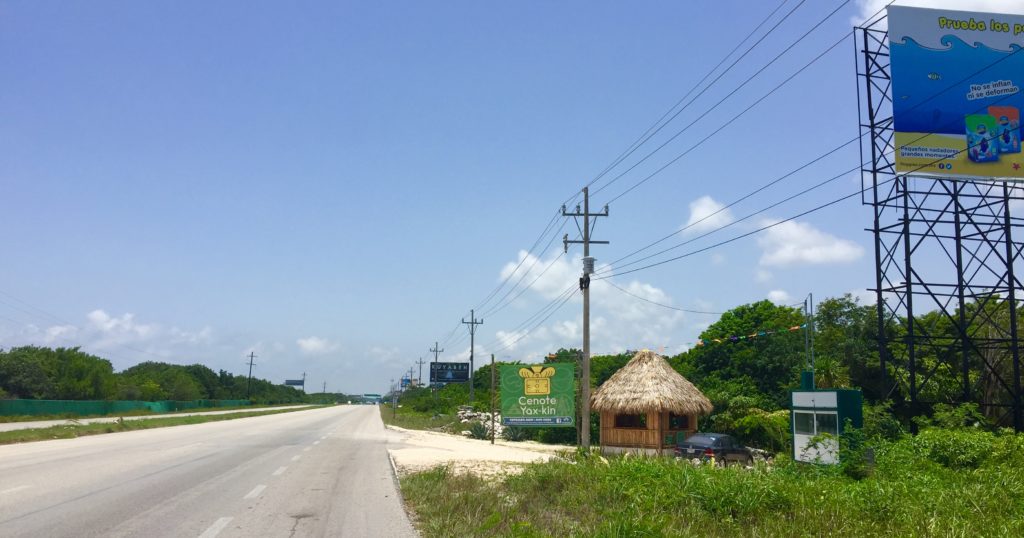 Public transportation to Cenote Yax Kin
If you are staying in the Riviera Maya anywhere from Tulum to Playa Del Carmen, there is a colectivo service that runs on the highway. This van service will pick people up from all points and drop you where you want to go. For more about the colectivos and where to get them, see our article here.
From the highway you will need to walk about 10 minutes to the entrance of the cenote. It is well marked.
Note: ADO busses do not make stops between cities so this is not an option. Taxis are possible but often much more expensive then the colectivos.
If you like visiting cenotes and discovering new ones, see our Riviera Maya cenote guide here.
Have you been to Cenote Yax Kin before? What did you think? Let us know in the comments below, we would love to hear from you.