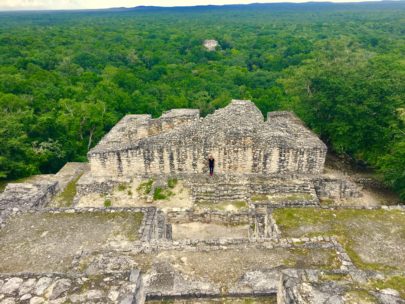 What is it like to visit Calakmul Mayan Ruins?
Calakmul ruins are not known to many people. The amount of daily people sure gives evidence of this. Compared with Chichen Itza which gets over 3,850 people a day visiting, Calakmul ruins gets about 60 people a day! This is pretty amazing because the site of Calakmul is larger and in some ways more amazing. Here is why.
If you think the iconic "castillo" or main pyramid of Chichen Itza is big, well compare it to Calakmul. The pyramid in Chichen Itza is 98 feet tall or 30 meters. The main pyramid of Calakmul is 148 feet or 45 meters tall. This makes the pyramid in Calakmul 30% taller!
Other interesting things about Calakmul are:
The amount of wild animals you can see. You can see wild turkeys, tropical birds, tarantulas, foxes, monkeys, and more!
You are in the Reserva de la Biosfera Calakmul which is a nature reserve.
Most likely you will never feel so remote from civilization.
There are many structures here including tall pyramids. In the video below we point them out to you.
Guides and history of Calakmul
Since these ruins are not visited that much, you most likely will not find a guide available to take you around. It is best then if you read up on the history ahead of time. Also take note of the map at the entrance so you can plan your walk through these Mayan ruins. For more reading on the history of these ruins, see the Wikipedia article here.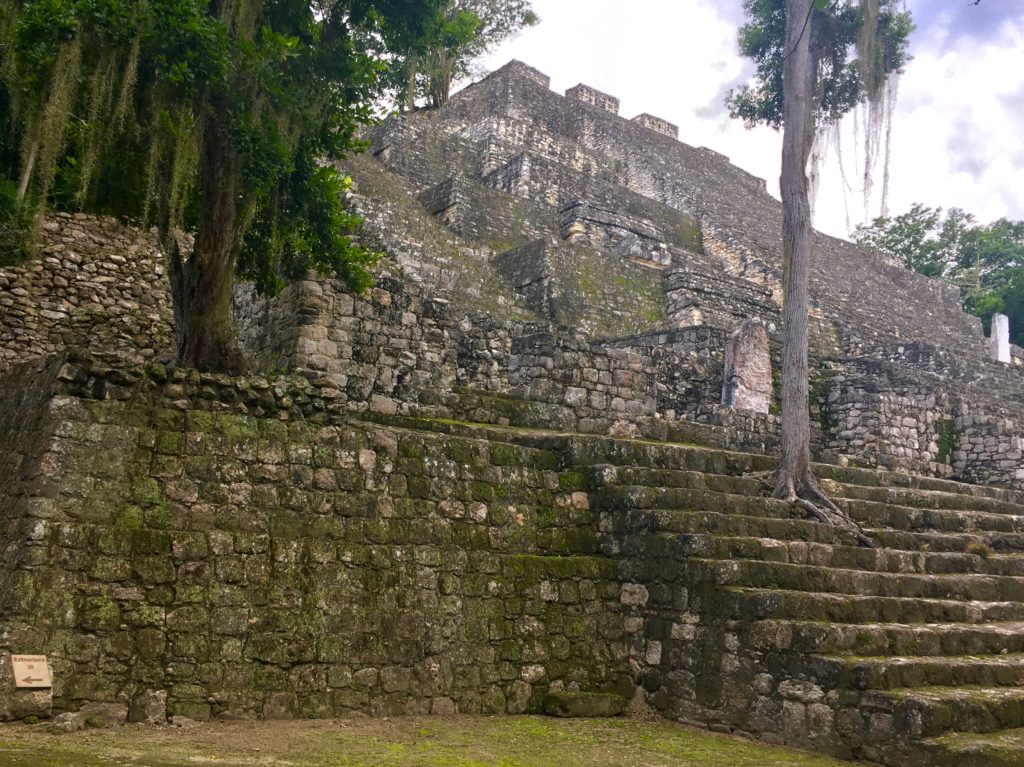 Our video tour of Calakmul Mayan ruins
We can write about visiting Calakmul but it is always nice to see a video as well. This video of Calakmul ruins should give you a little better sense of what it is like to visit.
What is the entrance cost of visiting Calakmul ruins?
There are three fees you need to pay for entrance to Calakmul. Here are the total cost.
The first fee you pay is at the entrance of the 186 Highway. This is 40 pesos per person. This fee goes to the local community.
After driving 20 kilometers down the road you will come to the entrance booth to the ruins. This is the national park fee. This is 65 pesos per person.
Once you get to the ruins, there will be a small welcome center. Here you pay the entrance to the ruins and get the official ticket. This is 55 pesos.
So the total cost per person of entrance is 160 pesos.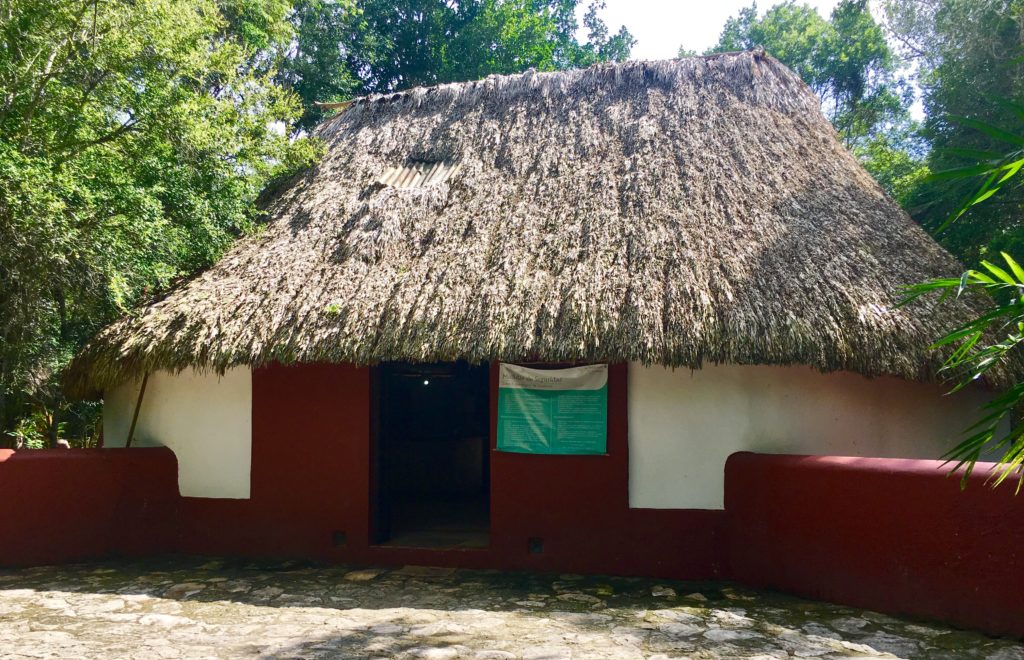 How to get to Calakmul ruins?
These Mayan ruins are not the easiest to get to but they are rewarding for those that make the trip. As you can see from the map below, Calakmul ruins is almost in Guatemala and near the bottom of the Yucatan Peninsula. At any rate, you will take the 186 Highway to Calakmul ruins.
What this map below does not show you, is the small road from 186 that parallels 269 from Xpujil. Do not take the 269 route. You will find the turn to Calakmul ruins closer to Chicana town (also spelled Chicanna). There will be large billboards next to the entrance.
You will see a toll booth and here is where you pay the first entrance fee for the community (40 pesos per person). After this toll you will go 20 kilometers to the next toll where you pay another fee for entrance. After this toll booth you will travel another long 40 kilometers to the visitors center of Calakmul ruins.
The 60 kilometer road from the 186 Highway has recently been paved! This makes visiting here much more easy. It was a very bad road and made the trip really slow. You still can drive slow to watch nature here. You can see many animals and birds if you keep your eyes open.
Where to stay or plan your visit to Calakmul
Since Calakmul ruins are so far from most things, you will need to do a little planning. Here are some suggestions to you for routes or plans to incorporate when planning a visit.
If you are staying in Bacalar, this can make for a full day trip. Be sure to visit near by ruins of Kohunlich, Dzibanche and Kinichna.
Perhaps you are driving from Quintana Roo state to Campeche, this can be a stop or overnight stay.
If you are coming from the coast you can stay overnight at some of the hotels that are around the entrance from the highway or camping which is a little closer to the entrance to Calakmul ruins.
It should be noted that the hotels and places to stay are not near the entrance of Calakmul ruins. It is best to have a car so you can get around. From some of the hotels it still can be over one hour in transportation time to the Mayan site. To see what hotels are nearby and prices, see the link below. This area has some very affordable options.


What are the hours of Calakmul ruins?
The ruins are open daily from 8:00am-5:00pm. Bearing this in mind, you need to get to the turn from the highway at least by 3:00pm because the road is so long to the entrance it will not leave you much time to see the ruins.
If you are interested in visiting more Mayan ruins in Mexico, see our guide here to see more options.
Have you visited Calakmul Mayan ruins? Let us know what you thought in the comments below. We would love to hear from you.