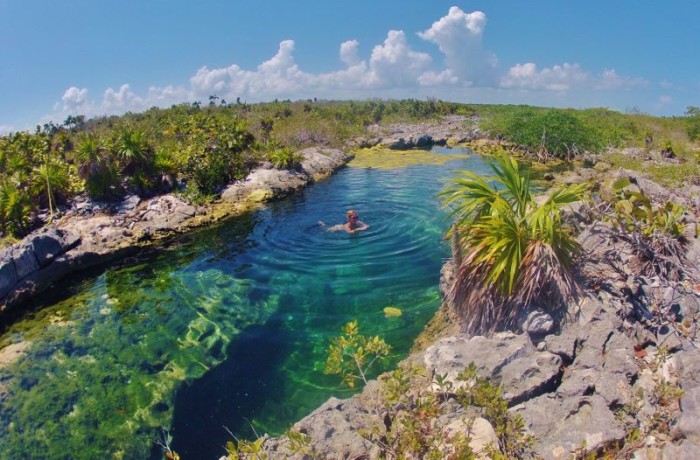 Akumal is a town about 20 minutes south of Playa Del Carmen off the 307 Highway. Here you can find the Yal Ku Lagoon. This area is an inlet from the ocean and the salt and fresh water mix. The calm turquoise waters are home to sea turtles, tropical fish and manta rays. This place makes for an nice afternoon of snorkeling.
Some tour companies offer this but you can also do this on your own if you like as you can read below.
Yal Ku Lagoon
Yal Ku Lagoon is very organized and clean by two companies that each have their own entrance to the lagoon. The first one is smaller and is the left two blocks when you get to the end of the Akumal beach road. The other is at the very end.
When you pull into the parking lot you are greeted by a guard that explains what the park is and what is permitted and what is not (you cannot bring outside food and drink nor can you use non-biodegradable sunscreen). You will pay and get a bracelet to wear. There are changing areas, bathrooms and lockers for use.
See our video introduction to Yal Ku Lagoon in Akumal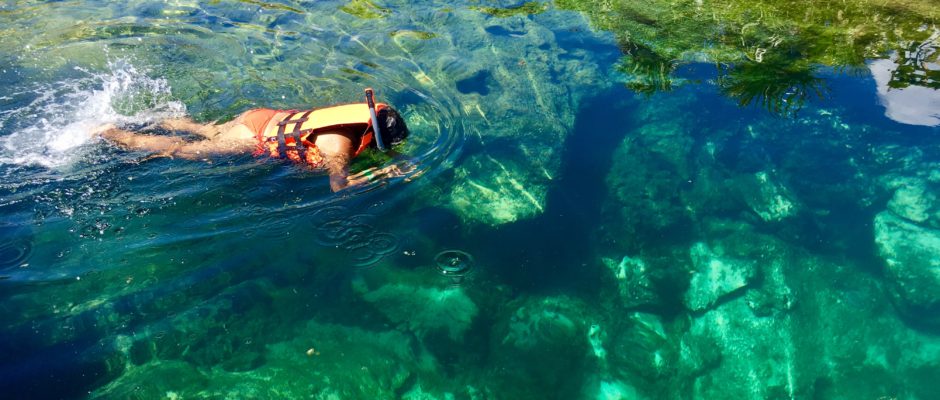 What you can find at the second company for Yal Ku
There are small palapas to rent and they come with hammocks. They are designed nicely because on one side they have some privacy from the trails. These palapas (open cabins) make for a nice place to shade your group and spend the day lounging around and enjoying the view. There is not too much shade or sandy spots to lay out besides the cabins so make sure you plan on being in the sun while here.
When you walk to the lagoon you will see many bronze statues. This is a nice statue park and even around the lagoon you can see some of these works of art. These are a nice addition to the park.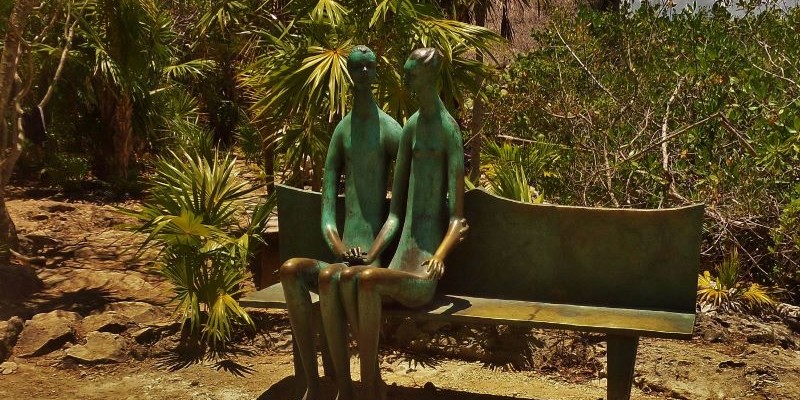 Because the second company has the cabins and is more centrally located on the lagoon, we prefer this one. If you want a little quieter location at the end of the lagoon but don't need a rental cabin, the first company can do just fine.
What to bring to Yal Ku Lagoon
Make sure you bring:
sandals for walking
maybe some water shoes because the area is rocky and it makes it easier to get in and out in some areas.
towels
waterproof camera
and if you want to, your own snorkel gear
Tips to use while at Yal Ku Lagoon
The area around the lagoon is rocky and some of the natural rocks are very rough. When you are swimming you may want to get out and explore the little islands and the water shoes will come in handy on the sharp rocks.
You can spend hours here snorkeling around. There are many little areas to discover. If you go toward the mouth of the lagoon near the ocean there is strong current and only good swimmers should go there
Life jackets are optional to wear in the lagoon unless you are with a tour.
Where there are mangroves, make sure you look under the water at the roots growing down, there will be fish hiding out there and it is nice to see.
On the back side the water is clearer and calmer. You will notice a haze in the water here and that is just the salt water mixing with the fresh water that is coming from the land and running into the ocean. In some places you can dive down and it becomes much clearer.
Some places the water is shallow and there are rocks where you can stand and rest. Most of the lagoon is 5-15 feet deep (1 1/2 meters-3 meters).
Tour groups do come here but since the lagoon is large you can always swim in another direction and enjoy the nature here.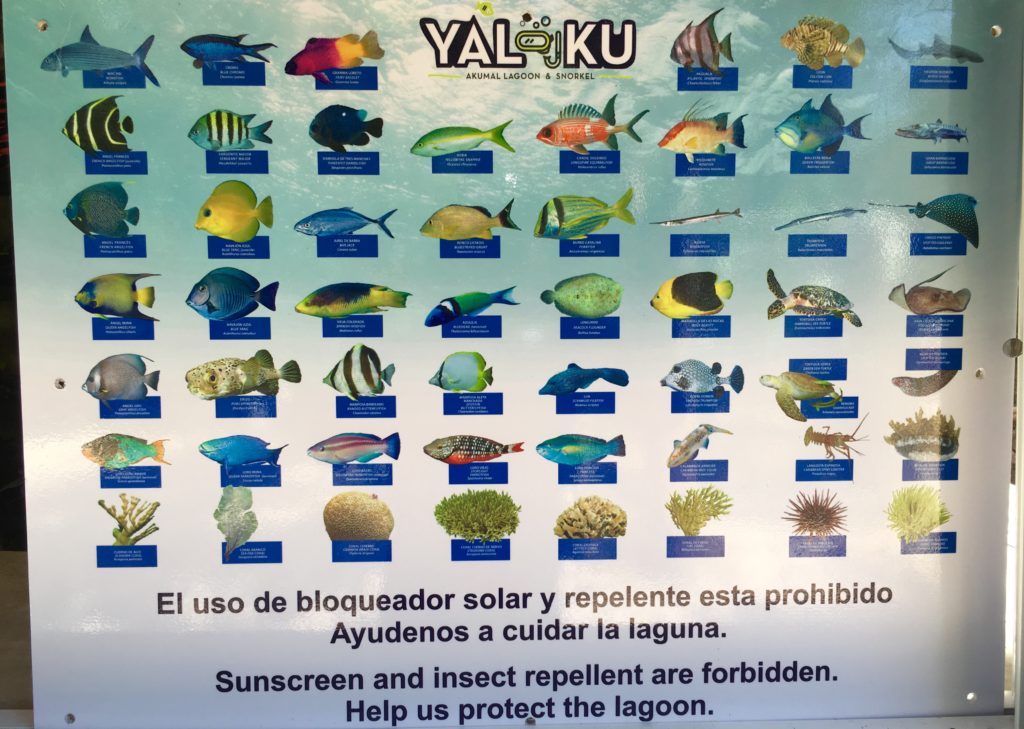 Services at Yal Ku Lagoon
The Yal Ku Lagoon is set up pretty well. There is a free parking lot, snack bar, bathrooms, showers, changing rooms, lockers, and rental equipment for snorkeling at both of the two companies that run Yal Ku.
The larger company that is a little further to get to however has cabins you can rent for the day. These make a nice place to rest both from snorkeling and from the sun.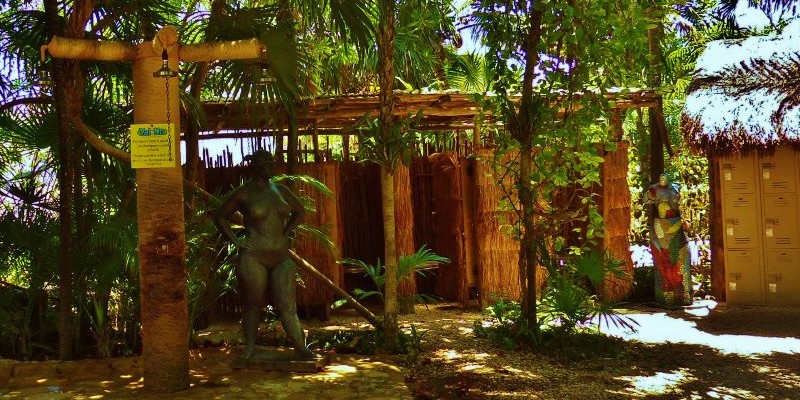 Hours of operation
Open Monday, Wednesday, Friday and Sunday 9:00am-5:00pm.
Tours to Yal Ku Lagoon
Since getting to Yal Ku Lagoon is not really possible by public transportation and not everyone wants to rent a car and find things on vacation, you might want a tour. There is one tour that is good and will allow you to see this beautiful area. To learn more about this Yal Ku Lagoon tour, click the button below to take you ta information sheet on the tour.

Directions to Yal Ku Lagoon
Driving directions
If you are driving here you will enter the main entrance to Akumal. You will pass through the main entrance arch and then follow the road to the left as it parallels the beach. It is about a drive for 8 minutes until the end . You will see yellow signs for Yal Ku that direct you to the either one of the companies that run Yal Ku.
Note: The first turn the left at the end of the road is the first company for Yal Ku Lagoon. This is the smaller of the two. If you want to go to the larger one, driver just a little farther to the end.
Tip: Parking can fill up especially on the weekends by 12:00 noon. Arrive early or visit during the week for less people.
Public transport to Yal Ku Lagoon
If you take the colectivo from Playa Del Carmen or Tulum, you will get off by the main entrance and walk into Akumal. You will need to take a taxi to the lagoon because it is a long walk, about 23 minutes and usually it is sunny and hot. If you do walk follow the same driving directions above. For more on how to take the colectivos to Akumal, check out our article here.

Other similar activities like this one
If you like these type of activities you might also want to read about Xel-Ha. It is a very similar area but is more of a commercial park. There you can swim all day and food and drinks are included but of course it cost more.
Puerto Morelos is a popular place to snorkel the reef as well. Here is one tour that will pick you up and take you to Puerto Morelos to snorkel.
Most of the catamaran tours out of Puerto Aventuras will take you to a nice spot on a reef to snorkel. Here is our article about catamaran tours to take.
Also check out the cenotes you can visit when in the Riviera Maya. We have several articles on what they look like and how to get there in the Everything Beyond Playa tab.
Have you been to the Yal Ku Lagoon? What did you like about it? Tell us in the comments below. We would love to hear from you.