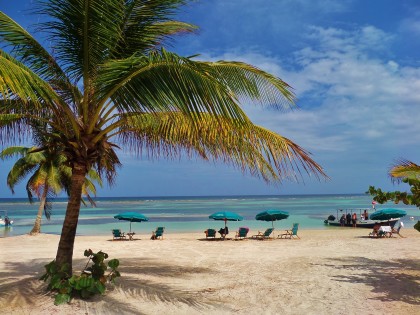 Mahahual and the Costa Maya Mexico
The Costa Maya is the section of coast that runs from Sian Ka'an Biosphere Reserve down to Xcalak at the southern tip of Quintana Roo State (approx. 100 KM). This section of the coast is very remote with little development. It consist of tropical forest, mangroves and beautiful beaches with hardly any waves due to barrier reefs. Once you pass Tulum you start to feel the difference in this part of southern Quintana Roo. It begins to feel more carribean, the trees and vegetation changes and it only consist of small towns and fishing villages.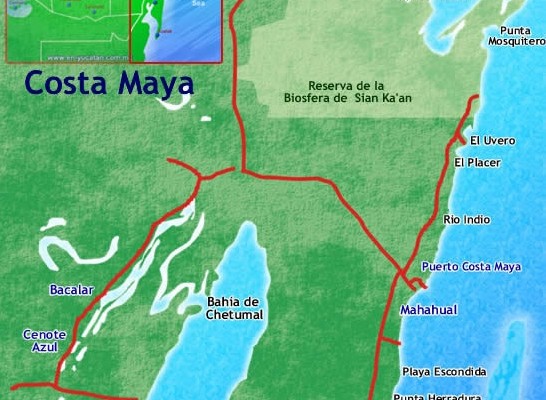 Mahahual
Mahahual (also spelled Majahual) is the main town on the coast and has been attracting divers, people wanting a quiet place to hangout and enjoy the tranquil waters, and day trippers from the cruise ship dock. Mahahual is a small town in part because it has been effected by hurricanes in the past. Hurricane Dean in 2007 did major damage to the town. It was again hit in 2012 by Hurricane Ernesto. It's remote location certainly is a deterrent from people living there, but for some this is the best part about being in the area and also a good reason for visiting. This town would remain a sleepy fishing and diving location if it were not the cruises.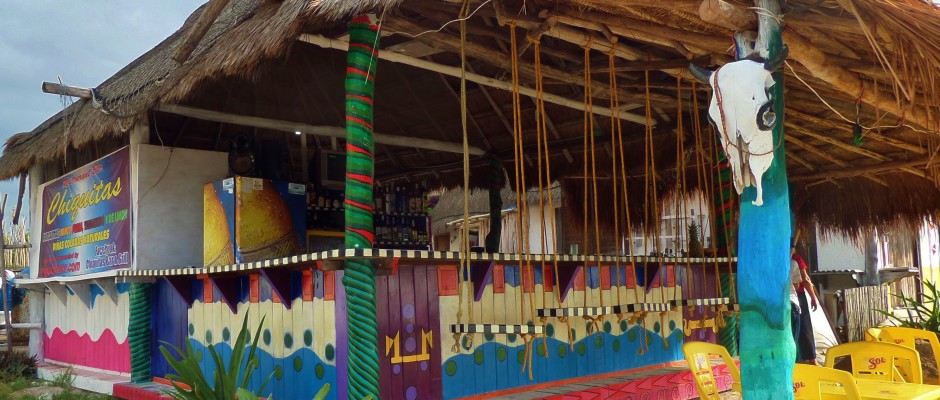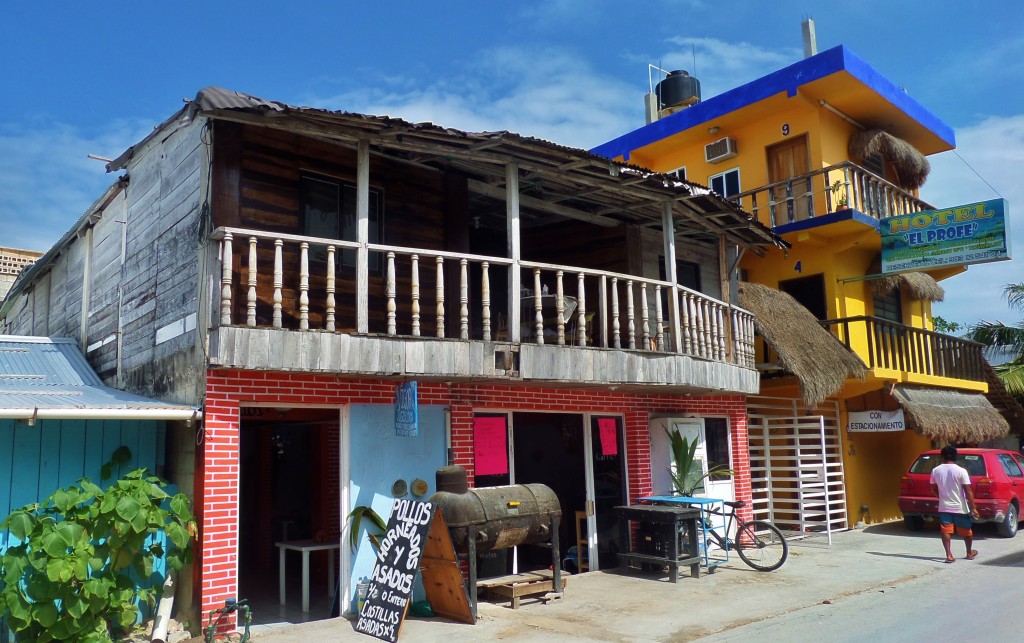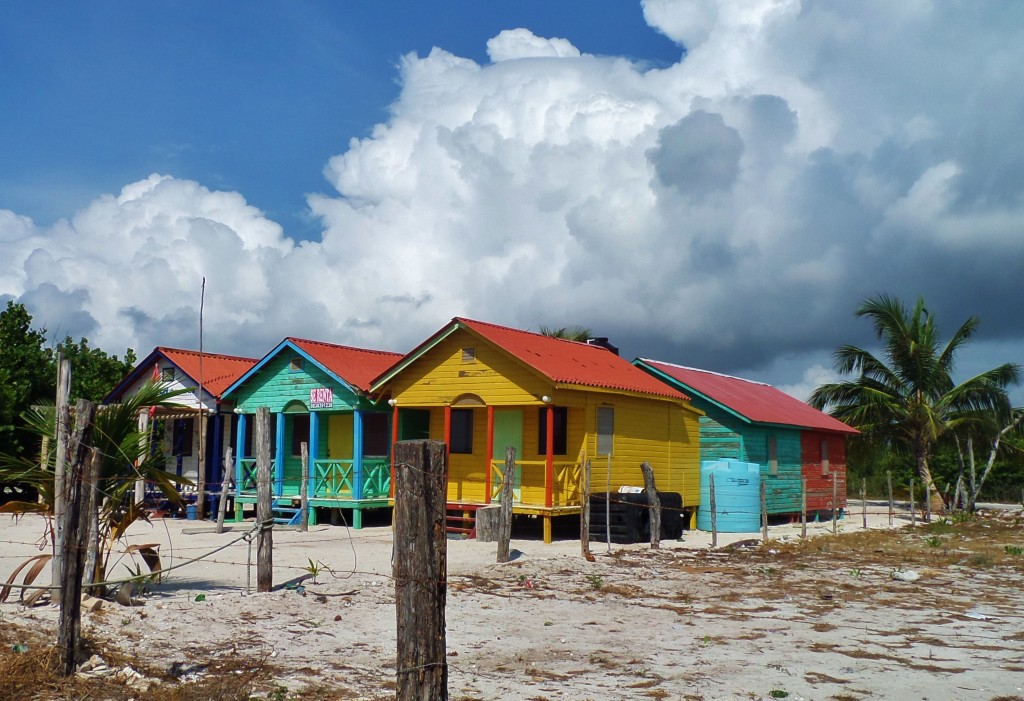 There are two parts of Mahahual, the old town and the new town. Old Mahahual has a walkway along the beach with restaurants, small hotels and beach clubs. This is where most if not all tourist coming to Mahahual will go. The new section on the north side of the entrance  road is where the cruise ships come in. It is literally is a ghost town when there are no cruises. It consist of souvenir shops and a couple of blocks of basic concrete houses for residents. It is really sad that this is what has come of an ancient culture. People get off the boat to be greeted with decaying shopping centers and overpriced everything. Even though the shops at the dock are fairly new they are showing evidence of poor maintenance and many are available for rent.
The cruise ship culture has definitely bastardized this town. It has brought tacky souvenir shops and a lust for the quick dollar. Prices for everything are overpriced including hotels, food and services. You really have to hunt around and be prepared ask for specials or local prices. Most of the same things you can find in Playa Del Carmen for 20-40% cheaper. Mahahual is more remote and things have to be brought in but that is not enough to justify the prices.
Tip: Plan your trip here on a day that does not get cruise ships. You will not have to fight for places on the beach and will have a better chance to get a better deal on things.
Restaurants and Eating Out in Mahahual
Seafood is plentiful here and a good option for a meal.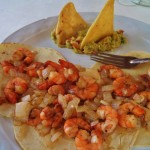 Like many places that get a lot of tourist, check your bill. I was disappointed that the waiter made several mistakes on mine. The IVA (tax) section had an amount added in. That is illegal in Mexico. All prices on the menu are supposed to be the full price, no tax added. No tips are supposed to be written in as well. My waiter said it was tip. He also overcharged for one drink on top of adding up the math wrong. So keep an eye on the bill for accuracy.
Tip: Ask for menus in Spanish, you will pay less. The prices can be different. Also pay in pesos! One tricky thing they do is put prices in USD$. So something is $10USD but if you pay in pesos it is 100 pesos. If you pay in dollars that is really like paying 140 pesos or 40% more.
Tip: Eating at the beach from restaurants can be good if they offer free services like kayaks and beach beds. The meal might be more but if there is free use of something, that makes it a better deal. Most of the beach clubs/restaurants have lockers for your stuff if you need them..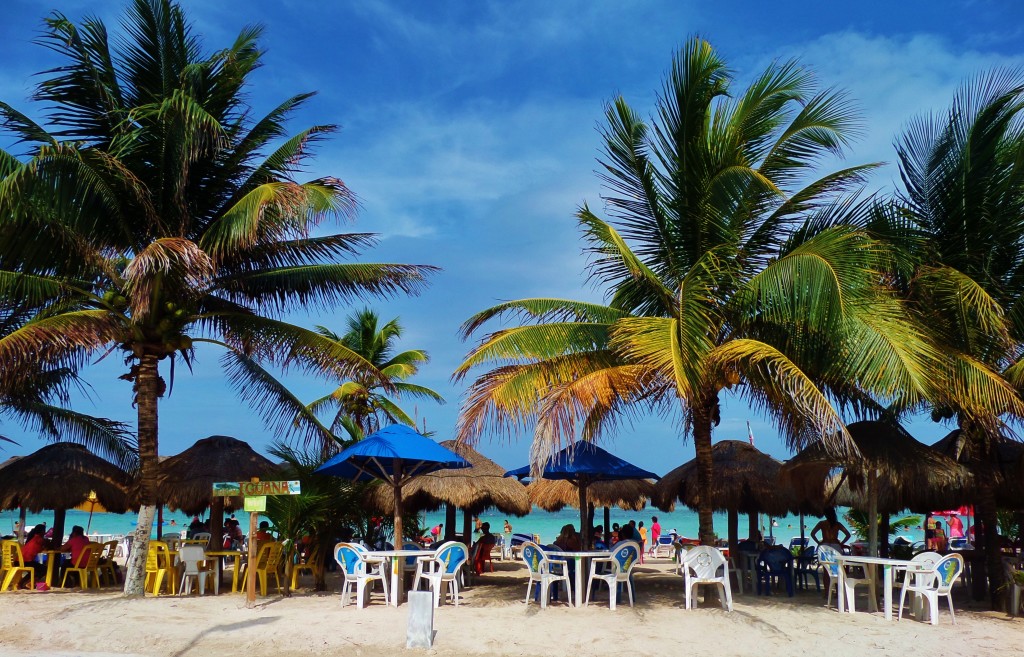 One of the major attractions for this town is the Banco Chinchorro. This is an atoll reef laying off the coast some 35km. It is 40.2 km (25 Miles) long and about 16km (9.9Miles) wide. There are even three islands that have formed here. It is one of the worlds premiere shipwreck diving spots. This attracts divers to this small coastal area along with snorkelers.
Getting to Mahahual
Most everyone drives. Driving south from Playa Del Carmen is easy. Just head south on the 307 highway. The only thing you  have a choice in is going through Felipe Carrillo.  You can take the route through the center with traffic lights or take Avenida Constitution (307).  After Filipe Carrillo and down the highway you will get to the town of Limones, shortly after (4km) is the well posted turn for Mahahual. Drive another 54 KM directly to the coast. You will see the lighthouse and to your right is the old town part of Mahahual, to the left is the cruise port and new part of Mahahaual. Google directions says it will take 3:41 which is about right.  Make sure you get gas when you can. Gas stations are only in towns and there are long stretched of road with no gas stations. Never go below 1/4 a tank without knowing where the next gas station is. See our guide to driving in the Mexican Riviera.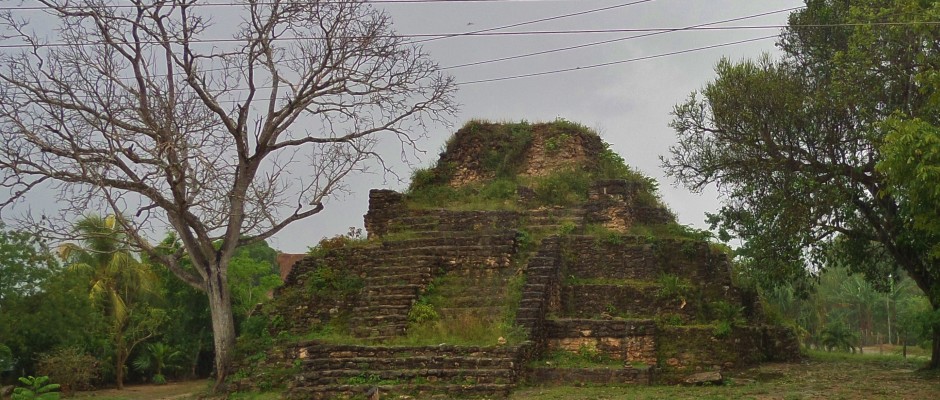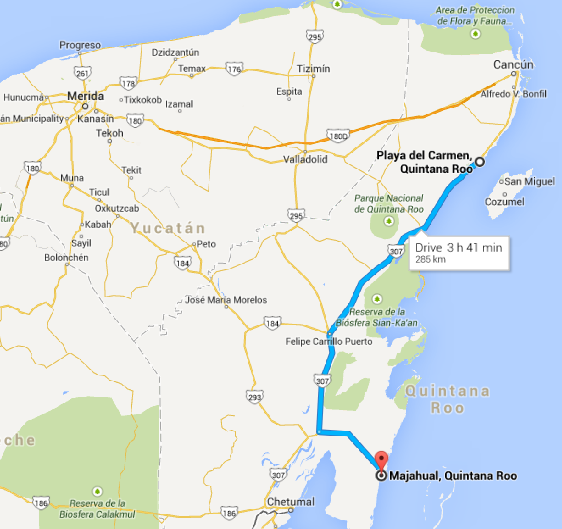 If you wanted to take the bus you would need to take it from Chetumal. So from Playa Del Carmen it would not make sense to do. If you really wanted a public way of getting there you can take the bus to Limones and take a colectivo to Mahahual there. It should be noted that you can walk around Mahahual but some of the hotels are out of town and you will be limited to staying in town without a car. This might be why there is not a big backpacker crowd here. The other reason might be the cost. There are not a lot of low cost places to stay and eat.
Hotels and places to stay in Mahahual
 Here are several options for you. The first two are easily booked on Hotels.com which you can click the link on the side of this page to take you there. It is better to book ahead since we encountered much higher prices in person. The last three budget options  you will have to book when you get there.
Koox Matan Ka'an Hotel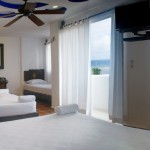 This clean and stylish hotel is right in the center of town. It has 25 rooms. Prices start at just $40 a night when it is on special online. You can check the Hotels.com box on this page to check the prices for your stay and desired dates.
This hotel has a pool and onsite parking.
Location
:
Calle Huachinango S/N
Mahahual,
QROO,
77976,
Mexico
Ko'ox Quinto Sole Boutique Hotel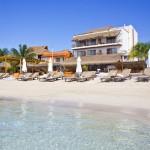 For just a little more luxury you can stay at this beachfront hotel. Walk right out the hotel to the beach club and enjoy a day looking over the calm waters. Prices start about $62 a night but check for specials on Hotels.com link to the side of the page.
Location
:
Carretera Mahahual-xcalac km 0.350
Mahahual,
QROO,
77940,
Mexico
Budget options
On the lower end there is Blue Kay (also called Blue Bay) They offer fan cooled cabins near the beach. They actually have waterbeds. The cabins are very small but each have a porch. Shared bathrooms and showers.
  There is one "hostel" in the center of town that offers backpackers a dorm bed. Camping is also allowed many places around town and just out of town although services are not the best as most camp grounds.
Going to Xcalak
Driving down the coast all the way to Xcalak is not possible now. There is an inland paved route that will take you to the town.  You can still drive along the beach road for part of the way if you like. It is nice to drive on the coast to see small homes and guest houses with incredible vistas and remote untouched beaches. While driving on the paved road look out for large crabs crossing the  road.
Xcalak is a small fishing town near the end of the Costa Maya. It does not have anything to offer to visitors except old Caribbean feel and the most tranquil beaches. (see photos below) There really is nothing in the town, no stores worth seeing or tourist services.  Besides a drive down to see what it looks like, the only other reason is the stay at one of the guest houses that are along the coast. It is not a bad idea if you really want to get away and be somewhere very tranquil. If you do want to do this, call ahead or reserve ahead of time because this area does not have guest everyday and they may be closed or away. Some of these have restaurants and you should call ahead to if you want to eat.
The water is so calm here because it is blocked from waves from the reefs. The water teams with life. you can see in one of the photos that there are crabs and conchs just going about life in the ocean. You can see lots of fish as well. In the third photo the water is so clear you cannot tell that you are looking into the ocean with 8 inches of water.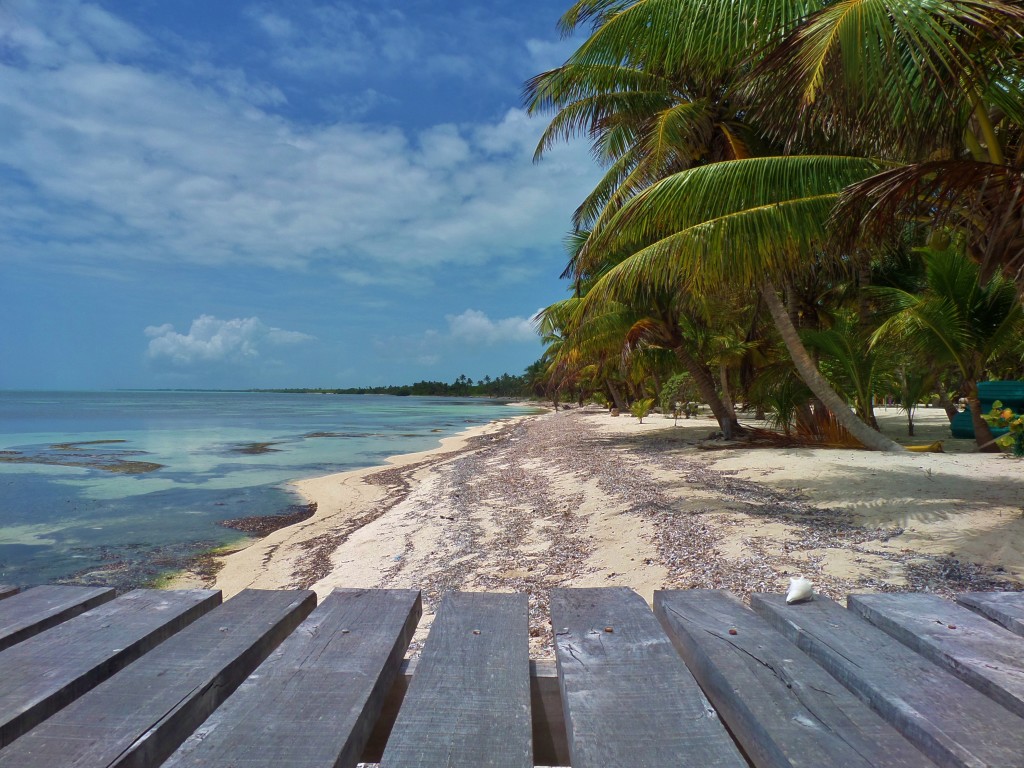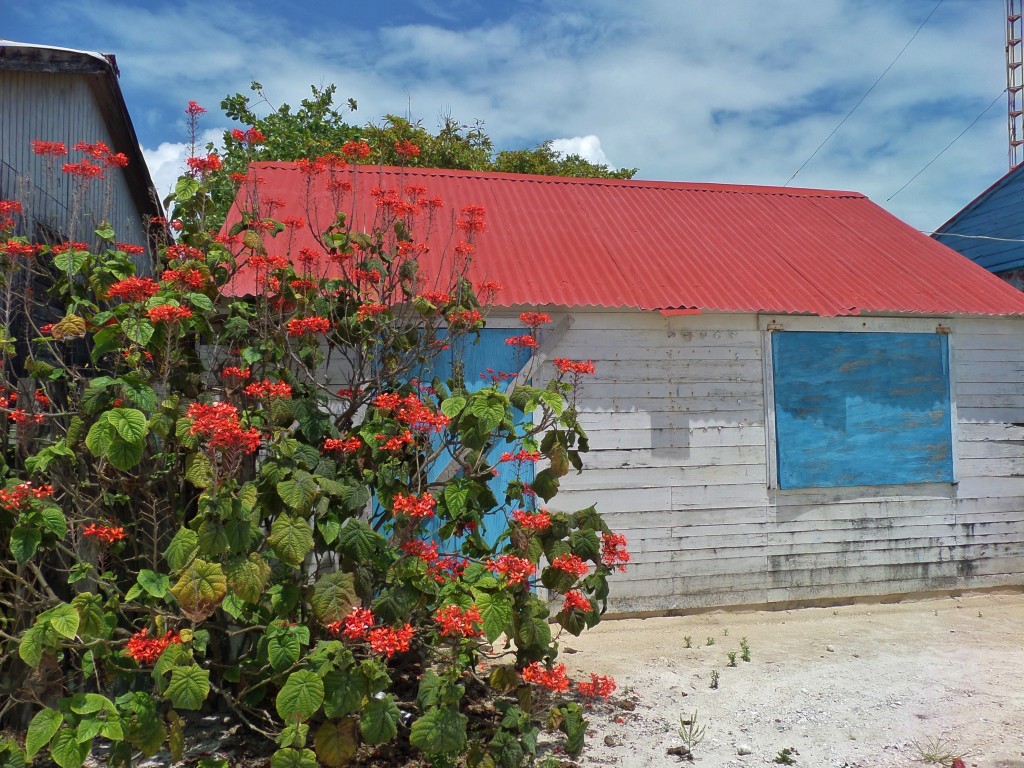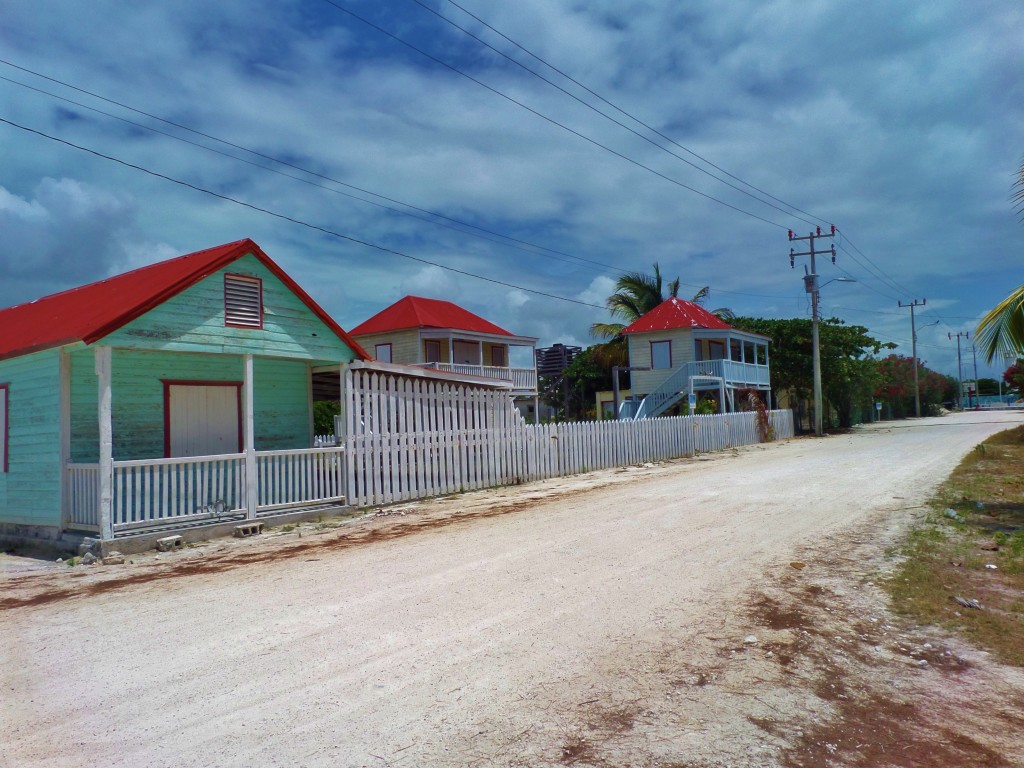 Happy adventures everyone! If you are in this area you might also like checking our Chacchoben ruins or Bacalar.