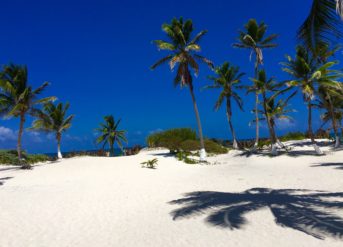 Are you coming to the area and want to visit some of the best beaches near Playa Del Carmen? Here is our guide so you can discover some of these beaches. There are beaches that are remote and naturally beautiful, popular and energetic with people, and some that are famous for animal watching or water sports. Here is our guide to help you find what beach is for you (see the map of all these beaches at the bottom of the article).
Best beaches near Playa Del Carmen to visit
Lets start at the far south of the Riviera Maya and show you some of the beaches and work our way north.
Tulum Beaches
Tulum has some of the best beaches in the Riviera Maya! This is what attracts so many people to this place. The beaches are a more natural looking and it is less built up near the beach than some other locations. There are both small beach clubs and small hotels with access as well as a few public access points.
Hotel Zone beaches in Tulum
On the south end of Tulum beaches there are many bohemian chic hotels and beach clubs that offer a more tranquil day by the sea. There are just a few places where technically the public can access on the beach. But the places you can access are not the nicest stretches of beach. The best public beaches are on the north end of Tulum.
Go to these beach clubs and restaurants if you want a nice meal, quiet time, and don't mind spending some money to relax under the palm trees.
North End Tulum Beaches
The stretch of beach that goes north toward the Tulum ruins has a few small hotels and beach clubs but also toward the end there is public access with parking. The parking can get full and you will see cars parked along the road. On very busy holidays and some Sundays this stretch can be closed due to the amount of people driving in. Here are some tips if you want to visit these beaches.
Think about riding bikes to visit. You will always be able to enter even when car parking lots are full. Although parking is not the best for bikes. This works best if you are staying in Tulum town and can rent bikes there. You can also park in town if you are coming for the day and ride bikes here, although it is harder to carry stuff with you.
Arrive early. After 1:00pm on busy days it can get full for parking.
Walking is too far from Tulum center and the road is up against a mangrove and in the late evening there can be a lot of mosquitos.
If you drive down this road you will come to nearly the end and see parking. When you walk to the beach you will have a few beach restaurants and bars with limited options. You can find basic pay toilets.
If you continue walking north on the beach you can actually see the back to Tulum ruins. The beach he is wide and flat here. When the wind is calm and the water is turquoise, this is one of the best beaches to visit. It is called Paradise Beach.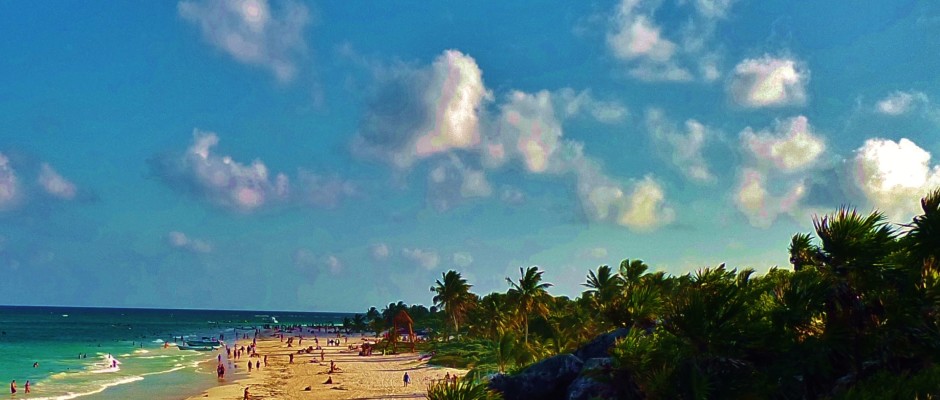 Xcacel Beach
This is a very natural looking Riviera Maya beach with a lot of coral on the shore on one end. The rest of the beach is nice and sandy. There is an entrance fee to this beach which helps preserve the area. The entry price is around 10-20 pesos per person. We say "around" because it seems to change.
Services at this beach include bathrooms and outside showers. You should plan on bring your own food and drinks to this beach.
There is a small cenote at this beach which is down a short trail. In this small cenote you can swim and cool off in this fresh water.
To get to this beach you can drive south from Playa Del Carmen on the 307 Highway or you can take the Playa-Tulum colectivos. You can read here how to take the colectivos.
For more about Xcacel Beach, see our article here.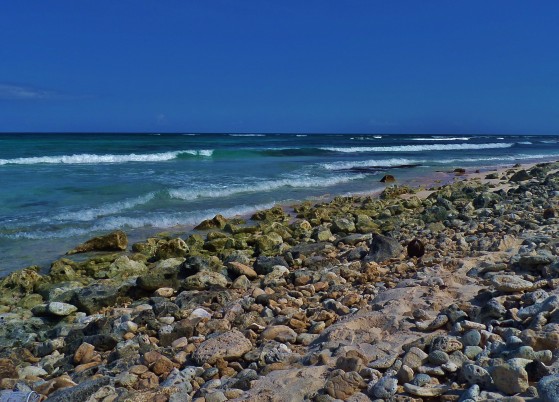 Akumal Beach
Akumal is a beachfront community with nice homes a few shops and restaurants and a few hotels. It is most known for the sea turtles. People love to come here and snorkel with them.
Public beach access is free but tours to swim with the turtles, beach bars, restaurants, and beach clubs are all pay. If you would like a tour to here, check out this tour. It comes well recommended from readers.
To get to Akumal from Playa Del Carmen, the best way is to drive. You can take the colectivos and they will let you off on the highway but it should be noted that it is a bit of a walk from the highway into town. There are taxis that will drive you from the highway to the beach.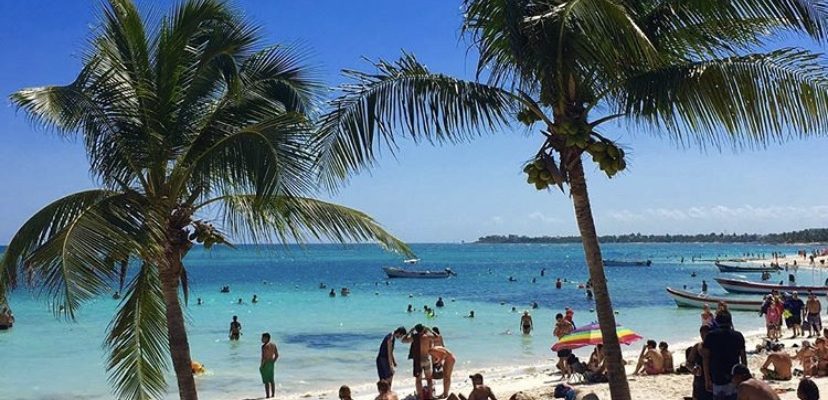 Yal Ku Lagoon
Technically this is not too much of a beach but it is a nice place to spend the day at the ocean and this inlet. Here you can snorkel and see fishes around the mangroves and rocks. There are small cabins you can rent and places to spread out a towel, but you won't find much sand here. There is an entrance fee here and rental of snorkels. See our article about Yal Ku here for complete details.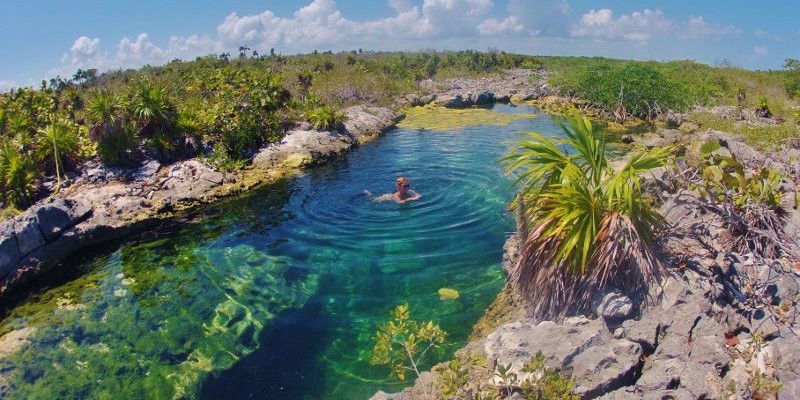 Xpu-Ha Beach near Playa Del Carmen
This is a nice public beach that has an entrance fee of 40 pesos per person. You can lay out your own towel and chairs or you can visit the small beach club here and pay for services. There is also a restaurant here.
The Riviera Maya beach is not super wide but it is long and you can walk in both directions a ways.
The water is usually more calm here and you can do some snorkeling off the beach but it is not too remarkable. To read more about this beach see our article here on Xpu-Ha.
Paamul Beach
Paamul is a private community along the coast. You can pay to use the beach club and have access to the quiet beach that is very beautiful. Here you will find many friendly locals which turn out to be many Canadians and Americans. The beach is a mix between limestone and sand. There is very good snorkeling off the shore here.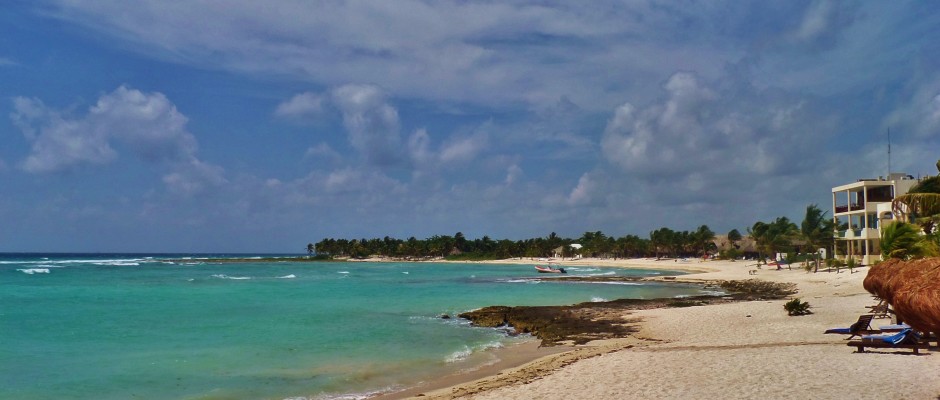 Playa Del Carmen Beaches
These are all the beaches that are in front of Playa Del Carmen from south to north. Keep in mind that seaweed does wash ashore at times. There are however some beaches that get less becase of the position of them. See our guide and map here for details.
Secret Beach on the South End of Playa Del Carmen
This beach is past all the hotels and just a natural place to enjoy the beach. The nice thing about it is the fact you have to walk here, so not so many people come to this beach. From the Cozumel ferry pier it is a one hour walk south on the beach.
For more about this secret beach and a video, see our article here.
Playacar Beaches
Playacar is a private neighborhood in Playa Del Carmen but the good thing is that all beaches in Mexico are public. The beach here is wide and has much less people than in the center of Playa Del Carmen. This beach is where many residents of Playa come to the beach because not only is it nice, you also get away from some of the crowds.
To get to this beach you can start from the Cozumel Ferry Pier and walk south. You can walk as little as five minutes or as long as 40 and still have a nice place to sit down.
Central Beaches in Playa Del Carmen
This area is defined starting at the Cozumel Ferry Pier and going to a little south of 28th street. Here you can find many smaller beach clubs and some beach front restaurants. The nice thing about being in the middle of Playa is the quick access from your hotel and if you want to bring a beach chair with you, it is a short walk. Here is a breakdown of the beaches by section:
The beach between Cozumel Ferry Pier and 2nd Street
This stretch of beach has a handicap facility for beach access and you also will find many local families here because it is accessible by busses arriving on Juarez Avenue. You will also find people playing volley ball or soccer on the beach since it is a little wider here.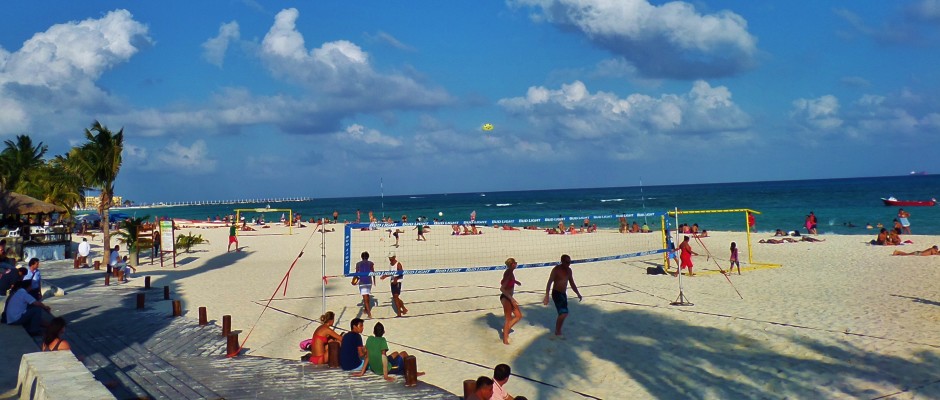 The beach from 2nd Street to 12th Street
This area has some of the older beach clubs in Playa Del Carmen and nice beaches. There are a few beach front restaurants you can visit if you get hungry.
The beach from 12th Street to Constituyentes Avenue
This is where local fisherman have their boats. This part of the beach is less desirable and has seen considerable erosion lately. The water here is not the best for swimming because there are the boats tied up and if there is any seaweed, it gets stuck in this area. Just before you get to Constituyentes Avenue there is the Gran Porto Resort. This hotel takes up most of the beach and there is only a small spot just south of the Constituyentes Pier where you can spread a towel although the water is a little rocky here so it is more for just taking sun.
The beach from Constituyentes Pier to just before 28th Street
This area of the beach is in front of the Royal Hotel and Grand Hyatt. The beach is not as wide but also a little quieter than just north of here in Mamitas Beach. So if you want a youthful crowd but not the overflowing music of Mamitas, then this is a good spot. The water is nice to swim here as well.
Mamitas Beach
This beach is the most popular place in Playa for the fashionable crowd and hip crowd. Here you will see bikinis and beach bunnies standing around listening to electronica and having drinks. The very popular Mamitas Beach Club is always pumping out music and even if you are not sitting in the beach chairs or beach beds, you can hear it.
If you are young or young at heart and want to be in the scene, you should check out this beach. It is also very easy to pick up food and drinks on 28th Street and go to the beach. If you want to use the bathroom at Mamitas and you are not using the chairs there, you can pay 20 pesos for the day and use the bathrooms.
The ocean is usually always nice here and a good place for swimming.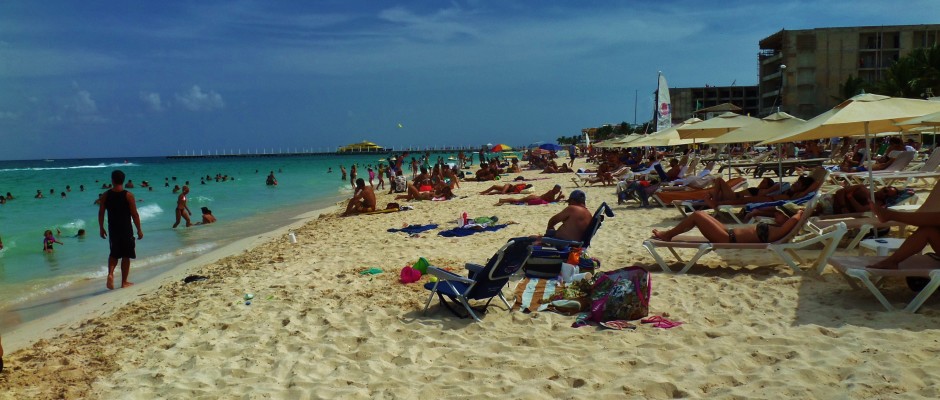 The beach from Mamitas to Punta Esmeralda
Just north of Mamitas is a hotel and there is public space on the beach. You can enter the beach by 38th Street and have a quieter place to sit and take sun. Beyond this is Coco Beach. It has taken a beating with erosion lately and not as nice to visit.
Around the point going north there is a thin stretch of beach which is nice but isolated. If you are staying on the north end of Playa and want to bring everything with you to the beach and get away from the crowds, come here.
Playa Punta Esmeralda
This beach is near the Paradisus Hotels. There is a public beach access road just north of the hotels with parking. Here many local families come on the weekend. You can read more about this secret beach locals love here. The nice thing about this beach is that it is more remote and there is a small cenote that empties into the ocean. It creates fresh water pools which are great for kids to swim in.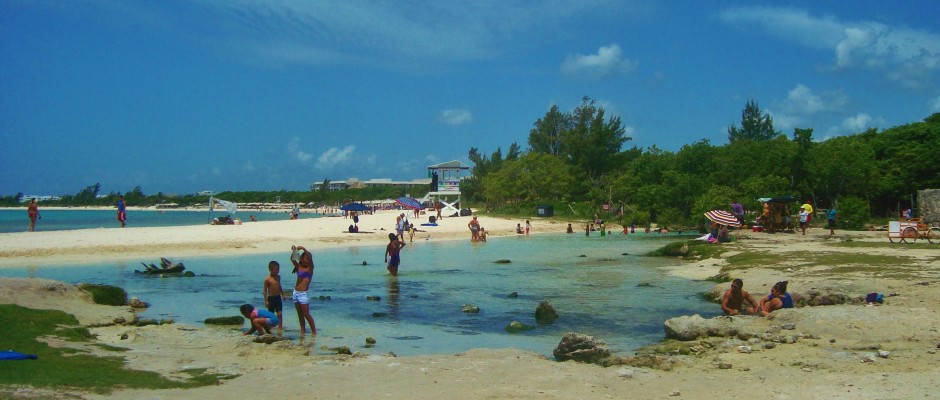 Playa Xcalacoco Beach near Playa Del Carmen
This beach is just outside of Playa Del Carmen and you must have a car to get here. This Riviera Maya beach is a quiet beach with a hotel on either side of it. It is a little rocky but there are some nice seabirds and small marine creatures to see in the small pools of water. This beach is not stunning but a nice beach to go to if you have visited others in the area and want to go somewhere new.
To read more about Xcalacoco Beach see our article here.
Maroma Beach
This beach has a reputation for being one of the nicest. Unfortunately some of the past hurricanes have made it not as nice but if you are coming here for the first time you would not know it.
Here you can find a wide flat beach and a lot of tourist attractions. You can go out on a catamaran, rent ATV's, rent jet skis, and even ride camels!
Here you to pay to enter and use the beach club. There is a restaurant with facilities.
Puerto Morelos Beaches
This small beach town has both beach clubs (like Unico Beach) and free public beach access. In this town you can find easy parking, small shops and restaurants as well as convenience stores to pick something up for the beach. The beach is fairly wide and there is good snorkeling right off the coast here, but it is recommended you hire a local guide because it is a little ways out. The snorkel tours are inexpensive and a great way to support the local eco tourism.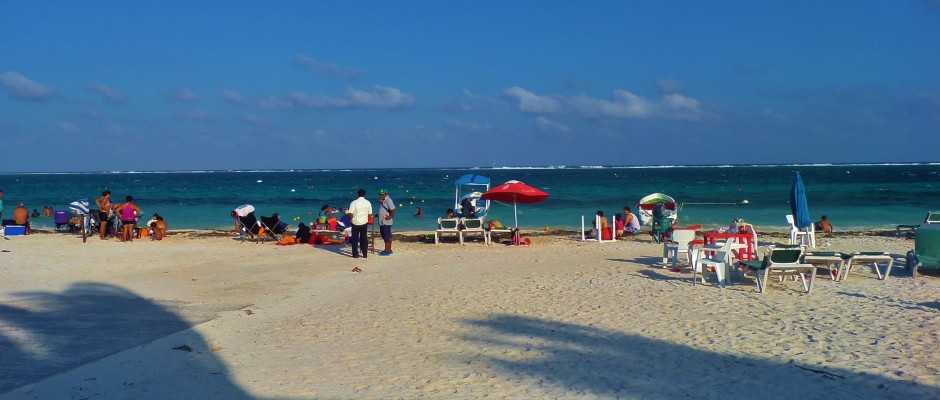 Map of the best beaches near Playa Del Camren
We hope you have a great time exploring the best beaches near Playa Del Carmen. What is your favorite beach? Do you have some beach tips you would like to share? Let us know in the comments below.