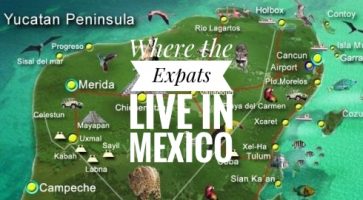 amMexico attracts thousands of foreigners each year to move and explore the country. We wanted to examine where these foreigners or (expats) are moving to. In this article we focus on the Yucatan Peninsula in Mexico. Maybe the map and article will help you in your search if you are looking to relocate if you are thinking of moving to Mexico
Moving to the Mexico and the Yucatan Peninsula
There are three states that make up the Yucatan Peninsula, Campeche, Yucatan and Quintana Roo. Most expats live in Yucatan and Quintana Roo States. Campeche is by far the distant third in foreigner population. This is because of its more remote location from a large airport and not as many desirable places to live in the State by expat standards.
Most expats look for these things as requirements for choosing a location:
Quality of life.
Access to services like good medical care.
Cultural activities.
Other people to interact with including same language group.
and cost of living.
Below the map we talk about why people choose a certain area and some of the pros and cons of each area.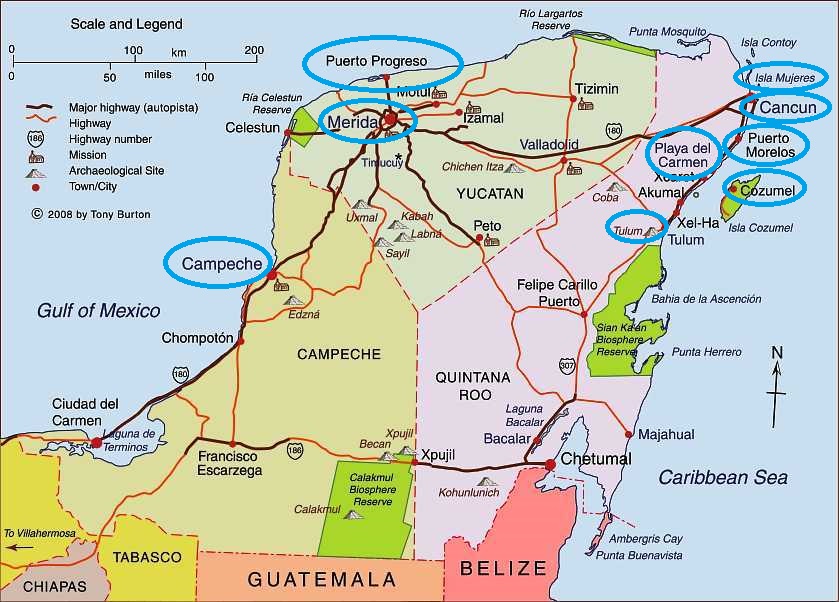 Where to retire and live in Mexico
Living in Campeche State
In Campeche there really is only one city where foreigners like to move to, Campeche City. At the center of the city there is a colonial heart complete with colonial architecture.
The Pros are: Smaller feel with colonial charm. It is on the water, slightly less expensive than some other parts of the Yucatan Peninsula. It is not overrun with tourist and people can enjoy the "real" Mexico more.
The Cons are: More distant from other places. The city does have an airport but limited flights. Not a huge expat population and you will need to be more proficient in Spanish at first.
Moving to Mexico's Yucatan State
There are two main areas of the state where expats like to live. Merida and the beach area including Progresso and the surrounding area.
In Merida you have thousands of fellow expats that have already blazed the trail for you and will be a great support group for your new adventure. This is the largest city in the Yucatan Peninsula with around 1,000,000 people. The city offers a wide variety of neighborhoods to choose from as well as history and culture. There are a lot of favorable things about this city and is why so many now call it home. You can see our first time visitor guide and video to Merida here.
The pros are: Being that it is a big city with a lot of history, you have many styles of housing stock to choose from. You can have an old colonial house with high ceilings, a modern condo, an art deco home or even can live in a new sub development. So, choice of styles of houses and living arrangements are a plus here.
Shopping for everything is possible. Having a large city affords fruit and vegetable markets, local markets to big box stores like Costco and Home Depot. Everything you need to relocated can pretty much be bought in Merida.
Arts and culture are a big reason why Merida is such a popular place to live. It seems like every day there is something going on. Merida boast grand old theaters to modern dance companies and everything in between. There are weekly exhibitions of dance and every Sunday the main Zocalo is blocked off and dancing and concerts take place. Among the scheduled cultural events, many artists have chosen to live in this city and that adds to the vibrancy and cultural richness of Merida.
Merida has a modern international airport and a central hub for regional bus travel. It is also only about 20 minutes to the coast and spending time at the beach is an easy daytrip. Having a good transport system and an urban center can afford you to live without a car.
The cons are: Merida is considered a hot city. It has a lot of concrete and crowded downtown. If you cannot take the heat or choose a home that is not situated the best, you are going to be hot and need to use the air conditioning a lot.
It is a big city and many parts of it offer nothing in the way of sightseeing or interest. The colonial charm might wear as you deal with the grit of a larger Mexican city.
Even though Merida has a nice airport, flights to the US are often more expensive and residents will sometimes fly into Cancun and take the 4-hour bus trip to Merida.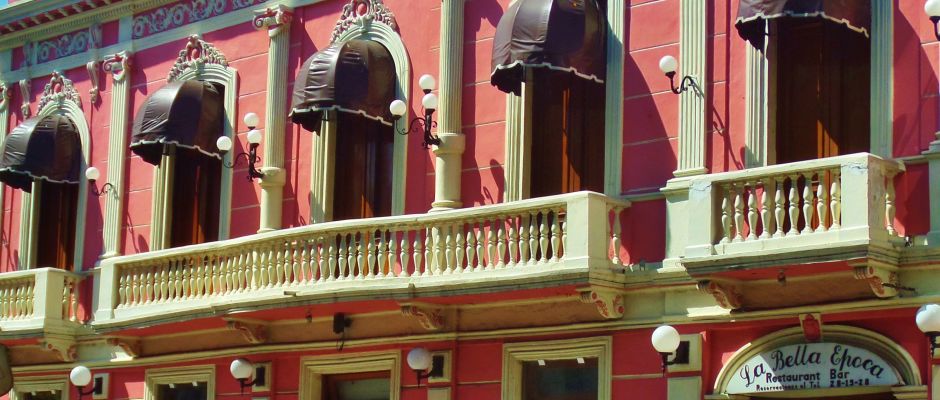 The other area of Yucatan State where people choose to live is the Progresso area and small beach communities. This gulf coast living is spread out among many small villages, so we lump them together as a beach area.
The pros are: Living beachfront was never more affordable. This is one of the cheapest areas where you can actually own a beachfront home. Land is even cheaper if you choose to build. The quiet life awaits you here and you can spend your days eating fresh caught fish and looking out over the Gulf of Mexico.
You are only about 20-30 minutes to the City of Merida. You can take in your culture and retreat to your quiet home afterward.
The cons are: This area can be a bit remote for some and the small village life can become boring after a while.
In the "summertime" some popular communities can become the city escape for residents of Merida and homes are rented out to party loving beach goes and there goes the neighborhood.
If you are thinking of building, be sure to understand ALL of the restrictions in Mexico for building oceanfront. There are very specific laws that have entangled many a foreigner with a dream of living beachfront.
Many expats are "snowbirds", meaning they come for the winter and go back north for the summer. If you are looking to live year-round you might find yourself with less friends in the summertime.
You will most likely need a car unless you really want to be limited to colectivos or just live in the center of Progresso.
If you live in Progresso, it is a cruise ship destination, and you will have your days where the town gets filled with tourist.
Moving to other smaller areas of in Yucatan State
Holbox Island is very peaceful and beautiful. It is a small island with limited land and real estate. Only a few hundred people live here. Most people however that live there often travel and do not spend all their time there. Most expats own a hotel or business there to keep occupied.
Izamal is a small colonial village that is idyllic peaceful living. It is about 45 minutes from Merida if you need city life and shopping. You will find yourself just one of a few expats though if you live here. If you are an artist of writer then you just might find the peace and quiet life you need to be creative.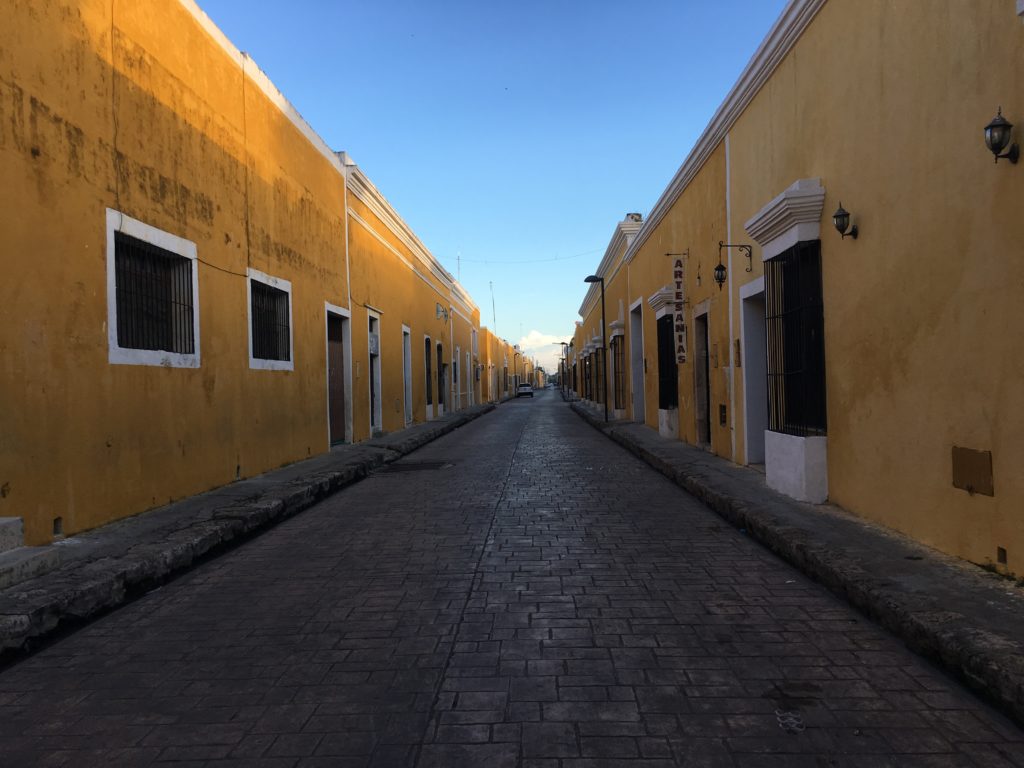 Valladolid is also a colonial town right in the middle of the Peninsula. It offers peaceful living with access to Cancun Airport in about 2 hours and Merida in about 2 hours. There are not a lot of colonial buildings left to fix up or live in but rent can be much cheaper here then other parts of the Peninsula. Not many expats have taken the step to live here but you just might be ahead of the trend if you move there since this town is getting more popular every year. Expect to see good things coming from here in the next five years. This place is on the up and up.
Espita is a smaller colonial city that has been off the radar to foreigners but is secretly becoming a charming village to live in. It is smaller than what most people want but offers a central location and authentic Yucatecan town with not much distraction of tourism.
Moving to Quintana Roo State
Cancun has long been the main city in the state. It is famous for it's beaches and hotel zone and it also attracts people wanting to make it a permanent vacation. (For more information on living in Cancun check out our article on what it is like living in the Hotel Zone)
The pros are: You will be living in the city with the best international airport in the peninsula. This gives you greater access to the world and cheaper flights.
It is a modern city, after all it was started in the 1970's. Cancun has more high-rise living, malls and big box stores for shopping.
English is widely spoken due to the tourist trade. The joke goes "What is the difference between Miami and Cancun? They speak English in Cancun!"
You have access to beautiful beaches. You also have access to international cuisine, nightclubs and some very trendy places as long as you don't mind sharing with tourist.
The cons are: It lacks the colonial, or "real Mexico" feel at times and can almost feel like you are in Florida or a version of Miami.
You mostly likely will want a car. Since the City was designed in the 1970's it is car centric.
Since it is more of a tourist city, it is designed to entertain people for a week and send them home. Besides going to the beaches and shopping there is not a lot to do.
The downtown is not particularly charming since it is more a perfunctory center to support the tourist trade.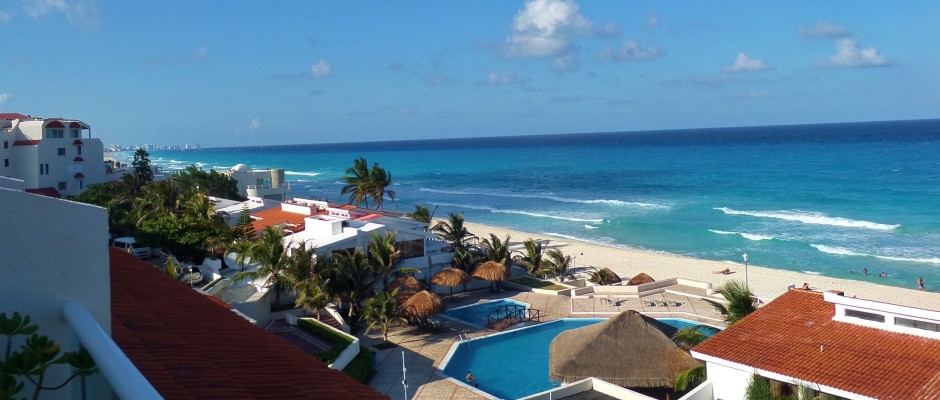 Isla Mujeres. Does the thought of living on a tropical island excite you? Then you might look here.
The pros are: You get to say you live on an island in the Caribbean to all your friends! You will get to drive around in a golf cart to do your shopping and you will mostly likely have a great view from your home since the island is long and narrow. You also will have ocean breezes most of the time.
The cons are: You are on an island. Most people after a while lose the interest and move to the mainland. Isla Mujeres is small even by island standards. Shipping everything over and using the ferries will be part of life and all that sea air can take a heavy toll on metal and require constant maintenance around the house.
Since it is so close to Cancun you will have a lot of tourists coming for a few days or day tripping. You will have to get used to tourist driving the gulf carts down one-way streets the wrong way.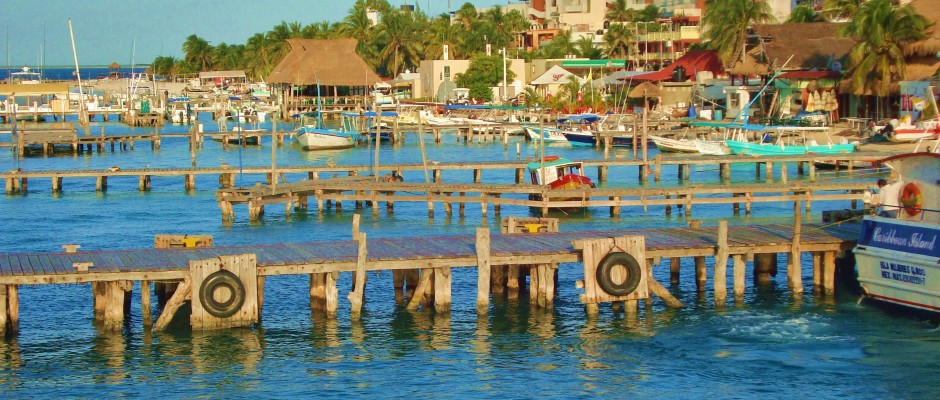 Puerto Morelos is just south of Cancun. This small fishing village is a haven for some that seek beach living with a small-town feel. You can find episodes of House Hunters International filmed here as expats look to move. The funny thing is, on the shows they often show footage of other places because there is not much in this small town.
The pros are: Part of Puerto Morales is close the beach and has a small-town feel. There is great snorkeling off the coast.
You are close to Cancun for shopping and the airport. The town just got its first supermarket!
The town is also growing and there have been infrastructure improvements and new housing developments (mostly for local workers) opening up on the highway.
The cons are: It is a small town, and you might find yourself driving to other places to buy things and entertainment. With that in mind you will need a car to live here unless you only want to stay in a few blocks and take taxis everywhere. The town is split in two parts, one by the ocean and the rest 2 kilometers up by the highway.
Prices for beach front or close to the beach are going to be high due to the limited supply. There is a high contrast to what expats pay and what locals can afford.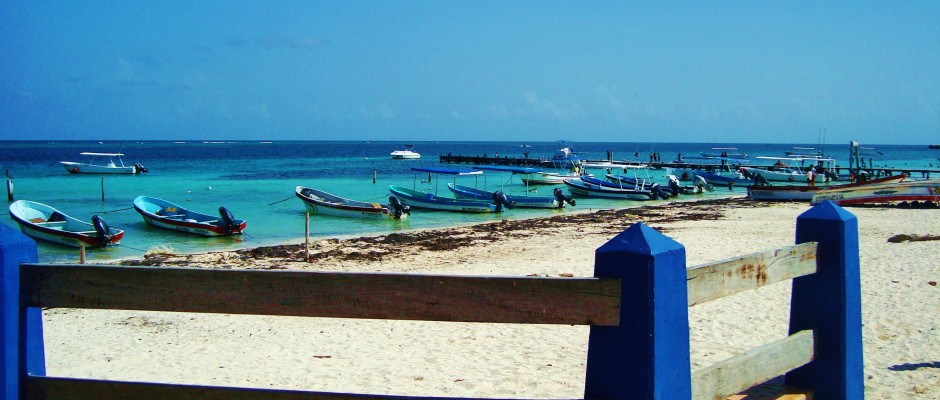 Playa Del Carmen. Of course we have a lot to say about this place because we are based here. This town/city keeps becoming more popular with expats and nationals for living (about 186,00 residents and growing). It is a European feeling place next to the ocean than most everywhere else. You still can find places under 100,ooo dollars to live (See our article on affordable homes to buy in Playa) and you can find super luxury villas or modern condos.
The pros: People consider Playa Del Carmen to be different from the rest of Mexico. It has a unique feel to it. With so many European and South American influences, you might feel like you are in a very international destination. Most of the downtown is very walkable and you can get by without a car. The growing number of expats make it easy to meet other likeminded people.
Playa has good access to public transportation running up and down the Riviera Maya and buses to Yucatan State. Playa is also jut 40 minutes from the Cancun airport.
With the number of foreigners, you just might find a holiday tradition from your home country being celebrated or even a meal being prepared at a restaurant.
The cons: Compared to the other side of the Yucatan Peninsula you won't find as much local culture and colonial living.
The city does not have as many shopping options as Cancun yet, but it is gaining. (Getting the first Home Depot was a big deal in Playa and marked a coming-of-age sort of for shopping.)
The city is growing and has limited beachfront living. Since it is such a popular tourist destination, it often is better to own near the beach and rent it out. You will make more money that way and you can live a little way back from the ocean.
Cozumel Island is the most populated island in Mexico with about 90,000 people. Most people live near the one town on the island.
The pros are: Island living with almost everything you need. If you like diving or snorkeling, you will be in heaven here. It is considered to be one of the best places in the world. If you have a job or hobby to keep you busy you can make a success of living here.
Cozumel does have an international airport and access by ferry almost hourly to Playa Del Carmen.
The cons are: Like living on most islands, you can feel stir crazy after a while if you don't have something to keep you busy. Much of the island is just empty space with nothing to see except gorgeous beaches. (Well, that is not a con except when you get tired and want something to do out of the sun.)
Being in town when the cruises come can make it hard to compete for walking space with all the tourists.
Puerto Adventuras is a gated community around a marina. Residents enjoy manicured grounds and driving golf carts around.
The pros are: Many people enjoy the safe community of likeminded foreigners and condo dwellers.
The cons are: It is not the cheapest option for real estate. Like living in any planned community there are a list of rules and regulations. These can help or hinder you depending on your interest. Also like many smaller communities along the Riviera Maya, it is access to a variety of shops and restaurants can be lacking.
Tulum. Once famous for just the ruins, this town is now gaining in popularity as a trendy ecofriendly beach town (See our special segment on real estate and what is going on in Tulum now).
The pros are: Playa Del Carmen learned from the development of Cancun and Tulum is learning from Playa Del Carmen. Tulum is more eco minded and attracting other likeminded people. Tulum is attracting celebrities to the beaches, and this is helping to bring gourmet restaurants and bakeries to the downtown. Since most of the surrounding area is not developed, there is beautiful areas to visit including Sian Ka'an reserve which is adjacent to Tulum.
The cons are: This town is new to the development scene. Infrastructure is still developing and things like sidewalks and good water service are still coming along. Like other small towns, shopping is lacking and trips to Playa Del Carmen are necessary for some items. Real estate prices are already high because for years people have been speculating on this place developing.
Lesser
lived-in

places to mention in Quintana Roo State

Akumal is a coastal town between Tulum and Playa Del Carmen. It is famous for its turtles and swimming with them. This community is small but offers a little higher standard of living. It is clean and most of the houses and condos are on the more luxurious side. You will need to commute to get groceries and shopping, but you will live in a place that is beautiful and not too far from things.

Paamul is a small seaside community that started as a travel trailer camp for people. It now has developed into a more permanent community. It is noted for its travel campers with palapa roofs over them. Paamul is not too far from Playa Del Carmen but if you are looking to have a regular house in a regular community then this might not be for you. It is however one of the cheapest ways to live so close to the beach.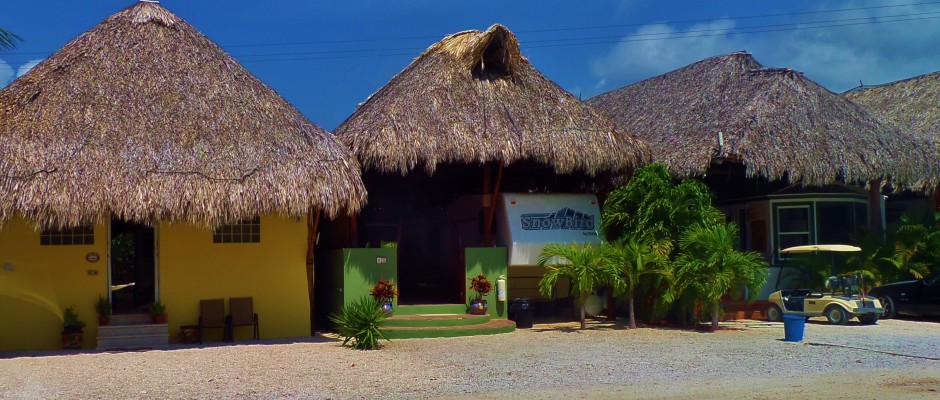 Bacalar is a small town on the big lake. It offers lake front living in a tropical setting. You can join a few other expats here. If you like remote living and don't mind the commute to big shopping and airports, then maybe this place is for you. Chetumal is the nearest big city.
Mahahual and the Costa Maya. This area is beautiful and remote. Mahahual is a fishing village with a cruise ship port. The town is pretty small and the coast just south of there is even more lost in time. It is like the old Caribbean, remote, quiet and undeveloped. If you want to open a small guest house and enjoy quiet days, this might work for you.
We hope you have enjoyed reading this article about where the expats live in Mexico. If you have an questions about certain areas or living in the Yucatan, please feel free to contact us here and we will do our best to give you independent advice.
Looking to Move to Mexico but not sure where?
Mexico is a big country, and, in this article, we only covered the Yucatan Peninsula. We have another article about all the popular places in Mexico where foreigners like to live and invest here.