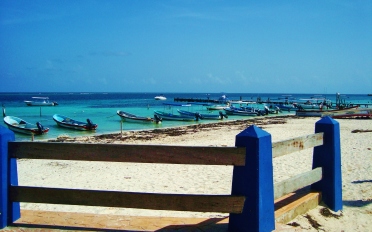 Puerto Morelos
Puerto Morelos is a small town about half way between Cancun and Playa Del Carmen. It has been a traditional fishing village and jumping off point for snorkeling the large reef of it's coastline. The town is divided between an area around the highway and then 2 kilometers down a road through the mangroves, the beachfront community. All of the tourist attractions are along the beach except the botanical gardens.
Puerto Morelos has been featured recently on "House Hunters International", a show that follows people looking for a home and then narrows it down to three choices. We watched a show and they kept showing scenes from Playa Del Carmen for filler. This spoke a lot about the size of Puerto Morelos. It means there is not much to see in Puerto Morelos and to fill airtime they needed added video clips. This stays true for anyone visiting. If you have a nice condo to lounge in then you can occupy your time doing that, but besides that the town only has a little to see and equates in an afternoon stop unless you are doing a snorkeling or fishing trip, and some people might just love that fact and here.
In the center of the beachfront area there is a pier and boardwalk to stroll around. There are a few tourist shops and a few restaurants. Restaurants tend to be average and no bargains to be found. We wanted to stop at an old favorite for some good seafood tacos on this past trip to Puerto Morelos. The place had won awards back in 2012 but it seems to be resting on it's laurels and was not quite as good. The place is called "Tacos.com" on the main street called Gomez. The last time we were there they had several really good salsas, all homemade. The last time there was one salsa and the prices have crept up. The tacos are still good as you can see in the photo. Yummy eh?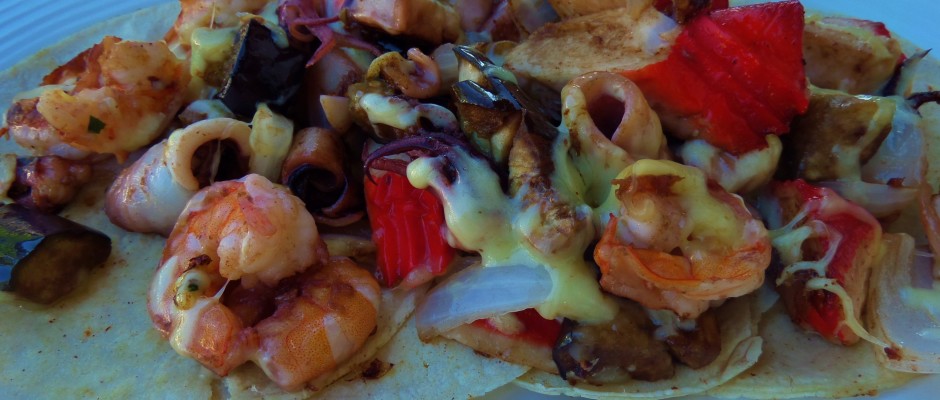 One unique thing to do in Puerto Morelos is visit the botanical gardens. Don't get too excited though. It is more just a trail through the woods with some local plants marked. Unless you really like plants and want to know a little more about local species, then going here might be a disappointment. There is one tower you can climb and you get an overlook at the 2k mangrove separation from the beach part of Puerto Morelos and the highway section. The botanical gardens are located on the highway just south of town on the ocean side of the road. It is not well marked.
To get to Puerto Morelos you can take the frequent ADO busses from Playa or the Playa Express colectivo for 20 pesos. The Playa Express leaves from 2nd street between 20th and 25th Avenues. These are the larger colectivos with AC and more space.
Airport transfers to Puerto Morelos
We have a full guide here on how to get from the Cancun Airport to Puerto Morelos. If you are staying here for your vacation and need transfers to and from the airport, you can book them here.