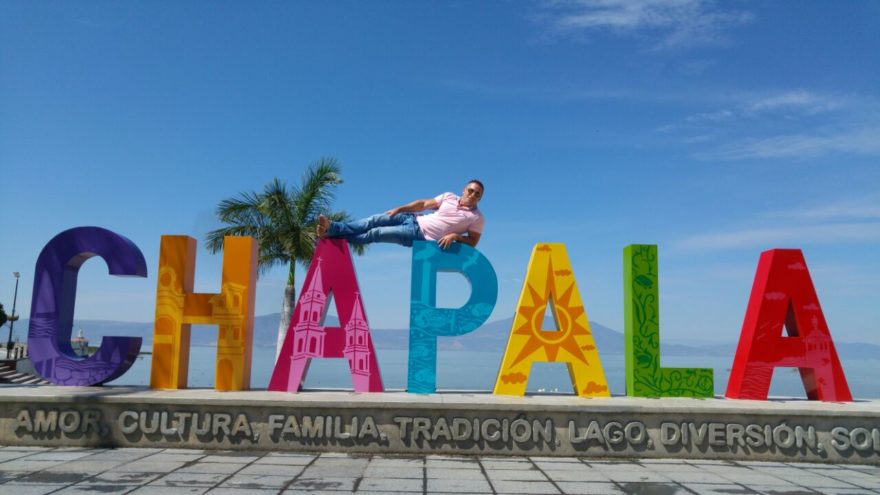 Many people are looking to move to Mexico, either for retirement or for a change of pace and place. There are many popular destinations where expats move to in Mexico. In this article we compare two very different places in Mexico, Lake Chapala in Jalisco state on the west side and Playa Del Carmen in the east.
Although these two hot spots for moving to are very different and you might think it is easy to focus on one area just based on personal preferences, we do however get asked about the differences and what life is like for those that choose each area.
Sometimes people that move to Mexico look for a change after a few years and start to research other areas to live in. Some look for places that offer things that are different to where they originally moved to.
We went on assignment to Lake Chapala to explore the area, talk to residents and get an overall feel of things. Here is our impressions of life there and what makes living on Lake Chapala unique and how it differs from here in Playa Del Carmen.
Where is Lake Chapala?
Lake Chapala area is about one hour south from Guadalajara. Here is a map to so you can get your bearings. On the top left you can see a yellow area, this is the City of Guadalajara. On the top of the lake on the left side are the towns of Ajijic and Chapala. These two towns almost blend together with their boundaries but each has a unique feel.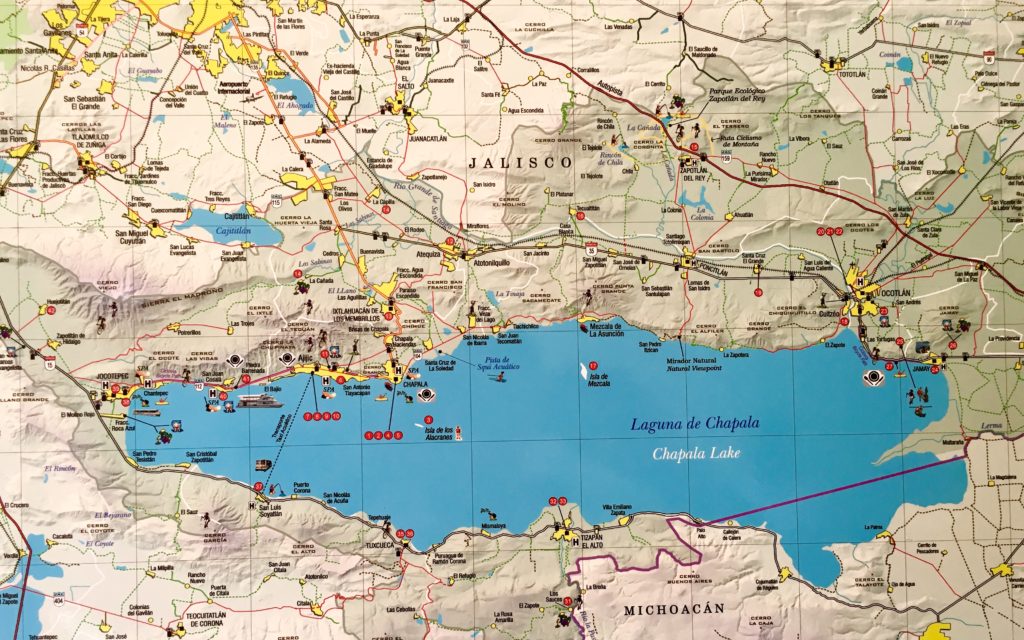 What is Lake Chapala like?
Lake Chapala is Mexico's largest lake. It is about 12-15 miles across and 55 miles long. It is surrounded by mountains. This naturally beautiful area has small towns around the borders of the lake and two towns in particular are popular with expats. The two most popular places are Ajijic and the other is Chapala, named after the lake.
There are some other smaller towns but these tend to be less  developed and in general the whole area has a rural feel to it. On the other side of the lake you will see what looks like white plastic sheets covering areas. This is actually tented fields that are growing fruits and vegetables.
What is the weather like?
Lake Chapala has a year round average of 68 degrees Fahrenheit or 20 degrees Celsius. This means year round you can enjoy outside activities and are mainly reminded by the season by the wet and dry periods.
When it is the dry season the mountains get very grey/brown while only the area around the lake stay green.
Activities around Lake Chapala
Since the climate is so welcoming, there is a lot to do outside all year round. Here are some of the things you can do:
Hiking and walking trails in the mountains.
Birdwatching. Some parts of the year see tens of thousands of birds come through this area. We saw it one evening at sunset. It was like a river of birds coming to descend on the reeds. It was like the famous monarch butterflies that come to Mexico. Many people come to the lakefront to watch this phenomena.
Visiting pueblos in the area. This area is central to many cute towns as well as venturing into Guadalajara.
Joining in a English group for activities.
Horseback riding.
Surprisingly one of the activities you might think goes on here, swimming, is actually not really done. Yes some people take a dip in the water but the darker water does not invite a lot of people in.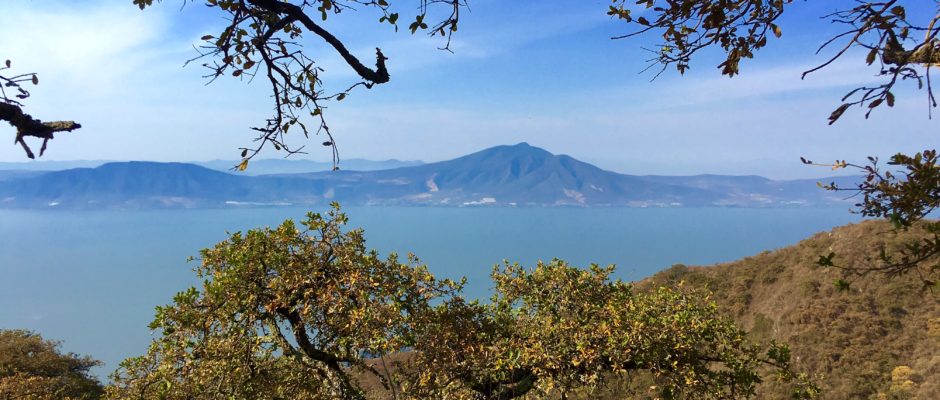 The Town of Ajijic
This is the smaller of the two towns and has always been a place for artist and writers to retreat to. This small town has the feeling of many artist communities in the world where people come from larger cities to visit on the weekend. It is where people come to visit the lakefront, stroll the small streets and do some shopping and then head home. The weekdays return the town to the more quiet life and residents enjoy their routines.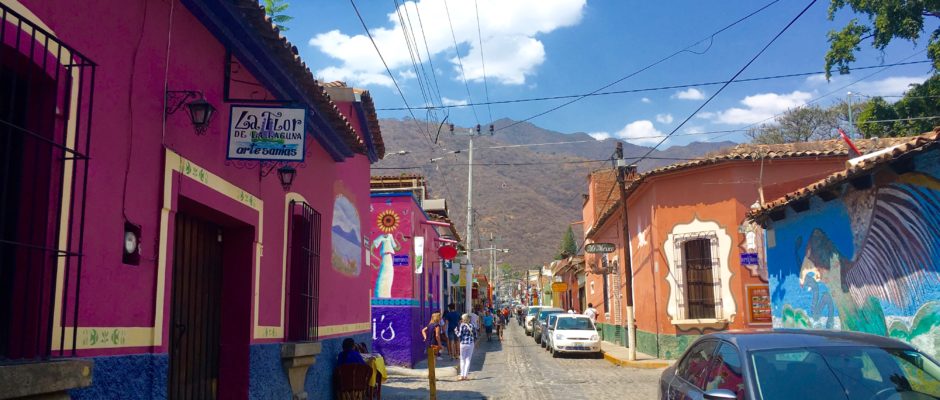 A photo of the central street that has some mall shops and leads to the malcon waterfront area.
The town is mostly one and two story houses and buildings with a small commercial center and zocalo. There is a new Walmart and commercial plaza that some would point to and say how fast the area is changing. In reality the town and lakeside have not changed much over the years and it is a wonder that more people from Guadalajara have not made home here. It appears the city of Guadalajara still holds job opportunities and life that many want to keep. This keeps the door open for expats to renovate old houses or build new ones to enjoy life here.
The town of Chapala
This town has a very nicely restored waterfront with pots of flowing plants, fountains and buildings that look like you could be somewhere in Europe. Chapala is larger but overall has an older feel to it then Ajijic.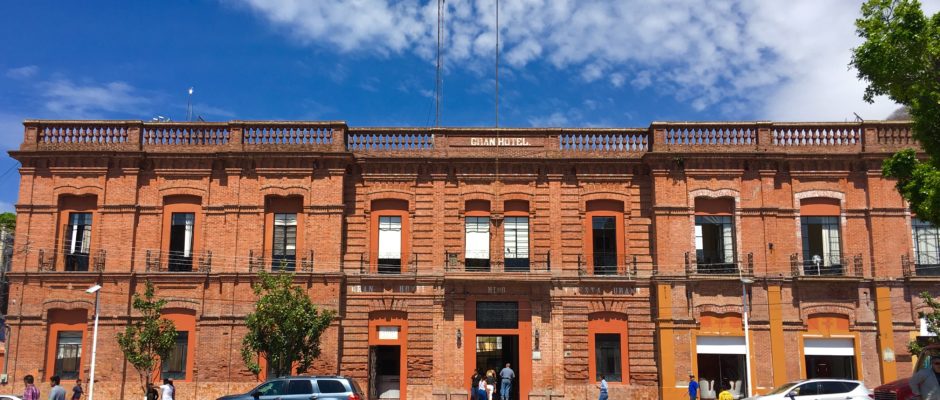 A few blocks back though you are reminded you are in Mexico. The main bulk of the town is perfunctory and those seeking out a place to have a house are outside of town. There are more basic stores and it is less touristy just a few blocks back from the waterfront. Most of the homes are smaller in Chapala.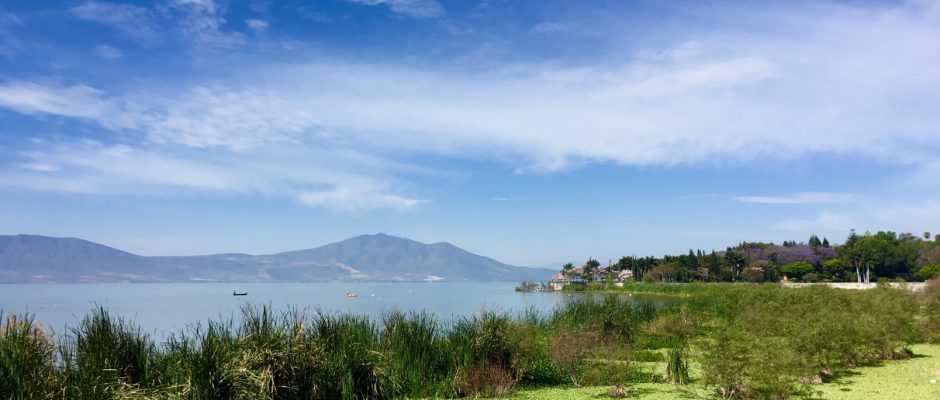 Real Estate in Lake Chapala
This is where people really have good options depending on your perspective. Compared to places like Playa Del Carmen where 80% of people own condos, Lake Chapala has space and most of what is available for housing are houses. The cost ratio for what you get is quite nice compared to some other places in Mexico. It is fairly easy to have a lake view and a large yard.
For the price of one home with a pool and view (about $220,ooo USD) you can have a nice house by Lake Chapala. If you were to compare that with Playa Del Carmen you would only be able to get a condo and what would be a similar home would cost about $100,000 USD more. Of course it is hard to compare a lake to the ocean and for $320,000 you certainly cannot get a house with an ocean view in Playa, but a nice similar house with pool and good area.
There are town homes in the Lake Chapala and this is becoming more common as people like the nice homes without the care of a large yard.
The one downside to real estate in the Lake Chapala area is the demand. It is not a hotbed of activity like some other places, so if you decide to sell you might have to wait for the right buyer to come along.
Why do people get tired of living in each place?
Lake Chapala
People that move to Lake Chapala area can get tired of these things.
It is a quiet area and you might want more action.
If you are a younger expat (we are talking 20-40) you might find the lack of amount of other younger expats or range of friends limiting.
If definitely has the stamp of expats on it and if you want a more Mexican experience then you might want to move to another area after a while.
There are limited options if you are looking to create work or a business for yourself.
Playa Del Carmen
People that move to Playa searching out a small seaside village to swing in a hammock and enjoy the Caribbean life sometimes get disillusioned by several things.
Cost of rent and housing.
The idea of having a beach front property or beach view might be out of your budget.
Cost of living is higher then most other place in Mexico.
Playa is growing fast and some miss the old Playa when it was smaller and more charming.
A few say it is too hot in the summer and want a more temperate place.
Who would love to live in the Lake Chapala area?
Ideally this is who could thrive in the area if this describes you:
 You are older, like 45-80 years old.
Like a calm life.
Like year round warm climate.
You like having some space, for example your own home.
Are not an ocean lover or looking to live by the sea.
You don't like city life.
Prefer an area that is not too touristy but still easy to get around in English.
Are not looking to live off a business and you are able to support yourself.
Do not need much medical care or need immediate access to care facilities. We mention this because Guadalajara is where you would most likely need to go for larger medical needs.