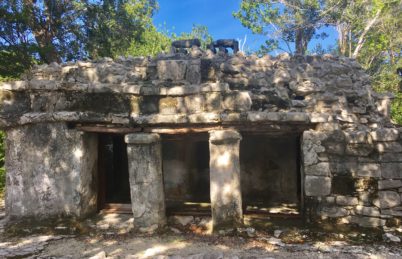 Why You Should Stop At Xelha Mayan Ruins
Thousands of people pass right by Xelha ruins each day. Most have no idea that they are so close to ancient history. Why should you stop you might ask? True there are no large pyramids here and it has not been made a wonder of the world but here are some reasons to visit:
This is a peaceful spot where you will not find many people.
Relatively inexpensive activity to do and Mayan ruins to visit.
Xelha ruins are close to Playa Del Carmen and Tulum.
The site is larger then most people think. it goes back a ways and even has a cenote.
You can still see murals on some of the buildings. These murals are fading away and without more protection they risk being lost for future generations to see. Visiting these sites will let the government know that people want to see cultural sites and more preservation can be allocated.
History and back story of Xelha Mayan ruins
Xelha was one of the Mayan cities that dotted the coastline. The inlet that is nearby was a natural port for the merchants and pilgrims that made the crossing to Cozumel. Now this inlet is the Xelha Park.
This same inlet was used by the Spanish when they came on an expedition in 1527-28.
This coast city was used as a port city for Coba. It was mainly used from about 600AD-1100AD.
How best to see these ruins
You will start from the parking lot where you will see a confusing map of the site. Follow the path parallel the highway until you get to this first photo. Make sure you walk around this building so you can see the murals.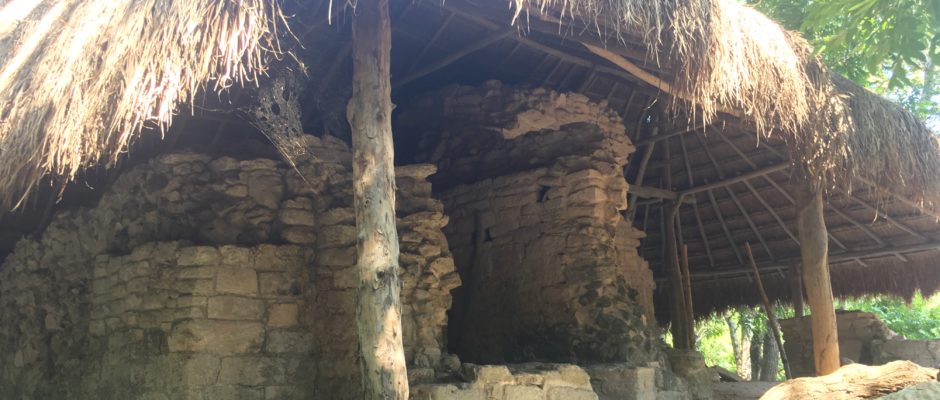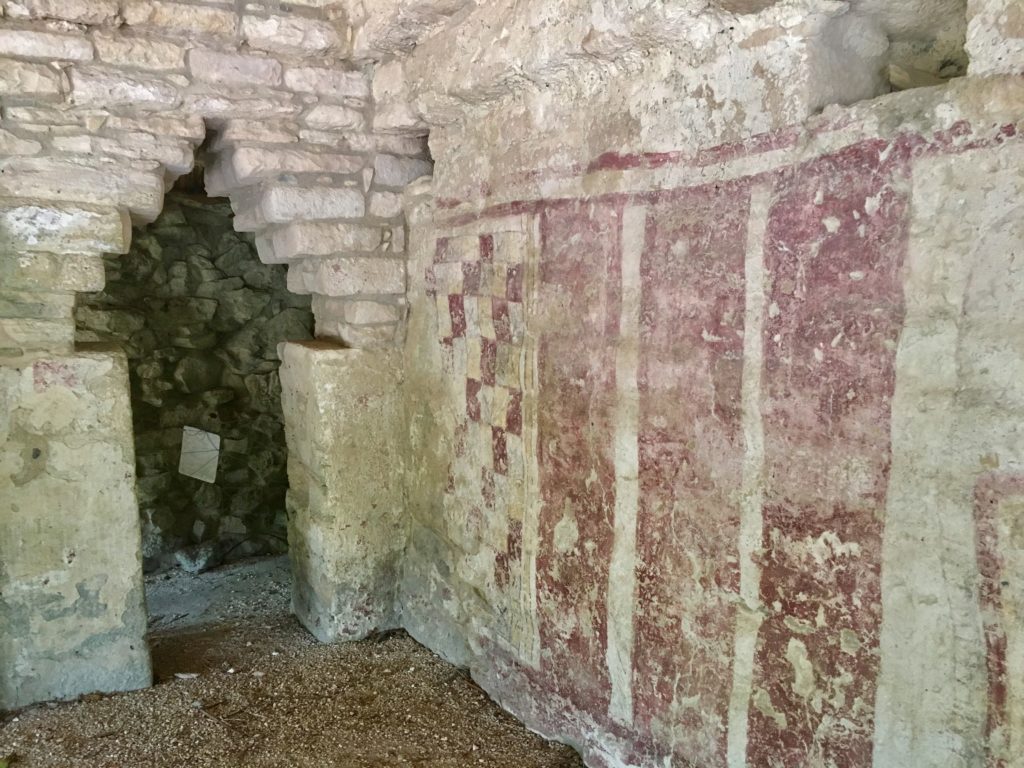 After you have seen this building you will continue in a clockwise circle through the ruins. Most of these are low lying strictures. When you come to the wide road below, follow this road, taking you deeper into the woods. At the end of this road you will see a small trail on your left. Take this path to see the Jaguar Group of buildings and cenote.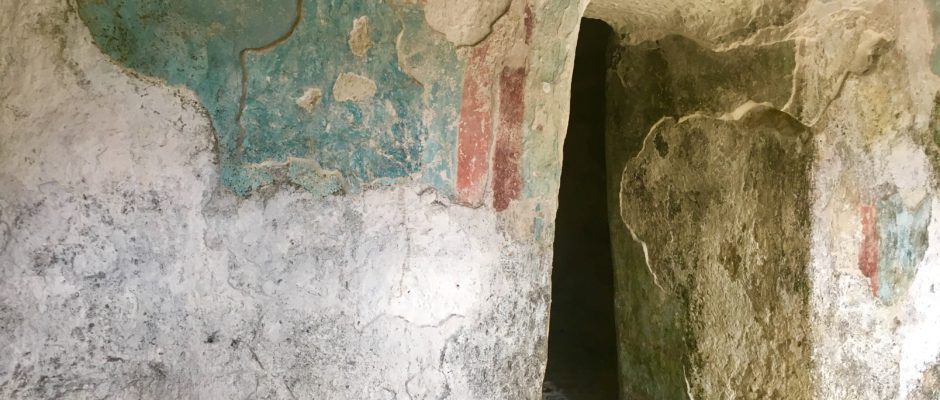 The cenote at Xelha ruins
On the back side of this Mayan ruins site you will find a cenote. This is where you will find the Jaguar Group of buildings. The cenote is medium sized and very peaceful. The water is a little dark and it is not for swimming.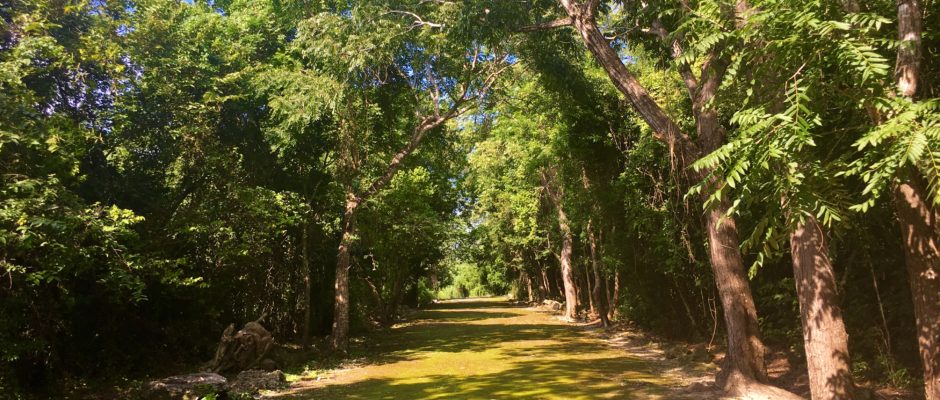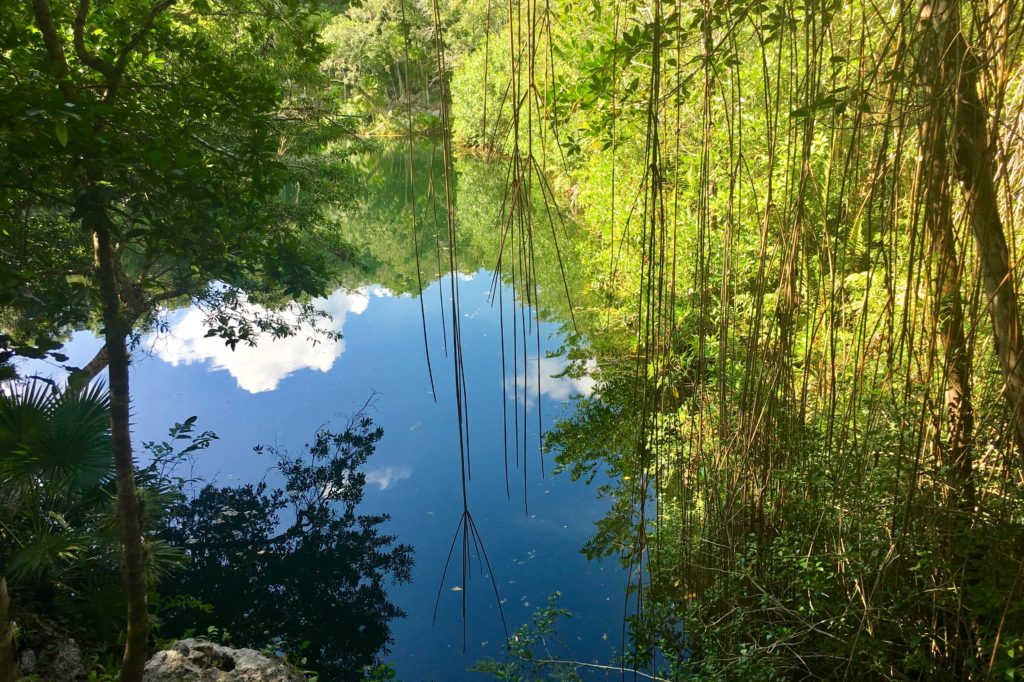 Entrance cost to Xelha and facilities
The cost is 65 pesos for entrance. The price is marked off the board but currently 65 pesos is the price on INAH website. There will be one person that takes the money and gives you your ticket. Try to have exact change because they will not have a lot.
The hours are 8:00am-4:30pm daily. The last entrance has to get in by 4:30pm because they close at 5:00pm technically. Of course you will want to get there earlier so you are not rushed.
Basic bathrooms are at the entrance. A small parking lot is available and free of charge.
How to get to Xelha ruins
There are two ways you can get to these ruins:
Drive yourself there. If you are driving from Tulum or Playa Del Carmen the entrance to the Xelha ruins is easy to miss. There is only one sign and one small driveway into the site. The overhead bridge to Xelha with the fish flags is a nice marker. The entrance is just south of the bridge on the west side of the highway.
Take the colectivos. If you take a colectivo from Tulum or from Playa Del Carmen you can ask for Xelha ruins. You will have to check because 99.9% of the time when people say Xelha they mean the eco park. If you are accidentally dropped off at the bridge where the entrance of Xelha is, you can walk south about 6 minutes and see the entrance. For how to take the colectivos see our article here.
To read about more Mayan ruins in the Riviera Maya and which ones might be good for you, see our guide here.
Have you been to Xelha ruins? What did you think? Let us know in the comments below.