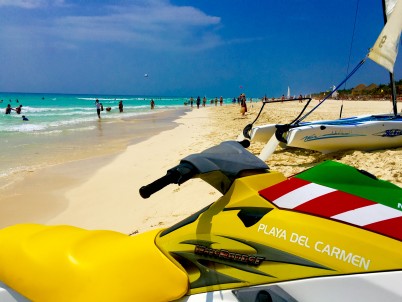 Playa Del Carmen Mexico
Coming to Playa Del Carmen Mexico? Are you looking to visit on vacation or are you thinking to move to Playa Del Carmen? We wanted to provide you with the best information for you. We are on the ground and out discovering things for you daily. Our passion for traveling and our desire to help people find great things moves us to keep discovering for you. We like providing insider information that will make for the best vacation or life in Playa Del Carmen.
Where is Playa Del Carmen?
Playa Del Carmen is in the Yucatan Peninsula in Mexico. This is the part that curves on the eastside of the country.
Playa Del Carmen is in the Riviera Maya. This is a stretch of coast that is home to some of the best beaches in Mexico. To our north is Cancun. This is where you most likely will arrive. Cancun Airport is the main arrival point for people visiting the area. We are about 45 minutes south of Cancun and Cancun Airport. See our detailed guide on how to get to Playa Del Carmen from the Cancun Airport.
Tulum is to our south. Tulum is about 40 minutes away down the 307 Highway.
There is so much to access from Playa Del Carmen! There are Mayan ruins, colonial cities and all the Riviera Maya beaches! We are in a great location to explore.
What is Playa Del Carmen all about?
Many people love Playa Del Carmen because it is a seaside town. It is more European feeling than cities like Cancun. What once was a small fishing village has grown into an international city today. Playa is very cosmopolitan and international at the same time it can have a small town feel.
The center of town is very walkable. There is one main pedestrian street that parallels the beach. This is called 5th Avenue. There are about 22 blocks to see here. This is where people love to walk and shop. There are also many restaurants and things to see on this street. You can read more about 5th Avenue in our guide here.
See also our Ultimate Shopping Guide to Playa Del Carmen here. This will give you a nice overall view of where to shop and what to expect.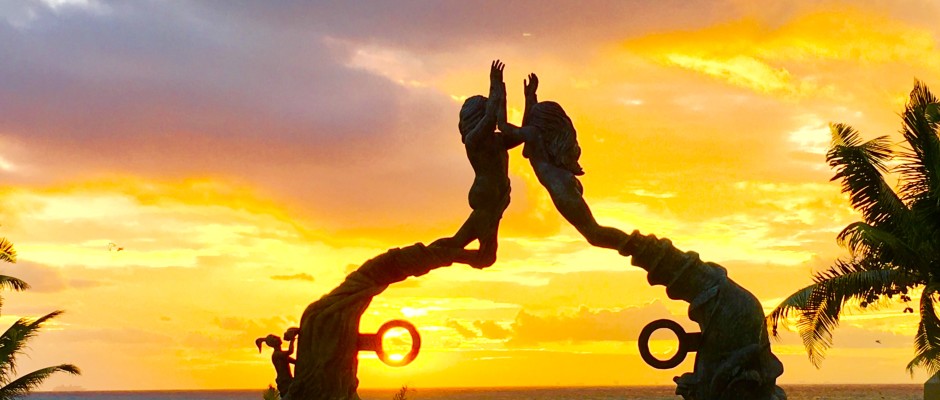 Playa Del Carmen Weather for your trip
You will be pleased to know that we have great weather year round here! In fact it is the main draw for most people. We have a yearly average temperature of  77 Fahrenheit.
The sea is warm year round and you can swim anytime of the year here. That is what makes it so easy to be outside all the time and really explore the Rivera Maya.
For more on weather including when it rains and what the best months are, see our guide here.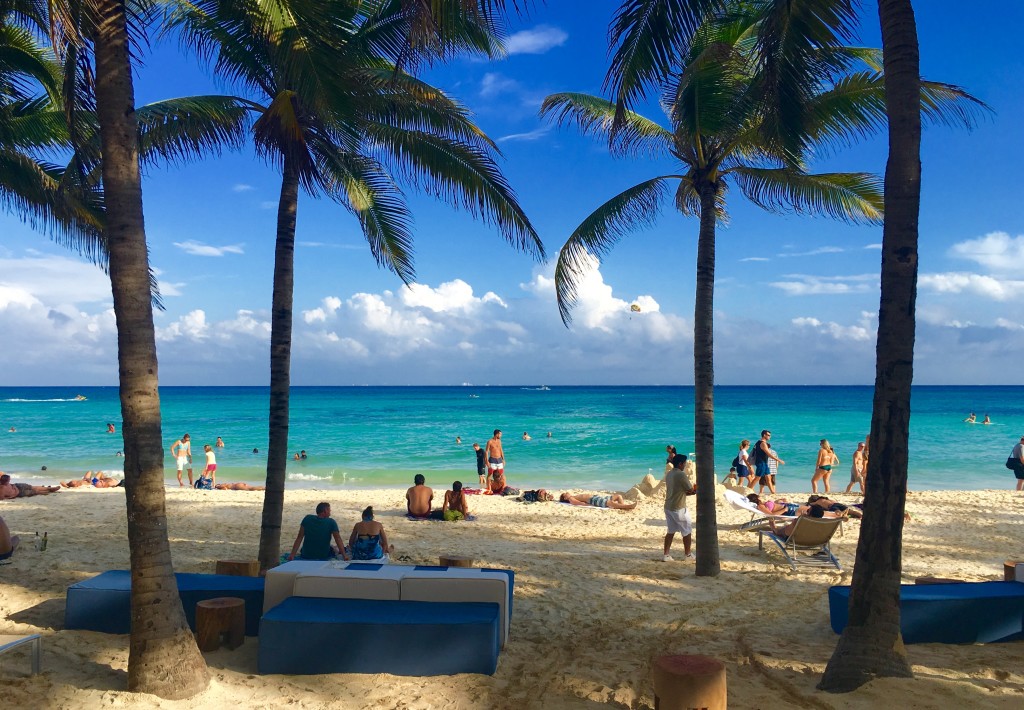 Playa Del Carmen Hotels
There are over 40,000 hotel rooms in the area! So that lets you know there are a lot of options for you. Below is a map of where to stay in Playa Del Carmen so you can pick an area you will like.
You can find older motels and hotels in Playa Del Carmen. There are also new and trendy hotels that rival great cities in the world. With so many hotels to choose from, we made a hotel guide.
If you are looking for a hostel, we narrowed that down in this article on the best hostels in Playa Del Carmen.
Playa Del Carmen All inclusive Resorts
In the center of Playa Del Carmen there are just a few all inclusive hotels. Most are outside of town because in the center you have so many restaurants and things to choose from you don't really want to be trapped on a hotel property.
Most all inclusives in Playa Del Carmen are in the Playacar section. This is a private neighborhood on the south end of town. If you want access to go shopping and still have the comforts of the all inclusive hotel, this area might be good for you.
To see what are the better all inclusive hotels to stay in, we compiled a guide for you. This hotel guide is for all the Rivera Maya and is broken down in sections.
If you are trying to decide on what resort to stay at, you are not alone. There are about 100 resorts along the coast! We have had so many emails from people asking us about which is the best for them, we decided to team up with an expert on the area. We encourage you to meet Lori in this article and video. This article also has Lori's contact information. She has been a great help to our readers.
Playa Del Carmen's Best Restaurants
With so many tourist coming there are a lot of restaurants to fit your needs. There are also a lot of people from around the world that have moved here and opened restaurants. This gives a great variety to choose from! You can find everything from tacos to Italian and vegetarian to Venezuelan.
Some of our popular guide are our where to eat guide. We talk about where we would eat in one week in Playa Del Carmen, Mexico.
The Cheap Eats guide tell you where to eat under 100 pesos. Our restaurant guide gives you reviews and a list of all the restaurants.
We have tons of more guides to food and restaurants. You just need to search in the search box and enter anything you are looking for. Chances are we have written about it! If not, send us a message and we will.
Nightlife in Playa Del Carmen
One of the more popular things to do in Playa Del Carmen is going out. Nightlife is pretty world class if we say so ourselves. There is about a different bar or club for whatever you are looking for. There is such a variety of bars we wrote a guide to bars. You can find where the bars are and what each one is like.
If you are looking to go our to a club then see our club and nightlife guide here. You can find all the places to go out at night.
Playa Del Carmen Tours, Activities and Excursions
When you come to Playa Del Carmen you no doubt want to go on some tours or experience some activities. We have you covered with many guides for you.
If you are looking for a tour or excursion, see our very thorough guide complete with an interactive map. You can see where these tours are and read more about them. Here is our guide to tours with the map.
If you are looking for some activities in Playa Del Carmen see our guide here.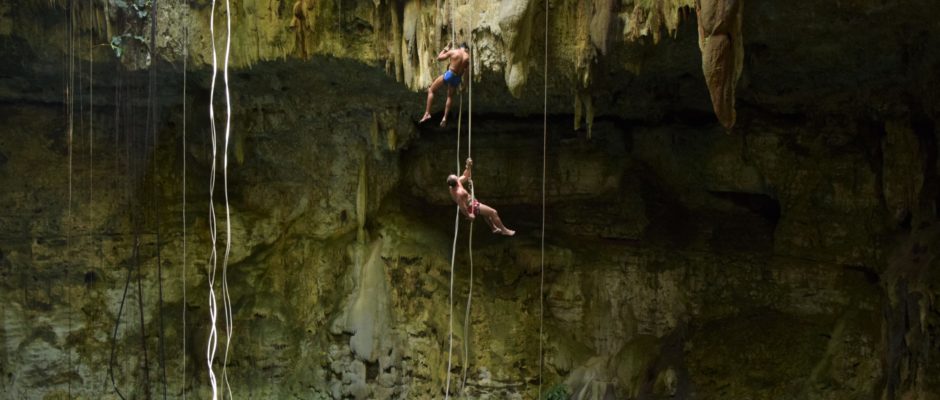 Living in Playa Del Carmen Mexico
If you are considering moving to Playa Del Carmen then we have you covered. We love helping people discover the best places to live and what it is like here.
Playa Del Carmen is already home to several thousand expats from around the world. Some people live year round and some live here a few months a year.
Mexico is growing in interest from many people around the world as a place to move to. Not only for people looking to retire but also for an increasing amount of younger people. We wrote an article you might want to read, it is about why Mexico is such a great place to visit and live in now.
We have a lot of information under our "expats" tab on the page. Search through this and hopefully this will be helpful to you.
Top Reasons to Move to Playa Del Carmen Mexico
It is beautiful! With turquoise seas and palm trees, it is like a paradise.
Warm and welcoming people. Mexicans are very welcoming.
Lower cost of living. As people age we all have to think about our budget. There are some things that cost a lot less in Mexico and some that are similar or slightly more then where you might live. See our article on the cost of living in Mexico here.
Easy to get to and from. Playa Del Carmen is an easy flight from the US and Canada. This makes it easy to go and visit friends and family. It also makes it easy for people to come and visit you! Cancun Airport is very easy to get to. There are also many international and domestic flights available at reasonable cost.
There is great accessibility to many cultural activities and destinations in the Yucatan Peninsula.
Playa Del Carmen is a modern city in Mexico and can offer you more comforts. You are able to have modern conveniences, nice neighborhoods and still have access to the small towns and quiet life.
Playa Del Carmen Real Estate
If you are thinking of moving to Playa Del Carmen you might be looking to invest in a property. It can be a task to get to know the market. We have taken some of the work out of it for you. We have written a handy guide to real estate. Best of all we are not a real estate company and don't try sway you in any direction. We just wrote it to be helpful.
Conclusion
We hope you get to come and visit Playa Del Carmen Mexico. We also hope with the use of our guides and articles you are able to discover the best of Playa Del Carmen. At EverythingPlayaDelCarmen.com we will be working hard here to continually cover new places and write more guides. We personally go to each restaurant and go on every tour so we can answer your questions.
If you are moving to the area or thinking of it, we hope we get a chance to meet you here! Let us know if you have questions. We love helping people get to know the area and how things work.
Happy travels from everyone here at www.EverythingPlayaDelCarmen.com