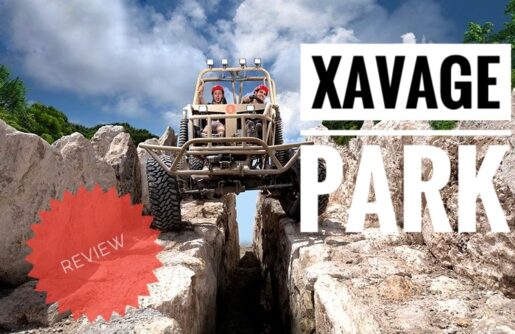 What is Xavage really like?
Xavage Park is the latest adventure park from Xcaret. This park is more for the thrill seeker and offers a challenging and exciting day of activities. Located between Playa Del Carmen and Cancun, Xavage offers all visitors to the Riviera Maya something to remember while on vacation here. Xavage is one of the more extreme adventures you can go on
Our video of Xavage Park
Like everything on our website, we go to experience it so we can tell you just what it is like. Here is a brief video we made for you of the Xavage experience.
What activities are there to do?
Do you like to be challenged? Want some extreme activities to do while on vacation? Want to get your adrenaline pumping? Well Xavage has it for you! Here are the activities you can partake in. Most of these are open all day but some have certain open hours, so you need to plan your day accordingly.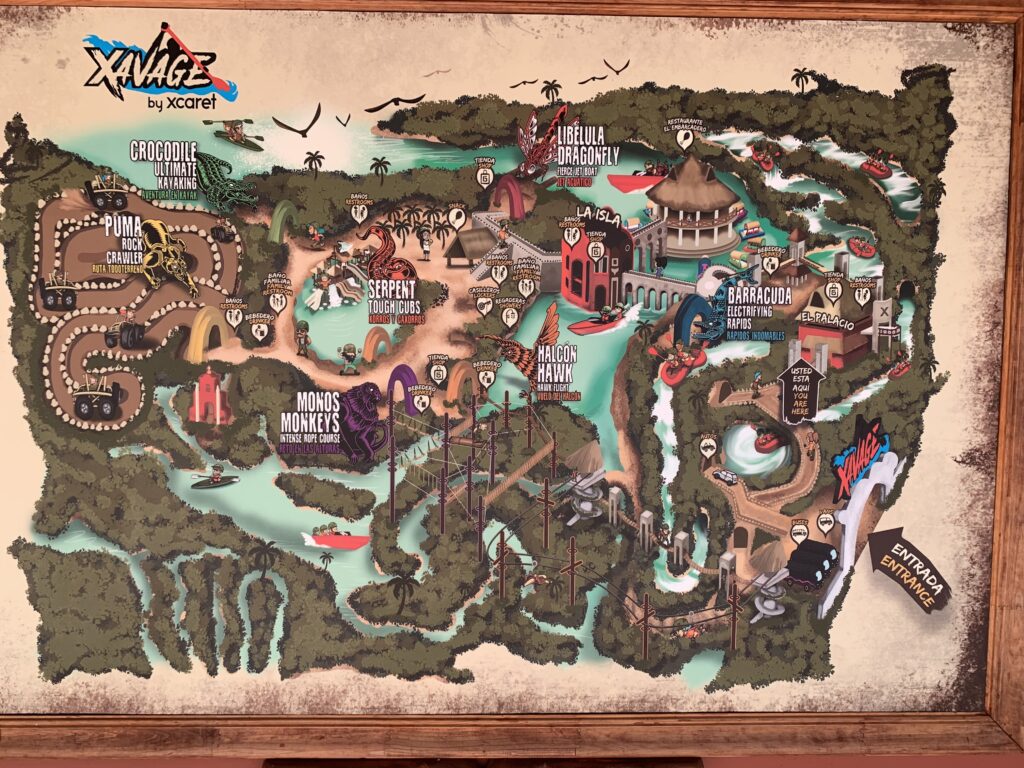 Kayaking
Kayak though some fo the calm canals while observing nature.
Obstacle courses
Challenge yourself to one of 4 levels of courses. You will have a harness and security line on the whole time. This activity takes about one hour to 90 minutes to finish.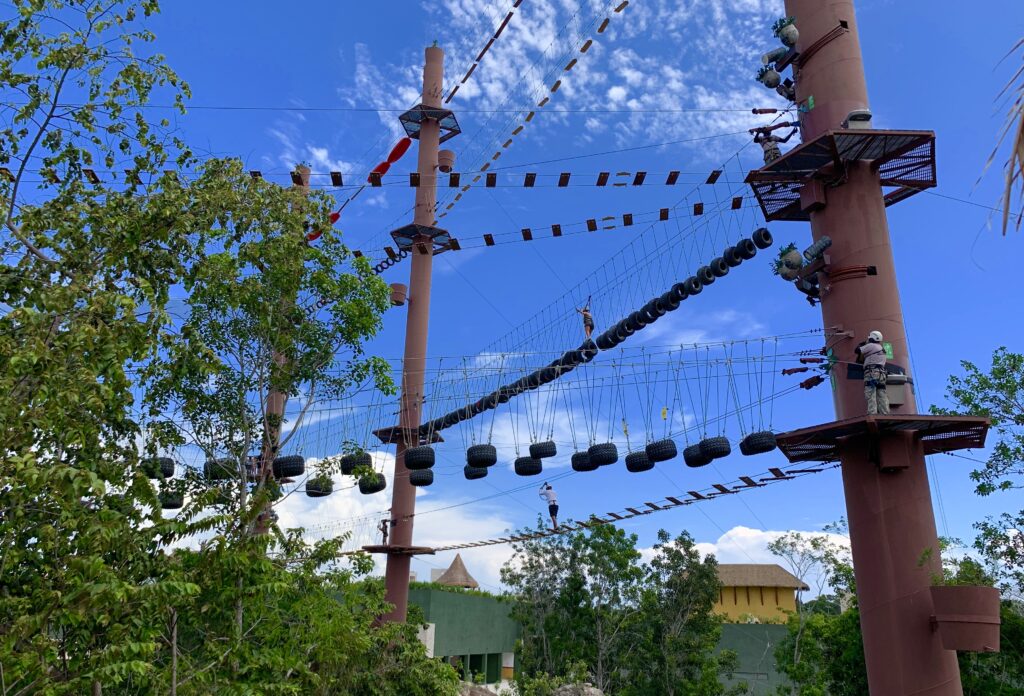 Kids play area (ages 5-12)
This is a wading pool area with slides and fun climbing activities for young kids.
Flying on a zip line
There are two tracks that you can take a short flight on. They have special body harnesses that allow you to lay face down and fly through the air. This is not super fast or scary but does give you a different type of zip lining experience.
Power boat ride
Zoom down some of the canals on the property. You will experience speeds up to 53 Mph (85 Kph). Sometimes doing a 360 turn in the water. These boats are so powerful you will feel like you are flying.
White water rafting
Experience the only place in the entire peninsula you can go rafting. This unique manmade course will give you a taste of what it is like to go white water rafting. Each raft has an experienced captain that will give you instructions before going down the route. To start with, you will go up a conveyor belt and start your river adventure. During the trip you will go over two drops. One is a class 2 of 1 meter and a class 2 of 2 meters.
Overall this is a fun activity that can get your adrenaline pumping a little. At the end you can float in the river and feel the current take you along while heading back to the dock.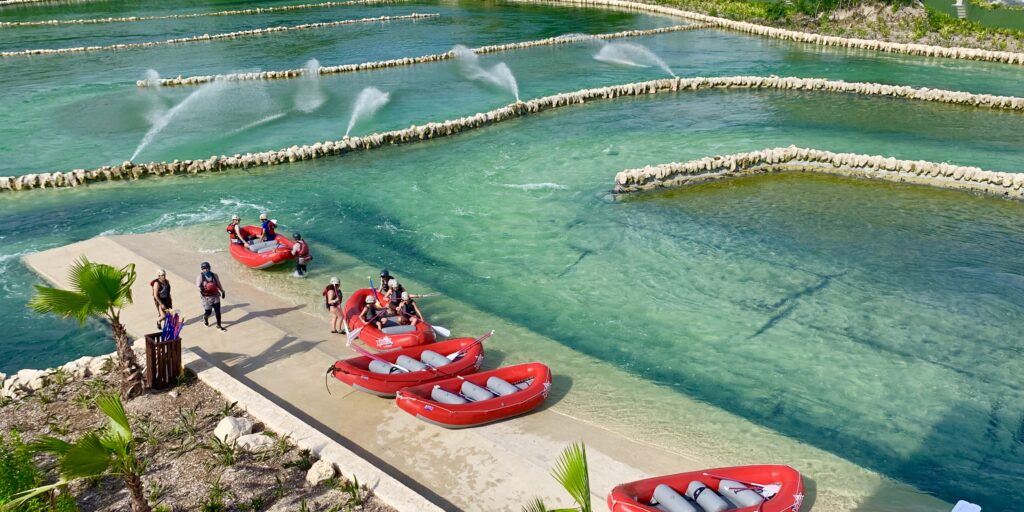 Extreme Jeeps
If you have ever wanted to drive over cars and challenge your driving skills on an extreme driving course, here is your chance! These specially designed vehicles allow you to take on some tough driving. You can drive solo or with a copilot. This experience it like a Mad Max movie or a Humvee military expedition.
How to get the best prices on tickets to Xavage
The best way to get to the best possible price for tickets is buying them in advance here. Buying your tickets in advance from 7-20 days will get you a discount of 10% off the admission price. Buying your tickets 21 days or more in advance will get you 15% off your admission. This can save you a good amount of money especially for a family. Best of all, you can change the date of your tickets up to 24 hours before, so if you change you mind about the day you want to go, you can.

What activities are included in each package?
Xavage offers different packages for those that want to do different activities. The two most commonly bought are the basic and all inclusive package. You can also create your own package of activities as well. Here is what is included in the two most common packages.
Xavage Basic:
Kayak-Two circuits through the canals.
Ropes Course- Four different levels.
Tough Cubs: a special place for children ages 5 to 12 years old.
Snack (one cookie and one smoothie).
Unlimited buffet lunch with non-alcoholic drinks.
Safety equipment for all the activities.
Restrooms, dressing rooms, showers, and lockers.
Other services (WiFi, ATM and shops).
Free parking.
Xavage All Inclusive:
Kayak-Two circuits through the only canals of the destination.
Ropes Course- Four different levels.
Zip-line Xavage.
Jet Boat.
Rafting.
Monster Truck.
Tough Cubs: a special place for children ages 5 to 12 years old.
Snack (one cookie and one smoothie).
Unlimited buffet lunch with non-alcoholic drinks.
Safety equipment for all the activities.
Restrooms, dressing rooms, showers, and lockers.
Other services (WiFi, ATM and shops).
Free parking.
How do you get to Xavage Park?
Xavage Park is between Cancun and Playa Del Carmen on the 307 Highway. It is also the same location of Xoximilco Park. From many of the hotels in the Hotel Zone of Cancun this is about a 20-30 minute drive. From Playa Del Carmen it is about a 46 minute drive.
Because public transportation is very hard to use to get to Xavage, we recommend wither driving yourself or booking the transportation of the park. Note: You can only book transportation when your purchase your tickets.
Other common questions about Xavage Park
What restrictions are there for this park?
There is a minimum age of 5 to enter park. Children must accompany an adult at all times in the park.
Certain activities are off limits to women that are pregnant.
Some activities are not recommended for people suffering from epilepsy, asthma, hypertension, diabetes, or with neck and/or back problems, with recent surgeries or history of heart problems.
All activities are subject to weather conditions.
What days is Xavage open and what are the hours?
Xavage Park is open Monday to Saturday from 8:30am-5:00pm.
What to bring and what to wear to the park
Here is a big tip for you! Wear aqua socks or water shoes that wrap around your feet. You will be able to use these on all activities without changing shoes. Flip flops are not allowed on all activities since they can fall off. Sneakers can be used, but they will get wet. They do sell water shoes in the gift shops at Xavage.
For clothes, it is best to have something that can get wet and also a change of clothes. Also bring a towel since these are not provided.
Lockers are free of charge. You will get a special wristband with key holder for your locker key.
Sunscreen and bug spray must be biodegradable. If you only have chemical sunscreen, you can trade it in for bio degradable when you arrive. The reason for bio degradable is to keep the environment clean of harmful chemicals.
Thank you for reading our article about visiting Xavage Park. If you have any questions or comments, let us know below in the comments section.
You might also like to read our reviews of the other parks you can visit like: