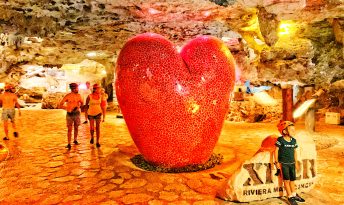 Xplor Park or Xplor Fuego
Xplor Park during the day offers people an adrenaline packed day of activities and also opens at night under the name Xplor Fuego. So what is better? What are the differences between Xplor during the day and Xplor Fuego at night? Many people will say they had a good time at each one but often have not done both. There are some big differences which we will discuss in this article, and we also have an opinion on what one we like best which we will comment on.
Let's get started first by explain what Xplor Park is.
What is Xplor all about?
Xplor Park is one of the Xcaret Parks that are available in the Riviera Maya to visit. All of their parks are well designed, fun and well worth the price of entry. All the Xcaret Parks will make a memorable day for your vacation. They are also some of the top attractions in the area.
Xplor Park is the adrenaline junkies fun day to play park. There are four main activities to do here. There are zip lines, driving jeeps in the jungle, swimming in the underground river and paddling rafts through the caves. To really give you a good overall of what this park is like, we made this video of Xplor for you.
What is the difference between Xplor during the day and Xplor Fuego at night?
There are some big difference between daytime and night. Here is a list for you.
There are fewer people at night. Most people want to do daytime activities during their vacation and visit Xplor in the day. This however does not mean it is crowded in the day. More parts of the park are open in the day to space people out.
During the day there are two zip line circuits open. During the night at Xplor Fuego there is only one. In the daytime you have time to do both circuits of zip lines.
The jeep driving at night is limited to one route, but it is longer. During the day there are multiple courses open, but they are shorter.
The daytime hours are 9:00am-5:00pm giving you 8 hours to explore the park and have fun. For Xplor Fuego you have from 5:30pm-11:30pm giving you 6 hours in the park.
The admission price is cheaper for Xplor Fuego by about $18 USD.
The menu is a little different at night. There is a buffet during the day and night but you do have more options during the day and you will likely snack more during your extended time there. All food and non-alcoholic drinks are included in the admission price for this park.
The raft course at night is different from the day. It seems to be shorter but still pretty good.
Transportation home is more easy in the daytime. Most will book transportation with their tickets, but if you are going to take the colectivos or taxi, there are less late at night.
At night, they add torches and red lights around the park. One zip line run you go through a ring of fire which is a good photo op. However, photos are harder to take at night.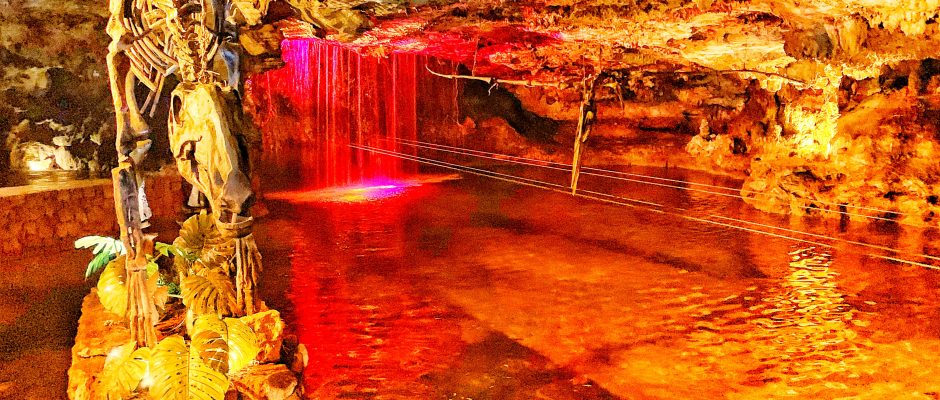 When we prefer to visit Xplor
Since there are some difference between nighttime and daytime at Xplor, we do have a preference as to when to go. We would much rather go during the day to Xplor. We have several reasons why.
Xplor Park is beautiful with lush jungle and amazing cave formations. It is nice to be able to see all of this during the day. At night it is dark most of the time, so you cannot get the scope of the park.
Since Xplor Park is large and there is a lot to do, we like making a day of it rather than just the evening.
The food during the day gives you more options and is better in our opinion.
We like the energy of the daytime better. There are more people but that does not make it too crowded. There are more activities open and perhaps a little more wait, but it is fun.
In the months from November to March we also like going to Xplor in the day because it is warmer out. Sometimes during the hottest months in the Riviera Maya, it is nice to go to Xplor Fuego and not be out in the day. At night it is still fun to splash about and enjoy the cooler evening time.
We think the value is better for the daypass to Xplor. At night we finished everything in a little over 4 hours. During the day you can do more activities and also relax and enjoy the sunshine.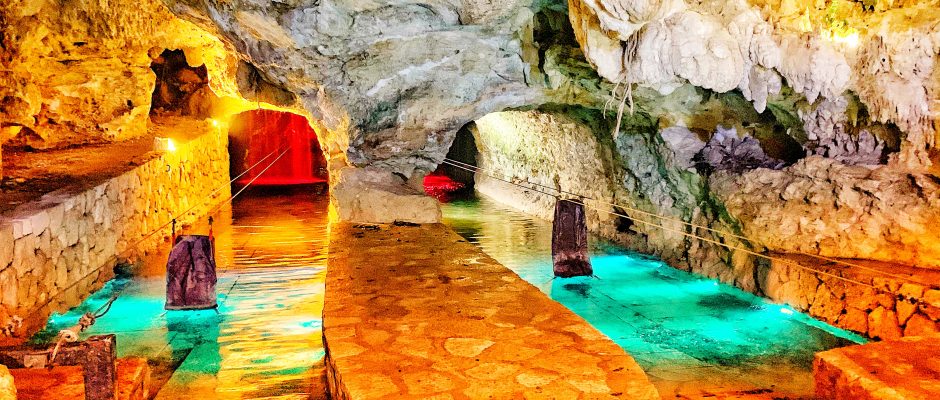 Who might like Xplor Fuego more than the daytime?
Even though we like the daytime at Xplor Park more than at night, there are people who might appreciate Xplor Fuego more. Here are some examples.
You might like Xplor Fuego more if:
You want to maximize your time on the beach or pool during the day.
A shorter adventure is sufficient for you.
You have other tours or activities during the day you want to do.
Xplor Fuego is perfect for those hot summer nights and you want to cool off.
You are more of a nighttime person and don't mind being active until 10:00 or 11:00pm.
How to get the best deal on tickets to either Xplor or Xplor Fuego
Many people wait until they arrive in Mexico to buy their tickets but did you know the best way and only way to get a discount is buying in advance? You can save up to 15% off the entrance price by using the link below and buying in advance. This will be cheaper than buying them at the entrance.
When you purchase your tickets online 7-20 days in advance you save 10% off the admission prices. When you purchase 21 days or more in advance you save 15% off! That can really save a family or group some money. You can also change days up to 24 hours before your booked day if you want to rearrange your days.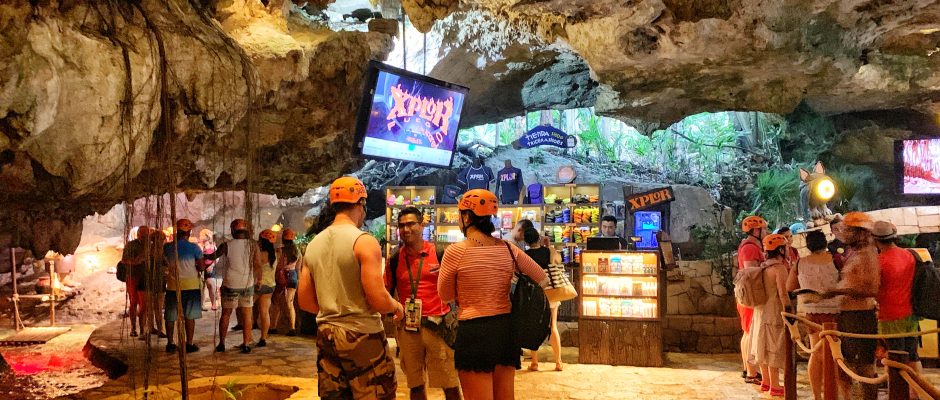 What to wear to Xplor
Since this park is all about adventure and fun, you will be active. It is best to wear a bathing suit either as your main outfit or underneath. You will get wet on most activities. For women and men, if you wear shorts, longer shorts are more comfortable with the harness for the zip lines.
What you wear on your feet is the most commonly asked question. The best thing to wear are aqua socks. These allow you to walk around and also get wet. They also will not fall off like sandals when you go on the zip line. You can go barefoot, but be aware that parts of the sidewalks can be slippery and not all trails are perfectly smooth. They are smooth enough for most people though to walk without shoes. There are a lot of trails though, so be prepared to be comfortable.
In addition to what you wear, bring a towel to dry off and a change of clothes is a good idea. Lockers are available for free where you can store things.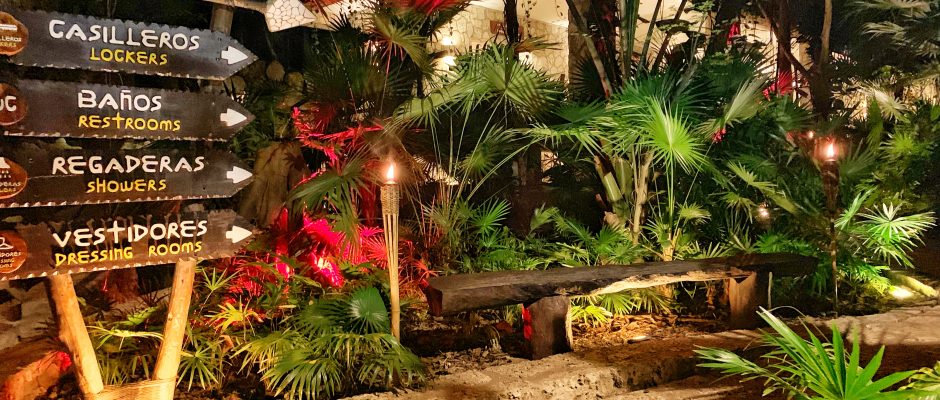 Transportation to Xplor and Xplor Fuego
There are 4 main ways to get to Xplor Park and it will depend on where you are staying and how fast you want to get there. Here are the three main ways.
Include transportation in your ticket. Xplor Park will pick you up either at your hotel or nearby meeting point. This is a good option if you want a simple all in one option to plan out your day. It is also a good option if you staying further away, like in the Cancun or Tulum area. You can purchase this Xplor All Inclusive with Transportation here. You must purchase transportation when you buy your ticket.
Taxi. This option is good if you are staying in Playa Del Carmen or nearby. This is good for 1-4 people or if you are more, a taxi van. It is fast and a direct way to get there. It is cheaper than buying the transport with your ticket from Xplor Park. If you are staying further away this option can get expensive. When you go to leave the park there will be taxis waiting in the parking lot.
Colectivos. These are shared minivans that go from Playa Del Carmen to Tulum and return or between Playa Del Carmen and Cancun and return. These are cheap costing less than $3 USD per person depending on where you are coming from. This is a good option if you are staying near the highway or can easily get to 2nd Street in Playa Del Carmen where they leave from. Colectivos are also good for a few people, larger groups can find it hard to get seats in one van. Colectivos will leave you in the highway in front of the entrance of Xplor Park. When you are leaving the colectivos will pick you up from the highway. If you are going to Xplor Fuego, leaving late at night and taking the colectivos is not a good option. They do not run all night and late at night they slow in frequency.
The last option is a rental car. This makes sense if you are renting a car for a few days or are staying in Cancun or Tulum and have a group with you going to the park. Parking is easy at Xplor Park and is free.
Xplor Park is fun no matter when you go
If you decide to go at day or night to Xplor you can have a great time. We like people to make the best decisions for themselves and know what to expect. Xplor and the other parks of Xcaret are very special places that you can visit when in the Riviera Maya. For more information about these parks including videos, see our reviews here of Xel Ha, Xenses, Xoximilco, Xenotes, Xcaret, and Xplor.
Thank you for reading our article about Xplor Park and Xplor Fuego. Let us know what you think of these parks and which is your favorite in the comments below. We would love to hear from you.