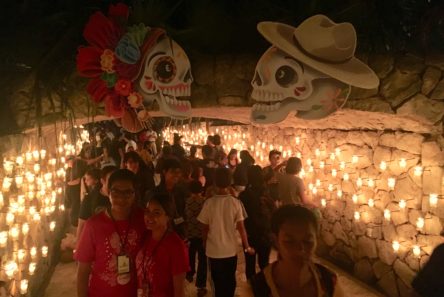 Xcaret's Festival of Life and Death
This year (2019) marks the 14th edition of Xcaret's Festival of Life and Death. This year the state of San Luis Potosi is highlighted and will embellish the event by bringing customs and culture to the traditions proudly celebrated there. . From October 30th to November 2nd at Xcaret celebrate the symbolic moment of passing from life to death, and the belief that the souls of the dead come back during these days to interact with them in a reunion that takes place each year.
This festival or special event pays homage to the Day of the Dead and the Mayan traditions of Hanal Pixan. If you are visiting the Riviera Maya during this time period, this is one way to experience special Mexican traditions in a colorful way.
Our brief video introduction to this festival
What is there to see an do there?
When you enter the park be sure to see the large list of daily events. These take place around the park in theaters and performance spaces.
You can see folkloric ballet, pre-Hispanic and contemporary dance, traditional rituals and festive dances. There are also theatrical performances of comedy, drama, puppet and scenic shows, monologue, circus theater, narrated and regional theater, among many others.
Join the Xantolo, a celebration from the Huasteca region that tributes those who left this Earth. The Day of the Dead festivities in Mexico are enlisted as Intangible World Heritage by UNESCO.
The program for 2019 includes theater plays, dance shows, several concerts, and the traditional All Saints' Catholic mass. Also, there will be interactive workshops, exhibitions, and the Interactive Hacienda which is a space for children and grown-ups where they can learn and have fun while learning about the many Day of the Dead traditions.
For the 14th edition of the Festival of Life and Death Traditions at Xcaret, there will be two Gala Concerts on November 1st and 2nd, starring Los Ángeles Azules. Dance and sing along their classic hits at the best stage in Cancun and Riviera Maya: Gran Tlachco Theater.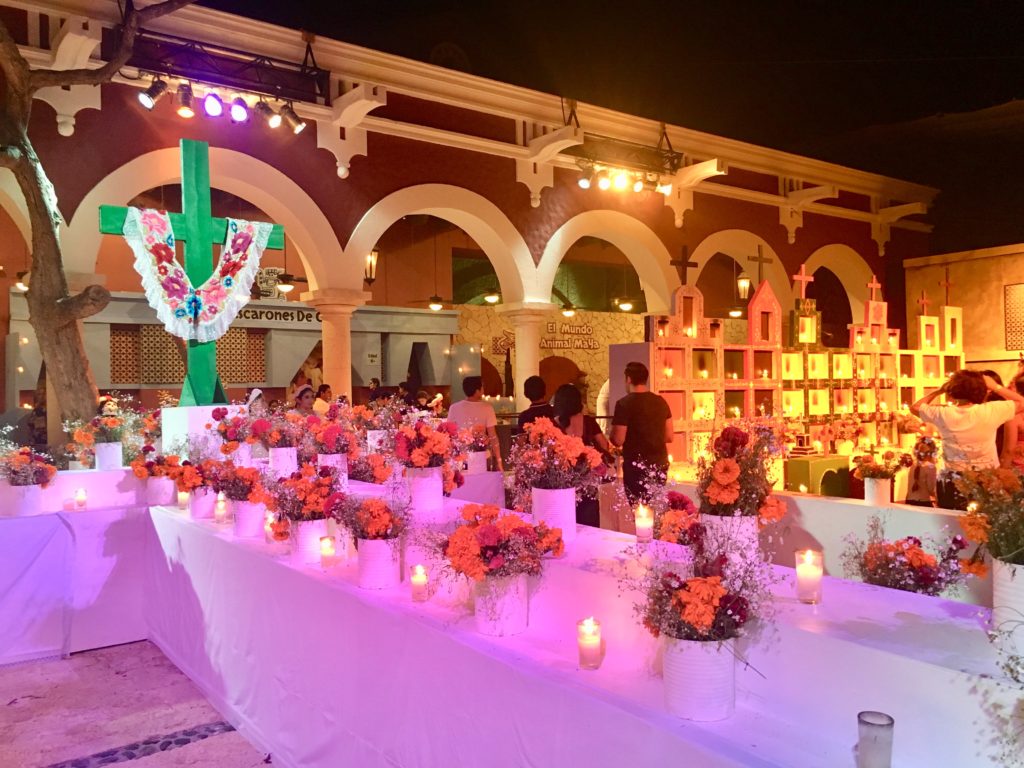 Tour the alters in the park
There are over 40 alters in the park this year. These are creatively decorated with flowers, photos of dead loved ones, candles, and offerings of food and drink. Even though this is a touristic park, these are the same alters you will find in small towns around Mexico and is an authentic look at Mexican culture.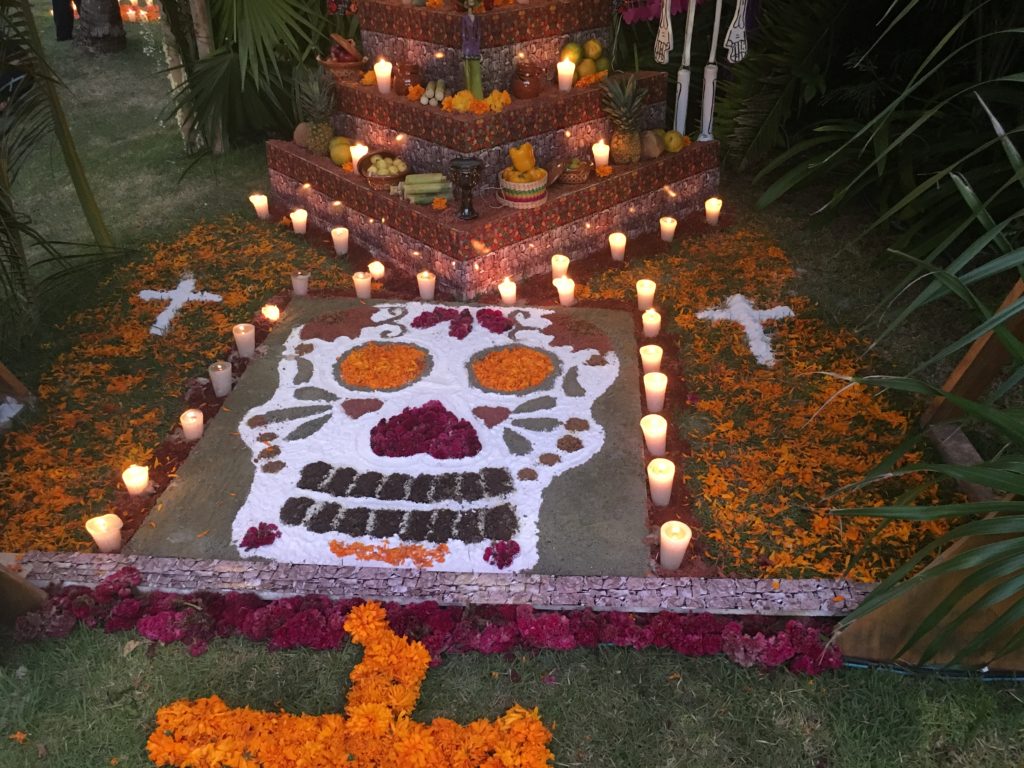 Visiting the cemetery
One of the top things to do at Xcaret's Festival of Life and Death is visiting the circular cemetery. This is a part of Xcaret park that is open year round but it takes on special meaning during this festival. Traditionally marigolds are used for decoration of the graves and torches are placed through the cemetery. People file through and look at the many "tongue and check" graves. It highlights the Mexican spirit of celebrating life and death.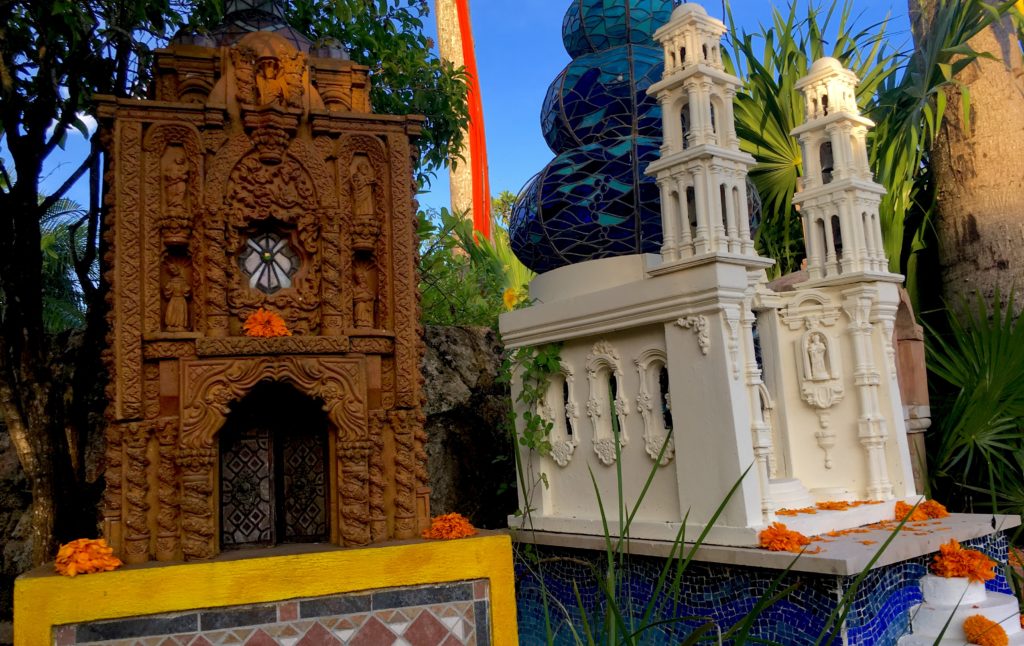 Try some traditional food
An important reason for the dead to come back these days is their favorite food and for them to be able to taste the dishes they enjoyed so much while living. With the cuisine prepared at Xcaret, the living and the dead will have a lot of options to delight and choose from.
What is really nice is the fact Xcaret invites people from local communities to cook and set up stands within the park. It is just like visiting a small village and getting to participate in the local traditions. They even sell food and drinks at local prices which is also nice.
You can find pibipollo, a type of really big tamal, stuffed with chicken, wrapped with banana leaf and cooked underground, cochinita pibil, tacos, salbutes more. You can find Mexican drinks like chaya, horchata or jamaica as well. Alcohol is also sold.
Hoe to get tickets for Xcaret's Festival of Life and Death
You can purchase tickets by clicking the link below. It is recommended you buy them ahead of time. This way when you arrive they can just put a bracelet on you and you can enter. This event is attended by thousands of people and you don't want to get stuck in a line.

Get your admission to Xcaret and get a free access to our famous Life and Death Festival, that takes place inside Xcaret between October 30 and November 02nd, 2019
How do you get to the Festival at Xcaret?
Most local people drive to the Festival of Life and Death at Xcaret. There is also special ADO busses that you can take from Cancun and Playa Del Carmen. Taxis can be an option but keep in mind that traffic is slow entering the park and there will be a higher normal fare. Make sure you ask what it will be before getting in.
Xcaret park is located just about 5 minutes south of Playa Del Carmen on the 307 Highway.
Self driving to the event
Many people drive to Xcaret for this event. So be prepared if you do because traffic is slow entering and exiting the festival. Special parking lots are open for the festival. Many of these parking lots are on outlaying area around the park. There will be attendants directing you. Most parking areas will have free shuttle busses to the park entrance.
ADO bus to Xcaret for this special event
ADO bus company will have special busses for this event. You can take them from the Cancun ADO bus station or from one of the Playa Del Carmen ADO bus stations. This is a great choice for tourist since it is a direct bus and no need to worry about parking or an expensive taxi. Prices are about 40-70 pesos each.
Have you been to Xcaret's Festival of Life and Death? What did you think? Let us know in the comments below. We would love to hear from you.
For more on visiting Xcaret for this event, see our article here. Also if you are interested in going to Xcaret park did you know you can go to all the parks for free when you stay at Hotel Xcaret Mexico? It is one of the best resorts in the Riviera Maya!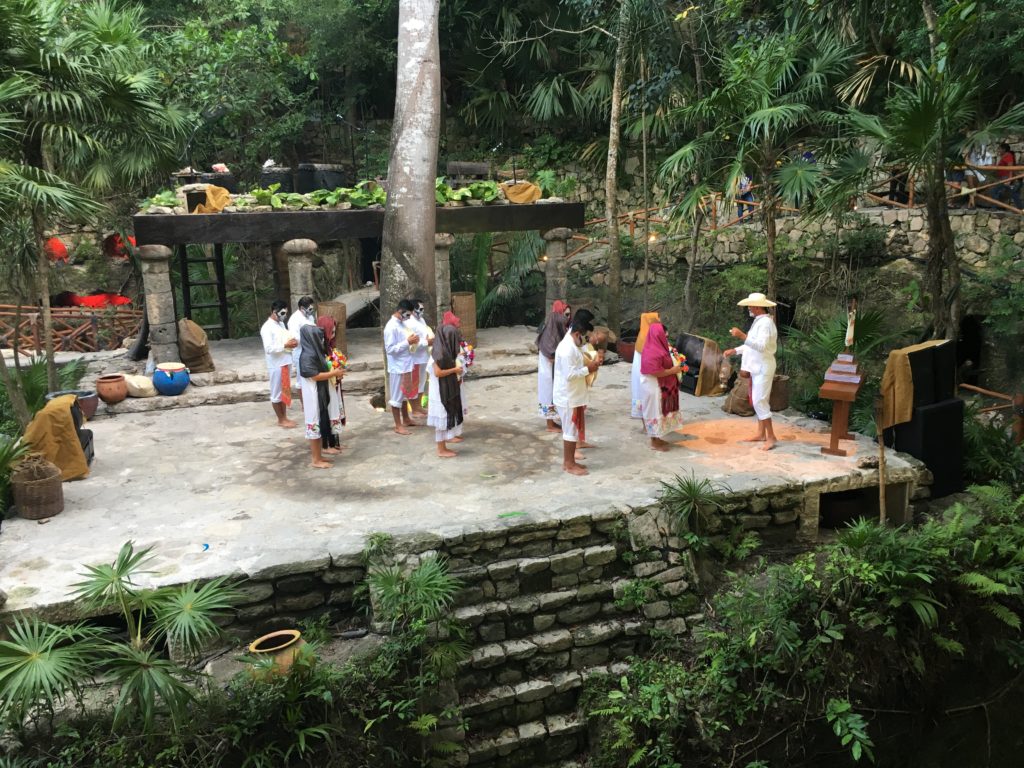 One of the performances at Xcaret's Festival of Life and Death.