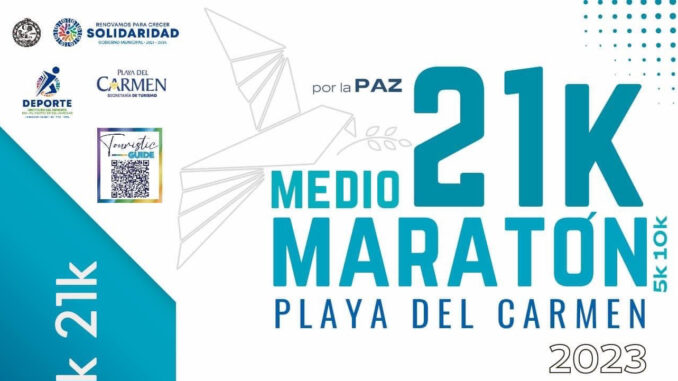 ​Playa Del Carmen Half Marathon 2023
​Another half marathon event is coming to Playa Del Carmen! The last time we remember a half marathon in Playa Del Carmen was back in 2014. Playa actually does not have that many running races and does not have any races that repeat with any frequency. So, this is an event you might want to join in, and you still have time to train. This half marathon and the two other races, 5km and 10km will be held September 10th 20023.
​The race time is 6:00am for the half marathon and 6:30am for the 5km and 10 km races.
The starting point is the 28 de Julio Plaza in front of the Palacio Municipal. The race will start and end here. The official route has not been announced yet. Most likely it will go up 10th Avenue to Corasol neighborhood and around a gold course and then end back at the City Hall.
There is a limit to 800 runners.
For those wanting more races that are run with frequency, there is a marathon in Merida (usually January) and a half marathon in Cancun (usually March). Of course, the Ironman is held on Isla Cozumel. If you are going to be training and want to run in Playa Del Carmen, see our running guide here.
​The categories for the races are:
Youth, both male and female ages 15 to 25 years old.
Open, both male and females ages 26 to 39 years old.
Master, both male and female ages 40 to 99 years old.
Veterans, both male and female ages 50 and up.
Registration for the races
the cost for the registration of the 5k and 10 k is $330 pesos and $630 pesos for the half marathon.
Where to register for the races:
​This is the website to register: 21kpdc.com
​The deadline to register is one day before the races. Entries are non-refundable.
​What will runners receive?
T-shirt commemorating the event.
Medal for finishing.
Competitor number
Electronic chip for times and results.
Prizes for the first places by categories.
Security and paramedics en route.
Digital certificate on the page www.mx-race.com
There will be hydration stations every 2.5 km.
The awards
Prize for the first places in each category in both male and female runners. Special winners medal for the first three places by category. The award ceremony will take place at the end of the race and after the results are tallied and signed by the judges.
Race time limit
For the safety of the competitors, the "official maximum time" to complete the entire event will be 4 hours; Period during which the route will remain supervised by security personnel and staff. The organizing committee is NOT responsible for competitors who continue the route after the established time limit.
Event organized and operated by 307 Sports Riviera Maya, contact email [email protected]