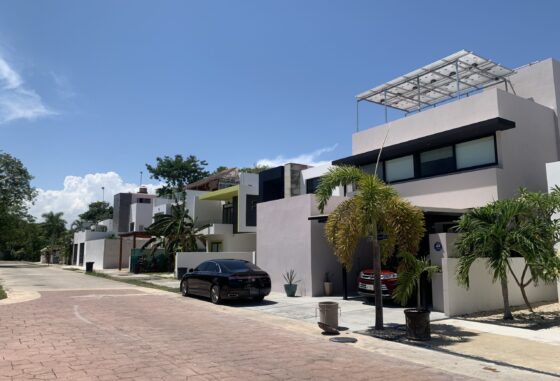 What is the El Cielo Neighborhood like in Playa Del Carmen?
The El Cielo neighborhood on the north end of Playa Del Carmen is popular with many foreigners that are looking for a quiet area close to the downtown. El Cielo (which means "heaven" in Spanish) is heaven to some because of the quiet area, proximity to things and over all ambiance. Is this area of Playa Del Carmen good for you? Take a look at what this area has to offer to see if it might work for you.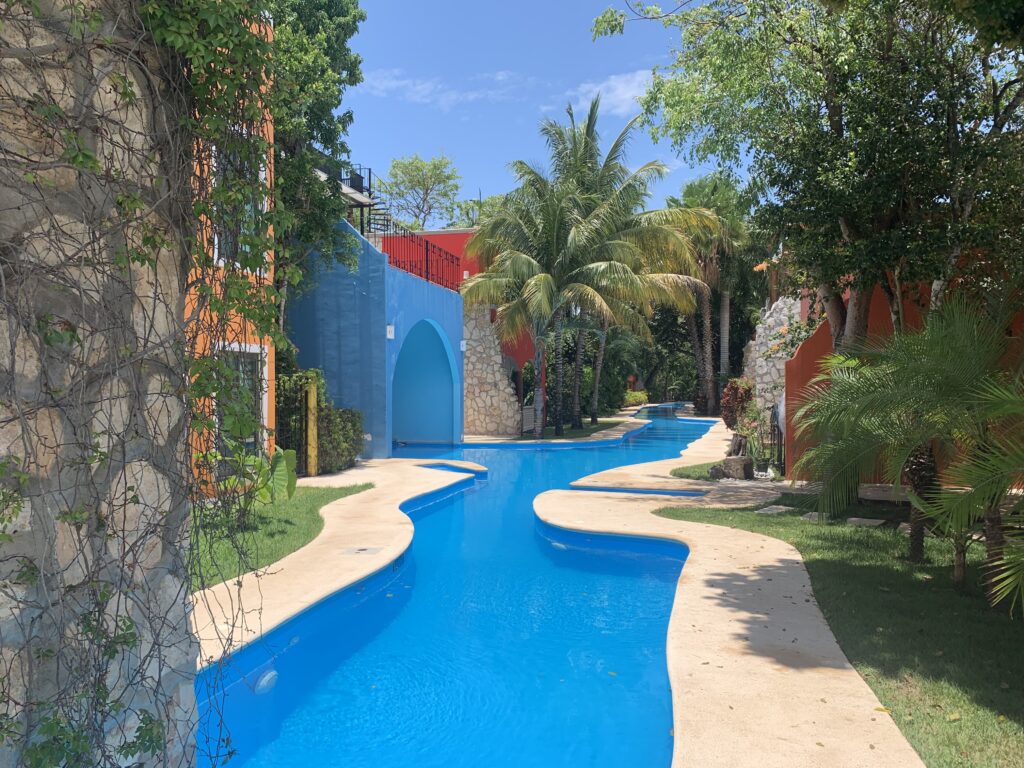 Where is the El Cielo neighborhood?
On the map below of Playa Del Carmen you can see the red marker marking El Cielo Residencial. This is the El Cielo neighborhood. The access is off of the 307 Highway.
What type of properties can you buy in El Cielo?
There are basically three options for buying in El Cielo. There are condos of various sizes, building lots and standalone homes.
For people looking to build, this area is attractive because it is developed and has infrastructure. It is also clean and does not have abandoned lots or half-finished construction. Building a house is not something most people take on, but for those that do want to take this option, this area can be good because you protect your investment by being in an area where the value holds and is desirable. If you are thinking about building a home, see our article with many tips and details about building in Mexico. It should be noted that there are restrictions and guidelines for what you can build in this neighborhood.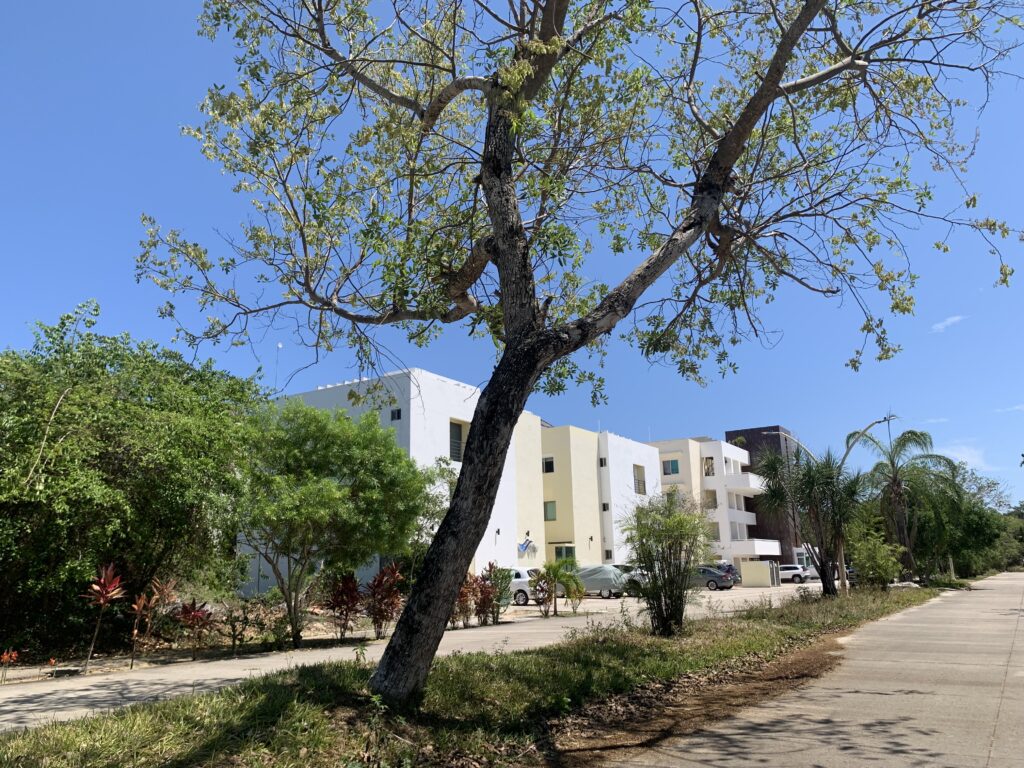 What are the average prices of properties in El Cielo?
In the El Cielo neighborhood you can find these prices ranges for different property types.
Condos start at about $160,000 USD and go to about $240,000 USD.
Homes go for about $300,000 to $490,000 USD range.
Building lots are about in the $145,000- $180,000 USD range.
What are the pros and cons of the El Cielo neighborhood?
Like anywhere, there are pluses and minuses for living in different areas. Here are some categories of people you might find yourself in and what might be some pros or cons for you buying in this area.
Here are what many of our readers tell us and also based on our knowledge of the area.
Pros for buying in El Cielo
Most people like it because it is quieter than some neighborhoods and has a good amount of green space.
El Ceilo is not a huge neighborhood. This area is bound by the neighboring properties, so there is limited amount of space to be developed here. So, it is a little more exclusive.
This is one of the few residential areas that is gated on the beach side of the 307 Highway.
You are a little closer to the Cancun Airport and have easier access to the 307 Highway.
This neighborhood is more about living and has less turnover with vacation rental people coming and going. This means that there will be less people renting and living like it is a vacation and more like people renting a living there.
Cons for buying in El Cielo
If you are buying a property as a rental for ROI, this area is more of a longer-term rental area. Short term rentals are hard since people need a car to get around and it is not in the center of Playa where many people want to be on a shorter vacation. Many rentals in this area are for a minimum of a month.
You will need a car if you plan on living in El Cielo. It is just too hard to get taxis and transportation to live here without a car.
Distance to everything is a little more. Most things are in the center of town or south of Playa like the Centro Maya and Liverpool store.
Dealing with the 307-highway traffic. Since there is only one road in the entire states that goes up and down Quintana Roo, you will be sharing the road with a lot of other people. As Playa moves north, there is more construction and people diving on the roads. All of this is creating heavy flows of traffic between Playa and the El Cielo neighborhood.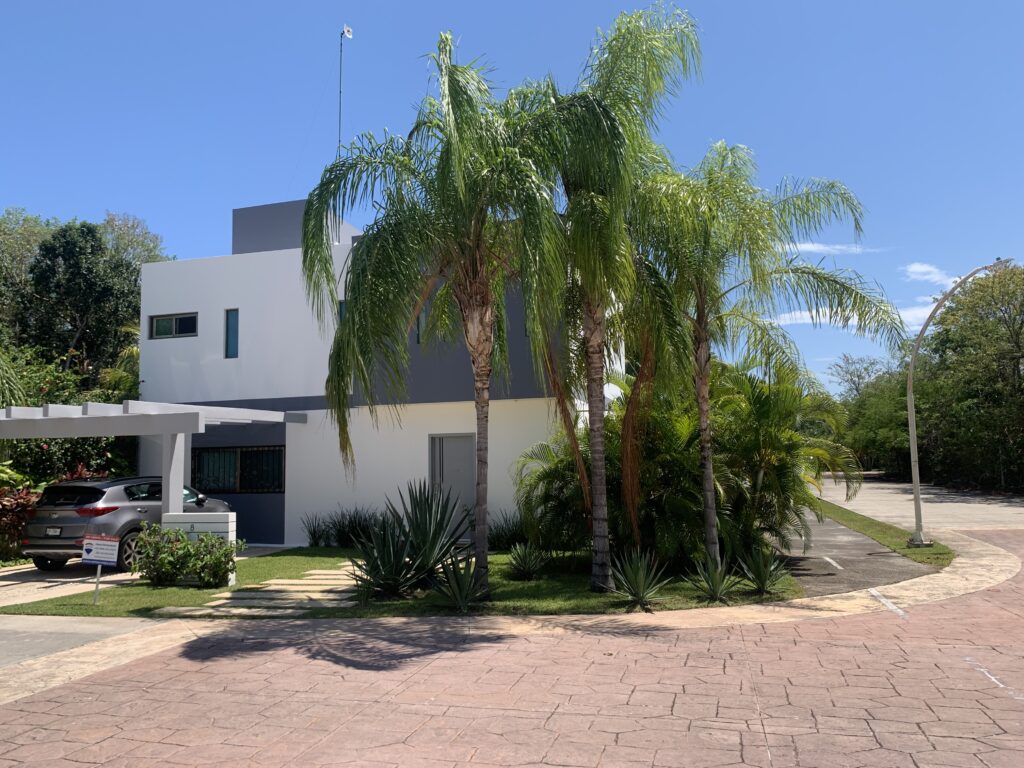 How does this area compare with other areas of Playa Del Carmen?
Since this is considered a private development but not all cookie cutter houses, this is not like many of the planned communities in Playa Del Carmen. The one area that this is the most similar to is Playacar Phase 2.
Here is how they are similar
Both areas have mixed properties of condos, houses and lots for sale.
There are a lot of green spaces in both neighborhoods.
You need a car for errands and getting around in both.
Both areas are considered upper middle class to upper class.
El Cielo and Playacar are both on ends of Playa Del Carmen and have easy access to the 307 Highway.
Both areas have good infrastructure.
Here is how the two areas are different
They are both on the side of the highway with the beach, but Playcar Phase 2 has closer access to the beach.
Playacar in general is more expensive.
Mixed into the housing market are all inclusive hotels on the beachfront, a golf course in the center and several small shopping plazas.
Playacar Phase 2 is a larger neighborhood.
Playacar is a popular neighborhood also, but the difference comes if people want a quieter area with not really any tourists, they choose El Cielo.
Playacar is a more well know area and this makes renting out a property easier sometimes.
Are you interested in moving to buying in Playa Del Carmen?
If just starting your search and looking at Playa Del Carmen or the immediate area, here are some articles you might want to read.