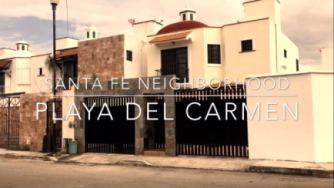 Many people ask us about where the best place to live at is in Playa del Carmen. This is going to range for everyone based on likes and budget. We wanted to tell you about the Santa Fe neighborhood and bring you a video of what it is like. This is a nice area to live in if you want to be here year-round or feel more in touch with the local side of Playa.
The Santa Fe Neighborhood
This area is an older fraccionamiento. What is a fraccionamiento? This is a planned development by one developer. Developers often buy a track of land and lay out streets and rows of houses or apartments. Most of Playa Del Carmen on the other side of the 307 Highway is fraccionamientos.
Fraccionamientos are part of the reason Playa Del Carmen is growing so fast. As the need for more housing grows and more Mexicans move to Playa, these developments can be built fast and provide housing. Often first-time home buyers buy in these developments. Some of these fraccionamientos get a little nicer over time as trees grow and people customize their homes. Other times these neighborhoods go downhill as some open storefronts on the houses and the upkeep goes to the wayside.
Santa Fe is one of the older fraccionamientos that has gotten nicer or stayed nice since there are spacious parks and people have customized their houses. Also, trees have grown, and the planning of this area was good with commercial zones and solely residential areas. While no area is perfect, this might be an area to look at if it is in your budget for renting or buying.
Prices in Santa Fe, Playa Del Carmen
If you are looking to buy you can expect a range of prices because there are some one-story houses and two-story houses, which are nicer. Since this neighborhood has developed some people have done large add-ons and customization work which is reflected in the price. A general price range for buying in this area is 1,000,000 pesos-2,400,000 pesos. For rent expect to find 6,000 pesos-9,000 pesos a month rate. Some of these prices are for a three-bedroom house so that is to be compared with a one-bedroom apartment in the center.
Since this area is more local, you will not find many real estate companies in English offering properties here. If you are interested, you should drive around first to look at it and take note of any signs you see for rent or sale. Also look at website in Spanish like Andale and Mercado Libre for classifieds and listings.
Pros and Cons on Santa Fe Neighborhood
Like everywhere there are good things and the not so good. Here is a list of some of the things we like and things that you might not like.
Pros:
Central Playa Del Carmen location with access to the downtown by car and easy highway access.
Moderate size development.
Large streets and more space.
Parks in the center of some squares.
Older and more developed area with middle class people.
Convenient location to shopping for things like grocery stores, and shopping center.
Not every house looks alike now since it has been customized.
Cons:
This neighborhood is not a gated community like some. This is not necessarily a bad thing but some people prefer it.
Not all the houses are nice looking.
Most houses are attached to each other and if you want more space this would not be a neighborhood for you.
If you wanted to rent to tourist this would not be a good place to buy since it is too far from downtown for most tourist.
There are undeveloped areas around this neighborhood which in time will probably be developed and make it little more dense for traffic, but that is not a major negative, just life.
Where is the Santa Fe Neighborhood?
Santa Fe is located between Calle 75 Bis Norte and Avenida Luis Donaldo Colosio and borders Avenida Chemuyil.
Santa Fe Neighborhood Video
Here is a short video showing you more about this area.

If you would like to read more about Playa Del Carmen real estate, see our complete guide to real estate here.
If you have a question about living in Playa Del Carmen and or real estate, send us a note in the contact box in the about tab. Best of all, we don't sell real estate so we can give you the low down and unbiased opinions about buildings and neighborhoods in and around Playa Del Carmen.