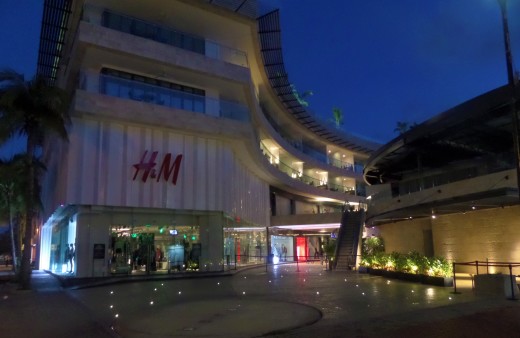 Calle Corazon stirs up feelings in long time residents and visitors to Playa Del Carmen because it used to be something totally different then what it is now.
Calle Corazon was a symbol of Playa Del Carmen, it was a small street that diagonally shot off of 5th Avenue and was lined with trees and small shops. People liked it because it was charming and made Playa Del Carmen feel special. When the street and associated buildings came down many people lamented that Playa was loosing it's soul. It was becoming too commercial and loosing it's small seaside town feeling. (See our gallery of how Playa has been changing and photos of new developments).
Well, time has past since the demolition and reconstruction of the site. Now the Calle Corazon building stands there. Here is what it is like and what is there now (see video at end of article).
Calle Corazon Now Plaza Corazon
Now Calle Corazon is a large five story plaza that houses shopping, dinning, and the Thompson Hotel. The building is curved shaped and has a small island of shops in the middle with a small curved passageway through the center. This is sort of the idea that the old Calle Corazon was like. However it is much more upscale now and has the charm of "Anywhere in Cancun".
Are we being too hard on this new development? We think not since they should of understood Playa Del Carmen better before undertaking such a project, especially a beloved street which was somewhat of a symbol of the soul of Playa. More consideration for the feel of Playa and even though Playa Del Carmen is modernizing, that does not mean you can plop a concrete corazon in the center of it and call it a success.
It is easy to criticize and hard to but hard to offer solutions, so we will suggest somethings that could of made or make this building better.
Use more local materials that make it feel like you are in the era Maya and Playa Del Carmen.
Use more plants and trees. Yes there is a basement under it so you cannot have too much but still there is room for more.
The concrete path though it is really boring. The bronze sculptures are nice but more is needed. Perhaps something unique that would make it interactive with pedestrians using light or sound. Or keeping with the theme of Calle Corazon, use hearts to make designs and do it well enough that it creates a tourist attraction and is very instagramable. Commission a heart sculpture to be done that would make a landmark for the building and Playa Del Carmen.
Make the pathway more intimate feeling with vines and Christmas lighting. Right now people are not drawn into it and pass by on 5th Avenue.
Since this intersection is a gathering point for New Years, design a public ball drop and make it part of Playa traditions. It could even be a heart that drops down to midnight.
What is good about Calle Corazon /Plaza Corazon?
There are a few good points that it bring to our city.
The corner on 12th Street creates an open plaza and breaks the square grid of blocks. It has become a point where tourist stop and pause on 5th Avenue.
The fountain is a favorite place now for kids to get wet much to the despair of parents.
The Thompson Hotel and rooftop is one of the best views in the city. Here you can find the Catch Restaurant.
In some ways this adds to the new direction of Playa Del Carmen becoming a special city by the beach where the focus is less about a hammock on the beach and more about chic restaurants and style on 5th. Avenue bringing in elegant travelers who also like to explore the Rivera Maya but have a base with nice options for hotels and restaurants.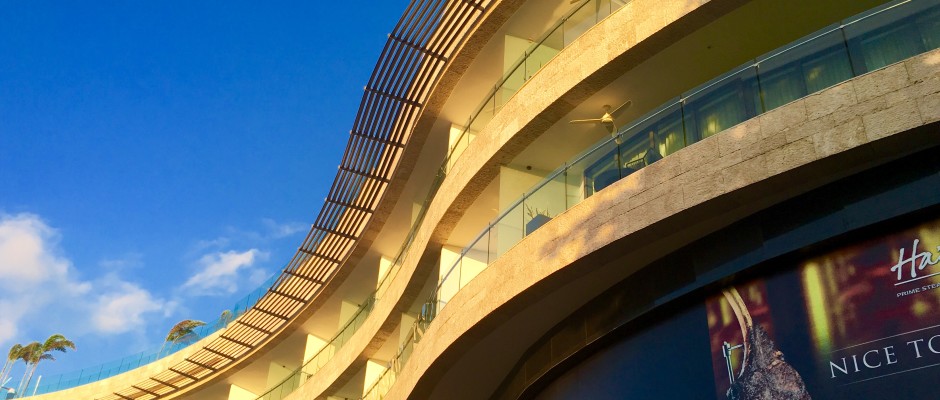 What is in Plaza Corazon?
For the lower lever the main anchor is the H&M department store. This was a welcome addition to Playa mainly by younger Mexicans because it affords another option for clothes in Playa that are stylish and reasonably priced. For some tourist this might seem a bit odd to have a large international chain store on 5th Avenue and it certainly is not for people that have these stores in their home town. This store speaks to it audience of youth and also Mexicans, South Americans and some Europeans that come here to do some shopping.
Starbucks. This looks small but there is a hidden sublevel seating area.
Hollister. Clothing store for trendy younger people.
Victoria Secret.
Bath & Body Works.
Calvin Klein.
Swarovski. High end crystals and accessories.
Orogold. Cosmetics store.
Vince Camuto. Shoe Store.
Steve Madden. Shoe Store.
Michael Kors. Apparel store.
Puma. Sports authentic wear.
Sephora. Makeup and perfume store.
Sunglasshut. Sunglasses.
Neve Gelato. Gelato store.
Harmont & Blaine. Clothing store.
Lacoste. Apparel store.
There will be some new restaurants and shops opening soon and we will update this list. We expect there will be some turnover here because of high rent, high end stores that only appeal to a few and too many shopping options on 5th Avenue.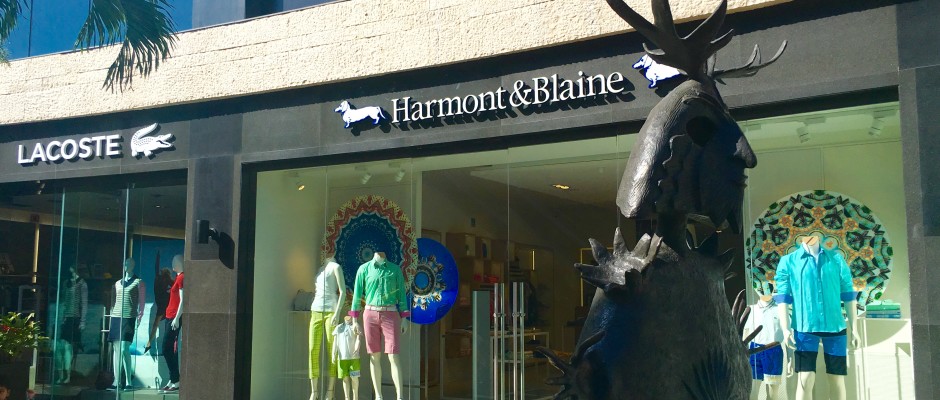 Our Video Of Calle Corazon /Plaza Corazon
Other Shopping Centers on 5th Avenue
If you are a shopaholic you might also want to know about the other shopping plazas on 5th. There is Paseo Del Carmen at the beginning of 5th Avenue and also Quinta Alegria Mall on 5th and Constituyentes Avenue.
You might also like to read our Ultimate Guide to Playa Del Carmen Shopping here. It has everything about shopping combined into this guide.
Where is Plaza Corazon?
This shopping plaza is on 5th Avenue between 12th Street and 14th Street.

What do you think about the new Calle Corazon and Plaza Corazon? We would love to hear from you in the comments below.