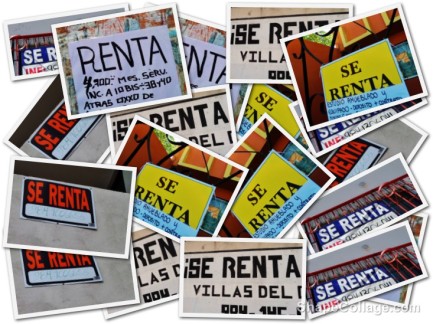 Some people have asked us what is the difference between renting long term and buying in Playa Del Carmen. People has asked what we recommend. Here are some considerations for what might be best in your circumstances. We get into some numbers and figures to see what might be best.
Renting or buying in Playa Del Carmen
There is no doubt that Playa Del Carmen is growing and there is a lot of investment coming to the city (see our gallery of new buildings and condos in Playa Del Carmen). There is also a greater awareness of where Playa Del Carmen is on the map and tourism remains strong. This has driven up rents and demand for accommodations in Playa Del Carmen. This means if you are looking to rent you might be paying more for the nice place you see online. Buying something secures a place for you and if you are going to be living here, it gives you a guaranteed place that you like staying in.
Real estate is part passion, meaning you like somewhere because you just like it and the other part is investment. Investment is the voice of reason that tells you to look at the numbers and see if it makes sense. While we cannot get into your head about passion and what you might fall in love with in a condo, we can talk numbers. So lets do some quasi easy math to see how the numbers look.
Doing the Math-Renting vs Buying in Playa Del Carmen
Cost of buying real estate
Lets say a condo is 150,000 USD. Closing cost and the cost of setting of a fidecomisco (trust for foreigners buying property in Mexico in the restricted zone) is about 5%. So at closing you have to pay 157,500 USD. Lets say you keep this condo for two years. Annual real estate taxes in Mexico are very low, how low? For a condo worth about 150,000 USD your taxes will be about $150 USD a year! The yearly fee on your fidecomisco is about $600 USD. The first year you paid this in your closing cost so you only have this the second year. The other expense you will have owning a condo is maintenance fees. This will average around 80 USD a month. So at the end of two years you will have spent:
157,500 USD Condo price and closing cost.
600 USD second year fidecomisco fee.
150 USD annual taxes, first year was included in closing cost.
80 USD x 24 months= 1920 USD
---
Grand total of 160,170 USD.
Return on investment?
To figure out if it was worth it to buy in Playa Del Carmen you will need to sell your place and see if there was a profit and compare it to renting. This is where the real math comes in or shall we say the predictions for the future.
Most condos purchased today do maintain their value and do rise slightly in two years. If we look at current averages (and this will be highly controversial) you should be able to sell a condo you bought for 150,000 for around 155,000-165,000 USD. Lets cut it down the middle at 160,000 USD. Most closing cost are paid for by the seller so the only deduction is the commission to the real estate agent and the taxes. Commissions usually are 6-7% in Quintana Roo, the state we live in. Lets say you pay a commission of 6% or 9600 USD.
160,000 USD sales price.
minus 9,600 USD commission.
---
= 150,400 USD.
So basically you have made 400 USD more then what the original cost was. Capital gains tax in Mexico is about 30% of the profit. The "profit" or "capital gains" being the keyword. Many people think they need to pay a tax on the whole amount when they sell.
There are many small details that go into figuring out if there is a tax to be paid. Since there is a depreciation of property over time, you can deduct this from your sales price and in this instance there would be no real tax repercussions.
So if we took how much you put into the property over the two years:
160,170 USD
minus what you walk away with after the sale, 150,400 USD
---
You would of spent 9,770 USD on living in this condo in two years. How does this compare to renting for two years? Lets do the math.
Cost of renting in Playa Del Carmen
A comparable rental unit would cost about 900 USD a month. The one fee you will normally occur is the contract and taking it to a notario. This is usually the price of one months rent. So in total for two years of renting you will have spent:
900 USD a month x 24 months =21,600 USD
plus 900 for the contract =22,500USD
---
So when we get down to the numbers the cost for two years renting vs. buying was:
22,500 USD compared to 9,770 USD
So there is a savings of 12,730 USD when you buy a condo vs. renting for two years. This now can get highly mathematical because in theory you can invest your money while renting and you have to think about the profit you will get in a two years time. If you get a decent return of about 2-3% for two years on a portion of your 150,000 USD we are talking about 5000-7000 USD. If your investments paid off in this way, you would still come away from owning a condo in Playa with about 2000-3000 USD ahead of renting according to expenses.
There really are so many factors that go into play with every step of this equation. Please do your own math, consult a real estate professional, attorney and figure your own circumstances into this equation. This article is only a starting point for research and to give you some basic information on possible cost comparisons and how renting vs buying might turn out for you.
Note: We did not include renters insurance or home owners insurance. Actually many people here do not use these insurances.
What are the Pros for renting and buying in Playa Del Carmen?
Long term renting
Pro-no long term commitment. If after a while you don't like living in Playa you can move easily.
Pro-can be less complicated.
Pro-no real hidden cost like a major repair needed in your apartment (although in Mexico more responsibility is put on renters for some small repairs). See our article on renting in Playa Del Carmen.
Buying a property
Pro-Sense of home.
Pro-less possible cost.
Pro-much easier if you have pets because apartments can be harder to find that accept pets.
We hope you found this article helpful in making a personal decision in your own case. If you have any questions about living in Playa Del Carmen, renting in Playa Del Carmen or buying in Playa Del Carmen, send us a message on our contact tab above. We do not sell real estate nor are investors, so we can give you an unbiased opinion about things in Playa Del Carmen, albeit, our opinion.
For further reading about Playa Del Carmen real estate, see our Huge Playa Del Carmen real estate guide here. We also have this article on recommended real estate agents in Playa Del Carmen you might be interested in. We also have this article and video about an online investing tool that helps you evaluate local properties.
To lean more about the real estate market, be sure to see our video here. It is long, but covers many of the topics that people ask us about.