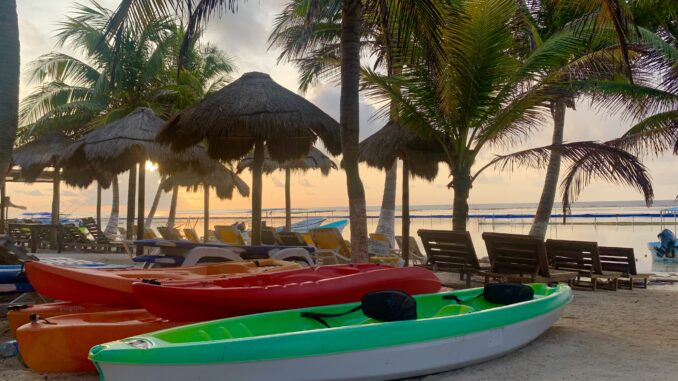 Should you go to Mahahual?
Mahahual is known as a small beach town that is in the lesser-known part of Quintana Roo state. It is also known for beautiful beaches, the reef and water activities. Should this beach town be on your radar for a trip or weekend getaway? It is about a 3-hour drive from Playa Del Carmen, so there is some commitment to going here. We have visited here over the years and seen how it has changed and not changed. So, we do have some recommendations on what to expect and who we think might enjoy this destination or who might want to skip it.
Note: When we talk about Mahahual in this article, we are only talking about the town of Mahahual and not the coast north and south of town. These beach areas are very different and not part of our opinion of Mahahual town.
A brief overview of Mahahual
Mahahual was always a fishing village with a barrier reef just off the coast. It is a naturally beautiful location and one of the few direct public access points in the Costa Maya area (the southern part of Quintana Roo State). There was very little tourism before 2000, but as the cruise ships started coming, this changed the town of Mahahual. The town started growing to accommodate the new market and it also started to get a little more land-based tourism as well. In 2007 Hurricane Dean passed through and leveled Mahahual with wind gust up to 200 mph. This is why you don't find any old places or big trees in the area. Fast forward to today and Mahahual is relatively the same, just with about 5 times the population of 2007 and new construction. It still is a small town and has some of that charm and it still does have many cruise ships arriving.
The areas north and south of Mahahual have beautiful beaches, a remote feeling, and when the weather and ocean are in good shape, they are stunningly beautiful areas. Most of the properties are houses along the coast, with a few guest houses/hotels mixed in. Going south toward Xcalak, you could swear you are in the 1920's in the Caribbean somewhere. It feels lost in time and like seeing the Riviera Maya decades ago.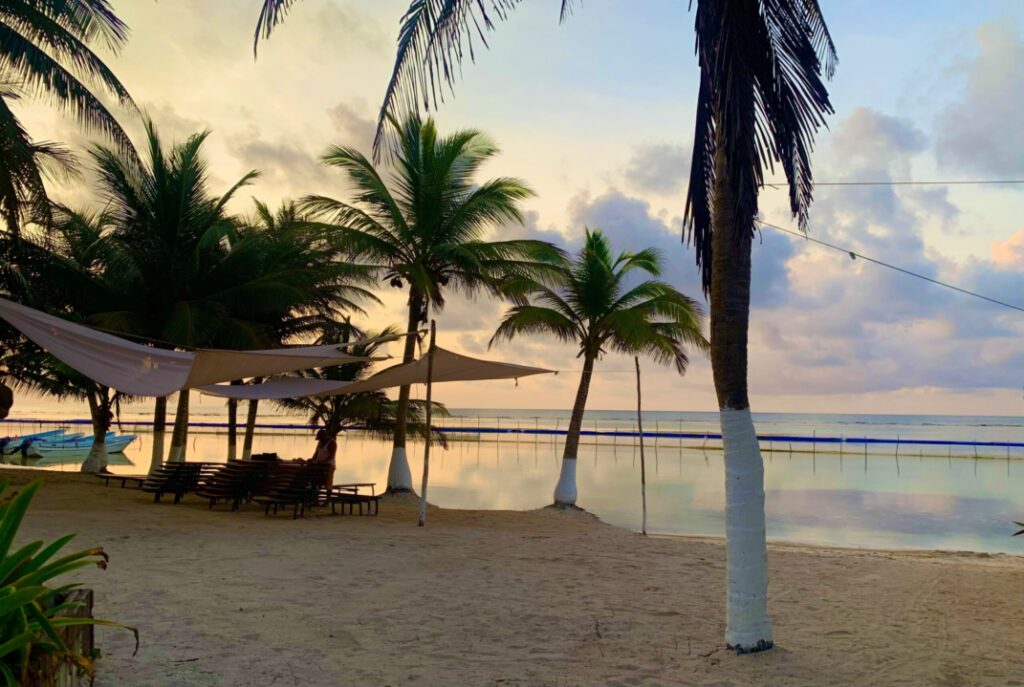 What drives tourism in Mahahual?
In 2001 the cruise ship port was created just north of the town of Mahahual. This was to bolster the economy of the area and provide an entry point for tourists to the Costa Maya (an area south of the Riviera Maya). Mahahual has become one of the most visited destinations for cruises in this area of Mexico. Mahahual is one of three ports in the Yucatan Peninsula where cruises dock. In the port of Mahahual, they receive more than 1.2 million visitors a year.
The rest of tourism arrives via land to spend some time at the beach and for water activities like snorkeling and diving. This includes locals looking to get in a little beach time and other international tourists that incorporate this in a road trip of the area. Even though this segment is much less than the hordes arriving by cruises, this segment is the one that pays for hotels, meals and some tours.
How cheap tourism keeps Mahahual down
Since an overwhelming majority of tourism arrives via cruises, this means that what people want and want to spend money on, drives what the town has to offer. The mentality of people on cruises often is, " I have paid for the trip and food on the cruise, so I don't want to spend money eating onshore or much else". So, when cruise ships arrive, most of the visitors to Mahahual will go to the beach clubs and relax with some drinks or walk the boardwalk to sightsee and shop. There are some shore excursions, but most of the profits go to the top and those that work as drivers and guides make only a daily paycheck. It is nice there is some work for people in Mahahual, but it is the type of situation it is only substance living and not getting ahead. Cheap tourism creates a lot of cheap paying jobs.
This is one of the reasons many have fought hard to keep cruises from not docking in the Riviera Maya. Many people that visit a location by cruise often say they "have been there" and don't return to actually visit. It is nice to have accessibility to different forms of visitors and budgets but relying on one form of tourism can be limiting.
How is Mahahual different now than years ago?
We first went to Mahahual in 2014. It was excited to see this small town along the beach with a walkway paralleling the waterfront. The beach was stunning, and it was just before the seaweed situation started. At the time, we found it hard to find good places to eat in town because there were not that many places to dine at night.
Fast forward 9 years and how has Mahahual changed? Well, not much. The town is about the same size, same hotels, and same unfinished construction dotting the town. Besides the taller palm trees, not much has changed in Mahahual. Yes, there are a few new things and more construction, but it really does not feel like much has changed in Mahahual.
How is Mahahual dealing with the seaweed now?
As with many places in the Caribbean there are mats of sargassum (commonly called seaweed) that come ashore. This happens as well in Mahahual. The geography is a little different in Mahahual because there is a barrier reef and shallow water with little wave action on the beaches. It means that with the shallow calm waters it is possible to put nets up that block portions of the beach. Along the beachfront you can see each beach club has sectioned off with permanent nets for their portion. It does work for keeping a portion free of seaweed. It does however mean that seaweed gets stuck in the nets and also areas without nets get loaded up with seaweed. This can have a foul smell and even if there is some clear water, you might not escape the smell.
Overall, they are doing the best they can. It is something that can be perfectly clear one week and have an inundation the next. This is just something this area as well as the Riviera Maya have been dealing with since 2014.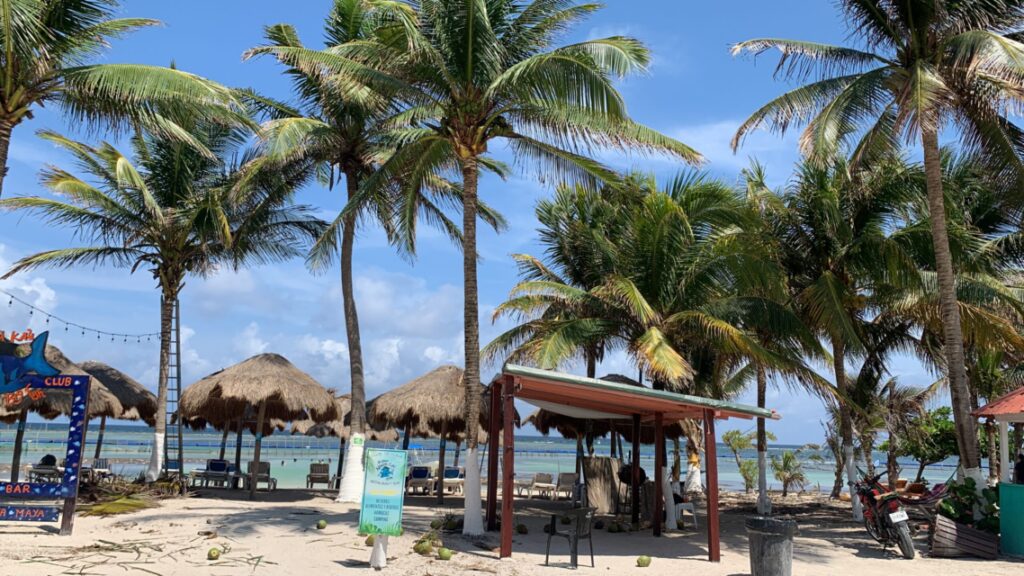 What is our recommendation for visiting Mahahual?
Go to Mahahual if…
If you are curious about Mahahual, and you have a chance to go, it is worth a look at. But don't plan your whole trip on just this destination. If it rains, and you have one day there, it will probably not be that exciting for you. Mahahual is all about the beach and views with the occasional water activities sprinkled in.
For divers, Mahahual offers less touristy places, great diving and a relaxed atmosphere that many divers like. You can avoid large groups and visit less visited beautiful places. So if you are a diver coming to the Riviera Maya, it is just cenotes and Cozumel for diving, this area should also be on your radar.
Don't go to Mahahual if…
We would skip Mahahual for a visit if we were driving around the area and had time to explore other areas. There are better options nearby and Mahahual just has not done much to make it a better place. Two other options would be spending time outside of Mahahual either north or south of town. Just keep in mind these areas have very little services. So, picking a place to stay with eating options is a good idea. A second option would be just to skip Mahahual and visit Bacalar. Bacalar has beautiful water, more infrastructure like restaurants and newer hotel options. Plus, Bacalar never has seaweed.
For backpackers and people traveling by bus, we would not really recommend a stop in Mahahual. There is limited public transportation in the area, making it harder to arrive and get around. For most backpackers, you are either coming south from Tulum or entering Mexico from Belize, usually from Ambergris or Key Caulker. Both directions are beach areas that offer more than Mahahual. So, the added stop in Mahahual is a bit repetitive and does not offer as much.
It is easy to complain, but what we change in Mahahual?
It is easy to say a place is dirty or there are better areas, but what we would do to make Mahahual a better place?
Clean up the buildings in town. Colorful paint on buildings, some murals, this would all help visually make it seem like a nice beachside Caribbean town. Isla Holbox is an example where the town focused on murals and street view issues and how it furthered their image and promoted tourism.
Clean up the beaches (and we are not talking about the seaweed). We know that a lot of plastics arrive in the ocean currents, and it is not necessarily from the area or even the country, but you still have to clean up or it piles up. In the center of town, they do a decent job, but there sure is a lot of trash taken off the beaches just from customers and late-night beer parties on the beach.

One of the beaches just north of the lighthouse.

Then there is the trash on land which you cannot blame on the ocean. Just north of the lighthouse, we saw about 80 glass beer bottles in addition to other small pieces of trash. Many of it from locals waiting for taxi fares and visiting the beach and not depositing trash in receptacles. This is literally steps from where tourists come to get a view of Mahahual. Mahahual needs a cleaner image, and it starts with keeping it clean.
There needs to be a lot of investment to get things up to a standard. Infrastructure takes money, and we have seen in places like Tulum where local communities cannot afford large scale projects, but as places grow, there is added funds available to tackle some of the infrastructure issues. This does not mean we want Mahahual to grow into a city, just a balance between new construction and allocating money for infrastructure.
Focus on nature and making it a peaceful destination. Just about one hour away from Mahahual is Bacalar. People visit mainly for the beautiful lake and peaceful setting. The average expensive hotel in Bacalar compared with Mahahual is 3 times the price. Meaning people are willing to pay for a beautiful area and tranquil setting. Mahahual needs to focus less on instant gratification from cruise ship tourists that want to a cheap beach bar and t-shirts and more on tourists that want to visit the area because it is special. This does not mean only catering to upscale tourism, Bacalar has a lot of backpackers also and this adds to their economy. It just means having a good product and offering it as different prices so people can enjoy a destination.