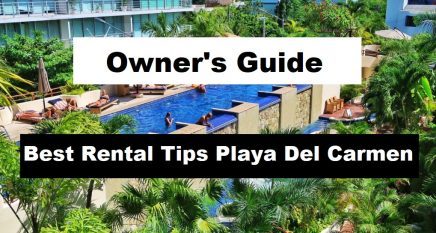 The Owners Guide To Renting Your Property
Buying property in Playa Del Carmen for most is an investment that will be rented out. In recent years there are many new rentals and the market is tighter. So how can you get the best return on your investment? How can you maximize your rental income? In this article we are going to focus on some helpful tips to make your guest feel happier and in return, help your bottom line.
We have stayed in hundreds of hotels, guest houses, condo hotels and Airbnb places. During this time we have seen what some people are doing good and what things we would like to see done differently.
How these tips will help your ROI return in Playa Del Carmen
You might think, it is nice to make a guest happy, but how will this make me more ROI on my investment? Most rental websites have feedback from guests. Positive feedback can raise your rank and visibility on a website. Lots of positive comments can give confidence in potential renters to make the commitment to y0ur place. Also, some of the tips below will help people choose your vacation rental over others.
1. Be upfront and list truthfully
Nothing is worse than going on vacation and being disappointed in the place where you are staying. You want your guest to know what they are getting. This will go a long way in getting good reviews, hence boosting your returns.
Here are some tips based on what we have seen on how to accurately portray your vacation rental.
It is fine to add in some photos of the local area, but remember these should be limited in the amount and accurate photos of what is nearby and what it looks like.
Have photos of public spaces in your building, but make sure you denote they are open to all guests of the building. Also, again, don't saturate your listing with lots of public space photos and limited view of the actual rental interior.
Provide a description with exact details. This will protect you from people coming back and complaining. You can refer people back to the listing. This will show other people booking that you are an honest owner.
Be clear in your description. if past guest have been confused over the exact details of your rental property, take this into consideration. Possible change the wording some people from multiple backgrounds understand. For example the words "condo", "flat", "apartment", and "patio" mean different things in different countries.
If things are not working, mention this ahead of time. Important aspects like an elevator, for example, are not working, mentioning this can prepare guest.
2. Take good photos
Photos speak volumes about your rental property. Most people will base their choice based on one good photos, plus a little bit of details. Photos tell a story and set the scene of what a potential renter is going to feel like and experience in your rental.
If you are not a good photographer or do not have a good camera, consider hiring or asking a friend to do a photo shoot of your place. Photos should be taken in good light and edited if needed. Be careful about staging your place. Don't over set the scene or people might expect those fresh flowers, bowl of fruit or bottle of wine when they check in.
Tip: Don't use a fisheye lens. This is the rounding effect that can make a small space larger. It just makes a disproportional view of your space. If your space is small, then represent it so.
3. Surprise your guest with an extra perk
How many times have you been to a restaurant and had an extra hors d'oeuvre, a glass of alcohol or even a nice bite of something sweet given to you for free? It may be something small but it sure is memorable. The same principle applies to a rental unit. You don't need to advertise it, but adding something to your rental property for guest can make people feel welcomed and special.
Here are some examples of things we have been given when staying at places.
A welcome bottle of tequila.
Local discount cards to shops.
Fresh flowers.
Chocolates.
Basket of breakfast supplies including fruit, coffee, and breads.
Tips for choosing the right thing for your rental property guest
Depending on your nightly price, you can proportionally choose something to have for your guest. For example, if you rent at $50 USD a night you might offer a welcome coffee kit. If you rent a penthouse for $150 a night you might offer a bottle of wine with snacks.
Try to select something that will not be affected by heat or time. Aka something that will not spoil.
Know your guest. If you have a higher priced unit you could ask your guest what they like. Providing a bottle of alcohol, for example, is not always a good standard extra, especially when some people do not drink.
Select something local, something that will say welcome to this area of the world and this is what makes it special.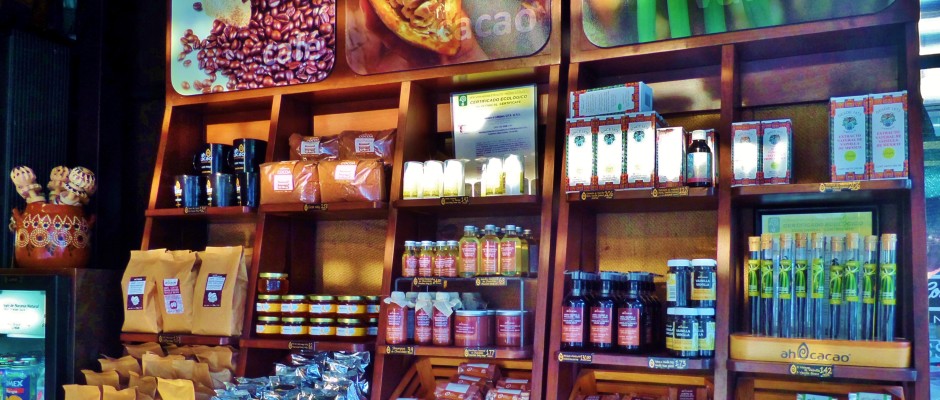 4. Provide water
Most people come from places that drinking water is available from the tap. Mexico has a different system, separating drinking water from basic water usage from the tap. This will be something different for most guests to get used to.
After flying into Mexico and getting situated, it can be a little bit of a hassle to figure out where to go and to buy water for the time there. Having a good supply of water and telling your guest about it, will be best.
Some provide large bottles of water and some have special coolers that are stocked with water. For upper end rentals, a nice touch is stocking the refrigerator with beverages including some bottled water.
5. Help out with local information
Some rental website will push your unit to the top based on how good of a host you are. Offering people good information about what they can do and how to best get around is a good way to make your guest feel welcome. Even if you are not on site, you can offer this in several ways.
Have a folder of local restaurant menus and basic information.
Be available via email or phone so guest can ask questions.
Have a website with links to things. Many guest houses use our website for guides since we keep updated information on our website and have dozens of Playa Del Carmen guides here.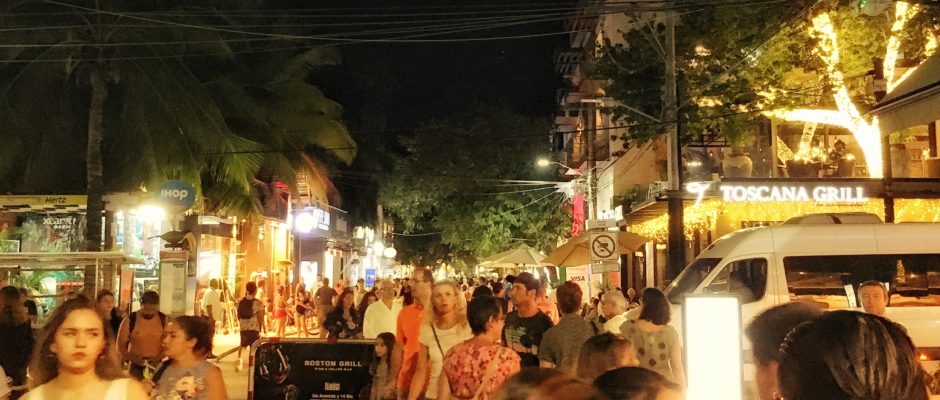 6. Make check in and check out easy
This is a big drawback to some rental properties in the area. Hotels are professional lodging that offer 24 hour access to information and check-in and checkout. This is very different from some rental properties.
Have a clear way of entering the rental, and make it easy. Rental properties that you have to call when you arrive and depart, makes it less enjoyable for guest. For one, there are language barriers, second, people traveling don't always have access to WI-FI or a call, and lastly, it makes people have to plan exactly when they are arriving and departing.
Some rental properties solve this somewhat by having a lock box with code or keypad entrance. Other investment properties offer a front desk. Below are some tips about this.
Does your condo building have a front desk?
A larger building with a reception desk can be nice for guests to feel that someone is greeting them. However, the guests experiences are going to be based on how it goes. Most desk people at condos are not going to be paid the most and the service offered is going to be limited.
This is something that is good to consider before buying in a particular building. What are the services offered at the front desk and what is the quality. While reception people often change, it is good to know if there are bilingual people, can you leave the keys for guests and what basic information they will have. Relaying on a front desk person for the first impression is going to effect how your guest feel and see your place.
7. Have good WI-FI and a TV
It is true people are coming to the area to explore and visit the beach. This does not mean people will be on tour all day. Most people like to relax at night with some tv watching or by staying connected. This means that Wi-Fi is almost a standard feature of a place to stay on vacation. Not having Wi-Fi can be a deal breaker for many people looking to rent. For some, a short term renter can survive without it, but many longer term renters need it. Some will even ask the speed so they can stay connected while on holiday.
Since many people will use the internet, having a decent quality service is a must for guest. It is good if the signal is strong enough reach all the property and not just one main room. If your property is not covered by a signal, consider getting plug in extenders of the Wi-Fi signal. These cost about $25-$40 USD and usually work very well.
Tips for having a TV in your vacation rental
At the bare minimum, have a smart TV. This can save you a cable bill every month. This does mean though that guests need to be able to figure out how to use it, and usually are limited to YouTube and Netflix. If you do offer cable, having bilingual options can really help your guest enjoy it. Many cable systems and remoted can be hard to figure out. Have a small instruction guide on what to turn on and what channels there to watch.
8. Start with good design
There are hundreds of condos in Playa Del Carmen that all have been built in the past few years. Many of them are similar in design. You might even buy a property in Playa Del Carmen in a building with 20-40 units. This means that your unit will be competing with a lot of others that are almost the same. What can stand you apart is good design.
Many savvy travelers want to stay in a stylish place. If you don't have a designer bone in your body, you might consider hiring a professional designer that can make your place stand out.
If you are doing it yourself, often one big piece of artwork can make a big difference in the look of your unit. When you are decorating your own unit, just don't go too overboard in one direction that will soon date your place or loose an audience.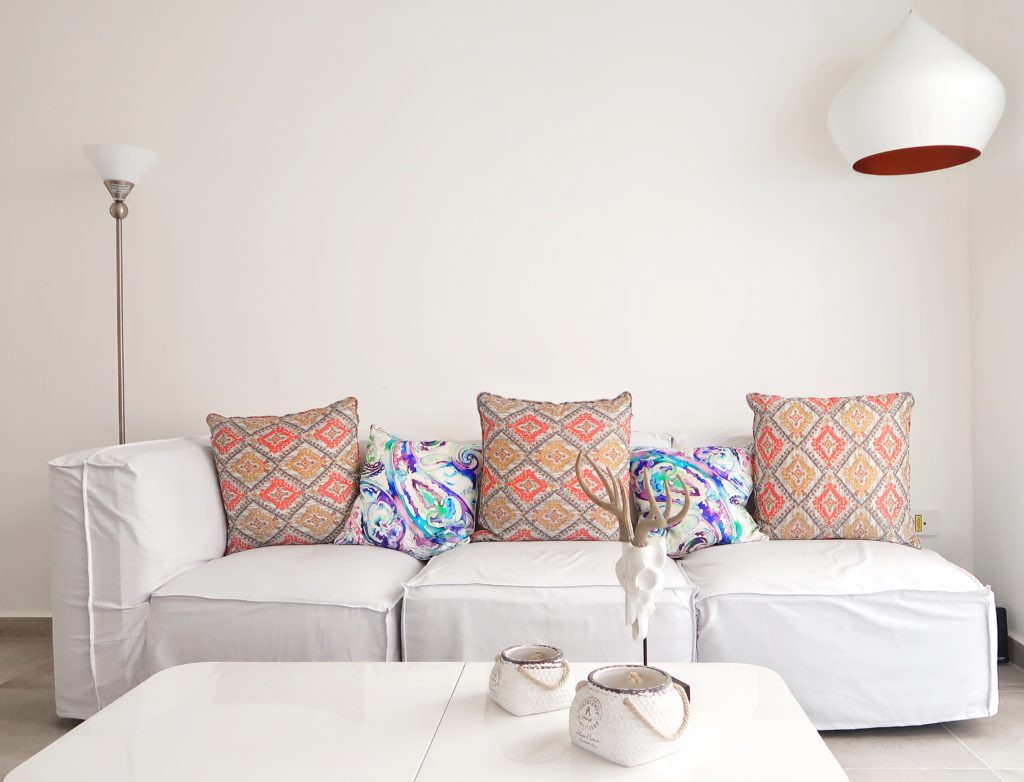 Here are some tips on good design for your rental property
Think about functional design. Playa Del Carmen is a beach town and warm year round. Have towels that dry easily, furniture that is comfortable, and things that will hold up to humidity.
Make your place feel local. Travel is meant to make you feel like you are in a new place. Local touches like photos of the Riviera Maya or beach theme is appropriate.
Buy furniture and furnishings that will last. Many locally bought cheap furniture will really show wear and tear in a few years. Invest in well made pieces that will stand up to vacationers in your unit. Less items, but well made is the key.
If you have a kitchen for guest, have sufficient supply of plates, glasses and openers for things guest might purchase.
9. Buy in the right place
This is perhaps one of the biggest reasons people don't make the ROI (return on investment) that they expect. Location, location, location is the key in real estate. In Playa Del Carmen it not only means in the center or Playacar, it also means the design of the building, features and something that makes your place stand out from the others. Well designed buildings do get rented more often than basic units.
This is one area where a good realtor will guide you to the right property. We have said it before and we will say it again, don't choose an agent because they are nice or from your country. You want a recommended realtor that will work for your interest and have a proven track record of buying and selling to make good investments. This is why we started a list of real estate agents to work with that our readers have found very helpful.
Be sure to read and watch our video about an investment tool online that can help you evaluate properties.
We also complied a lot of information in this video about buying in Playa Del Carmen that you might find helpful.
10. Advertise on multiple platforms
If you are only on one vacation rental website, you are missing out on a lot of business. Lately, the rental market is getting tighter, with many more units available. This means a lot more competition for you. We have heard and seen some people that are renting out their own units online have a less than expected returns. Often this is because they rely on one website to get renters.
Most people looking for a place to stay will use at least three websites. Often using points, reward programs, and depending on what they are looking for, use niche market websites.
It might be more work, but after all, that is what you are doing, working for your investment. Of course, if you have a management company, this can take a lot of stress and effort out of the process. You should ask though how they fill units. A good management company is gold in Playa Del Carmen.
11. Speak the language of tourism
While English is a large percentage of tourist to the area, in recent years there has been more national tourism. This means that more Mexicans have been discovering sites like Airbnb. If the platform which you use is not available in multiple languages, you will be missing out on a portion of the market.
Make guests feel welcome by having signs and instructions in multiple languages. Be upfront by letting guest know what language(s) you speak. This makes it easier for everyone to know what to expect when taking.
12. Make your guest feel secure
Traveling to another country can make people feel a little out of their natural habitat. You want to make people feel secure. Having good working locks and window protection will be part of this. Loose locks, keys that don't fit correctly and basic security make people feel less secure.
Adding a security box to the unit is also good for guest. If you do add one, make sure it is installed correctly. We have been to many places that have two screws that hold them in place. It would be very easy to remove the entire thing. This does not happen often, but having it installed securely will make your guest feel better.
Tip: If you have multiple keys to enter your property, label them with colors to make it easy.
13. Consider short and long term stays
Most people with an investment property in Playa Del Carmen offer them as short term vacation rentals. There is more profit in offering short stays and this is a no brainer. But, with a lot more units on the market, the competition is getting tighter. This means that you might consider offering your property for a longer stay at a lower price. Many more are doing this now to balance out and have a steady flow of income.
Besides just short term vacation rentals, there are a lot of people that come for a month or a few months and need rentals. Not only are these usually quality renters, they keep your investment with cash flow. Some of these are digital nomads that work/travel and people moving to the area that need a place to stay short term before moving into a more permanent place.
Remember one good tip for guest staying at your property is a grocery service that will deliver. This one here is well recommended and good for short term or long term renters to use.
14. Make the vacation rental personal but not too personal
If you are renting out a vacation property in Playa Del Carmen you might also use this for your stays as well. This means that you might be there for a week or so or even longer stays. Booking a non hotel is a way for people to get a more personal experience while traveling. This however does not mean that people want to feel like that are staying in a person's house that just left. Make your place feel like a vacation, not a stay at their aunt's house.
If you rent out the entire unit/house/condo make sure that personal touches are left to a minimum. Closets and storage units with your personal things should be locked off for guest and out of sight. Kitchens and bathrooms, especially should be kept to a hotel standard. No half used bottles of ketchup in the refrigerator or used toothpaste in the bathroom. If you intermittently stay in the unit, be sure to thoroughly clean the areas of the house that get used a lot.
15. Think like a guest
Last of all, think like a guest. What do you like in a stay? What do you expect and what do you like to pay for a stay? Sometimes there is a disconnect between owners and what they expect in a place to stay and what they offer.
There will always be those guests that don't appreciate what you have done to make their stays special, but the majority will appreciate it. Hopefully all the effort that goes into making your investment property special will pay off. We have seen many of these tips applied in the best rented, vacation units in the Riviera Maya.
Thank you for reading our article about buying a property in Playa Del Carmen and how to best get the most from your vacation rental. We continually put out tips for our readers to maximize their experience in the area. Below are a few examples.