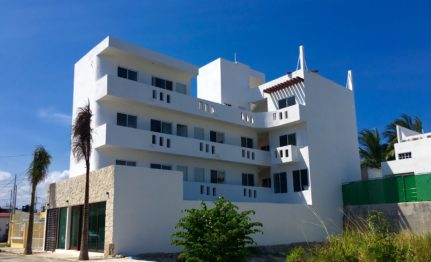 If you are looking at real estate in Playa Del Carmen, there are some misconceptions you should know about. Here are 9 misconceptions about real estate here.
Misconceptions about real estate in Playa Del Carmen
A lot of people have dreams of retiring or just living in a vacation paradise in the Riviera Maya. However, there are some realities you should know about. We don't mean to burst your bubble, but just tell you about some realities of life here in Playa Del Carmen. Here is a list of 9 common misconceptions:
Mexico is a cheap place to buy. There are a lot of US residents and Canadians that come to Playa Del Carmen and think that things should be cheap because this is Mexico after all. The truth is Mexico is a fast-developing country and demand is strong plus real estate has traditionally been a desirable vehicle to invest in for Mexicans. When you look at the Rivera Maya and especially Playa it is a different market to the rest of Mexico. Prices are much higher because of the standard of living and demand. You are not the only one that wants to live in this desirable place because the cost of living is affordable to many. Then there is the fact that there are a lot of wealthy Mexicans that like to invest in real estate in Playa Del Carmen and the Rivera Maya. It is a very desirable place for them to do so. Some people come to Mexico with a good chunk of money only to find out that $100,000 does not go a far as you thought it would.
The US dollar is strong, my buying power will go further. Sorry to say but most property is priced in USD. This makes things consistent if you are a US buyer but hard if you are not. There is a small leeway with negotiating but if you want your USD to go further you can buy from a developer that traditionally sells to Mexicans or the property is priced in pesos. Usually in the center of Playa property is priced in USD.
I want a house on the beach. Don't we all! But there is a very limited supply, and you should expect to pay over $1,000,000. Sorry to burst your dreams. But the good news is you might be able to live outside of Playa Del Carmen in another area on the beach. See our article and video here about beachfront property in the Riviera Maya. See our map and article of popular places expats like to move to.
The property is only 10 minutes to the beach! Many real estate ads say this. This is true by car, in fact almost all of Playa Del Carmen is 10 minutes to the beach by car. So, this description is about useless. The reality is you need to check out developments and see what areas are like before getting all excited to live so close to the beach.
Kitchen not included. Some of the planned communities called fraccionamientos will deliver a basic concrete box of a house. The models are fully furnished complete with kitchen counters and closets. But you often have to add those things to the base price. When you tour model houses you have to be clear to ask what is included.
I want a to buy a fixer upper. What was a popular way to get a cheap house in other countries is not true here in Mexico. There are no sheriff sales, house auctions or deeply discounted properties. Prices are usually full retail. Don't expect to come to Playa and try to flip a property or buy low and sell high. Only occasionally will you find an owner who is moving out of Mexico and willing to sell at a little lower price in order to move things along. If you see a house or condo offered with a "new lower price" often it was just not priced correctly in the first place. Note: all houses and older condos are sold as is. There are not home inspection guides, and you need to work with a good realtor or take a person that knows local construction to evaluate the house and tell you if it is a good deal. You don't want to inadvertently buy a fixer upper all the while thinking you bought a move in property. See our detailed article for more about fixer uppers in Mexico and why house flipping is so hard.
I cannot buy because I am a foreigner. Really? Of course, this is not true. You only need to set up your property in a trust and you do have ownership over your property. If you don't understand this at this point, you should do your research before going any further. This is only a small thing that is different in Mexico and part of the investment paperwork.
I should trust a realtor that is from my country. Many people choose a realtor to work with because they have common ground and feel they can trust them more. However, basing who you trust because of where they are from is faulty. There are good Mexican, European, Canadian and American realtors in Playa Del Carmen as well as ones that are not the best from each of the afore mentioned places. Also, just because you get a reference from someone, this does not mean that they are going to be good for you considering your circumstances.
I can get a loan. Well, you can get a loan but here is where is gets tricky. Basically, it is a cash market here. You see the price, you transfer the cash, you get the property. Some developers will allow you to make payments, and this is helpful but in the long run you will need to pay the full amount. Some will ask "Can't I get a loan in Mexico?" The short answer is "no" the long answer is "yes". Basically, it is very hard to secure a loan in Mexico. If you are able to get a loan the interest rates will be very high. This makes it highly unlikely that you will proceed with that option. One idea if you have a home and you are not selling it, is to look into a home equity loan and use the money from your home country to use for real estate in Playa Del Carmen.
We hope you have enjoyed reading over these 9 misconceptions of Playa Del Carmen real estate. We hope you look around the site and see the other article on moving to Playa Del Carmen.
Our video about real estate in Playa Del Carmen
This is our video we put together to help our readers get to know the market a little bit better. We cover things like what areas are like, what makes a good investment, and what things will affect the prices of real estate. We hope you find this video helpful.
After reading this article on Playa Del Carmen real estate you might like to read our HUGE Real Estate Guide that has interactive maps and many more details about buying in Playa Del Carmen. We also have this article on recommended real estate agents to work with in Playa you might want to read. We also have a good article about the Tulum real estate market and what it is like now. If you are new to the buying process in Mexico, we have a guide here with videos for you.
Can you think of some other misconceptions of real estate in Playa Del Carmen? Let us know in the comments below.