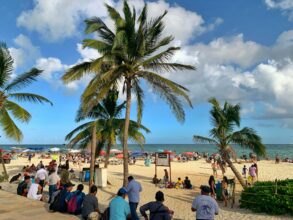 What is there to do in Playa Del Carmen?
Are you thinking of a vacation to Playa Del Carmen? Or have you already planned a trip and want to know what there is to do in Playa Del Carmen? Well, you are in good hands here. We have been in Playa for over a decade and know the best things to do for visitors. We know everyone is a bit different and has different wants and desires, so we will cover a range of things that you can do in Playa Del Carmen.
First off, the beach in Playa Del Carmen
Great news! Playa Del Carmen runs parallel to the beach and most of the central area has easy beach access. It can be easy to walk to the beach and lay down your towel. You can also go to one of the beach clubs and pay for a chair or bed. Beach clubs make going to the beach a little easier. You have access to a bathroom, food and beverage service, and maybe a pool or showers. Check out our guide to beach clubs in Playa Del Carmen here.
If you just want to just go to the beach and chill on your own, it will probably depend on where you are staying. You will most likely want to go to a beach that is not too far. Most people will stay between the Cozumel Ferry Pier and CTM Avenue. The beach is very accessible and you can find spots all along this section.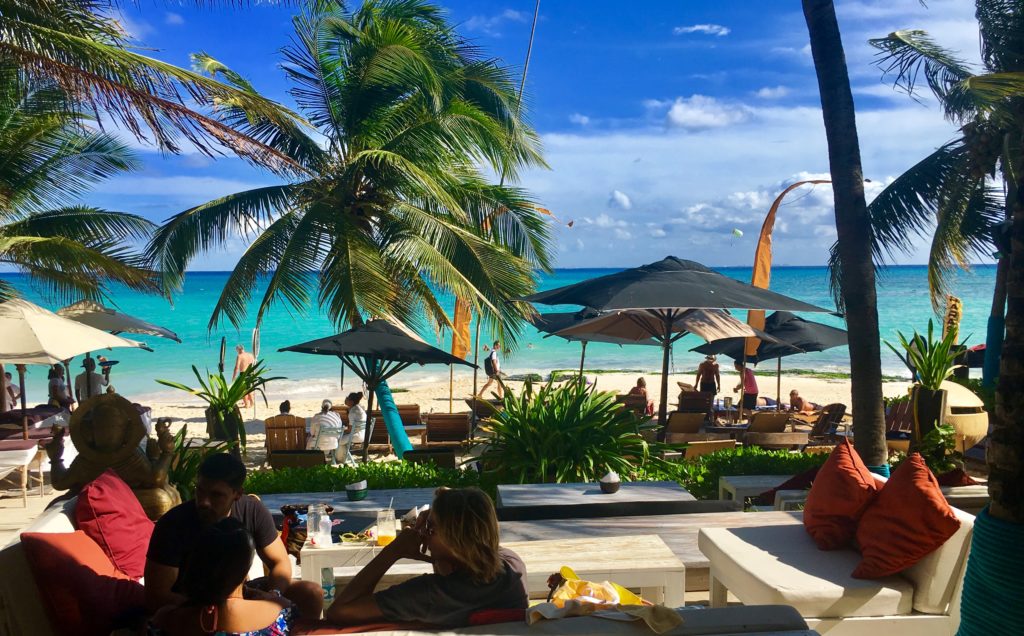 Things to do at the beach in Playa Del Carmen
If you want to do something beyond swimming and sunning on the beach, there are things you can do. Do you like something a little physical and like tranquility, the Aloha Paddle Club is a great activity to get out on the water. You can check out their Facebook page here. You can go out in the morning with them and get a different view of Playa Del Carmen.
If you want something like jets skis, small catamaran ride, banana boat, or parasailing, you can find this mainly on 28th Street and the beach where Mamitas Beach Club is. Here you will find vendors. You can also find jet skis around CTM Avenue and the beach.
Note: Some things are not available like sunset cruises and catamaran tours. Playa does not have a port, only docks, so the larger catamarans leave either from Puerto Adventuras, Moroma, or Cancun,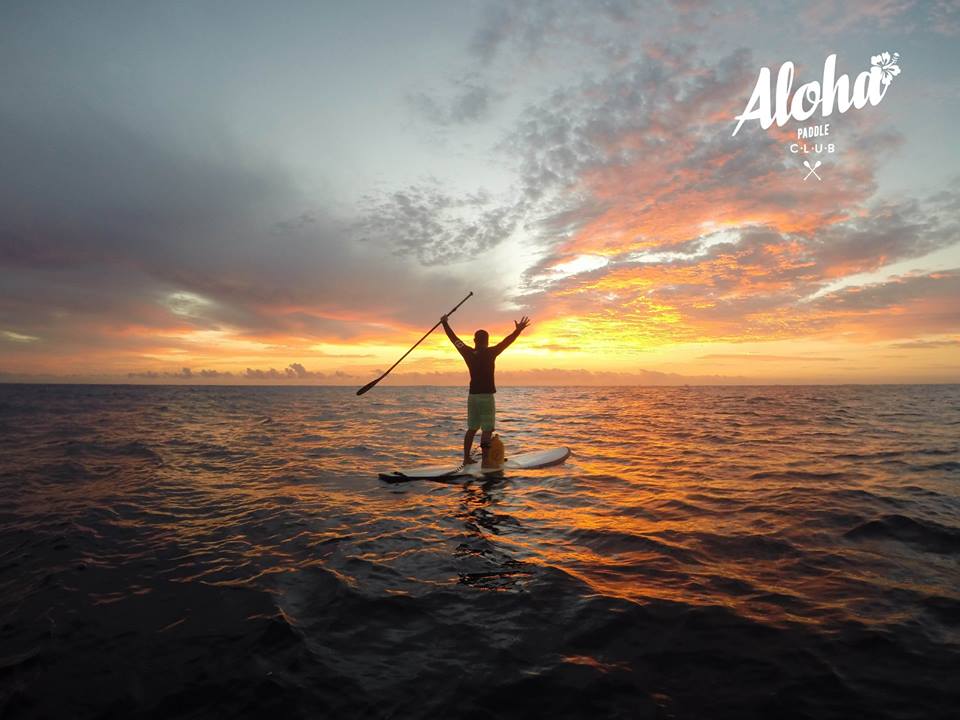 Attractions and things to do in Playa Del Carmen or nearby
For many, the most looked forward activity in Playa Del Carmen is walking 5th Avenue. Quinta Avenida, as it is called in Spanish, is a parallel street to the beach that is a pedestrian street. Along 5th Avenue you can find restaurants, shops, street performers, artist and a guaranteed lively atmosphere. We have a detailed video to help you discover the best of 5th Avenue.
Besides 5th Avenue, there is going out to eat, the beach, clubs, bars, and adventure parks just outside of town. In Playa Del Carmen there are no aquariums, zoos, architectural tours, or museums (unless you count the 3d Museum) like many cities around the world. It is mainly about taking in the sun and enjoying the location. Later in this article we will talk about things for a day trip, but for now, let's mention the things to do in Playa Del Carmen.
Activity parks near Playa Del Carmen
There are several big adventure parks close to Playa Del Carmen. Here is a little run down on each one. Remember, if you buy your tickets through our links in our articles, we do get a referral credit, and you still pay the same price. Using our links help support our website so we can bring you more information.
Xcaret. This is the biggest of all the parks. It shows Mexican culture and heritage as well as highlighting the natural environment found in the Riviera Maya. This park is a very full day or touring. We think people of all ages will find this park entertaining. The two hour show at the end is incredible. Make sure if you go here to stay for the show.
Xplor. This is a true adrenaline park. The best ziplines in the area are here. Plus there is swimming and paddling in underground rivers plus driving in the jungle with all terrain vehicles. This park is for families, young people and adults that can enjoy all the activities because of not having limitations. Note: families with young children can enjoy this park, but there are height and weight restrictions for some activities.
Xenses. This is another park by Xcaret. This is a half day park and is targeted at younger children. Explore your senses with rides and crazy architecture here.
Visiting cenotes close to Playa Del Carmen
Cenotes (pronounced "see note tees"), are a natura formation that is unique to our area. These are freshwater pools that form in the rock base of the peninsula. The easiest access cenotes that are close to Playa Del Carmen are south along the highway. It takes about 20 minutes in a colectivo to reach these three cenotes.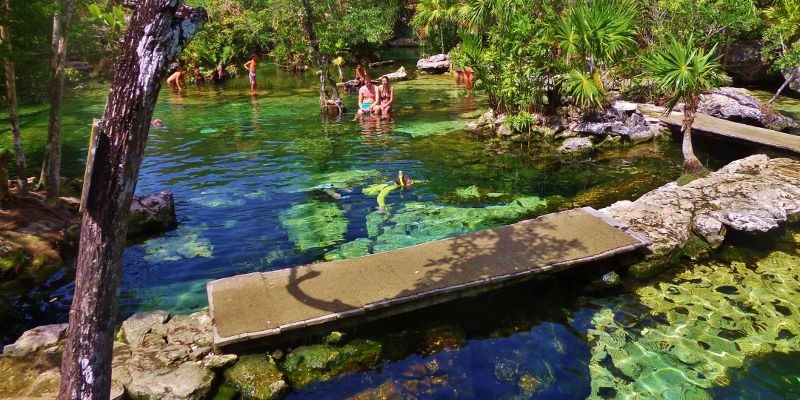 Eating out in Playa Del Carmen
If you are a foodie or just like to eat good food, there is a lot of places to check out in Playa Del Carmen. Playa is kind of the Ellis Island of Mexico. We get a lot of people from all over the world that bring their dishes and culture with them. So, we have a large variety of cuisines.
Here are some insider tips and places to check out when in Playa Del Carmen: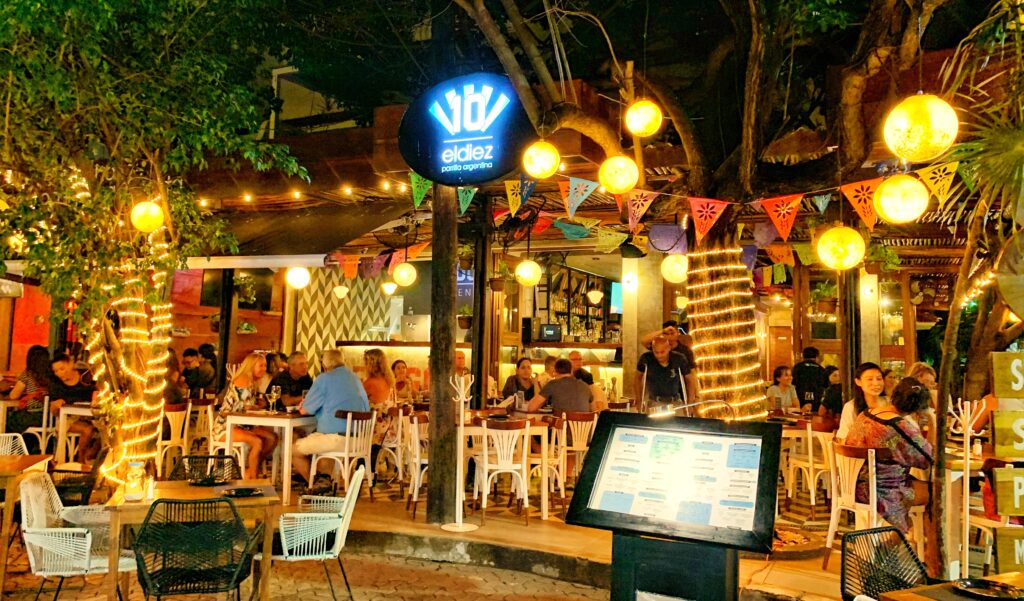 Bars and clubs to go out to in Playa Del Carmen
It is always entertaining to go out either to a bar, for live music or a club. Here is more information on each.
Bars in Playa Del Carmen
Most bars in Playa Del Carmen are smaller, lighthearted places. There are beach bars, expats bars, sports bars and betting bars. Usually in Playa you can find a bar that fits your crowd. Here is a guide to bars in Playa Del Carmen.
Live music in Playa Del Carmen
For live music, you will find most of the bars on 5th Avenue. In Playa you can find rock, Latin and some local banda music. We have this guide here to where to go and hear live music. There is also this helpful Facebook page that tells you who is playing and what is on in Playa Del Carmen.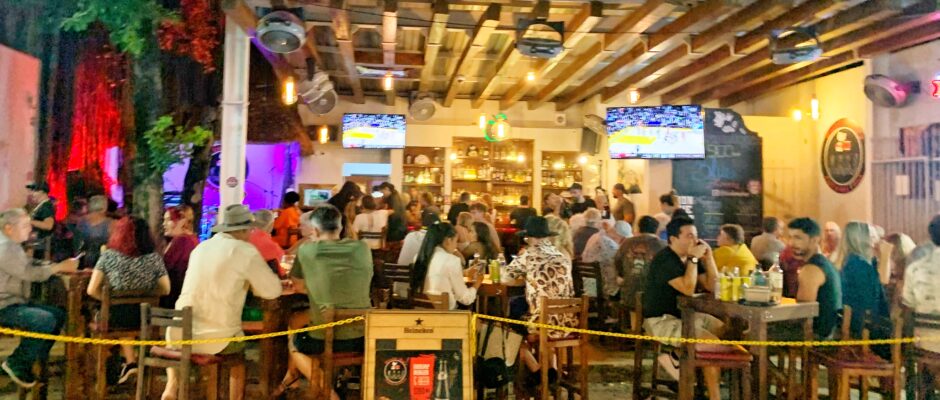 Clubs to go to at night
Clubs in Playa Del Carmen usually get going around 11:00pm and go to about 3 or 4 am. There are clubs with shows like Coco Bongo or clubs to dance to take selfies. Most of the clubs are centered around 12th Street between 10th Avenue and the beach. We have a guide to nightlife here for Playa Del Carmen.
What are the best tours and excursions to do?
As mentioned above, Playa Del Carmen is very close to several of Xcaret's parks. We can recommend all of their parks because they are well done, appeal to each market differently and are a good value. We mentioned the parks close to Playa Del Carmen, now here are the other parks that you can visit and also other ideas.
Xel Ha snorkel park
Xel Ha is one of our favorite places to visit. We never get tired of visiting here. Xel Ha is an inlet where you can snorkel all day and have all your food and drinks (including alcoholic drinks) included. We recommend this for all ages. Everyone can really enjoy time here. This park is between Playa Del Carmen and Tulum.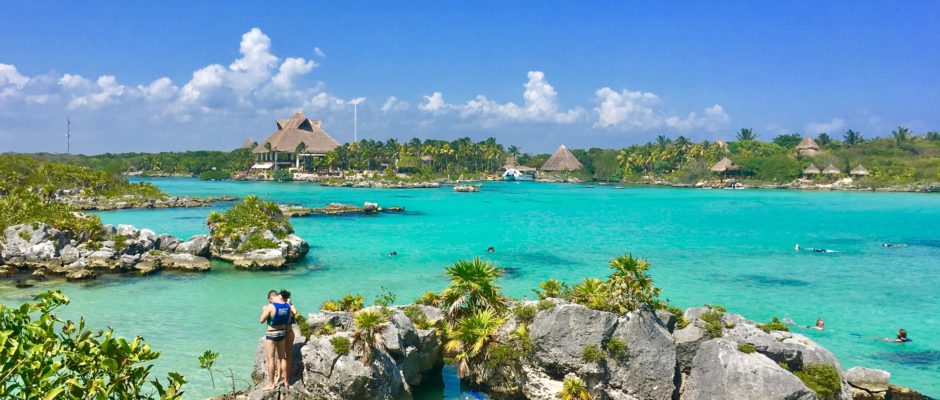 Xenotes Park
Xenotes Park is one of Xcaret's projects. This park is designed for people to get out of the hotel and into nature. You will visit a private area with 4 beautiful cenotes. In each one there are activities like swimming and zip lining. This is a good activity to do if you want to visit a more natural area and dont mind getting wet while having fun. We recommend this for couples and families. Perhaps best suited for families with children 10-17 years old.
Visit Mayan ruins
Visiting a Mayan ruin site is usually top on many visitors list. There are several good ruins to choose from like the very famous Chichen Itza, Coba, and Tulum. There are also smaller and less known ones like Muyil and Ek Balam. We wrote a whole guide on which Mayan ruins is best for you to visit because it might be hard to choose what one you want to go see.
Tours to Chichen Itza
Since this is one of the most popular Mayan ruins to visit, here are two tours that you can take here. We have a full description and videos so you can see just what the tours are like.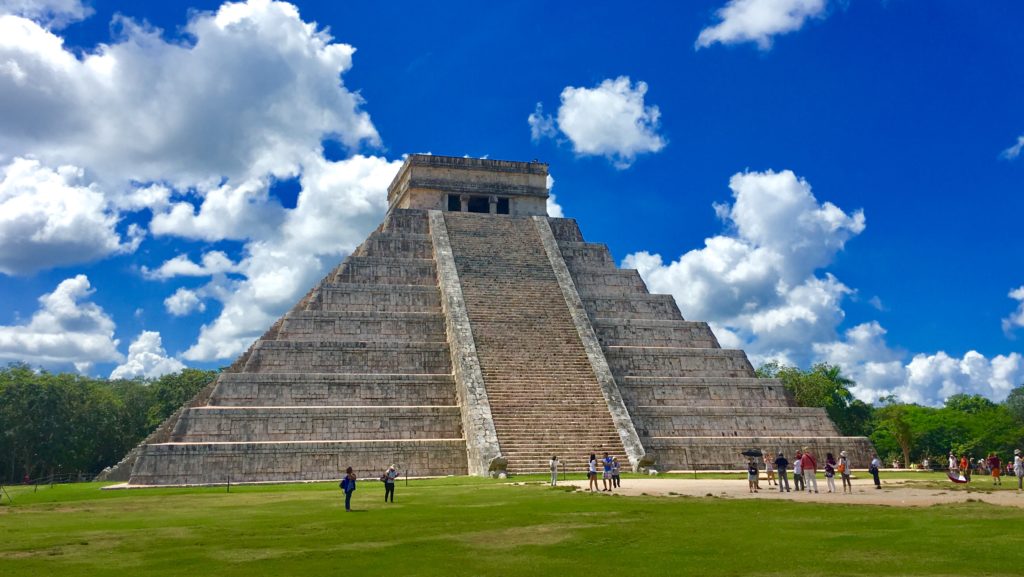 What to do if it rains during your vacation?
We get this question a lot. Many people see a forecast with a lot of rain and people freak out. The good news is, it rarely rains for days and if the weather forecast has rain each day predicted, it usually just means there is a chance, and it might not even rain. There are however times where a day is a washout, and you still want to do something on your vacation. So be sure to check out our guide to rainy day things to do in Playa Del Carmen.
Thanks for reading our guide about things to do in Playa Del Carmen. As you can see, there is a lot to do and see in the area. Be sure to check out our other guides to the area so you can have a great vacation to the area.