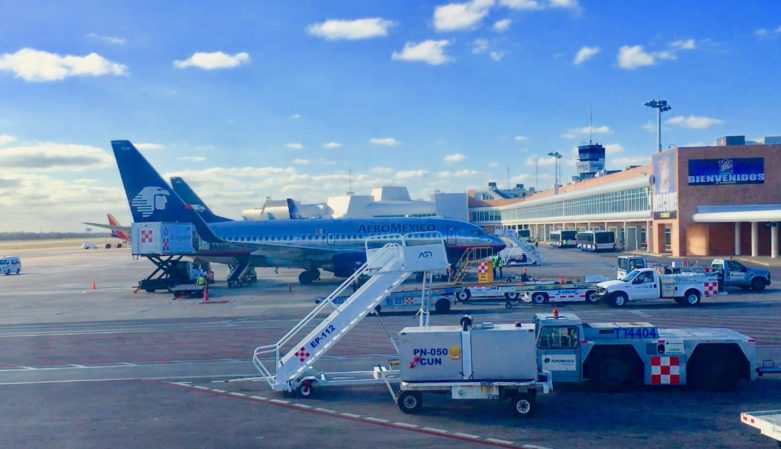 Mexican airlines offer very affordable options to travel. Mexico is a big county with so much to offer. Traveling by bus can cut into your time on vacation and can be tiring and expensive compared to flying. We wanted to offer some information to you about traveling within Mexico cheaply by flying. With a little planning you can get around for a few pesos and enjoy the marvels of Mexico. Many people do not know about the domestic airlines and how to travel with them so here are some tips for you. Most of these options are available from Cancun Airport. Here is how you can get some cheap flights in Mexico.
Mexican Airlines
Aeromexico
The biggest Mexican airline is of course Aeromexico. They offer the most flights per day and the best departure and arrival times. That usually means the highest price. This airline is for business and first class passengers or for those that just like a level up in service and convenience. You will rarely find a bargain on a flight but you will likely find a flight when and where you want. If you need to be somewhere at a certain time then this would be your airline. Another good thing is the amount of flights they have. If you miss your flight or there is bad weather, knowing you are flying a large airline means there are other flights in the day that you can catch.
If you are working with frequent flyer miles, then this is the one airline to use. You can use them and receive mileage with Aeromexico since they are part of Skyteam which is the frequent flyer network with Delta, KLM and Air France just to name the big partners. So when you start looking around for a flight you can start here and then work your way down the list to find a deal. http://aeromexico.com/mx/welcome.html
Tip for Aeromexico: If a smaller airline flies to your destination you want to go on certain days of the week, check AeroMexico's prices that day. They often compete with the smaller airlines on the days they fly to the same destination. This can save you 20-50% off a normal AeroMexico ticket.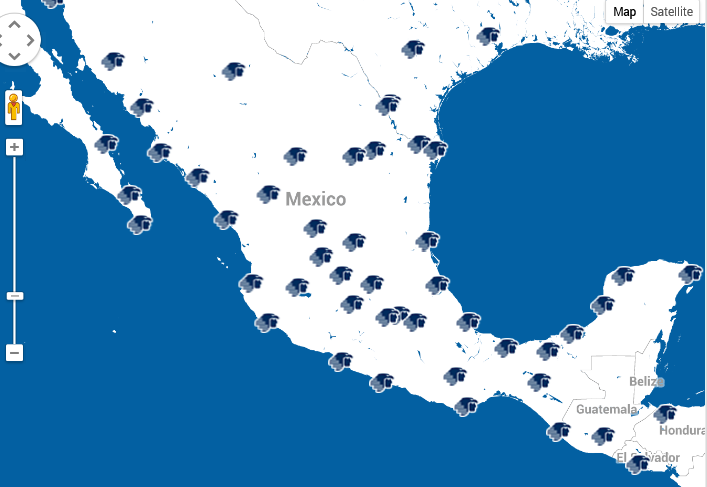 Smaller Budget Mexican Airlines
The smaller airlines are fairly new in Mexico. Volaris and Vivaaerobus are the other two airlines that you can check on for deals. The first place to start is by looking at maps to see where they fly. So if you have a destination in mind, you can see if they fly there or nearby there.
The two smaller airlines are priced like this, Volaris comes in a little above Vivaaerobus. Vivaaerobus is the cheapest airline. Let's examine the good and bad of each of these airlines.
Volaris is the second largest airline in Mexico but still only carry 13-14% of air passengers. This tells you how big Aeromexico is. Volaris flies to 47 destinations and has started flying some routes into the United States. Volaris is a pretty clean and decent airline with good service. Just like the placement of this airline in our cost comparison list, in the middle, they are the good standard airline that a lot of people prefer. You don't have to pay for every small service like Vivaaerobus and it is not more expensive like Interjet. They also have an interesting policy of on time guarantee. If you arrive at your final destination more then 30 minutes late they will send you and email certificate of $1000 pesos for you to use on another flight. (see website for more details) Volaris does have sales and if you see something you like you should book because the prices usually only goes up the closer the time comes for the flights. Volaris usually has sales 1-3 months in advance. http://www.volaris.com/en/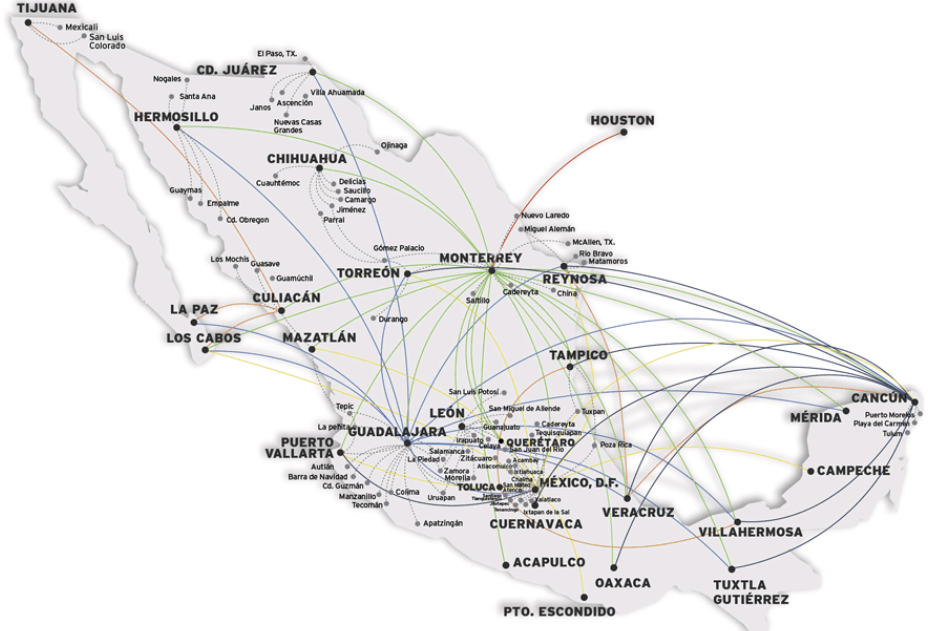 Vivaaerobus Airline
Vivaaerobus. This airline is co-owned by the same owners as Ryanair, the European discount airline. Vivaaerobus is based out of Cancun so you can get out of Cancun and back fairly easily using this airline. The one thing you will notice about this airline is the a la cart method of pricing. You may see a low price but that is only with hand luggage and the price is more if you have check in luggage. Also once you book you will have to go through about 10 separate charges to click the right box if you want the "extra" service or not. This can be time consuming and it might take several tries to get all the additional charges off that you do not want. In the end this is the cheapest airline.
If you are going to be traveling you might want to sign up for their email promotions. This way you will be the first to know about the sales. Some of their sales prices offer a very limited amount of seats on a particular day so you have to act fast. They can have sales for the same month and sometimes rock bottom prices like Cancun to Mexico City for $60 USD or other destinations for $40 USD. This type of bargain fare is not heard of in most places and can be a great deal if you catch one. If you are traveling with two or more people you may have to book at multiple prices due to limitations of sale prices. One thing that Vivaaerobus does that is different is offers connecting bus services. It can be a bus transport to the airport or to a nearby city that they do not fly to. It should be noted through that with a cheap ticket comes a worse schedule. Usually early in the day or late flights are the less desirable ones and they offer them.
Note: This airlines carryon bag size is not regular and you will have to pay for normal carry on size. They also have open seating on this airline so they charge extra for which group you get on the plane with. https://www.vivaaerobus.com/mx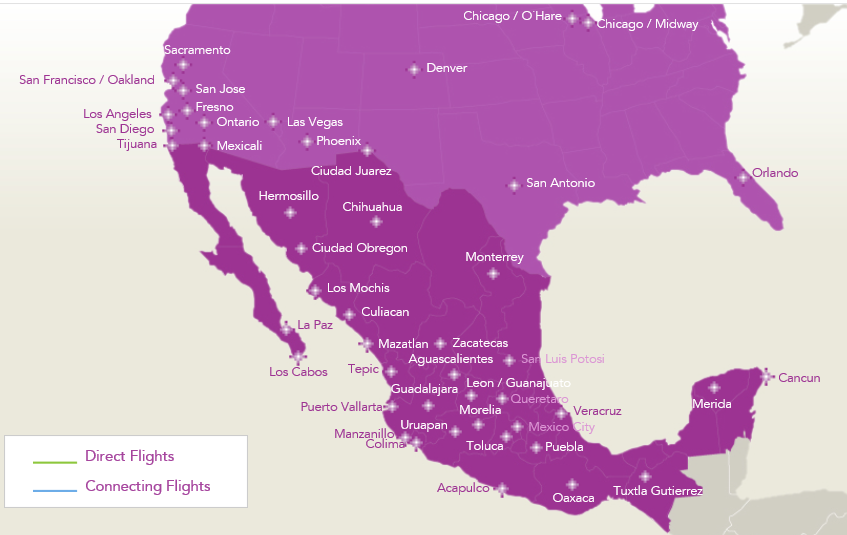 Other Mexican Airlines
If you are in other parts of the country, make sure you check out some regional carriers because you can get good rates and better service.
Aeromar– Services much of center of Mexico from top to bottom and some destinations on both coast. They are a more executive airline but still offer some good rates. http://www.aeromar.com.mx/
Tar Aerolineas– They fly to much of the center of Mexico but a little less destinations then Aeromar. https://tarmexico.com/
Mayan Air– This is a short flight service mainly connecting Cancun to Cozumel or even Merida. They just service the eastern part of Mexico. It is an airline of convenience and prices are not going to be a bargain but they can save you time if you are in a hurry. https://www.mayair.com.mx/
Magni Charters– This is more of a vacation package based airline. They do fly into Cancun and select cities in Mexico. Their website often is confusing or not working. Good thing they have an office in Playa Del Carmen where you can go and book. It is located in Plaza Pelicanos on 10th Avenue between 8th Street and 10th Street. They also have a counter in Mexico City Airport where you can book tickets. http://magnicharters.com.mx/
Tips
Now that we talked about the individual airlines, here are some tips on using these airlines. If you are traveling across the country to the other coast, most will pass through Mexico City. This does not mean that you need book the two segments on the same airline. You can always find the best deal to Mexico City and the see if another airline has a flight to your final destination at a better price. It is kind of like mix and match buying. You just need to make sure you have enough connection time especially since you are flying two different airlines. Consider alternative routes as well. for example Monterey is a hub that you can fly to en route to your final destination. If all else fails you can always cover most of the distance by flying and then take a bus to your final destination in order to save money or fit your schedule.
Tip: Even booking on the same airline two segments on the same day can involve a little work. If they will not let you check in for both segments you will need to get off the first flight, exit the airport, check-in and pass through security again. This can eat up a lot of time so plan on this.
Tip: Remember that Quintana Roo state now is one hour different then most of Mexico. Most systems are updates but if you booked a ticket a while ago, check your arrival and departure times.
Tip: Read the luggage restrictions carefully. For example Volaris now only lets a VERY little carryon but does allow one bag checked. Vivaaerobus has tickets prices according to how much total luggage you will have with you and will charge you extra if you show up at the airport with more.
Tip: Remember the time of the year you are traveling. Semana Santa the Easter time and Christmas time are the most traveled times in Mexico. Flights will be booked and more expensive.
There is one more very local airline called Mayair. http://www.mayair.com.mx/ They mainly connect Cozumel and Cancun but they also fly to a few cities on the east of Mexico (Cancun, Cozumel, Merida, Villahermosa, and Veracruz). This is not a low cost airline but does offer a more custom travel service for your travels.
See also our article on the Cancun airport and the airport in Playa Del Carmen here. Make sure you know where your airline will depart from because Terminal 1 is now being used at Cancun Airport for some low cost airlines.
Which Mexican airlines do you like? Do you have some tips you would like to share with us and other readers? Comment below. We love to hear from our readers.