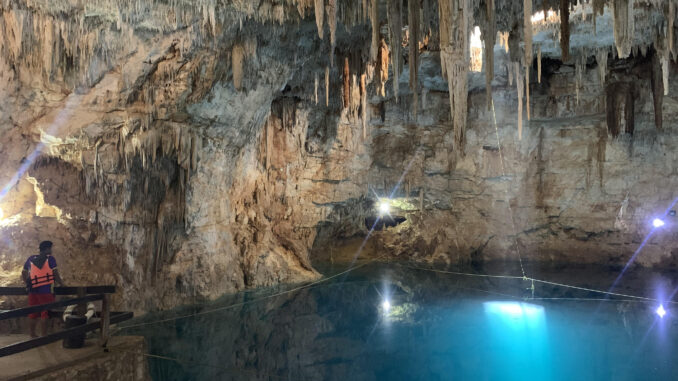 Cenote Palomitas, Cenote Agua Dulce and Cenote Dzalbay
Getting out to explore cenotes is a lot of fun. Cenotes are something unique to the area and come in all shapes and sizes. Here are three cenotes close to each other that can make for a good daytrip or overnight trip to explore the area. Yes, these cenotes are toward the interior of the peninsula, but that only makes the exploration more interesting and with a lot less tourists. Some cenotes in this area do get bus groups going to Ek Balam ruins or Chichen Itza, but others only get a few people per day.
These are just a few of the great cenotes to visit. At the end of the article, we will have links to other cenotes to visit.
Our video about visiting these three cenotes
We love visiting these locations and showing you what they are like. Here is a brief video to show you more about these three cenotes.
Cenote Palomitas and Cenote Agua Dulce
This cenote stands for itself when we say it is up there in regard to beautiful cenotes to visit. Actually, Cenote Palomitas and Cenote Agua Dulce are very similar. They are both enclosed cenotes with beautiful blue water to swim in. These two cenotes are side by side and run by the same management. There is also a restaurant at these cenotes which is nice because there are very few places to eat around this area. So, as we mentioned in the video, it might be good to plan lunch here if you are visiting various cenotes in the area.
What is the entrance price of these two cenotes?
Currently it is 180 pesos for each cenote. There are also combo tickets that can include lunch, and we feel this is a good value since a meal would cost you more at a restaurant. Currently there is a package of one cenote and lunch for 280 not including drinks. For the latest prices, check out their Facebook page here.
What is the difference between these two cenotes?
The two cenotes, Cenote Palomitas and Cenote Agua Dulce are actually very similar. They are both enclosed cenotes with beautiful water to swim in. One of the differences is that Cenote Agua Dulce is open to the public from 8:00am-11:00am and afterward it is reserved for groups coming. Cenote Palomitas is open all day until 4:30pm. Besides that, they are very similar experiences, and you don't really need to pay to visit both at the same time in our opinion.
Note about time: Remember that Quintana Roo State never changes time, but Yucatan does. So, for half the year Yucatan is one hour behind Quintana Roo.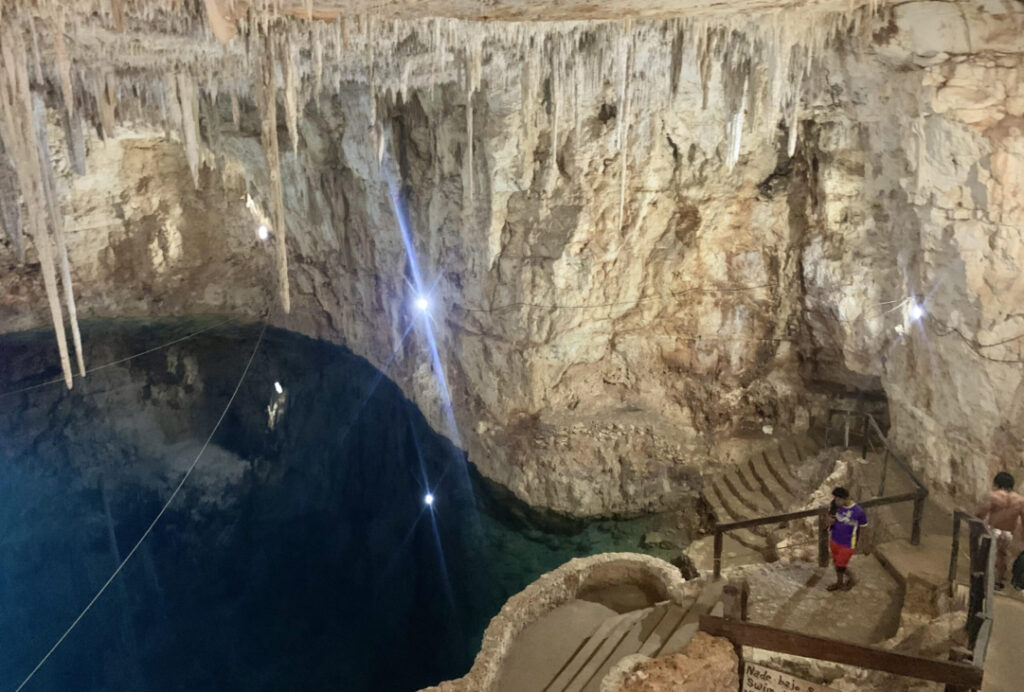 Cenote Dzalbay
This cenote opened recently and is being worked on for further improvements and access. Cenote Dzalbay is an enclosed cenote with a lot of space! Some of the roof has collapsed and this creates a mound of stone dirt in the center, so only water is accessible on one side. the water is very clear and good for swimming, just compared to the others, it seems less attractive to swim.
There is a couple that is at the entrance that will charge you the 100 pesos entrance and you have access to the cenote. They also have some reflective boards that they use to spread light around the cenote. It is not too dark because there are lights and a few holes in the roof.
This cenote is nice to visit because there are no bus groups coming here and you might be the only ones visiting. It might be nice to see this cenote and visit one of the others above to get a rounded-out cenote experience.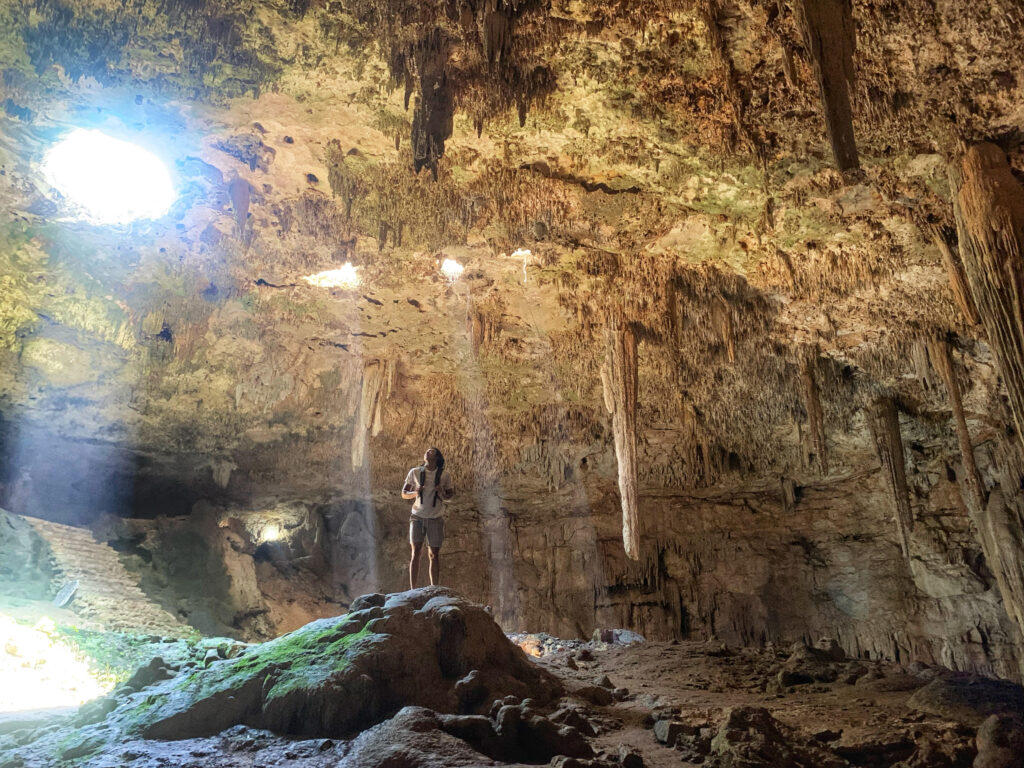 Where are these cenotes and how to best plan a day visiting them
These three cenotes are just over 2 hours from Playa Del Carmen making them accessible for a daytrip or included on a longer trip. Most directions will take you on the 180 non toll road. This is a very slow drive, but a nice cross selection of small towns and rural life in the Yucatan. The closest town is Yalcoba. This is northeast of Valladolid.
Another option if coming from the Riviera Maya is take the toll road all the way to Valladolid and make your way north towards Ek Balam and after a visit there, make your way to the cenotes of your choice and then take the slower way back to the Riviera Maya.
More cenotes to visit in the area
Very close to these three cenotes is Cenote Sac Aua. This is a very unique and beautiful cenote. The roof fell into the center and has created an island in the center of the cenote. On the island trees have grown making it a beautiful cenote to visit.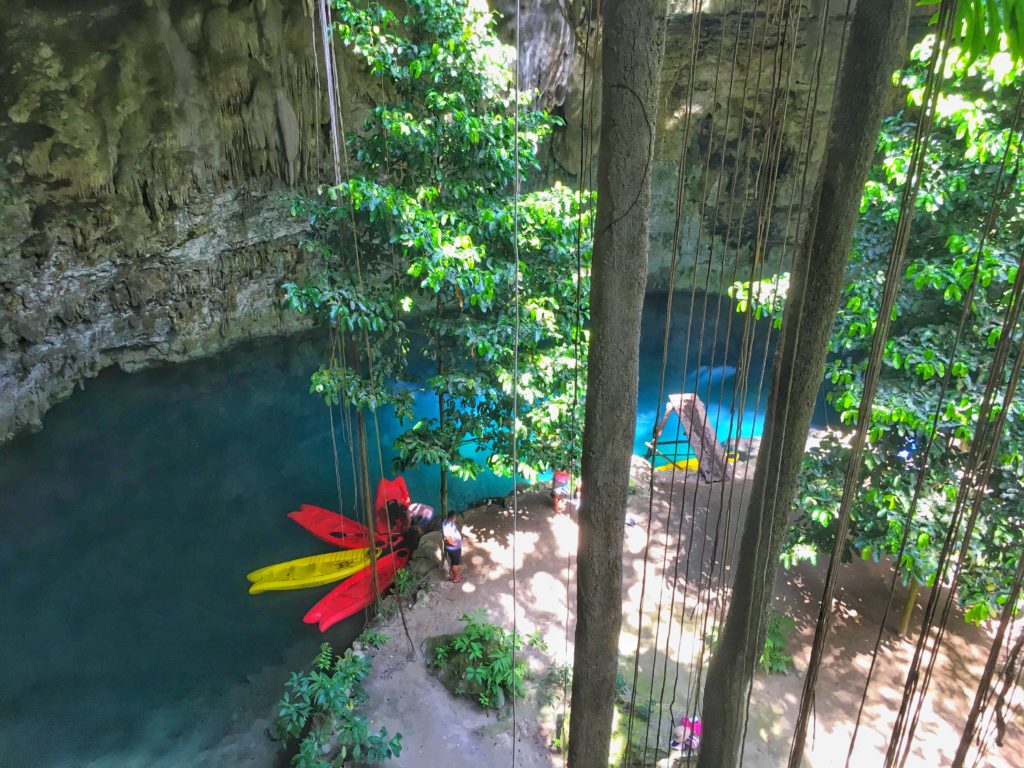 Check out our cenote map here that we are always updating. Each marker has a link to more information about visiting each cenote.