Which airport do you fly into for Playa Del Carmen?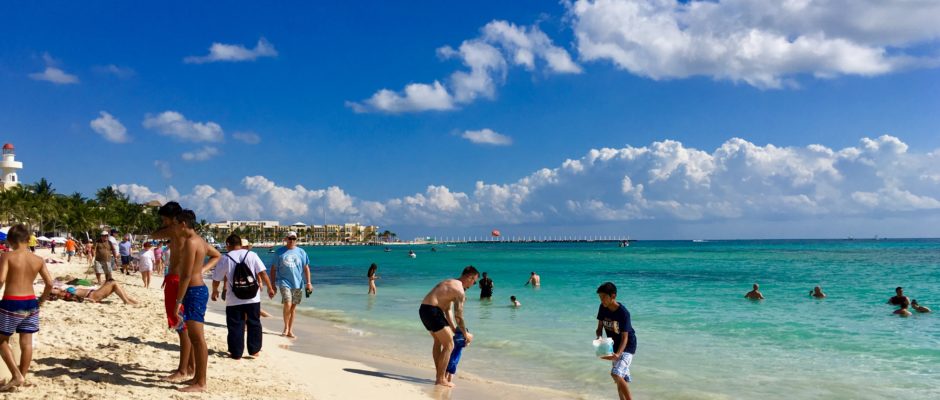 Which airport do you fly into for Playa Del Carmen?
If it is your first time coming here you might be looking at which airport you fly into for Playa Del Carmen. There are two international airports nearby and even an airport in Playa Del Carmen. Here is a look at what is the best airport to fly into and how to get from the airport to where you want to go.
Playa Del Carmen has an airport?
Yes there is a small airport in town. You might have seen it on google maps. It is pretty small and only accommodates small planes for a few passengers. The airport is mainly used for flight tours and sky diving. There are no international flights or even long domestic flights from this airport. This leaves just Cancun Airport and Cozumel Airport. Here are the differences between them.
Cozumel Airport
Cozumel Airport (CZM) is 18.6 Km (11.5 miles) as the crow flies. That is pretty close. But the devil is in the details. First of all the cost of flights to Cozumel are usually a little more expensive than flights into Cancun Airport. Second there is the transportation methods and time.
Getting from Cozumel Airport to Playa Del Carmen involves taking a taxi from the airport to the ferry pier, taking the ferry to the mainland and then another taxi to wherever you are staying in Playa Del Carmen. For a complete look at details on how to get from the Cozumel Airport to Playa see our article here.
Overall this trip takes about 1 hour and 40 minutes. It does involve two or three modes of transport including a weather permitting ferry (although the ferries run almost all the time).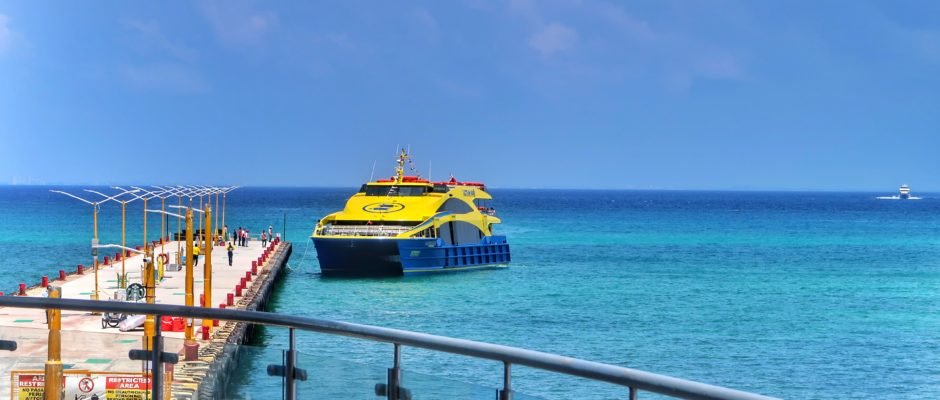 Flying into Cancun Airport
When you are looking at flights to our area you will find many more and often much better priced going to Cancun. This is because there are more airlines and destinations served from this airport.
Cancun International Airport (CUN) is actually located between Cancun and Playa Del Carmen. It is a straight drive from the airport to Playa Del Carmen. It takes about 50 minutes in a transfer. The distance is 55 km (34 miles) between the Cancun Airport and Playa Del Carmen. Besides being more convenient to fly into you also have more simple options from getting to your hotel or where you are staying from this airport.
Your options include:
Renting a car.
ADO public bus.
Private transfer
Taxi or Uber?
What is the best way to get from the airport to your hotel?
Renting a car
We only suggest renting a car if you are planning to use it a couple of days during a week stay for excursions. Most people staying at all inclusive hotels will not use a car that much and it will be a waste of money. You can leave the driving to someone else and just take a private transfer.
ADO bus
This is the only public option for transportation. The ADO bus company has large busses that leave for Cancun and Playa Del Carmen mainly. there are a limited amount that go to Tulum and Puerto Morelos (but just the highway, not to the town by the beach). This can be a good option if you are traveling solo or want a budget option. If you are staying at a resort or a hotel not near the bus station, this is not the best option. You will need to take a taxi from the bus station to your hotel the which adds to travel time and expense. Note: Many resorts are listed as Playa Del Carmen but can be along the coast and not in town. Actually check the map where your hotel is.
Airport transfers
These are a great option for going straight to your hotel. These do not combine you with other people and are private. Once you reserve, a driver will be waiting at the terminal you arrive at and will take you straight to your hotel. We recommend a transfer company below in the reserve now button. You can book directly with them for your transfer. They have provided excellent service to our readers, so we have not problem recommending them.

Other services you can pre book with an airport transfer
Have drinks such as soda, juice, wine or beer waiting for you.
Snacks.
Book a one hour stop in your transfer for $35 USD. This can be great if you want to pick up a few of your favorite things for your trip. Most resorts are not near any real stores so this might be a god chance to buy things at real prices.
Taxi or Uber
Uber does not operate anywhere in the Riviera Maya at this time so this is not an option. Taxis work just like private transfers but we recommend the private transfer option. Not only can you book in advance you also get a set price with no negotiating. The private transfers are also vans and you have more space for you and luggage plus you can get a discount when you book a round trip.
So which airport do you fly into for Playa Del Carmen?
Most likely you will be flying into Cancun Airport. We hope you ave a great vacation here and get with ease to your hotel. If you liked this guide you might like to look at other guides we have that include everything in the area from restaurants to ruins to visit and tours. If you don't see what you are looking for you can also use the search box on our website. We have hundreds of articles for you.
Thanks for reading our article. If you have any comments or questions let us know below. We would love to hear from you.