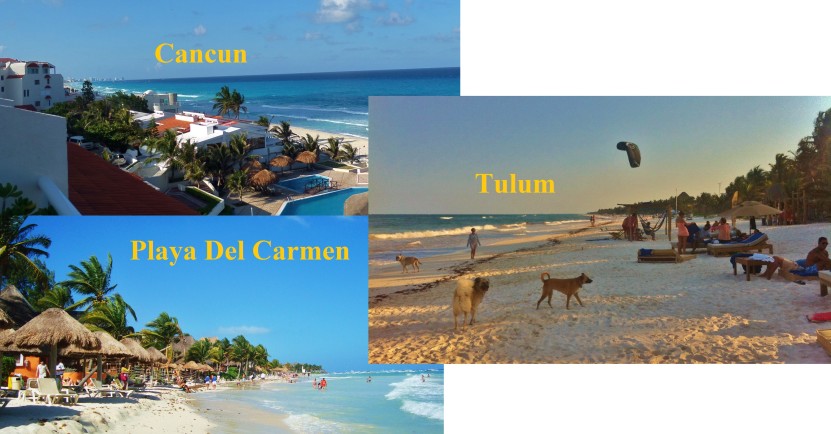 Trying to decide on where to go on vacation in Riviera Maya, Mexico? Well there are a lot of options and the three main ones are Cancun, Playa Del Carmen or Tulum. Of course there is the whole coast which is dotted by all inclusive hotels and small towns as well. We think though that once you know the places, you will fit into one of them because they are all very different and appeal to different people. Lets talk about each one and what some of the pros and cons are about taking a vacation in each one.
Is Cancun a good vacation spot for you?
Cancun was the original destination in the Yucatan Peninsula. That is why it is the most known and has been developed so much.
Pros- There are a lot of package vacations. Since there is a lot of competition in the Hotel Zone for tourist and when the season is lower, so go the prices. If you stay on the front of the Hotel Zone as well, you will have great beaches to enjoy. Cancun is a tourist machine and everything is geared toward tourist. The tourist infrastructure is there with everything a tourist would want, from beaches to tours, Cancun was built for tourist.
Cons-Since it is an older destination there is element in some older hotels that show their age. Also since tourist have been coming here for sometime, some of the locals have learned all the ways to charm the money out of you by offing you cheap drinks in bars, timeshares, tacky souvenirs and overpriced tours. This can be avoided if you stay at more upscale hotels and when walking around some the touristy areas, don't take everything so serious at stores that are trying to sell you souvenirs or tours. Cancun is not a walking city. The Hotel Zone alone has miles and miles of hotels. It can take 20 minutes by car just to reach the downtown, so walking around is limited, that is why most people just stay on their resort and book tours with pickups.
Is Playa Del Carmen a good vacation spot for you?
Pros-This is not Cancun for sure. It is much more European feeling and small scale. It is a very walkable city and most things are in a 20 block area. The city is centrally located to many of the tourist destinations (see Day trip guide to Playa Del Carmen) as well as being close to the airport (45minute away). Since this city is such an international draw, not just for tourist but also residents, there is an amazing restaurant scene here and foodies will be busy checking out all the good places to eat. Playa Del Carmen also has a nice range of shopping for tourist, everything from magnets to fine crafts from around Mexico can be found.
Cons-Playa Del Carmen has been growing over the years at a fast rate. This means that the beach huts and sand streets are now more likely to have chic restaurants and boutique hotels. People do still find the small feel and charm to the place but some now see Tulum as Playa Del Carmen of 15 years ago. If you like all inclusive hotels then you are limited with just a couple in the Playa Del Carmen center. There are more in the Playacar neighborhood at the south end of Playa and this can be a happy medium between staying at an all inclusive and being able to walk into the center of Playa.
If Playa Del Carmen sounds just a little to big for you then you might want to check out Puerto Morelos. It is a smaller town between Cancun and Playa Del Carmen.
Is Tulum a good vacation spot for you?
Pros-If you like eco-chic or hippie-chic then Tulum might just be a good fit for you. Tulum is a town of two parts. There is the center of town that has all the businesses, souvenir shops, transportation and hostels and then there is the beach area which is separated from the town by about 3k. The beach area is now known for its eco-chic hotels, $300USD a night prices, small gourmet restaurants ,celebrities and New Yorkers walking around. You can get high levels of service and seclusion here and the food scene is ever increasing. Cheaper accommodation can still be had in town and father back from the beach.
Cons-Tulum is all about relaxing and the eco-chic destination. You are not going to find malls, movie theaters or mini golf here. If you want stuff to do besides stay in your hotel, beach, visit the ruins, eat out and walk the town in one hour, you might find yourself wanting to do something else. There are some attractions like the Coba ruins, Muyil ruins, cenotes and Sian Ka an that are al close to Tulum. These are all great to see but there are on the tame side. You also do not have the large all inclusive resorts in Tulum so if you do have the energy of a big hotel with nightly shows if that is what you want. If you have a long flight to Mexico, the transfer from the Cancun Airport to Tulum will take you over one hour in transportation. after a long flight you may not be thrilled to still have to get there, but once you are there you are really away from things an maybe you can relax more.
If you do think Tulum sounds good to you because you want a quiet vacation not at an all inclusive resort, then you might also want to check out Akumal, a small town between Playa Del Carmen and Tulum.
Cancun vs Playa Del Carmen vs Tulum
The Riviera Maya is a diverse place and each place has a distinctive personality. This makes for a good fit to different people. We hope you find your piece of paradise and make it here soon. For more help on where to stay please check out our Hotel Guide for the Rivera Maya, this helps narrow down the thousands of hotels to a list of the better ones.
If you are searching for hotels, we do recommend this search box because it combines search engine to give you the best rates.
Which place do you like to visit when on vacation? What do you like about where you go? Let us know in the comments below.