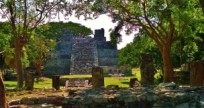 El Meco Mayan Ruins in Cancun
Mention Mayan ruin sites in Cancun and you only hear about taking a tour to Chichen Itza or the small ruins that  can be found in the hotel zone like El Rey. EL Meco Mayan ruins is a site that stands on it's own even though it is not the largest of sites.
It is located just out of the center of Cancun which makes it easy to visit even though many people skip it for seeing other places. For less then $3 USD you can see these ruins. That is a bargain compared to a tour to other ruins that can cost $50 USD per person. (Although some of the tours do offer a cenote trip or a stop to see a colonial town on the way). These ruins are also very close in comparison to the 2 1/2 hour trip to other ruins deep in the Yucatan Peninsula.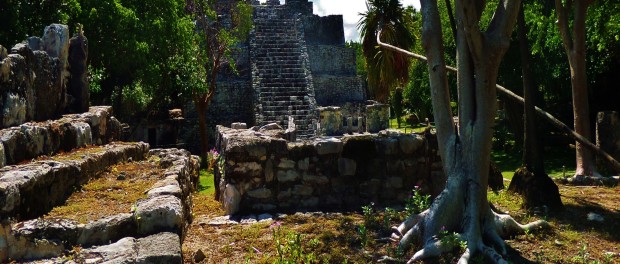 History of El Meco
El Meco was perhaps first inhabited in the 3rd. century and then abandoned for  before being  repopulated around the 11th Century. This site no doubt had a deep connection to Isla Mujeres and was an important port. From the top of the Castillo structure you can get an impressive view of the surrounding area. This was the tallest structure in the area and could of been an t important  vantage point to survey incoming ships. The principal structure is 12.5 meters high (41 ft.).
How to get to El Meco Mayan Ruins
Directions: Drive North out of Cancun on Avenida Lopez Portillo also known as the Cancun-Puerto Juarez road. The site is located at Km.27. The ruins are just off the road on the left. There is a small parking lot. There is good signage. Taking a taxi is possible as well.
Entrance: 50 pesos. Open daily from 8am-4pm
Other Information:
If you like iguanas then you are going to love it at El Meco. There are many iguanas that are sunbathing and strolling the site. Don't worry they always stay away from people.
Bathrooms are available.
The site is semi shaded which is nice to stay out of the sun for at least half of the time.
It is not really handicap accessible. The grounds are not smooth enough for a wheel chair but easy enough for an elderly person.
You cannot climb to the top of the ruins. This does help keep it preserved.
There are no readily available guides at this site.
There are no tours that offer this ruin. That means you have to do it on your own. It also means that there are not going to be hordes of other tourist. On the day we went there were a whopping 4 other people.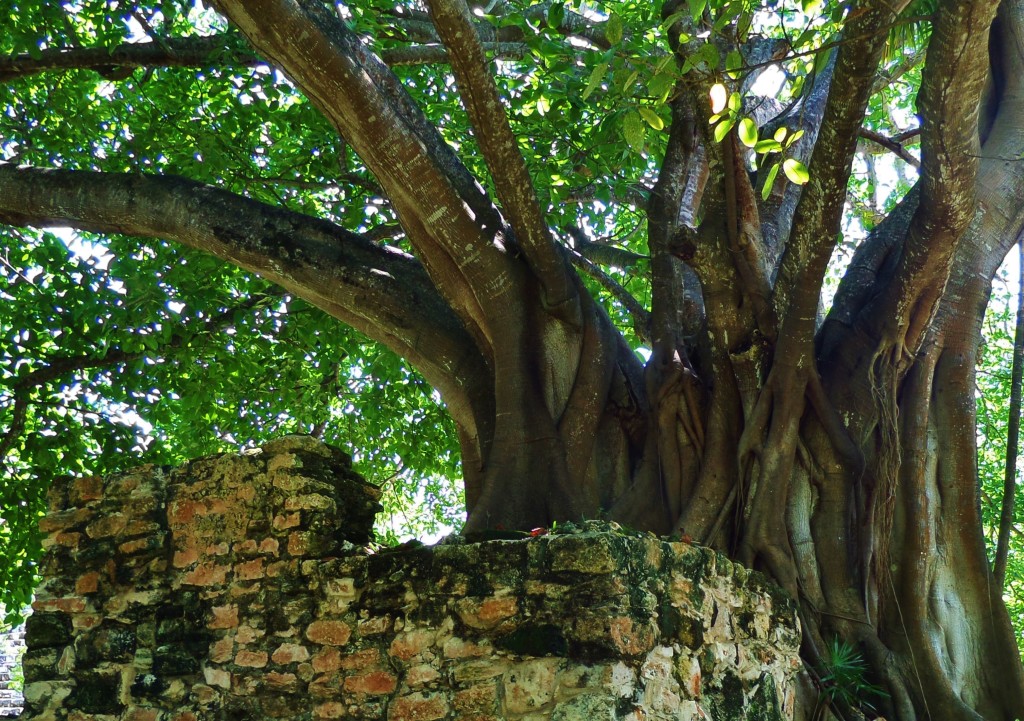 For more places to visit and tours from Playa Del Carmen, see our article here.
Have you been to El Meco Mayan ruins? What did you think? We would love to hear from you in the comments below.