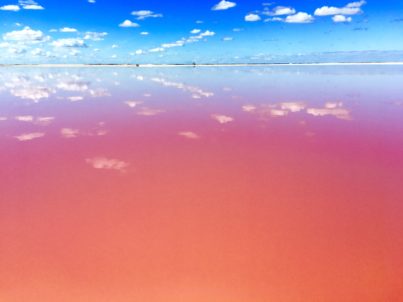 10 photogenic places within a day trip from Playa Del Carmen
Visiting the Riviera Maya will land you on some beautiful beaches and open you to some great experiences, but there is more to see. Often a day trip from Playa Del Carmen or wherever you are staying, will take you to some amazing places. These very photogenic places are found on Instagram and are even famous destinations for travel photos. You too can visit some of these amazing places that are all just a day trip away. Here are our favorite 1o places to visit in no particular order.
Sian Ka'an Reserve
Sian Ka'an is one of Mexico's largest protected areas just south of Tulum. This area of coastal mangroves, forest and stunning virgin beaches are a favorite place for nature lovers. It is beautiful and natural with a lot of open space. There are only a few areas where there are people and one main road.
Want to take a tour here?
If you are staying in the Playa Del Carmen area you can take a tour here to enjoy the natural beauty of the area. Travel on a marine safari through the Sian Ka'an reserve on this all-day guided tour. Ride through its lush jungle before boarding a boat, from which you'll be able to possibly see turtles, stingrays, manatees, dolphins, and different seabird species. Plus, snorkel around the Great Mayan Reef and take a dip in Punta Allen's natural pool. If you want more information on this tour, click here.
Want to drive here yourself?
The entrance is at the end of the Hotel Zone in Tulum where you will pay the inexpensive park entrance fee. The road is dirt and often is in very poor condition. It often has a lot of potholes and is slow going, but you can stop a lot to take photos. Here are a couple of things to keep in mind if you want to drive here.
Often rental cars are not covered by insurance if you drive on unpaved roads.
There is often no cell phone service in this area.
There are no or hardly any places to buy food or drinks, so the best place is in Tulum at the Chedraui.
Without knowing the area, don't go off the paths. There are crocodiles, and turtle nesting areas. You can put yourself or nature at risk.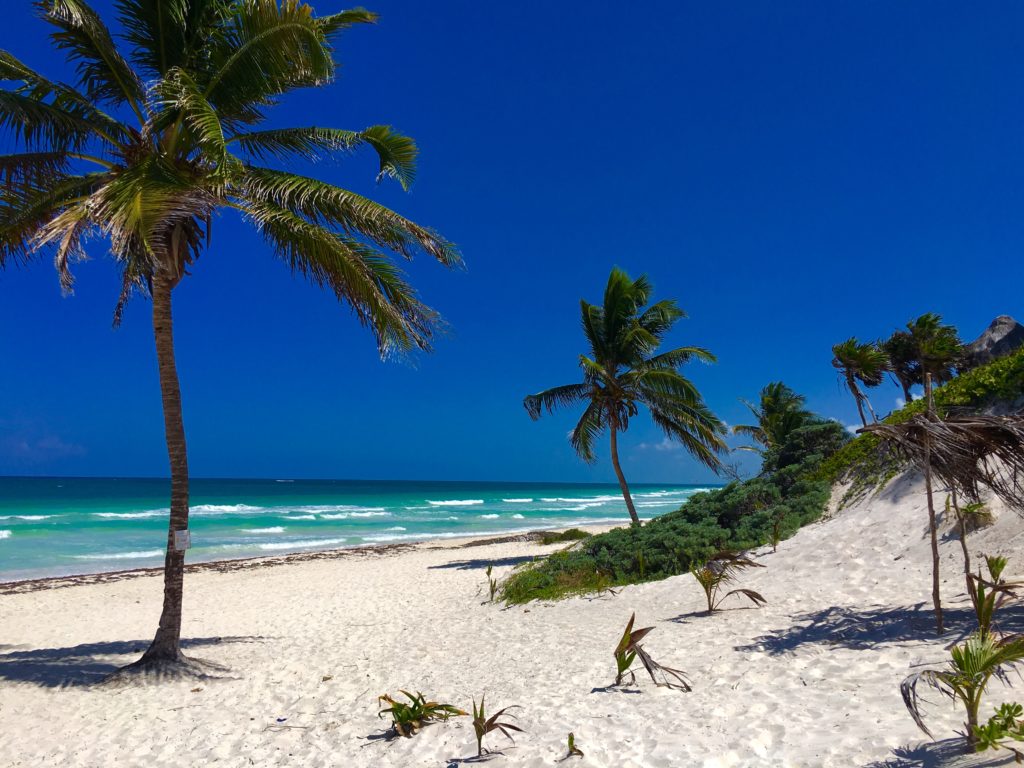 Tulum Beaches
Tulum, Mexico is famous for its laid back vibe and and eco chic accommodations next to the beach. The beaches of Tulum have long attracted visitors and only more with the promotion of photos on Instagram. What makes the beaches in Tulum different from places like Playa Del Carmen is the laid back feel, more nature and small scale beach bars that offer gourmet food and drinks. If you are staying in the Riviera Maya outside of Tulum, here are some tips on how to take a day trip here to enjoy the beaches.
Tulum ruins and the beach
One of the easier day trips to Tulum is to see the Mayan ruins. This can be done with a tour, bus or driving there yourself. For more about visiting Tulum ruins, see our complete guide here. If you take the tour here, you can have some time to visit the small beach that is in front of the ruins. Sometimes the surf is too rough for the small inlet and you are not allowed down to the beach. If it is open and your tour allows it, be sure to wear your bathing suit under your clothes, because there is no place to change.
If you drive to Tulum ruins and park, you can walk from the ruins along a road that connects to the beach road that goes through the hotel zone. You can only walk this from the ruins and not drive on this part of the road. Since you pay for parking at the ruins, you can keep the car there and walk the approximate 15 minutes (from the ruins) to one of the nicest beaches with public access. It is a little bit of walking, but often this beach has limited parking spaces and sometimes you cannot access the area by car because it is full. This often happens on the weekends after 11:00am.
At this beach there are a few beach bars and places with some food, but not extensive. Try to bring what you want for the day at the beach.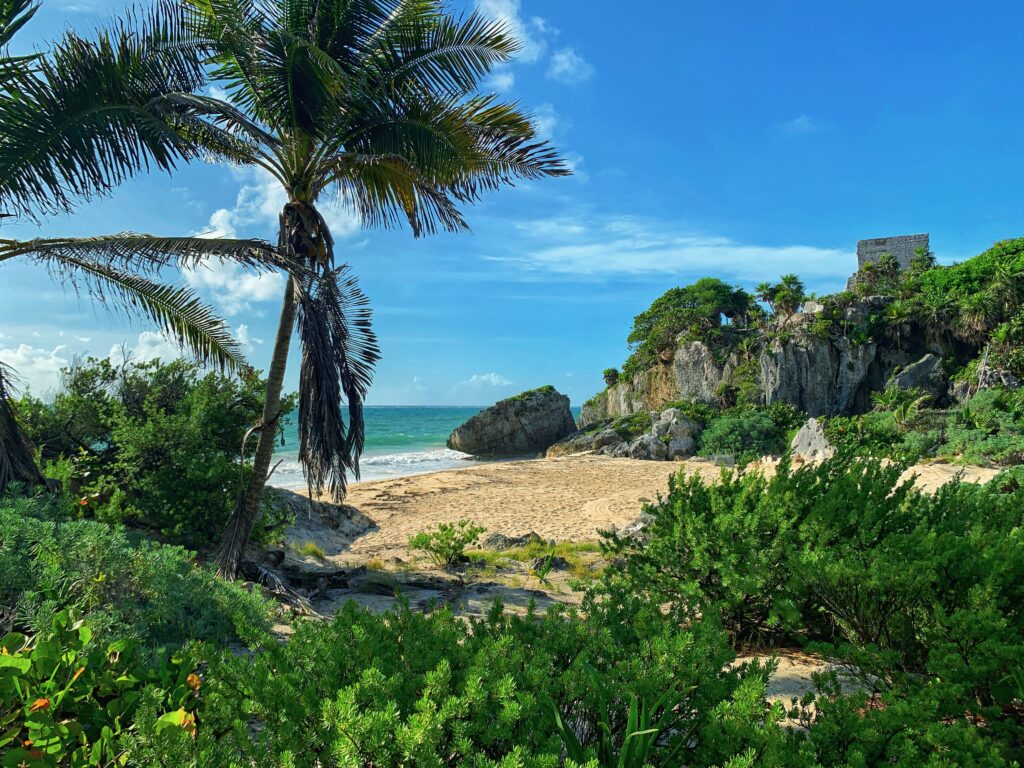 Going to Tulum to the beach for a day trip
If you want to visit some of the beaches yourself for the day in Tulum, the best way is driving. Taking a bus to Tulum will leave you off on the highway and it is an expensive taxi to the hotel zone (about a 10-15 minute taxi ride). You will also need to know where you want to go since the hotel zone is several kilometers long and has multiple beach clubs and public access points.
Here are a few tips for you to enjoy the beaches of Tulum for the day.
Parking is very limited in the hotel zone in Tulum. It is best to arrive before 11:30am for a spot.
Some of the best beach clubs are La Zebra, Papaya Playa Project, and Ziggys Beach Club.
Plan on spending a good part of the day at one location so you can get your money's worth and enjoy it.
Most beach clubs have a minimum consumption of 1000 pesos or about $50 USD. This is not that hard to do with a meal and drinks.
Isla Contoy
Isla Contoy is a lesser known island approximately 30 kilometers north of Isla Mujeres. The island is only 8.5 km (5.3 mi) in length and has an area of 3.17 square kilometers (1.22 sq mi). You may not have heard about this island because not that many people have been to it. In face, only 200 people per day are allowed there since it is a national park that is being preserved to protect the wildlife there. Because it is so pristine, it is very photogenic!
On a beautiful day, this place can seem like paradise. You can imagine what the entire area was like in the past by looking at the beauty of the island. Because there are restrictions on visiting, it is necessary to book a tour and we recommend well in advance to secure a spot.
If you would like to take a day trip here, check out this tour to Isla Contoy from Playa Del Carmen.

Seeing the reef off Cozumel
The Mesoamerican reef passes by Cozumel and is the second largest reef in the world. Cozumel and its nearby reef was made famous by Jacques Cousteau who visited in 1961 and showed the world the abundant marine life that it has.
Visiting Cozumel as a day trip from Playa Del Carmen is easy. You can simply take the Cozumel ferry across to the island. Below are three options for seeing the reef.
Options for visiting the reef
Diving is the best way to see up close and personal this photogenic place. If you want to go diving here, check out this 4 hour scuba diving tour you can take.
If you like to snorkel, you can visit this park and see the reef.
Of course we don't all dive, but there are other ways to see the reef here. One is a really cool submarine that will take you down to see the reef without getting wet.
Valladolid, Yucatan
Since the Riviera Maya is all about the beach, you might be interested in taking in some history and colonial architecture while on your vacation. Valladolid is a colonial town in the center of the Yucatan Peninsula only an hour and a half from Playa Del Carmen by car. This is the closest and most accessible colonial city near the Riviera Maya. Here you can see buildings that date back to the 1500's.
A day trip to Valladolid can be combined with a visit to Chichen Itza or Ek Balam, since both are close by. There are also many cool cenotes to visit and restaurants to eat at.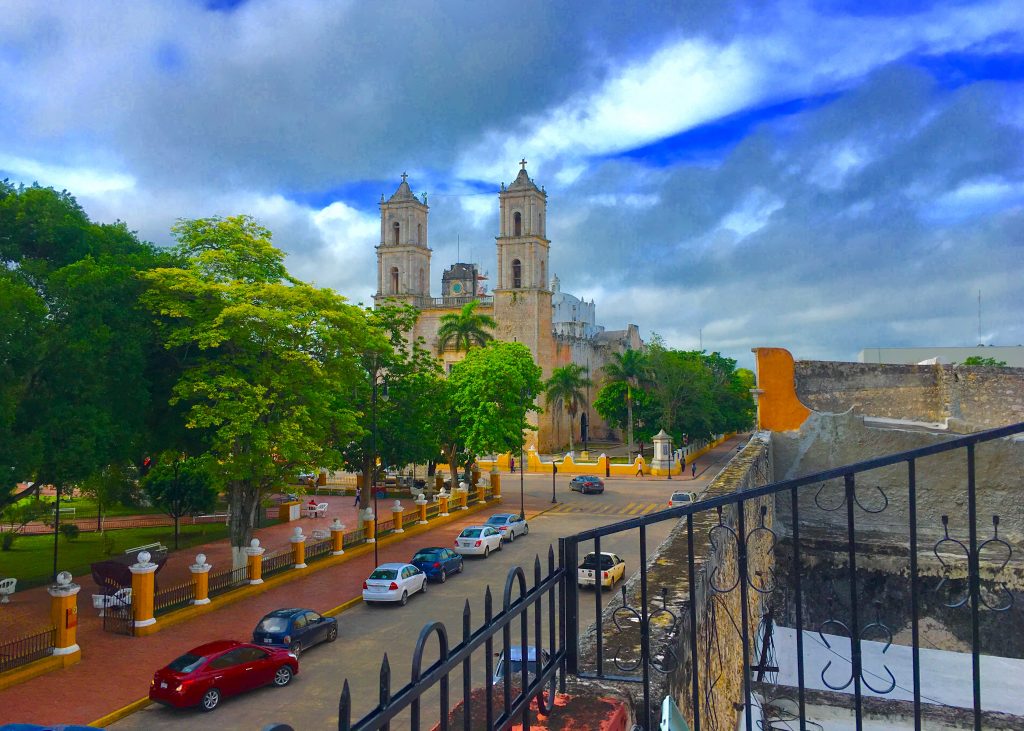 Playa Norte, Isla Mujeres
Playa Norte beach on Isla Mujeres is one of the most beautiful beaches you can visit! Most of the beaches in the Riviera Maya face east and get the waves from the Caribbean. Playa Norte faces westward and has very little waves. In part because of this, the beach is tranquil with beautiful water and a white sand beach.
Most people take a bus from Playa Del Carmen and then transfer to the ferry to visit Isla Mujeres for a day trip. Some of the cool things you can do on this small island are rent a golf cart and drive around, walk the pedestrian street and visit shops, and go to Playa Norte. There are some beach clubs and restaurants on the beach that let you use their chairs if you are buying food. One good beach club is this one here.
A short video of Playa Mujeres
Las Coloradas and the pink water
The photos of the striking pink waters is what catches most peoples attention about this place. It has become pretty well known for the photos on Instagram and online. If you like seeing rare places and getting some cool photos that will blow your friends minds, this might be a good day trip for you. Take note though, the waters are not always bright pink and sometimes can be yellowish. You can always check resent photos on Instagram to see what conditions are like.
What is the lowdown about doing a day trip here?
The drive here is about 3 hours from Playa Del Carmen. This means that it is a good amount of time driving. There is also not a lot in-between. Many people drive all the way to Las Coloradas, get out and take some photos and then say "now what?". It can be exciting to see and you can get some good photos, but that is a lot of driving to just see pink water. To take advantage of your time here, it is good to visit San Felipe and/or Rio Lagartos. These two fishing villages are a good place to grab a bite to eat and perhaps a small tour. The area is known for flamingos and other birdlife. Tip: It is good to arrive here early as it is often very hot. Also the tours in Rio Lagartos and San Felipe are more readily available in the mornings.
Taking a tour here
Since this might be a little hard to plan on exactly where you want to go and the driving is longer, a tour can be a good option for a visit. Here is one tour to Las Coloradas you can check out and book.
Cenotes
Just about any cenote you plan on visiting is going to be beautiful! Cenotes are unique to the area. These are fresh water pools of water that are connected through underground veins and have been carved out of the limestone base of the area. Each cenote is unique and photogenic in its own way. Cenotes close to the coast of the Riviera Maya are closer to the ground height and cenotes more interior of the peninsula are deeper (like the one below).
If you want an easy do-it-yourself day trip, you can visit these cenotes that are close to Playa Del Carmen. For more cenotes to visit, see our guide here.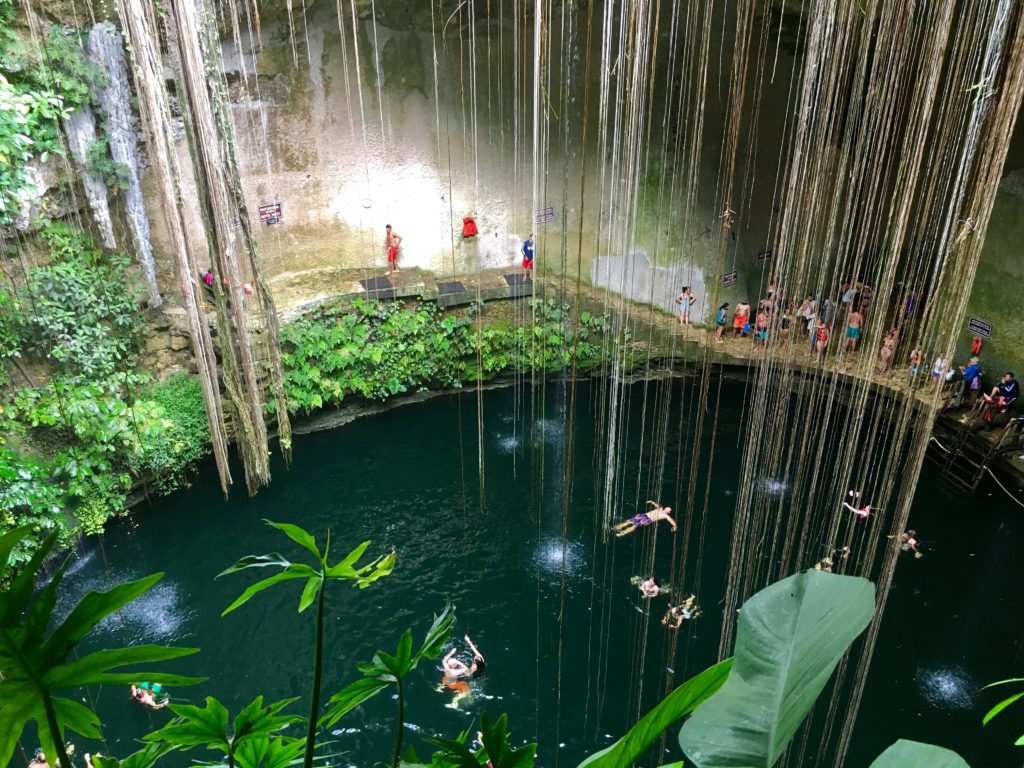 Mayan Ruins
One of the top things on many peoples lists is a visit to one of the Mayan ruins in the area. Mayan ruins make for an exciting day trip to see these marvels. The most popular are Tulum ruins, Chichen Itza, Coba, and Ek Balam. There are other Mayan ruins to visit from the Riviera Maya, however, these four mentioned ruins are the most popular ones because they are larger and there is more to see. They are also fairly easy to get to.
You can look at the links to each of the ruins on our website. Some choose to do a day trip with a car and others like a tour. We will say most people like to take a tour to Chichen Itza, so here are some of the best tours from the Riviera Maya.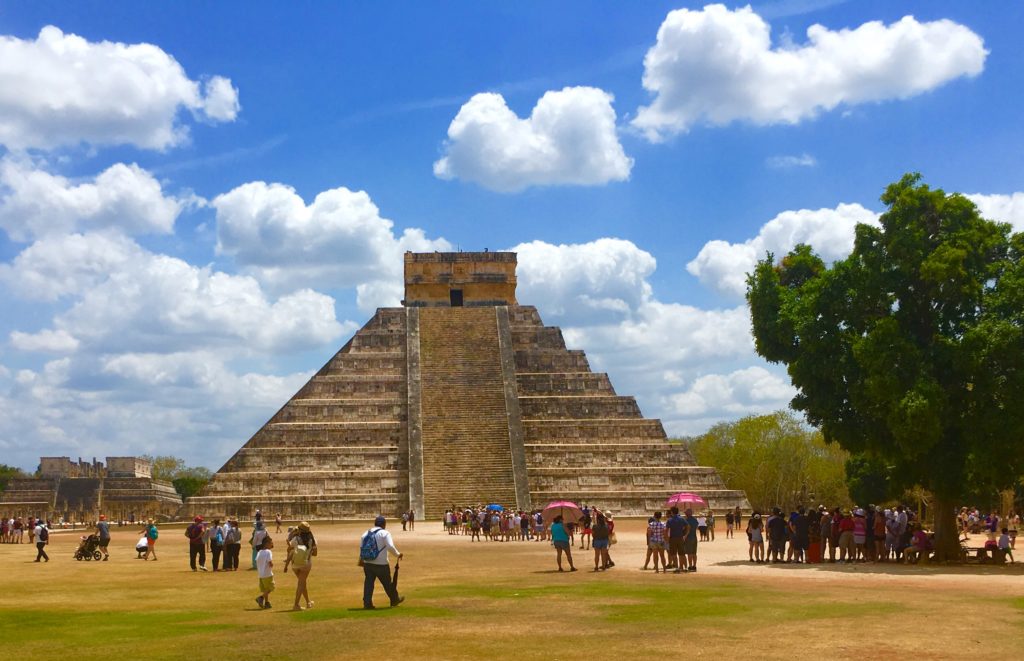 Izamal, Yucatan
Known as the yellow city, this colonial town is mostly painted yellow. It is also unique because there are ancient Mayan ruins within the town, making it look like there are hills. This unique place in the Yucatan Peninsula makes it a great day trip from Playa Del Carmen. Izamal will give you a whole other appreciation for Mexico and the culture of the peninsula.
Why choose Izamal for a day trip?
Izamal is good for people that like history and colonial architecture. It is also a very authentic place with few outside influences. This is a very photogenic place because almost all the buildings are painted yellow in the center. In Izamal you can find some good crafts people and several good Yucatecan restaurants where you can get a good taste of local cuisine. Our favorite restaurant in Izamal is the Kinich Restaurant!
Izamal and Valladolid are two colonial towns might draw your attention, so if you need to choose between the two, Izamal is less commercial, smaller and has a compact historical center to visit. This is a day trip to relax, enjoy the drive and arrive 80 years in the past.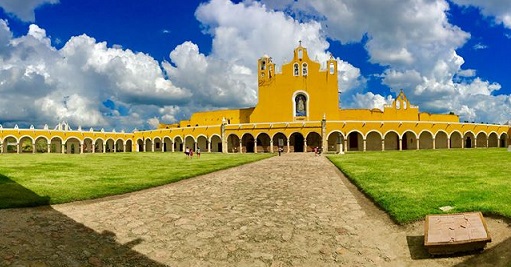 How to get to Izamal
This day trip really needs a rental car. There is no direct public transportation to Izamal. The drive is about three hours. This is a bit of a drive, but it is the same distance as Chichen Itza is from Playa, and many people make this trip. Doing a day trip to Izamal puts you sort of close to Chichen Itza and you can include this in your day. See our guide to Chichen Itza and the best things to do close to Chichen Itza so you can fill your day with activities.
Conclusion
We hope you have gotten some good ideas for some photogenic places to visit on a day trip from Playa Del Carmen. We have a lot more articles and videos about traveling the area. Check out our map below. Each marker has a description and a link to an article. Happy exploring everyone!