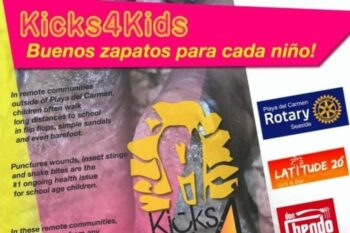 Rotary Club of Playa del Carmen Seaside "Kicks Off" Kicks4Kids 2021
Would it surprise you to know that in the remote villages and settlements surrounding Playa del Carmen and Puerto Aventuras, the number 1 health issue for children is puncture wounds to their feet due to sharp sticks, thorns, stones, insect and even snake bites? Without easy access to even basic healthcare, a simple cut can easily manifest into something far more serious, even life threatening if not treated properly. As shoes, particularly good, sturdy sneakers are quite expensive, many children are forced to make do with flimsy plastic sandals or flip flops or nothing at all. In response to this issue and looking for a meaningful way to serve the community, local entrepreneur and Seaside Rotarian, Michele Kinnon founded Kicks4Kids.
After working closely with other local not for profits, Michele recognized a dire need for good sturdy closed shoes and sneakers in the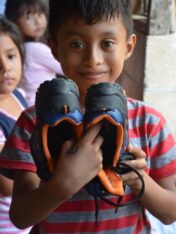 remote towns and villages on the far outskirts of Playa del Carmen. Humanitarian trips out to Cristo Rey and Nuevo Noh Bec cemented her plan to launch a year-round shoe drive, soliciting donations from the many friends, colleagues and customers who routinely travelled from the US and Canada to the Riviera Maya. And so, in 2013, Kicks4Kids was born.
"I started out asking our customers to please bring down a pair of shoes or two." Kinnon reported. "Before long, I had people…strangers…meeting me with open arms and hockey bags packed full of sneakers and even soccer cleats collected by friends, neighbors, members of their churches. It was remarkable!"
The initiative ran successfully for several years, putting shoes on the feet of thousands of needy children before Michele took a step back from public life to prioritize the growth of her businesses and the needs of her two young children. Kicks4Kids lay dormant for a few years until recently being resurrected and re-launched in 2021 as an official and ongoing project of The Rotary Club of Playa del Carmen Seaside.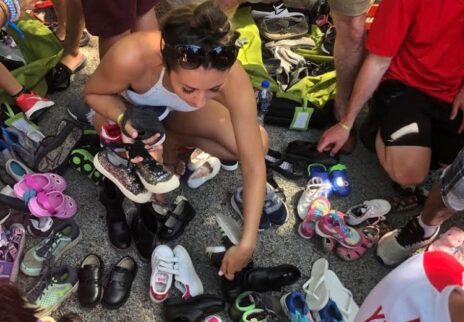 How can you help?
If you are planning a trip to the Riviera Maya, bring one pair of new sneakers to contribute to Kicks4Kids from your local Payless, Target, Wal-Mart or wherever you can find good quality shoes at good prices. They don't have to be a fancy brand, just well made, sturdy, new sneakers that children can run and play in! One pair will be great. If you can bring more, even better!
Sneakers can be for boys or girls
Sizes most needed are child size 1 – adult size 7
Sneakers DO NOT need to be in the original packaging
Very lightly-used sneakers will also be accepted
Sneakers can be dropped off at any Friends of Rotary location
Friends of Rotary locations accepting sneakers are:
Don Chendo – Av. 30 between Calles 24 and 26 in Playa del Carmen
La Carboneria/Perla Pixan – Calle 38 between 5th and Calle Flamingos Playa del Carmen
Super Chomak General Store – Main Street before the arch in Akumal
Restaurant Latitude 20° +/- – Caleta Xel Ha across from Dreams Hotel in Puerto Aventuras
Ways to help with a monetary donation
Not making a trip to the Riviera Maya anytime soon? You can help with a monetary donation through Seaside Rotary's secure Paypal account. As all of the administrative and promotional costs are covered by internal fundraising efforts, 100% of your contribution will go toward purchasing shoes for needy children. The email address to use is [email protected]. Please, just make a notation that the donation is for "Kicks4Kids". It seems like such a simple thing but you can't imagine what a new pair of sneakers will mean to a child that has so little.
This is just one way people can help support a local charitable organization and give back to the community. The Rotary Club of Playa Del Carmen Seaside has a great reputation in the Riviera Maya for helping out those in need and coming up with projects that make a difference.