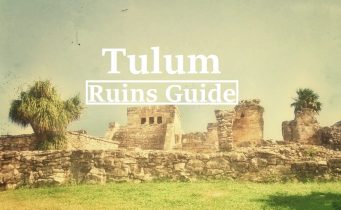 The Guide to Tulum Ruins
Tulum ruins are one of the most popular tourist attractions in the Riviera Maya, Mexico area. These ruins are beautiful to see with the cliff views over the Caribbean and ancient history. These Mayan ruins are also fairly easy to get or take a tour to see. In this guide we will cover what tours are available to Tulum ruins and how to go by yourself if you are a little more adventurous and all the details you need. Let's get started with a little history of the ruins.
The History of the Ruins
Tulum was one the later fortified cities that the Maya built on the Yucatan Peninsula in Mexico. The site of Tulum served as a port to the large city of Coba (one of the other Mayan ruin sites you can visit). The Maya used the Caribbean for transportation of goods up and down the coast as well as around the peninsula. Tulum was well situated because of its cliffs and reef that only allows ships to approach at a certain narrow entrance without running aground.
One of the most interesting things about Tulum is the fact it was still inhabited up until the arrival of the Spanish in the 1500's. In fact, the height of Tulum was from the 13th to 15th century. For more about the history of Tulum, see the page here for more information.
Below is a model of Tulum and what it would of looked like. This model is located in the Xel Ha park lobby.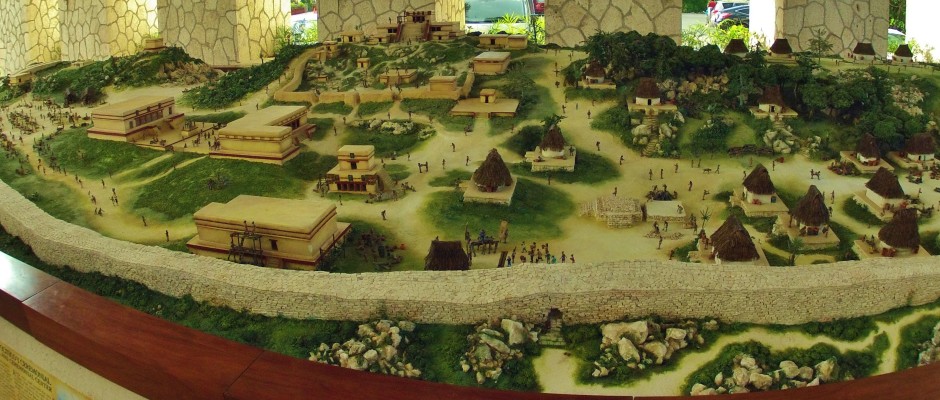 Tulum Ruins Tours
For many visitors to the area, a tour is the easiest way to get to see the marvelous Tulum ruins. A tour can provide door to door service from your hotel, add in a second attraction and offer a guide for the ruins. Below are some options of tours to the ruins.
Visit Tulum and Xel Ha Park
If you want to mix some serious snorkeling time and a visit the to the ruins, this tour can be a great option. Xel ha is one of the most popular snorkel parks in the Riviera Maya. Enjoy round-trip transportation, open buffet and guided tour of the ruins.

Xenses Park and Tulum Ruins Tour
This tour is nice because Xenses Park is a half day experience and it combines nicely with Tulum ruins. If you have younger children, this is a great tour to do to mix a little culture and a lot of fun!

Afternoon tour to just the ruins
If you are wanting to just see the ruins this tour can be good for you. You get transportation from your hotel to the ruins in the afternoon. This can be good if you are staying at an all inclusive resort. You can sleep in and enjoy the breakfast and be back for dinner.

Coba Ruins and Tulum Tour
You can have an exciting day living the history of the area with a tour of two Mayan ruins sites. Climb to the top of the tallest temple at Coba and see the views from the cliffs of Tulum. Lunch is also a fun experience with the open buffet at Xel Ha.

Tulum ruins tour and cenote
This tour will pick you up from Cancun or anywhere in the Riviera Maya and take you to see the ruins and a swim in a cenote. This is a full day tour that includes lunch, guides and beverages.

Our video of visiting Tulum Ruins
We recently updated our video for Tulum ruins for you. We hope you enjoy all the tips and details to maximize your time there.
What to wear and what to take for visiting
Here are a few things to think about taking if you are either going by tour or a self guided adventure:
There is a decent amount of walking to be done around the ruins. Comfortable shoes are a good idea.
Tulum can be hot and humid most times of the year. It is good to be prepared with cool clothes and sun protection.
An umbrella is great for blocking out the sun, although ideally most people don't travel with one. So a hat or visor might be good.
Bottles of water can hit the spot on those hot days. Most places by the parking lot are expensive for drinks.
There is a spot to go swimming from the ruins. It is however not always open. If you do plan on swimming, have your bathing suit on because there are no places to change except leaving the ruins to go back to the entrance where there are bathrooms.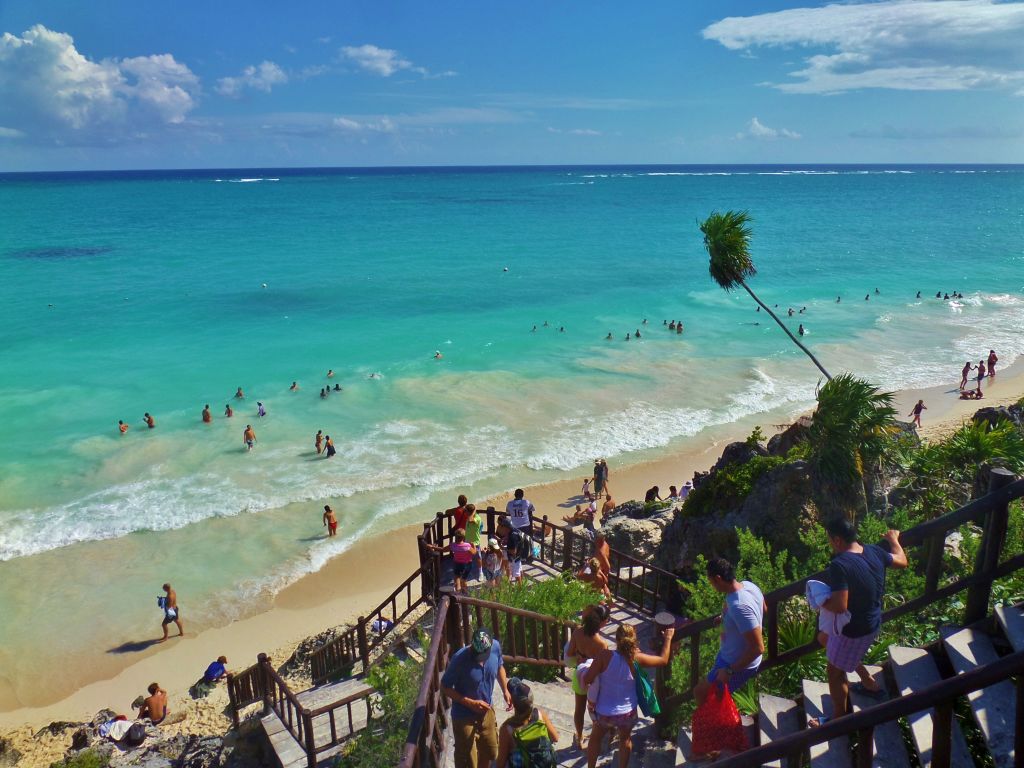 Going by yourself to Tulum Ruins
Of all the ruins close to the Riviera Maya, Tulum ruins are the easiest to get to and discover on your own. The site is a straight drive down the Riviera Maya from Cancun and Playa Del Carmen. Here are some helpful tips and instructions if you are going to visit by yourself.
You will need to know how to get there, where to go, cost, facilities, and what to expect so you can make a good day of it. Here are a couple of tips before we get into the hard details.
There are bathrooms at the entrance of the ruins where the ticket booth is.
If you take the bus or colectivos here, there are very limited restaurants nearby. Most of the places near the parking area are basic and overpriced. The best options are in town.
If you re going by yourself, you have to ask yourself, what else do I want to do? Many people want to visit the beach, Tulum town or a cenote while in the area. Taxis can be expensive (i.e.$30 USD) one way) to some spots. The closest cenotes to Tulum are several kilometers away. Sometimes a tour makes it easy to arrange and you can get value out of it.
Should you hire a guide?
At the entrance you will find guides available with official lanyards. They offer guided tours of the ruins. These tours are offered in mainly English and Spanish, but other languages are available. It does depend on how many in your group and the extent of the tour you want. Guides will tell you the history of the site and go into details of how it was used.
Prices for guides are about 600 pesos and go up from there depending on your group size. If you are on a budget, you can read about them before and easily do a walking tour of the site. The busiest times of the day are from 9:00am-2:00pm, so guides are more in demand at these times.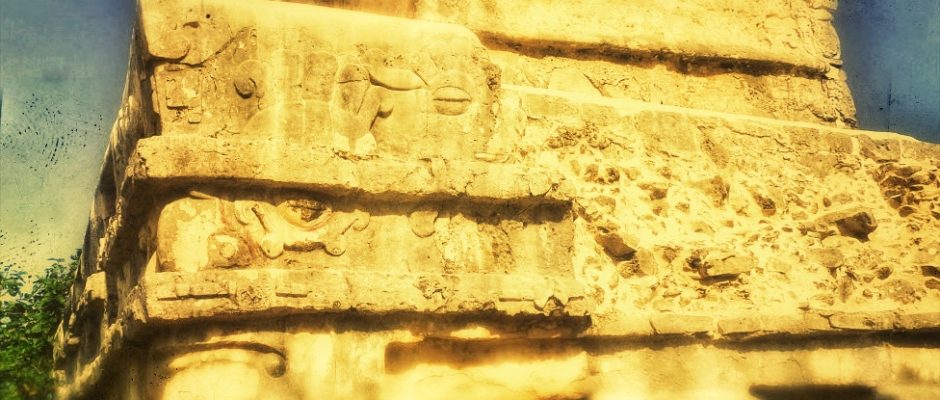 Tulum Ruins Map
The site of Tulum is actually not that large and easy to navigate. There is a map at the entrance of the ruins where you can orient yourself. Below is a map of what route through the ruins we suggest if you are walking through on your own.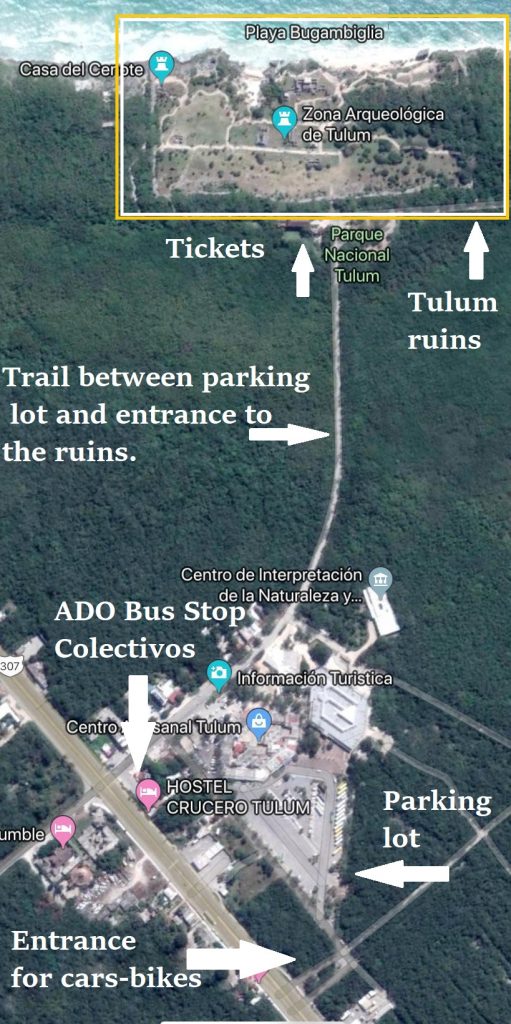 Entrance price to Tulum ruins
The official website from the Mexican government is INAH for all historical sites. They list prices and details for visiting each of the archeological sites. However, they are sometimes not up-to-date and prices change frequently.
The entrance cost as of 2019 is 75 pesos. Parking cost is 180 pesos for cars. There is a tourist train/tractor that ferries people from the parking area to the ticket booth of the ruins. This is optional, but not to take if you don't feel like walking that much. There is a small charge for this.
If you want to take video cameras or professional equipment check the INAH website for details. No drones are allowed into the ruins or flying nearby.
Hours of the Tulum ruins
The ruins are open daily from 8:00am-5:00pm. Note: The last entrance allowed is at 4:30pm.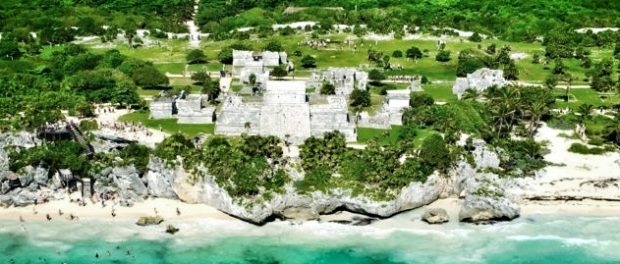 How to get to Tulum ruins
Tulum ruins are one of the easiest Mayan ruins to access since it is close to a larger town and near the highway. It is also closer to many of the hotels and areas people stay at in the Riviera Maya. Here is how to get to the ruins from different areas in the Riviera Maya.
Directions from Tulum
Most people stay in the downtown or beach area of Tulum. Both of these areas are a little far to walk and often it is too hot to make the trek. From the downtown people often take taxis or rent a bike and ride there. Between town and the ruins, there is a sidewalk that makes arriving there easy. It is about 4 km between the ruins and the center of town.
Taxis from the Hotel Zone are going to be the best option and about the only option. It should be noted that taxis in Tulum are not metered and often not cheap. It is best to ask the price before getting in.
If you do have a rental car, driving is a good option, just remember you will need to pay for parking.
Directions from Playa Del Carmen
The three best options you have for getting to Tulum ruins from Playa Del Carmen are: driving a car, colectivos, or ADO bus. Driving is pretty self explanatory, just remember the parking is paid.
Colectivos to Tulum ruins from Playa Del Carmen
Colectivos are shared vans that run up and down the 307 Highway. It cost less than $3 USD to go between Playa Del Carmen and Tulum and takes about 50 minutes. Colectivos start from 2nd Street between 15th Avenue and 20th Avenue in Playa Del Carmen. When you get on they will ask where you are going, it is important to say Tulum ruins and not Tulum the town. The ruins are before you arrive in town. From the highway it is about a 15 minute walk to the ticket booth.
Going back to Playa Del Carmen is the same process in reverse. You will get on near the highway going north.
ADO Bus
The ADO bus company is the most comfortable way to get to Tulum ruins. They have limited departures from Playa Del Carmen that also make the return trip. Just be sure to buy a ticket to Tulum ruins and not Tulum town. There are two bus stations in Playa Del Carmen. The bus station at Juarez Avenue and 5th Avenue is the one that you need to leave from.
ADO busses are comfortable and air conditioned. These busses offer more space than the colectivos.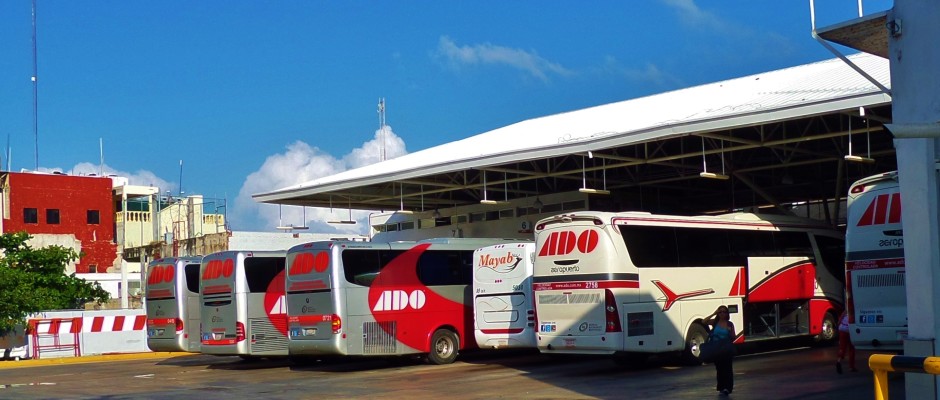 Directions from Cancun to Tulum
The ADO bus company has busses to Playa Del Carmen and then busses to Tulum ruins that you can buy tickets for. If you are staying in the Hotel Zone in Cancun it really is not the easiest trip because you will spend a lot of time in transit. The ADO bus station is about 30 minutes from most hotels in Cancun. In total, it can take 2.5-3 hours one way. Our recommendation is a tour if you are staying in Cancun.
Going to Tulum on vacation?
If you are not only going to be visiting Tulum ruins, but also going to Tulum, here are some helpful articles for you.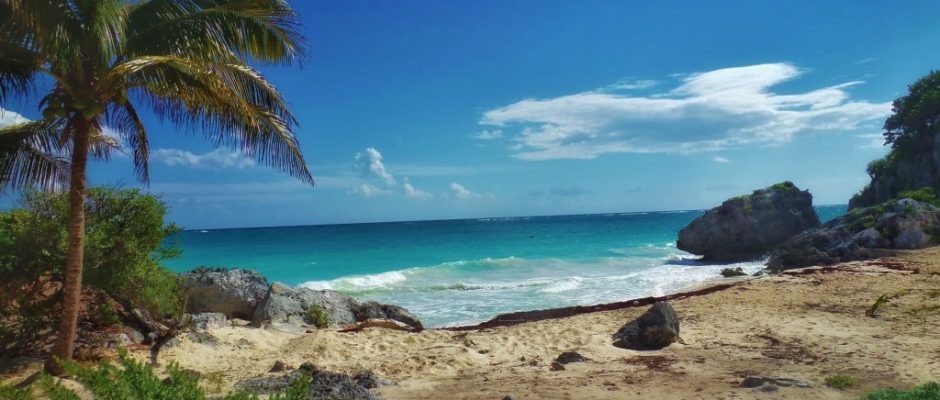 Thank you for reading our article about visiting the Tulum ruins. We hope you have an amazing time here either if you go by tour or by yourself. If you have any questions, let us know below in the comment section below and we will get back to you.