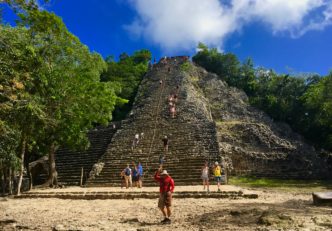 Great Coba Tours to go on
Coba Mayan Ruins are on the favorite tours people take while on vacation in the Riviera Maya. These ruins offer something different than the other archeological sites. You have some good tour options from the Riviera Maya to Coba. Here is a list of tours that are recommended to take. Some Coba tours are good for families, some for more culture lovers and others for the adventurous types.
What makes Coba different from other ruin sites?
Taking a tour to Coba will give you a chance to see one of the Mayan ruin sites that is a little less visited. Chichen Itza of course if the most popular and busy with tours. Perhaps if you have already taken a tour there, you will want to visit Coba. Coba Ruins are different because they are set in lush jungle and the ruins are spread out. At the entrance you can see ruins and learn the history. From there, most people rent bikes and ride through the flat trails to explore this very interesting site.
You will feel like India Jones when visiting here. It is a beautiful place and you are able to climb one of the tallest temples to get a spectacular view.
Enjoy a half day at Coba and visit Xel Ha in the same day
If you want some adventure and culture, this tour will take you to Coba ruins and you will also get to spend half a day at Xel Ha park. This tour is great for families with children that want to do two different things in one day. Coba is adventurous and Xel Ha is a lot of fun because you get to swim, snorkel and enjoy this beautiful area. See our video below for details of what this tour is like.
See our video of what this tour is like
Recommendations for this tour
If you want to visit one of the Mayan ruins close by and also have some fun, this tour is a good combination. Coba normally is a half day tour and combined with something. Xel Ha is a big park and can occupy your time for a complete day but we know some people want to combine days or tours. This can be cost effective instead of doing two tour days to a Mayan ruin and eco park.
It is nice that the Coba ruins are first and you will get to explore before getting wet. You will also have the afternoon to relax.
This tour can be good for all ages and most physical levels. You do not need to climb the pyramid at Coba but it is fun if you do. If you do not want to bike in Coba ruins you can take a bike tricycle taxi.
What to pack and bring
Normal comfortable clothes for visiting Coba are good. Often it is sunny and when not in the shade, sunglasses, hat or umbrella is good.
Biodegradable sunscreen is the only kind allowed in Xel Ha park. This is for the protection of the environment. It is best to be prepared and buy some before coming, but you can also get it in the park.
Lockers and changing rooms are available at Xel Ha. Towels are also provided. Most people will want another change of clothes for going home.
A waterproof camera bag is great for taking lots of photos at Xel Ha. Also a plastic bag for wet clothes is good to have for returning to your hotel.
Booking this tour
A very nice thing about this tour is the fact you can save up to 15% by booking online and ahead of time. If you click the link below, you will go to the official page and get the best price possible on this tour.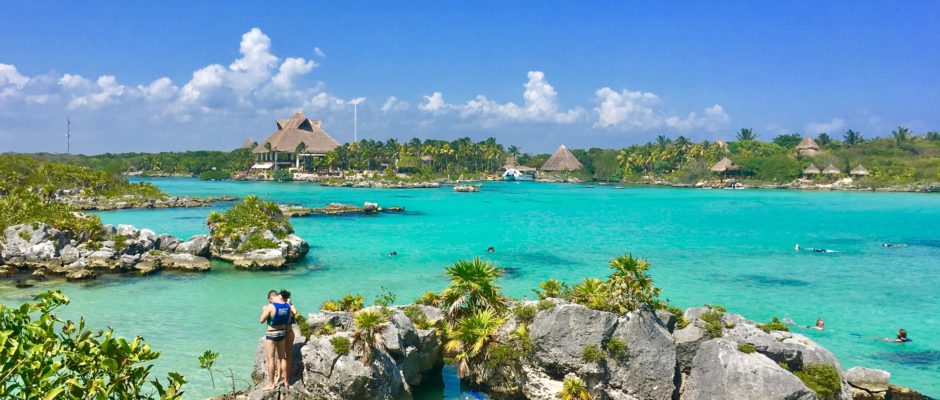 Take in some culture, fun and Coba ruins with this tour
The Coba Maya Encounter Tour will take you to Coba ruins and a nearby Mayan community. This tour is part seeing the ruins, part fun with activities and also seeing a more cultural side of the Riviera Maya. The company that provides this tour has a good reputation in the area for working with the local communities. You will have an opportunity to get out of the touristic zone and see what Mayan communities are like.
This tour is done in small groups so you can move around more easily and participate in activities. This is not the cheapest tour, but it is well worth the quality of the tour. Each time we go on this tour, people comment on how they really enjoyed it, so that says a lot about it.
See our video of what this tour is like
What is included on this Coba tour
Day trip to Coba ruins and a Maya village from Cancun and the Riviera Maya.
Rappel into a cenote, go for a swim, cruise along a lagoon in a canoe and zipline inside a rain forest jungle.
Visit the Mayan village of Pac Chen or Chimuch and enjoy a blessing ceremony from a local shaman.
Enjoy a semi guided tour in Coba ruins where you will have the opportunity to climb on of the temples to enjoy the view.
Gain insight into ancient and present-day Maya culture from a knowledgeable guide.
Traditional buffet lunch.
Round-trip hotel transport included
Book this tour here
If this tour to Coba looks like the perfect tour for you, you can reserve below. You will go to the official booking page of the tour company and pay the lowest price.