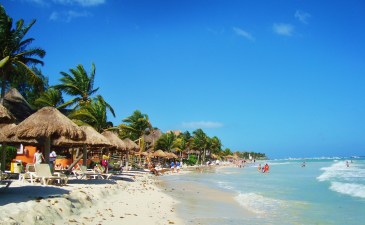 When you take your vacation you surely don't want to end up at some resort that has serious issues with quality. How do you avoid being disappointed by your all inclusive hotel? We recently visited a hotel that is labeled as an all inclusive hotel. The "hotel" will remain nameless, but don't worry, it certainly is not on our recommended list of hotels for the  Riviera Maya. It is one of the smaller all inclusive hotels with a capacity of about 200 guest. While examining the property we were struck by how bad this resort is in comparison with other hotels. We stayed at the resort and photographed and documented everything not for a review but for a warning for vacationers to do their research before booking at hotels.
Note: In general we recommend larger all inclusive hotels because they offer more value and selection for your money. We do however see the advantages to smaller boutique hotels and smaller all inclusive hotels. They can offer peace and quiet and some more privacy that you might not feel you get at other larger hotels. So in no means did we discount this hotel because it was smaller.
After visiting the hotel we were really interested to see what other people had said about the hotel. We went to the popular websites for tourist reviews. We were shocked to find a high rating for the hotel. In general it got high marks from good to very good and even excellent remarks. We also read the negative reviews where people had listed it as one or two stars. The negative reviews seemed more honest and straightforward and more in line with what we saw. We wondered how this hotel could of gotten such a good rating. Well, one thing you have to be careful with is the calculated social media feed that hotels promote. Websites that offer the public to write reviews do not differentiate between real guest and fake profiles to write good reviews to promote the hotel. A good total rating can mean hundreds or thousands of more guest each year so it is very profitable to promote in a positive light what the hotel is. Another factor to consider is who the guest are.  Are they first time guest that are taken in by the beautiful beach but have no other experience at other hotels to compare it to? Did the guest have a limited time at the hotel? Were the people on their honeymoon and never left the bedroom? We started to look at one review page and noticed a lot of young Mexican looking people posting reviews. This seemed odd since most guest were not from Mexico nor in that age catagory. Upon closer inspection we started to recognize some of the reviewers as hotel employees we had been talking to. They certainly are allowed to post reviews, but it seems like it might be a bit biased and not as insightful as an actual guest that reviews the hotel.
Even looking at negative reviews can be misleading. Some people just like to complain to see if they can get something for free or perhaps they had an idea of what a hotel was going to be but were disappointed in reality even though it was just as advertised. So all reviews, negative and positive can be misleading. Lets see how this hotel held up compared to the reviews.
Our findings
The "hotel" in question, what did we find so bad about it? (bare with us the good stuff comes later) First there was the entrance. It was a dirt road off the highway. That is not that bad since some hotels on our recommended list have dirt roads as entrances. There is however no great signage or effort put into creating a nice entrance saying you are coming to our. Ok, so that is not that bad, you are only entering the resort so who cares about that. It is a little telling when a hotel does not put any extras in appearance though. Then there was the entry to the main parking lot and main building. The building for reception felt like it was the service entrance for the hotel and not reception and sponge painted orange. Ok, so it was not a grand entrance, that can be looked pasted.  And ok, so it was a cheerful Caribbean color, but in fact the whole resort was sponge painted different colors which made it look cheap. Ok, so that is just not our style.
Tip 1: Look at photos of the hotel, are they outdated? Does the hotel look a little cheesy? Do the photos look very staged or overly professional? Do the photos focus more on the pool and beach and less on the rooms and hotel?
Continuing on the with the tour, the lobby was dark and dead feeling. It was not the welcoming feel you want to have when arriving at your holiday destination. It felt like a old resort that was about the close. The lobby was dark, no music and no one around. There was a gift shop but it was closed. Ok, so it was the middle of the day and they don't have many people arrive then.
Note: We were expected to come before typical check-in time, so we were not checking in early nor does this mean we were not entitled to services and use of the hotel before  the normal check in time.
Tip 2: If you do read reviews do people complain about the service a lot? It could be a sign that management is not very good or does not care to raise the quality of service. This attitude could spill over into other aspects of the hotel. A good hotel should care about first impressions and the caring about impressions should carry  throughout your stay.
When we arrived we were hungry but since it was not in the two hour window for lunch the restaurant was closed. This is something that is not a good sign of an all inclusive hotel, short meal times. You do have to think about the amount of guest coming from Europe and West Coast of North America, all on different time zones and eating patterns. So we were running late, it happens, and we missed lunch, there will be a snack bar right? Room service? Read on….
Tip 3: Limited meal times means less your schedule and more the hotels. Does the hotel you are looking at have very specific meal times? or do they have main meal times and lite fare food available most of the time?
We continued to the interior of the hotel, the beach was amazing! This for sure was what sold people on this hotel. This was the best thing about the hotel for sure. But then again a lot of the coast of the Riviera Maya is amazing, so it is not the hotel's features, but the location that was amazing.
Tip 4: Great beach photos do not equal a great hotel. Does the hotel show lots of photos of places to visit and shows less of what the hotel is actually about?
The pool area was three pools… but they were two small pools and one we thought was a fountain and is supposed to be for children only. The children's pool actually had no water in it when we were there. The two pools were the size of  backyard swimming pools.  So if the hotel was filled to capacity of 200 people and people wanted to use the pool, it would only accommodate a fraction of those. We were at the hotel in low season though so you will notice no one is there in the photo. Ok, so that is good you have the pool mostly for yourself but it does make it feel dead. (There was one person to the right but we did not want to take their photo and put it online.)

Tip 5: Think about the size of the hotel you are booking and then think about the amenities. There are going to be people sleeping in, taking tours, laying at the beach but there still has to be enough money invested in providing a good resort property for guest. Imagine if someone opened a resort at their house? It would feel like it was amateur and not a special feeling place you want on vacation.
Rooms
The rooms at this hotel were more like small cabins with one room upstairs and one below. The rooms were adequate and spread out to give some space between buildings. Some however were next to the outdoor theater and parking lot far back from the beach. It was as if little planning went into building the resort.
Tip 6: What type of room are you getting for your price? Some resorts are ocean front but the property actually extends far back from the beach. You might not be able to see the ocean let alone hear it. See how big the resort is and figure out how important it is to have an ocean view.
Snack bars
So back to that snack bar. (Remember we missed the restaurant being open.)Those are always a saving grace at all inclusive hotels because they are almost like small restaurants. They usually offer up hamburgers, beach food, tacos, drinks etc. So we set off to find the snack bar. It was at the one bar the hotel had open. (the hotel website says they have three bars but they are not all open at the same time.) At the snack bar  sat two plastic covered trays with 6 donuts and about 8 white bread and ham sandwiches cut in half. What a huge disappointment that was. According to the website is was "Sweet and savoury snacks". Well there was sweet but we missed the savory part!  Miss a meal, wake up late, take a tour, your in for a surprise!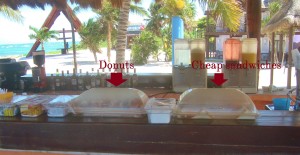 Tip 7: All inclusive is supposed to mean food as well. Quality does count and some hotels just see you as a number and mouth to feed. Not having good food will not make your vacation any better. Before booking see what they offer and what hours they have service. Some hotels want to push you into the extra paid restaurants. This would be "all inclusive except we want you to pay even more for good food when you get here" plan.
So without being tempted by some donuts and driedout cheap sandwiches that left drinking at the bar. The hotel only offered about 8 drinks that were all frozen drinks in the all inclusive. Any of the other drinks were for an additional fee. This is kind of typical  for paying for top shelf but this was a new low for a hotel. I watched them pour the drinks and noticed it was only 30% alcohol of what is normal. Ok, so if you want to drink all day with out getting drunk this is your place. Just check your sugar levels later because your are going to have a whopping headache with all the syrup and sugar added.
So what to do with the time? Relaxing is always good but a nice feature about all inclusive hotels is the activities they provide if you want to join in. There were two activities planned for that afternoon. One at 4:30 and one at 5:30. One activity took place but the other one never materialized. The one that did happen was fun.
Tip 8: Do you like being entertained? Are you traveling with children or teens that can get bored easily? Make sure you stay somewhere with lots of options for them. That is why we recommend larger all inclusive resorts for families.
So what if someone wanted to go off property to visit some sites? Well since this resort was not near a city or town a $40-60 taxi ride was in order. That would be round trip depending where you wanted to go. That is a considerable expense. Some resorts offer car rentals on site, but this one did not. That might mean you are going to be left with the option of whatever tours they offer.
Tip 9: Location is important if you want to include some traveling around and sightseeing. That is why on our recommended list we show you where you might want to stay so you have access to other things besides just the resorts property. Do you want to maybe go to a restaurants off the resort to have a special meal? Choose a Hotel that will be near to some good options and is affordable to get to.
We were told that "other" snacks come out at 5:30pm. Great because the cheap sandwiches and donuts did not tempt us to break out fast. So out comes two plates with skewers with watery looking jam and cheese and two plates of chips with guacamole. Ok, not as bad but not the quality you might expect at an all inclusive hotel that charges $200-$370 a night.
Dinning
Dinner was not until 7:30pm so the wait was on to see if we could actually get some satisfaction there. The dinning room was nice and the waiters were good. However the food was about the same quality you could find a bus station café. If you were to eat out in Playa Del Carmen you could find better food at almost any restaurant.  Even though it was touted as having an "Italian Chef"  at this hotel, we never saw him or the quality in the food that a good chef should display. According to the website is was a "rich buffet", but we did not find anything rich about it.
Entertainment
Most all inclusive hotels have nightly entertainment. It can vary in quality and again, we prefer the larger ones because they often have a larger budget to work with and that raises the standards a bit. A nightly show can be a good thing because after you  spend time on the beach, pool, eating, and relaxing in your room it is nice to have something in the evening to do. Even more so if it has been raining and you had a boring day. Well this hotel did have a show and the quality was better then the level of some hotels. I am not sure if it lived up to the websites description as  " enthralling" but good. It was good however it did not rain because it was an outside theater with no cover. That is not a great thing for an all inclusive hotel to have because when it rains you really need a show because there is not too much to do in the evening. In this case even the show would be canceled if it rained. No mention of that on the website "weather permitting" or  "outdoor theater".
Services
Each hotel has services for guest to enjoy. Some hotels that are supposed to be all inclusive can start to seem a la cart after a while because everything is an add on. This "hotel" had Wi-Fi but only in certain areas and it did offer better access for a fee. There were other things like bike rental, tennis lessons and diving for a fee. Ok, so that is not that bad, most hotels charge for some services.
Tip 10: See what is actually included for free and what is extra. That hotel cheap price might end up costing more then you thought.
So in review…..
This "hotel" was a real eye opener. There are so many good hotels in the Riviera Maya that made this one just stand out as lacking. The overall feel of the hotel was boring and other guest that were there commented on how it did not live up to expectations. We felt bad for guest that had flown half way around the world to have a once a year vacation and end of somewhere that is not that great. The food was a major let disappointment, both in quality and availability.
Each person has something that they look forward to on vacation. It may be that you are looking forward to not cooking, trying new cuisine, sightseeing, relaxing at the beach or being entertained at the hotel. We just hope that you find a hotel that suites you and makes you very happy with your choice. We hope the tips above help you choose wisely. Also be careful when reading review sites and take everything with a gain of salt as they say. When you can, go with what locals and reliable sources for recommendations. We will continue to bring you hotels review with pictures so  you get to know good places in  Playa Del Carmen and the Riviera Maya.
Happy vacationing everyone!