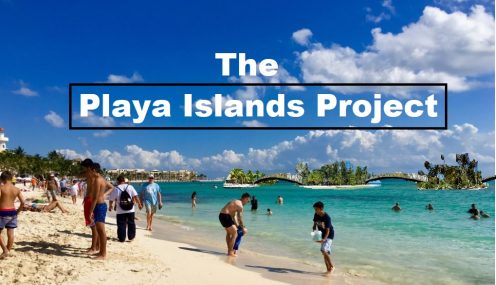 What is the Playa Islands Project?
Over the past 5 years the Riviera Maya and other parts of the Caribbean area have been hit with floating mats of sargassum (commonly called seaweed). This has accumulated on the beaches and caused unsuitable conditions for swimming not to mention the smell of it rotting. There has been a fight to clean it up and many ideas have floated around on how to prevent it from reaching the shore. The Playa Islands Project is our idea to revitalize Playa Del Carmen and provide a permanent barrier to seaweed plus provide many benefits to the area.
The project would involve building an artificial reef off the coast. This would be a continuous barrier with tubes and grids to allow water flow through it but not sargassum.
With a permanent barrier in place, this would leave a large section of turquoise, seaweed free ocean to swim and play in. Between the artificial reef and the mainland, islands can be built which are all interconnected with trails and bridges.
The first area would be from the Cozumel Ferry Pier to Constituyentes Pier (some of the most affected beaches) . If a success, this model could be continued up the shoreline.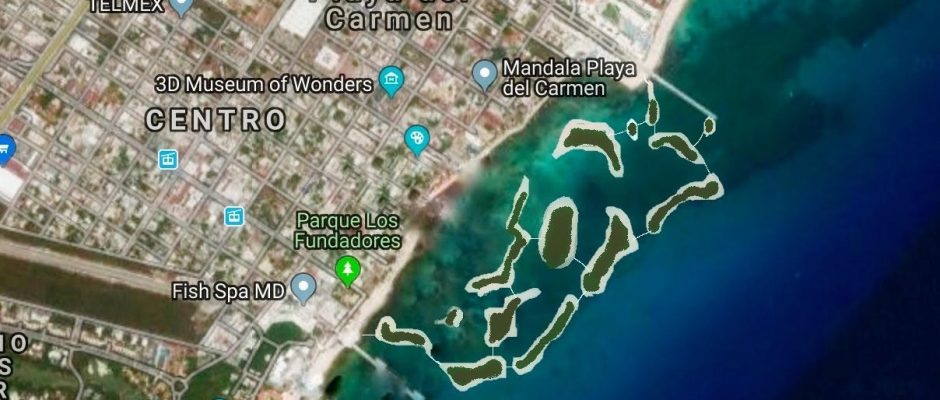 What is our inspiration for this project?
One of the inspirations is the mega projects that are going on in places like Dubai. Whole island chains are being built and nature is being engineered. While this is not that big of a project, it does reflect how mankind can build and rearrange natural settings.
The second inspiration is the new Hotel Xcaret. The beach has inlets and carved into the rock, is a secondary beach. This has created a calm beach with no seaweed. It is the only guaranteed seaweed proof vacation you can have now in the area. It is a unique and beautiful area that guests love.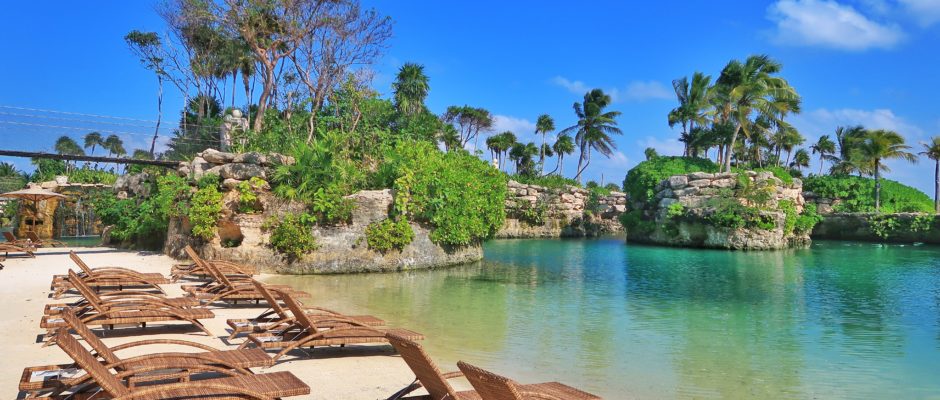 Our third inspiration is from some of the natural areas on our coastline. Places like Mahahual that have a naturally shallow beach and the reef really slows down the water motion, creating a beautiful beach. There are also places like the cenote and the beach on the north end of Playa Del Carmen that creates a very family friendly atmosphere. These are some of the types of atmospheres that can be created with the Playa Islands Project.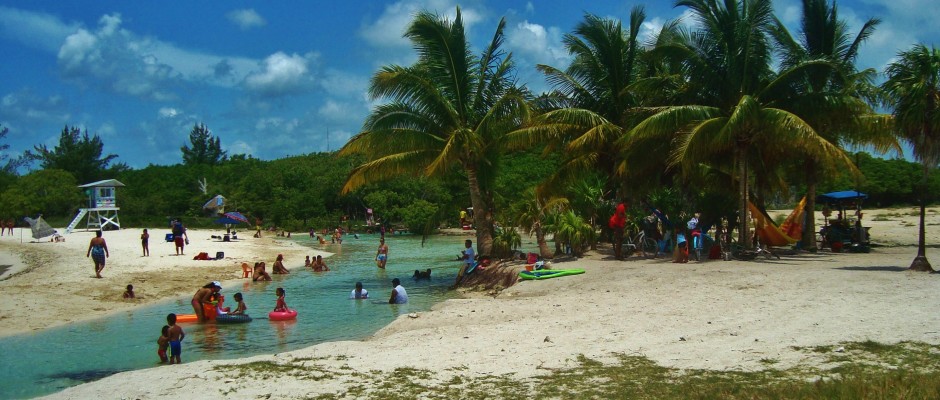 Potential benefits to Playa Del Carmen from this project
World famous architectural beach project.
Create environmental awareness among visitors and locals.
Slow ocean waves and help grow the natural coastline of Playa Del Carmen.
Provide a family friendly park for people to visit.
More outdoor space for people to enjoy.
A permanent seaweed barrier.
Revitalize the beachfront area of central Playa Del Carmen.
Bring more tourists to the area.
Add more coastline and beach areas for people to enjoy.
Thousands of jobs.
An artificial reef for many species of marine life.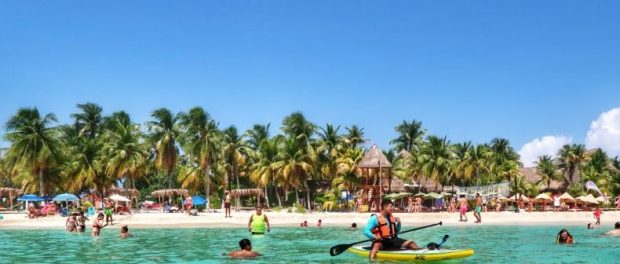 Features of the Playa Islands Project
The Playa Islands Project would feature a series of islands off the coast that are all connected by bridges and pathways.
Public bathrooms with infrastructure built in.
Bike and running path from Juarez Avenue Pier to Constituyentes Avenue.
Entrances from two more public access points, Juarez Avenue and Constituyentes Avenue.
Islands with different features. For example, mangroves, palm trees, child friendly beaches, diving spots, and natural areas.
What will make this a more environmentally friendly project?
From the beginning environmental studies would help place the islands and how to build an artificial reef off the coast. Once construction has begun, each part of the project would be in keeping with indigenous species of plants. Hundreds of trees and thousands of plants would be planted.  Parts of the project would be 100% natural areas where mangrove could grow and other species.
Once the park opens, it can be used as an educational park. Teaching children about the ecosystem and how to care for it. Restrictions on plastic and non biodegradable sunscreen can be restricted in the park.
How can this project be paid for?
Any idea is great, it is the getting paid for part that is hard. This project however has so many benefits and so many beneficiaries that it will not be hard to get sponsors. The first being the state and federal governments, this is where a bulk of the funding can come from. The Riviera Maya is one of the most important tourism sectors in Mexico. Sustaining this sector for tourism is a top priority.
Private sector
Beachfront businesses have the most to gain from this project. They of course have already paid a high price for where they are and have suffered over the past few years. A 5 year new tax abatement can be in place so these businesses can recover and start to benefit from this new project.
Many private businesses will benefit from this project. The main ones are developers and hotels that will have sustained business and new buyers for condos. Donations from the private sector can make up a portion of the cost.
Entrance fees
There can be an adult locals fee of 50 pesos, 25 for children and non locals fee of 100 pesos and 50 for children for entrance. While all beaches in Mexico are free and open to the public, this is not technically the beach. There will still be the natural beach open to the public at no cost along the natural coastline.
These fees are common fees for entrances for local cenotes and only fair to offer a discount to locals. The entrance fees can pay for cleaning, lifeguards, security, and maintenance.
Concessions
Since there will be hundreds, if not thousands of people visiting the islands each day, that is a lot of people that will be thirsty or hungry. That means an opportunity to sell licenses to sell in the islands. There will also be rentals of chairs, snorkels, paddle boards, kayaks, and umbrellas.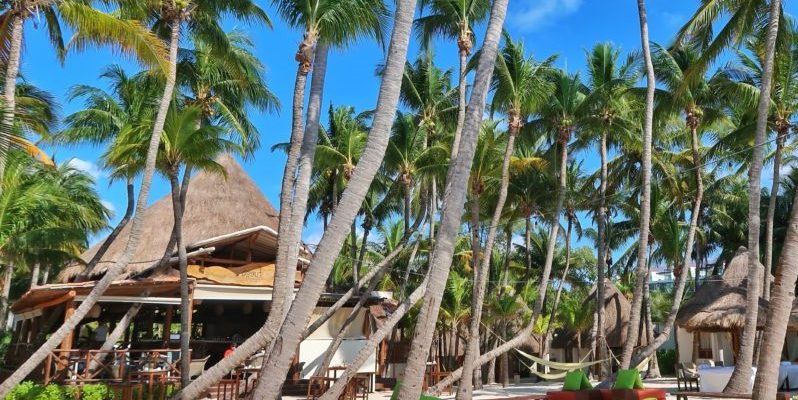 Is this the perfect solution?
There is no perfect solution to dealing with sargassum. Each idea has drawbacks and varying cost involved. For years now locals have hoped that each time it built up on the shore and then went away, it would be the last of it. Ideally, if it goes away naturally, that would be great, but we have to look at the problem. The first time we wrote about the seaweed problem was in 2014. It has been effecting the beaches for 5 years now.
There have been ideas of floating barriers and these have been used. They seem to break loose and fail. They also don't prevent all of the sargassum from reaching the shore. Collection of the seaweed before it reaches the coast has been another idea thrown out there. This involves boats that would collect it and then dump it on the land. This can work, but is like collecting soap suds out of a swimming pool with your hand. It is hard to chase it down and it takes a long time. Currently there would need to be a large fleet to collect the inundation.
We think it is time to put out there a more permanent solution to the seaweed problem. Not only does this address the seaweed, it addresses the erosion that occurs on the beaches and longer term issues with coastline. It also creates a beautiful new park to Playa Del  Carmen and helps revitalize the city.
What do you think?
Is this something you would like to see built? What other solutions are there for the seaweed issue? Let us know in the comments below.