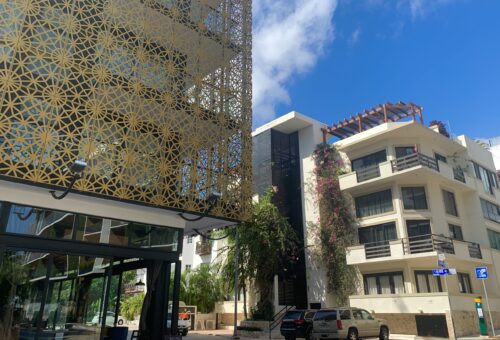 What is new with real estate in Coco Beach
The Coco Beach area of Playa Del Carmen is roughly the area from 38th Street to CTM Avenue (AKA 46th Street) and the beach to 10th Avenue. There are no exact dividing lines and some will even say this is part of the Zazil Ha area. For those that live in the area and especially the real estate world, this area is known as Coco Beach. This neighborhood is developing and we wanted to revisit this area to show you in photos and give you details of what is going on with the real estate market and development.
We enjoy sharing with you different perspectives of neighborhoods of Playa Del Carmen and the Rivera Maya for those looking to move to the area or invest. We don't sell real estate so we are able to give you open insights on things here. This is just part of a series of articles about areas of Playa Del Carmen. You can read more under the Expats tab and the sub category real estate.
The Coco Beach neighborhood in the not too distant past
It used to be that 5th Avenue basically ended at 40th Street. The street was not a paved road and it just bumbled along into the Colosio area. The area from the beach to 5th Avenue was somewhat spotted with development interspersed with empty lots. From 5th Avenue to 10th there were small local homes. The area was not a hotbed of activity and it had not been since the center expanded and has been creeping north.
What is going on now with real estate and development in the area
Since 2014 there has been a concentrated focus of developers to build new condo buildings in the area. Coco Beach has been more of an upscale area and an opportunity to create an almost entirely new neighborhood. It is one of the areas of Playa Del Carmen with beachfront condos and ocean view units. It has been filling in over the past few years, but perhaps it is finally coming together. Below are some things that are happening now in the Coco Beach neighborhood.
New streets
Something that was lacking for a while now has been paved streets. Some streets in the past were dirt and rock pothole covered messes that were hard to drive on. Now paving stones have been used to pave these streets and it looks so much better! It really gives the neighborhood a more complete feel to it and even perhaps a little Tulum feeling, especially the street behind the beach clubs.
This has been a major improvement for the area and will make driving, parking and just the overall feel of the neighborhood better.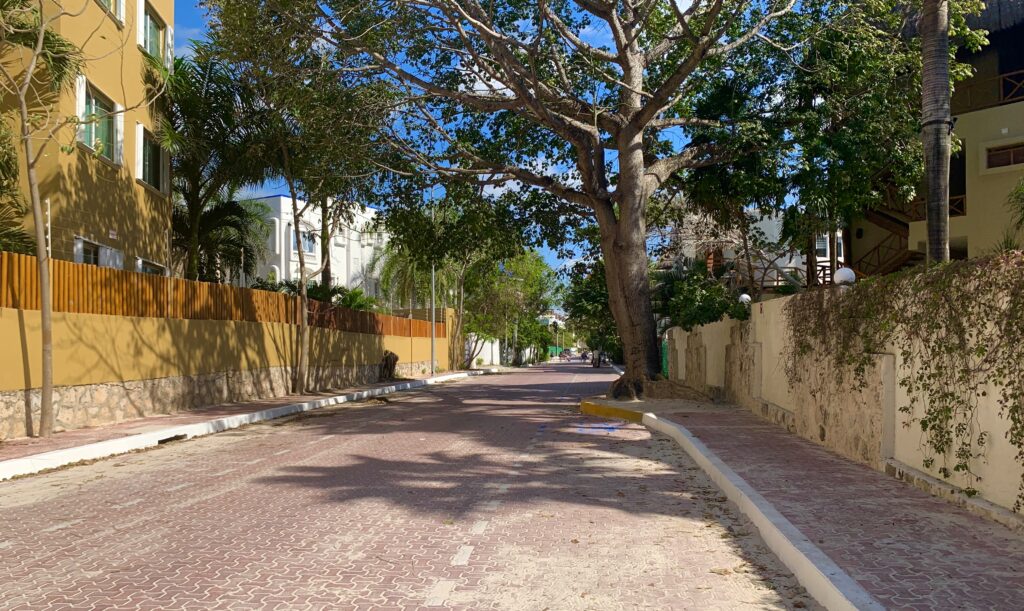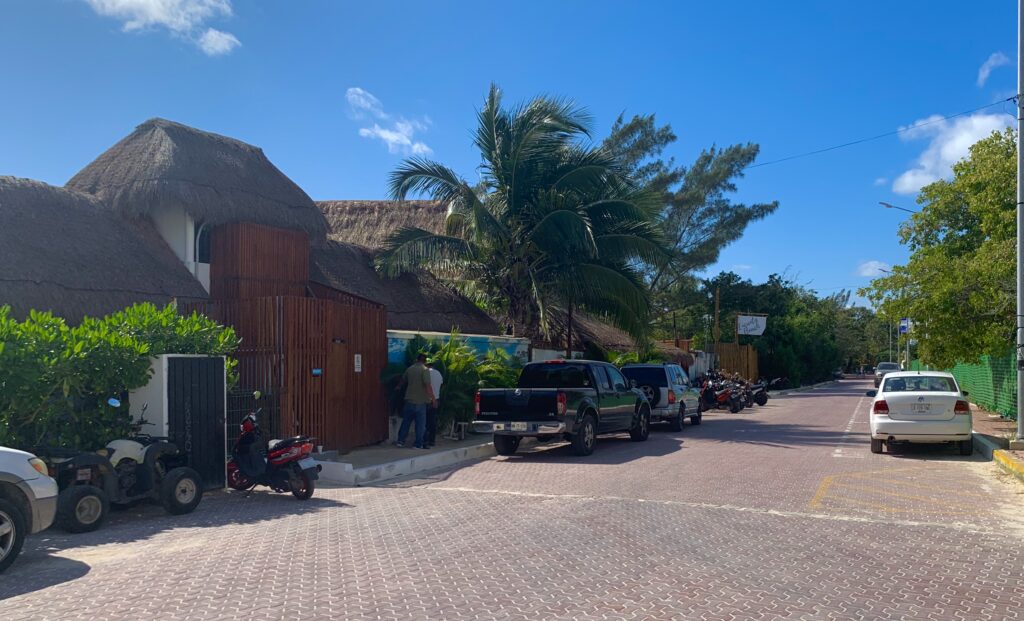 New businesses
With so many new condos in the past few years being built, it has been filling in slowly with new services and businesses. What was most lacking were more restaurants and stores to buy food. There are now several nice restaurant options like The Pitted Date and Ojo de Agua Restaurant. 38th Street is also picking up new restaurants and shops and this adds a commercial corridor to the area.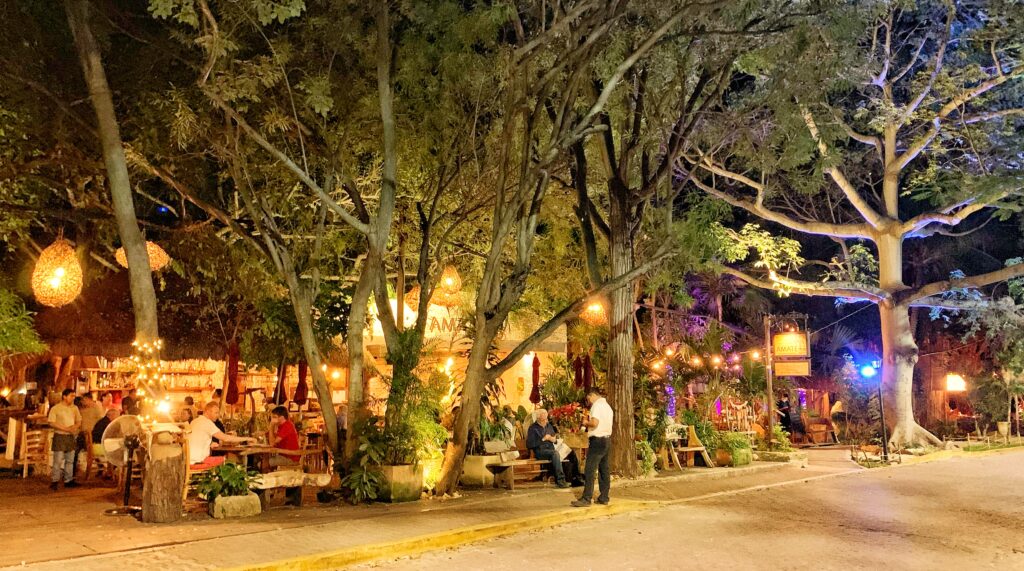 The beach and beach clubs
In the past, there was really only one beach club in this area. It was the Canibal Royal at the far north end of the beach. Most everyone else went to the beaches in the center of Playa Del Carmen. There are four other beach clubs that have sprung up on the beach between 38th and the Reef Club Hotel. The first was Martina Beach Club. This was a loud club that neighbors complained about a lot. It has calmed down some and now is joined by some other beach clubs that offer residents and renters an option out of the direct center of Playa Del Carmen. Mandarino is the nicest of these clubs and reflects more the style of renters and owners who visit the area.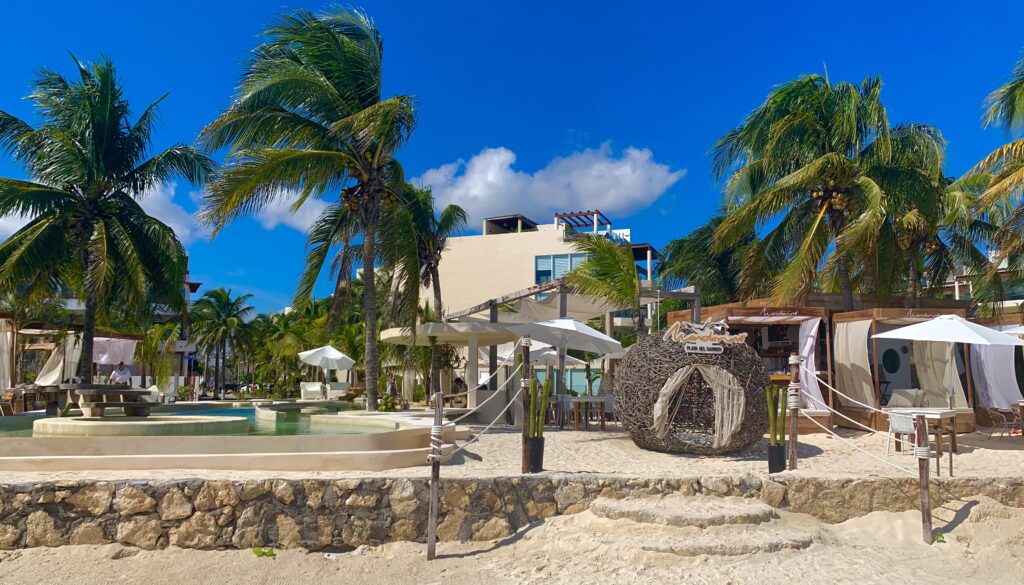 The beach here suffers from erosion at the far north end, especially after the piers were built in front of the Reef Resort. The beach for the most part is as wide or wider than other parts of central Playa Del Carmen. Seaweed or sargassum since October 2019 has been minimal although this beach does tend to collect a little more that other beaches because of the shape. Another thing noticeable about this beach is the sulfur smell. It does tend to smell sometimes. Some have said this is due to the manglar that was built on in this area.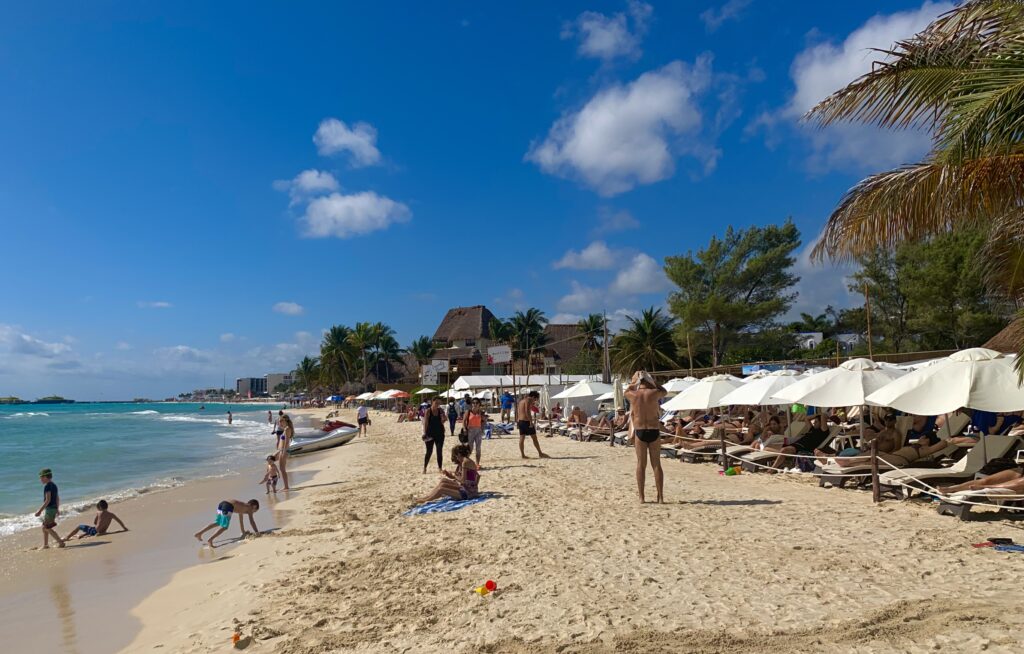 Should you invest or live in this area?
Most readers are looking to buy something and then either move to Playa Del Carmen in the future or visit and rent out the unit when not in town. So what is this area like as an investment and for living? Well, let's examine these two options.
Living in Coco Beach
This area is a little quieter than the center of Playa Del Carmen and is a little more upscale. It is still very connected to the lively part of Quinta. Living in this area can get you some good views of the ocean, but check to see what is possibly going to be built in the future to block your view. Almost no realtor can guarantee if you will have the view forever since they do not know all the developers or what future rules will change.
If you want to live here, it does mean owning a car. Going to a decent supermarket and other daily necessities is a ride away and having a car is almost a must. This means looking for a condo with a parking spot. Most newer condo building shave some parking but not all units automatically have a space.
Since this is a vacation rental spot, remember that buildings that have many units for short term rent are going to be active with turnover. This means guest using the common spaces and people tend to be more in vacation mode. This can distract from your quality of living experience. Most people that are going to live or spend more time in their condos prefer smaller buildings with less units penthouses with private space.
Investing in the area
Coco Beach has seen a bulk of new condos built in recent years for in the downtown area of Playa Del Carmen. This means there is a lot of competition in the rental market. This means it is especially good to be selective and getting good advice from an real estate agent that is an investor as well.
There are some older buildings in this area. Some in the past have had issues with cracks and foundation issues because the area used to be mangrove. Older units tend to be larger and less expensive. Older units (more than 5 years old) tend not to rent as well, but they do appeal to a crowd that is regular in coming to Playa and staying a week or more.
There are plenty of new buildings going up and recently built. As is the case with most investment properties, the management of them is the key factor in the return on investment (ROI). Many realtors or developers will throw out percentages for ROI. Be sure to check out our article about a good investment tool that you can use or work with a realtor that uses it.
Crossing over CTM Avenue
Since the Coco Beach area starts around $190,000 USD for a unit, going across CTM Avenue to buy there might seem attractive. Real estate is about location, location , location. Even though there are new buildings for sale in Colosio just north of CTM Avenue, many of these units do not rent as well. Part of the reason is the distance to the beach and lack of businesses that renters want. Cafes and restaurants have just started to push into this area, but we notice a lot of these new units available for rent after others closer to the center of Playa are filled.
Colosio neighborhood condo buildings often do not have indoor parking and the neighborhood does not warrant high rent prices. Colosio and Coco Beach are two very different areas even though they are next to each other.
If you are looking to buy real estate in this area or Playa Del Carmen….
We do recommend real estate agents that work well with our readers. We also get a lot of feedback from our readers that work with different real estate agents. It is our goal to recommend really good services for our readers for people to invest wisely and be happy. Below are two agents that have worked in this area for many years and know most of the developers very well. Both are on our recommended real estate agents list.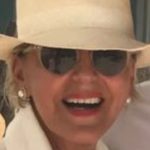 Lilia is invested in this area and has been in Playa for nearly two decades. She gets a lot of repeat clients and often our readers are surprised at how many suggestions and services she offers clients. She is also very knowledgeable about developers in this area.
If you wish to contact her, you can email her here.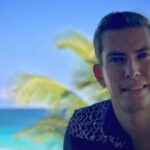 Sebastian is also a realtor that has worked in this neighborhood and knows firsthand some of the developers. He is great about letting clients know what is a good investment and what really to expect for ROI. Not only is he an real estate agent, he invests in the area and has firsthand knowledge of how to set up an investment property.
If you would like to contact Sebastian to talk about possibilities for properties, you can email him below.


Our video about real estate in Playa Del Carmen
Just like this article here, we try to give you information on the area that is helpful in the decision making process. We have put together this video about real estate in Playa Del Carmen for our readers. It covers many topics that people have questions about. We hope it is helpful to you.