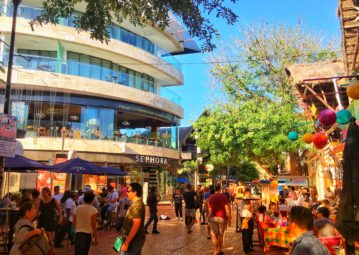 The Best Places in Playa Del Carmen for First Timers
Are you coming to Playa Del Carmen for the first time? What are the best places in Playa Del Carmen to visit? There is a lot to see and do in the area. You cannot do it  all in one trip, so expect much more to do the next time you come. In this guide we will talk about restaurants, tours, beaches and all the best things to do in Playa for your first trip. These are all the places that make Playa Del Carmen unique and are sure to give you are good feel for the place.
Let's start with the basics
If it is your first time to Playa Del Carmen you will be flying into Cancun Airport. This is the gateway to the Riviera Maya area. How do you get from the Cancun Airport to Playa Del Carmen? Well in our article we have laid out the best options and how to book.
But where are you going to stay? Well, you have hotels, boutique hotels, all-inclusive resorts and many more types of accommodation in the area. You will have to decide on staying in Playa Del Carmen or a resort nearby. In our article on where to stay in Playa we discuss the advantages to each location and where most tourists like to stay.
Now that we have you to Playa from the airport and where you are going to stay, lets talk about what to do in Playa Del Carmen for your first time visiting.
What to do in Playa Del Carmen
Since it is going to be your first time visiting,  you will want to know what are the best things to do in Playa Del Carmen.  These are all the things that people want to see and take photos of. So here is a brief rundown. See the links in each section for more information.
Hitting the beach
Anyone coming to Playa Del Carmen will want to visit the beach. It is one of the main attractions. The beaches are always in a changing state, but in general here are the top 5 beaches in Playa Del Carmen.
You can take a towel or beach chair to the beach and enjoy yourself, but you might just like a beach club. Most beach clubs charge a little for a chair and umbrella or just have a minimum consumption charge. This means you can visit the beach, have some drinks and use the facilities, all for an enjoyable day at the beach.  For beach clubs in Playa Del Carmen, see our guide here.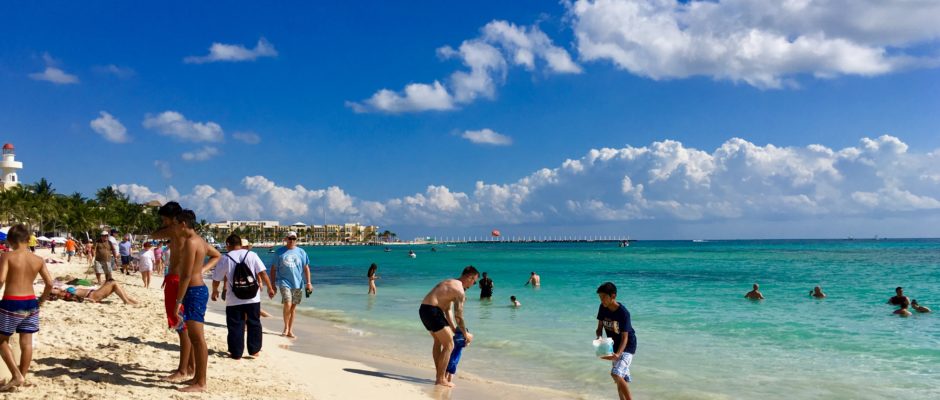 Walking 5th Avenue
5th Avenue (or Quinta Avenida) as it is called in Spanish, is the main pedestrian street in Playa Del Carmen. This pedestrian street is about 22 blocks of shopping, restaurants, and entertainment. You can enjoy browsing tourist shops, art galleries, or just watching street performers. It is a very entertaining place and it changes a lot between the day and night. At night 5th Avenue comes more alive, so it is good to visit during different times of the day.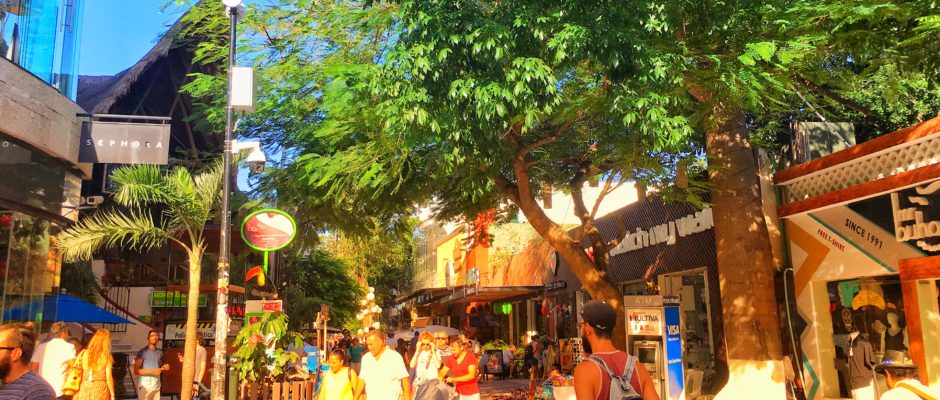 Shopping in Playa Del Carmen
Some people love it and some hate it, shopping is one thing you can do on vacation here. It might be for souvenirs or just gifts for loved ones. We do have you covered in our Playa Del Carmen shopping guide.  We talk about places to find things what are some of the best things to buy in Playa Del Carmen.
Trendy rooftop pools to lounge at
Playa del Carmen has grown up in the past few years. This means literally and figuratively. There are taller buildings and rooftop pools. These are like lounges/clubs during the day. These can be a great way to relax, take sun and enjoy a day. See our guide to 8 rooftop pools you can visit.
Go out at night in Playa Del Carmen
Nightclubs, bars and other venues are all available to visitors. There is about every type to fit what you are looking for. You can see our nightlife in Playa Del Carmen guide here for more information. Coco Bongo is another big show that first timers like to go to. Here is info on getting Coco Bongo tickets.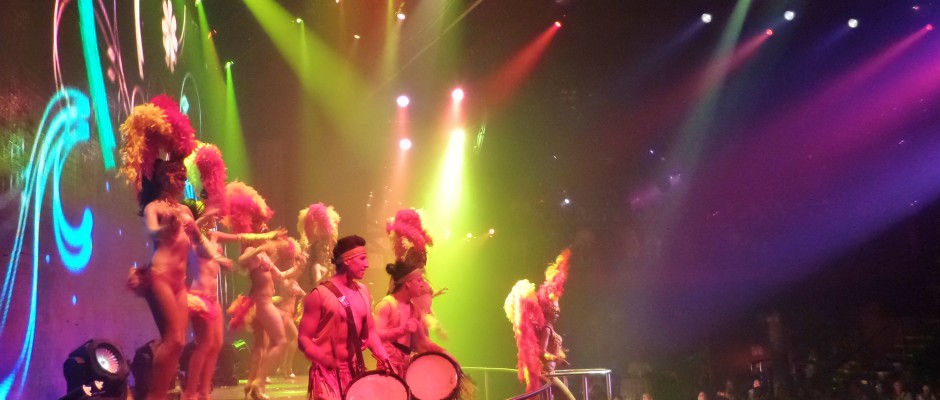 Restaurant in Playa Del Carmen for first timers that are not too touristy
Everyone likes good local places but all too often there is a fine line between a unique restaurant and a tourist trap. Here are some of our recommended restaurants that have a true Playa feel but are not over the top touristy.
Note: Most first timers will walk 5th Avenue and look for a place to eat. Most of the time you will not get a true taste of Mexican food if that is what you are looking for. See our article on the best Mexican restaurants in Playa Del Carmen for some good options.
Best places in Playa Del Carmen for breakfast
For breakfast here are some options for you. La Cueva del Chango is a hidden tropical garden spot on 38th Street near 5th Avenue. Here you get a feel for old Playa with lush greenery and a taste of Mexican dishes. If you want to go to the beach and have breakfast, Mamitas beach club restaurant offers great views (see video below). For more breakfast options see our breakfast guide here. If you just want a coffee shop in Playa Del Carmen, see our guide here.
Tacos for the first timer in Playa Del Carmen
First timers also love a real Mexican taco restaurant. This place in Playa Del Carmen has been around for years and is super popular with first timers. It is debatable if it is truly authentic or the best, but, it is consistent. El Fogon on Constituyentes Avenue near 30th Avenue is always packed.  Of course tacos come in many styles and flavors. See our taco guide to Playa Del Carmen here.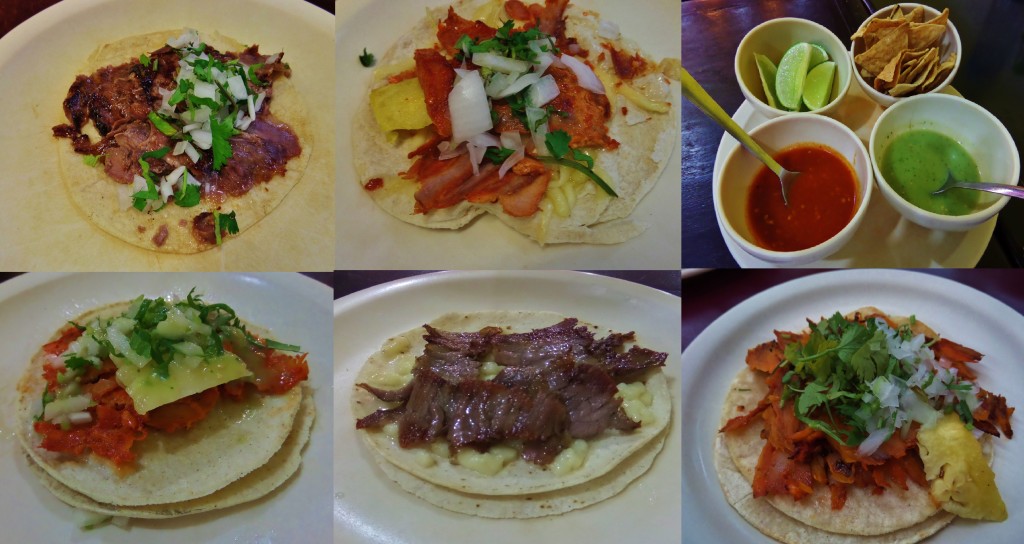 Great places for dinner in Playa Del Carmen
One of the most iconic restaurants in Playa Del Carmen is in a cave. Alux Restaurant is just out of the center of Playa and underground. This is an upscale restaurant where you can dine in one of the cave rooms. After dinner, you can walk the circle walkway through this cave.
If you don't want to be underground, how about high up above the city? Catch Restaurant offers a commanding view of Playa Del Carmen from the rooftop of the Thompson Hotel on 12th Street between 5th Avenue and 10th Avenue.
If you are staying outside of Playa Del Carmen and want to come for a special night out, here is a list to great places for that special dinner. We also have a full guide to restaurants in Playa Del Carmen here.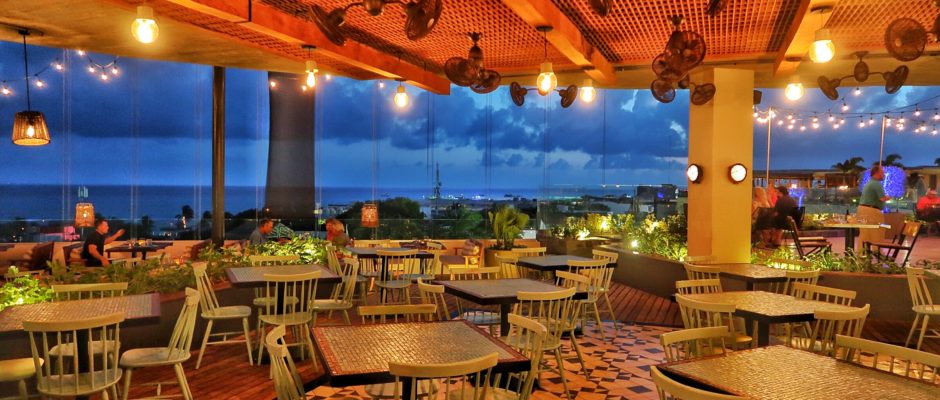 Tours for first timers to Playa Del Carmen
Normally for first time visitors to the area, they go on one or two tours while here. It will depend on how much time you have and how active you want to be on vacation. The two biggest things on people's list are Chichen Itza and one of the parks of Xcaret. Here is a run down on how to choose which tour to take and what park might fit you the best.
Tours to Chichen  Itza
Chichen Itza Mayan ruins is world famous because it is large and restored enough for you to visualize what it was like. Most people take tours to visit because it makes it much easier and a more relaxed day. Here are the best Chichen Itza tours to book from the Riviera Maya.
There of course several other Mayan ruins in the area. You can see our guide here to more Mayan ruins you can visit.
Really fun parks to visit for first timers!
It really is hard to describe these places in Playa Del Carmen that offer a full day of adventure. These are adventure parks, some have animals to see, and they all highlight the natural world. Some of these are just outside of Playa and others are a short drive. What makes these parks easy places to visit for the first time visitor is the fact that they a package and everything is set for a fun day.
Here are some of the best parks for the first time visitor and what each one is like. Tip: Use the links on our page to book ahead! You can save up to 15% off.
Xcaret Park
Xcaret park is the granddaddy of all the parks. Not only is it the largest, it is one of the first. This park is hard to describe but does include, shows, animals, swimming in underground rivers, and a walk through Mexican history. One of the best things is the 2 hour show at the end of the day that should not be missed. This park is for families of all ages, couples and people looking for a great day exploring.

Xel Ha
Xel Ha is all about being outside, swimming and enjoying a beautiful inlet. Here you can swim, float, and enjoy a beautiful park all day long. This park is closer to Tulum, so it is a little farther away but worth the trip! See our video below and if this place looks good to you, then use the reserve now button to book it.
Some people have a hard time deciding between Xcaret and Xel Ha parks. We wrote an article comparing them so you can decide.

Xplor
Xplor park is the adrenaline junkies fun park. There are some of the best zip lines in Mexico, underground rivers to swim in and much more! This park is great for couples, families with teens or older children and people that want an active day. See our video below for more details about this place to see if it is what you want and then use the reserve now button to purchase.

Xenses
This is a half day park and good for families with younger children. Xenses is like a science museum that is interactive, but just with the fun stuff! See our video here about what it is like and then book below if this looks good to you.

Xenotes
Xenotes Park is for the nature lover that wants to see real nature and have some fun. This park is about 50 minutes north of Playa Del Carmen. You get to visit several private cenotes that are set up for visitors. This park is organized by small groups and you go through the park visiting different cenotes. Some you swim in and others you have a zip line or slide.

Thank you for reading our article about the best places in Playa Del Carmen for first timers. Let us know if you have any questions or comments below. We love to hear from our readers.