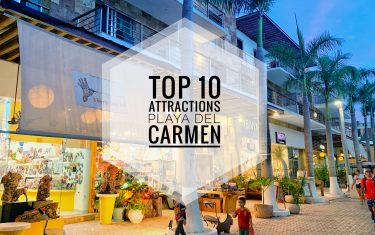 The Top 10 Playa Del Carmen Attractions for Tourists
If you are coming to the area on vacation you will want to know what the top Playa Del Carmen attractions are so you don't miss anything. Here are the best things to see and do while visiting. This list of 10 things will keep you busy and show you the best the area has to offer. In each section we have links to articles, videos and ways of booking excursions. If you have any questions or comments after reading this, let us know in the section below.
1. The top attraction of the beaches
A city named after a beach certainly has beaches as the top attraction. Playa Del Carmen is well known for its beaches. Just like many things in nature, they cannot be prefect looking all the time. Sometimes there is seaweed that washing ashore and some beaches get more than others. When the winds are favorable and the water is crystal clear, it is a sight to see!
If you want to get out of town and visit some of the best beaches in the Riviera Maya, our guide here will show you where to go.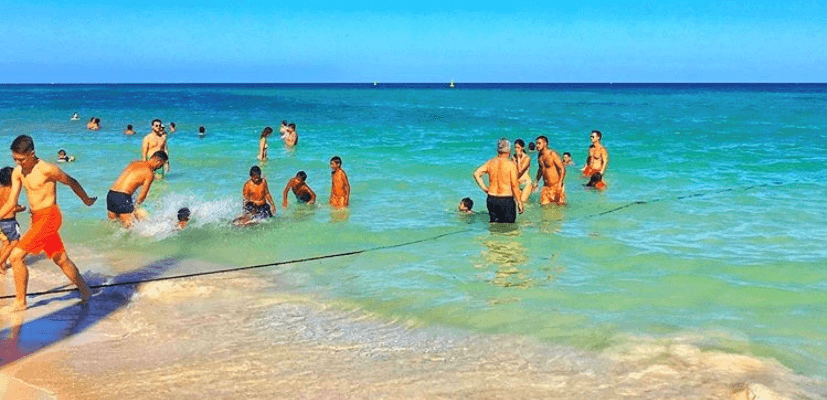 2. The pedestrian street of 5th Avenue
Imagine a street dedicated to just to tourists that is full of shops, restaurants and entertainment. That is what 5th Avenue is! This pedestrian street runs for about 22 blocks and is full of things to see. If you are staying at a resort outside of Playa Del Carmen, you might come into town for a stroll here. You can get all your souvenir shopping done and enjoy a night out. If you are staying in Playa Del Carmen, you will have time to explore all segments of it.
Check out our clickable map below so you can see all the hotspots along 5th Avenue to check out. You can also see our guide to 5th Avenue here.
3. Visiting one of the Eco Parks nearby Playa Del Carmen
There are some great "Eco Parks" that are nearby. You might wonder what is an "Eco park"? These are not just natural parks. They are like a theme park which combine much of the nature environment into them. Each park is a little different and we recommend them all! Tip: See the links and articles for pre booking tickets to get the best price and save up to 15% off.
Xcaret Park
This is the largest of the parks and can be a very full day of exploration. Xcaret is a little hard to describe what it is. It has animals, an aquarium, beautiful underground rivers to swim in, cultural shows, and Mexican culture. At the end of the day there is a two hour show with hundreds of performers. There is so much to do at this park that you can go several times and not see everything! All ages can enjoy going here.

Xel Ha
Xel Ha is the park if you like water and snorkeling. This is an inlet that is connected to the ocean. You can swim in the calm waters and see a lot of tropical fish. There are a lot of other attractions included and add activities. At this park you get all you drinks and food included. For more about Xel Ha see our article and video below.

Xplor Park
This is the adventure and adrenaline park for the active people. There are two zip line routes to go on and more activities that will have you exploring nature and having a blast! This is a full day of adventure. Fore more about visiting Xplor and this must do thing in Playa Del Carmen, see our article and video here.

Xenses Park
Xenses Park is a half day park that will play with your senses. It is all about exploring and having fun. This is a great park for kids since many things are fun for them like floating in the muddy river. This can also be good park to visit if you don't want to be gone all day. For more about Xenses see our article and video here.

Xenotes Park
This Eco park is great if you want to explore cenotes in a small group and have a nice experience in the jungle. This park has several cenotes that you visit and not just to swim in. There are zip lines and rappelling to add to your adventure. This is nothing too extreme. This park can be fun for all ages. See more about Xenotes here in our article.

4. Dinning at some of the great restaurants
Playa Del Carmen has hundreds of restaurants. Some are geared to tourists and not that authentic (especially on 5th Avenue). There are others that really raise the bar on what you think is Mexican food. In the past few years there has been an influx of culinary chefs showing what they can do and offering higher quality experiences to guests.
With the exchange rate, you can get some really good value for your money. Now is the time to indulge in a little and wine and dine as they say on vacation without the worry of a big price tag. Many meals that you would pay $50 USD for one person, in Playa Del Carmen you can get for half that.
So where to go and what are some of the best restaurants? In our special dinner guide, we have restaurant recommendations for people that want a great meal with good atmosphere. If you are looking for a good Mexican restaurant in Playa Del Carmen, well, we have a guide for that as well. If you are looking for some other type of food, just try looking in our restaurant guide here.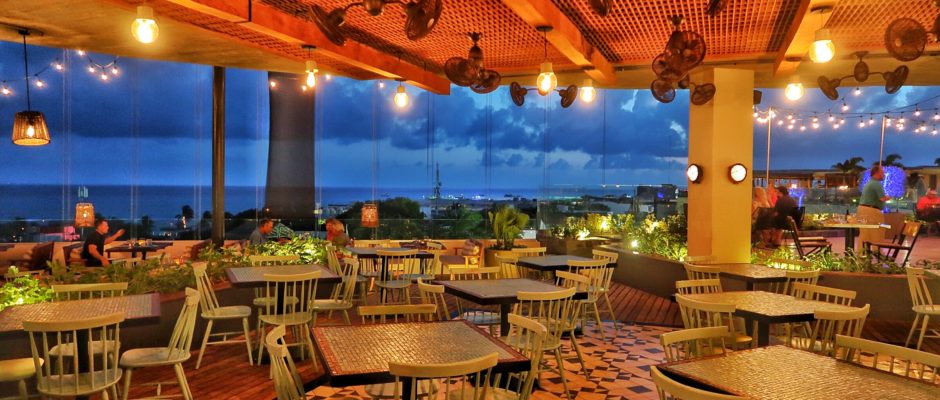 5. Jumping into a cenote
Cenotes are a natural formation that is pretty much unique to our part of the world. A cenote (pronounced "sea-no-teh") is a fresh water pool that has been carved out of the limestone base of the Yucatan Peninsula. Some of these are in caverns and others are open. There are no two cenotes exactly alike. All of the ones mentioned in our guide are open for swimming. It is also very affordable to visit a cenote with the average price being around $5 USD to enter.
From Playa Del Carmen here are the best close cenotes to visit. These are close and fairly easy to get to by driving or taking the colectivos.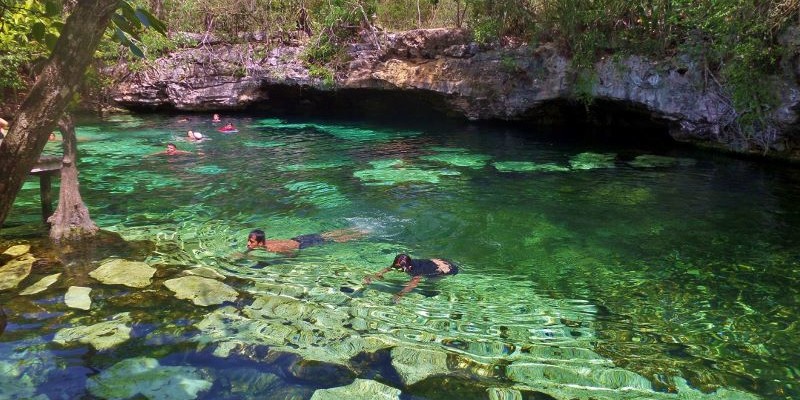 6. Take in the ancient Mayan past at a ruin site
Everyone has heard of Chichen Itza and many want to see it. This is not the only Mayan ruins to visit from Playa Del Carmen. Below are different sites you can visit and article and links on great tours to book.
Chichen Itza
Chichen Itza. If you do want to visit these very popular ruins, here are three tours that we recommend. Each article has an article and a video of what to expect.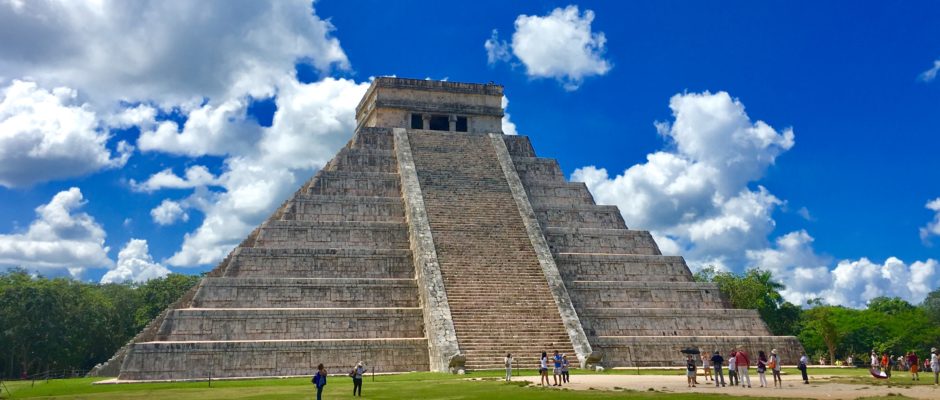 Ek Balam Mayan ruins
Ek Balam. These ruins are smaller but you can climb the main pyramid (temple) and there is a cenote here to visit. These ruins are just under two hours to visit from Playa Del Carmen. One tour that you might want to consider is this one.
Coba ruins
Coba. These ruins are inland from Tulum and set in a dense forest. What makes a visit here special is the fact you can rent bikes and visit the different parts of this ancient city. Here are two tours to look at if you want to visit Coba.
Tulum Ruins
Tulum ruins. These are the iconic Mayan ruins overlooking the turquoise waters. These ruins are very easy to get to from Playa Del Carmen and points in the Riviera Maya. Walking around does not take that long since it is a smaller area of ruins. Most just come for the photo ops and views. Here is one tour to consider if you want to visit here.
7. Take in the views at a rooftop pool in Playa Del Carmen
Playa Del Carmen is not just about the beach any more. Playa has grown up and offers rooftop exciting and stylish pools to relax at during sunny days. Rooftop pools are great places to enjoy some music, food and beverage service and get a tan. Think of these as beach clubs, but without the sand. Here is a list of rooftop pools in Playa Del Carmen you can visit.
Some of these rooftop pools are in hotels that are open to the public. Most of the ask for a minimum spending about on food and drinks.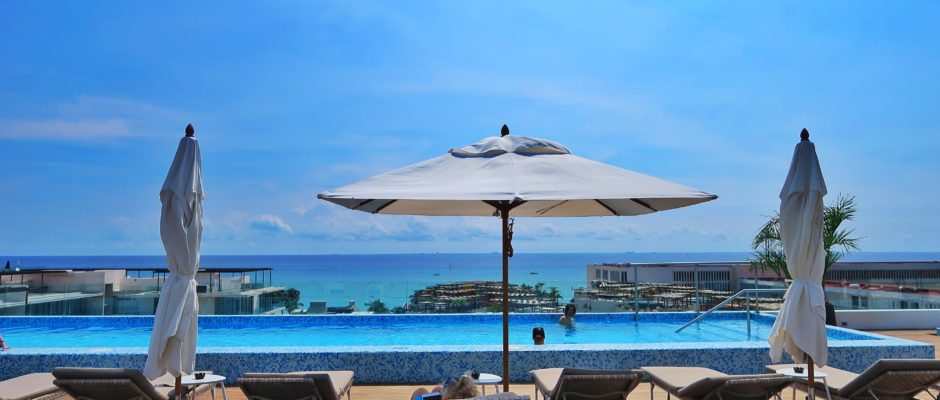 One of the top attractions in Playa Del Carmen are views like this from rooftop pools.
8. Go out at night and be a little wild!
You are going on vacation! Enjoy the evening and maybe even the late night going out in Playa Del Carmen. There are tons of bars that offer different atmospheres and clubs that re good for dancing in Playa Del Carmen. Below, you will find a map of the downtown area of Playa Del Carmen and all the best bars and clubs marked. You can read more about each of the places in our guides here:
9. Snorkel the reefs and more
The Riviera Maya is blessed to have the second largest barrier reef in the world. This is a great attraction that you can visit when here. The most notable places to go snorkeling are the reefs off the coast of Puerto Morelos, Cozumel, Tulum, Yal Ku, Xel Ha, and some of the reef off the coast accessible by catamaran tours. For details about these locations, see our article here about the best places to snorkel from Playa Del Carmen.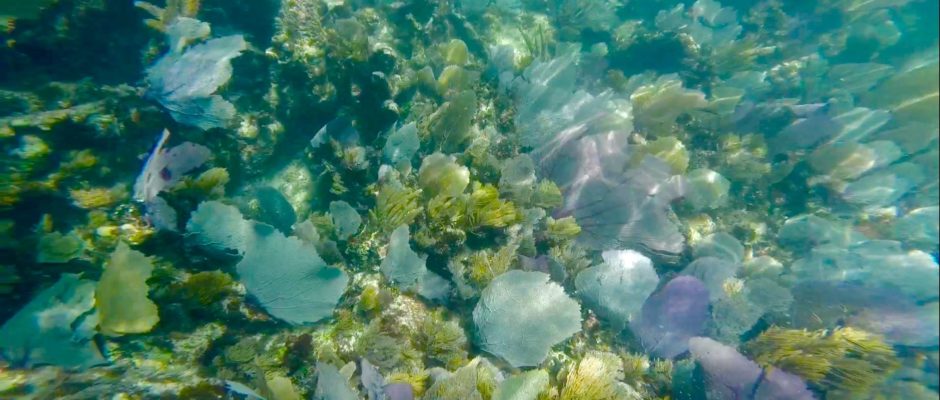 10. Get up early to watch the sunrise over the Caribbean
Free sunrises every day in Playa Del Carmen! Walking the beach in the early morning can be quite peaceful and rewarding to get a glimpse at the new day shinning forth. We have been out often to see the sunrise and it seems each one is different. We have a whole gallery here of sunrises in Playa Del Carmen for you.
Thank you for reading our article about the top 10 Playa Del Carmen attractions to experience while here on vacation. For more Playa Del Carmen Guides, see our list here.