Traveling solo to Playa Del Carmen
Do you want to go to Mexico on vacation and traveling solo? What is it like? Is it safe for solo female travelers? How can you have a great time and see the best things? Here is our guide to enjoying your time alone while in Playa Del Carmen and the Riviera Maya.
What type of trip do you want?
Are you the adventurous backpacker? Calm seeking yoga traveler? Culture vulture? or party hardy type? There are a lot of types of solo travelers out there. In this guide we will have a little something for each type.
For the backpacker there are some great hostels in Playa Del Carmen. These hostels can make your trip fun and make you meet people from all over the world. Along with a budget, there are a lot of cheap eats in Playa Del Carmen. Mexico in general is a very affordable place to travel, which makes it easier for solo travelers and those on a budget. See our guide to backpacking the Yucatan here.
For the yoga lover seeking a calm vacation there are lots of classes and cool places to stay in and out of Playa Del Carmen. Peaceful cenotes nearby offer a place of reflection and some of the more remote beaches can be the perfect place to watch the sunrise.
If you are young and energetic, Playa Del Carmen offers a hip and chic location to enjoy rooftop pools, clubs and just the energy of the downtown.
For the culture vulture, using Playa Del Carmen or the Riviera Maya as a base and exploring the backyard of the Yucatan Peninsula can offer you a lot. There are colonial cities over 500 years to visit and a rich Mayan culture that is still alive today.
You really can make a trip to the Riviera Maya what ever you want as a solo traveler. There really is something for everyone.
How safe is it to travel solo in the Riviera Maya?
The Yucatan Peninsula in it's entirety is considered a very safe place to visit. The Riviera Maya also is considered a safe place to visit for solo travelers. The main area of caution is when you mix your vacation with alcohol or drugs. You can find more about this in our article about safety in Playa Del Carmen.
Most of the common sense things that apply in most tourist destinations in the world apply here. Even for solo female travelers, the area is considered safe. Mexico has the reputation of being a macho country with guys, being machismo, but this is more noted in the north of the country. In general, people are very pleasant with tourists (including solo female travelers). The main areas of consideration are going out at night solo (like to a bar or club) and taking taxis at night.
Hotels for the solo traveler
Most solo travelers will want to stay in a city or town where you have more choices of everything and chances of social interaction. The main places in the Riviera Maya are Cancun, Playa Del Carmen and Tulum.
Hotel in Cancun for solo travelers
We will stay that Cancun for independent travelers is probably the most difficult places of all the Riviera Maya. Most tourists stay in the Hotel Zone and go to all inclusive resorts. There are however a few resorts in Cancun that cater to the more single minded traveler. These resorts are for the more party types. Here are two hotels to consider in Cancun. One is the Temptation Resort and the other is the Hard Rock Hotel.
The downtown does not have much to offer tourists except a place to crash when flying in or taking the bus out of town. The hotels in the downtown are basic and not worth a vacation for.
Playa Del Carmen hotels
Besides hostels, which is what most people think of as a place for single travelers, here are some ideas for hotels in Playa Del Carmen. Ideally the center of town is the best because you can walk everywhere. There is no need to have a car and you can easily go out. Since budget is important to the single traveler, see our cheap hotel guide to Playa Del Carmen here.
You can see some of our recommended hotels here on the map below. It will help you know what the areas are like and where might be the best place to stay.
Note: There are a lot of basic Airbnb listings in Playa Del Carmen that can be very competitive with hostel rates. Of course, this can make it hard to meet like minded travelers.
Places to stay in Tulum
Tulum is a town spread out and has two zones, the beach and downtown. These are about 3km apart. We think most solo travelers would prefer to stay in the downtown where there are many more options to go out, but you can still bike or take a taxi to the beach.
We have a very detailed guide here for the best areas to stay in Tulum. It even has this interactive map you see below.
Where to meet other people in town
Here we are mainly mentioning Playa Del Carmen and the places that are good to meet other travelers. Playa Del Carmen has year round warm weather and you will find many people out and about all day long. This gives you a lot of opportunities to meet other people. Of course walking up to people on the street is not ideally what you want to be doing. A setting gives you a place to converse and get to know other people. Here are some good places to go.
For more information on meeting people in Playa Del Carmen, see our full article here.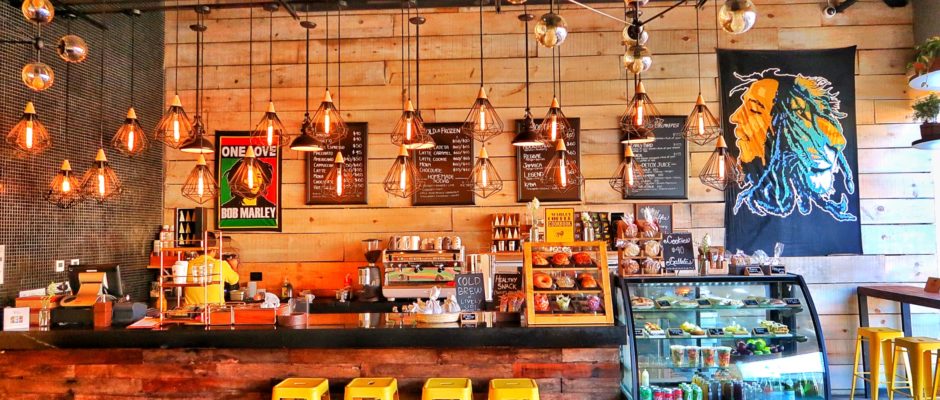 Meeting people in Cancun and Tulum
If you are in Cancun, you are most likely going to be staying in the Hotel Zone. This area is very separated since most people just stay at their all inclusive resorts. There is one area of the Hotel Zone where people mingle though. This is the club area around KM 9.5. Here you can find several nightclubs and bars.
In Tulum there is the downtown and beach area. The beach clubs make it a little easier to meet people. If you are younger and want a more lively area, try Papaya Playa Project. The downtown of Tulum is where you will find most of the restaurants and bars. The main road of 307 is where you will find most of them . There are sidewalks on both side and you can stroll around this area. These are the best places for solo travelers to meet and hang out in Tulum.
What activities are best for single travelers?
Being by yourself will give you total freedom to decide what you want to do and when. Traveling to other towns, cenotes and beaches are fun, but you often find yourself by yourself. You might consider a tour or activity. Here are some of the recommended ones for solo travelers.
Eco Parks
The big parks that many tourists visit are great fun, but are more enjoyable with others. So out of the Xcaret, Xplor, Xel Ha, Xenses, Xenotes and Xoximilco, the last two might be best for single travelers. Both Xenotes and Xoximilco put people in small groups for the experience. You can read more about these in the links.
Cooking classes
If you enjoy cooking and or eating, these cooking classes are a great way to interact with other tourists. Here are some listed that are in the area.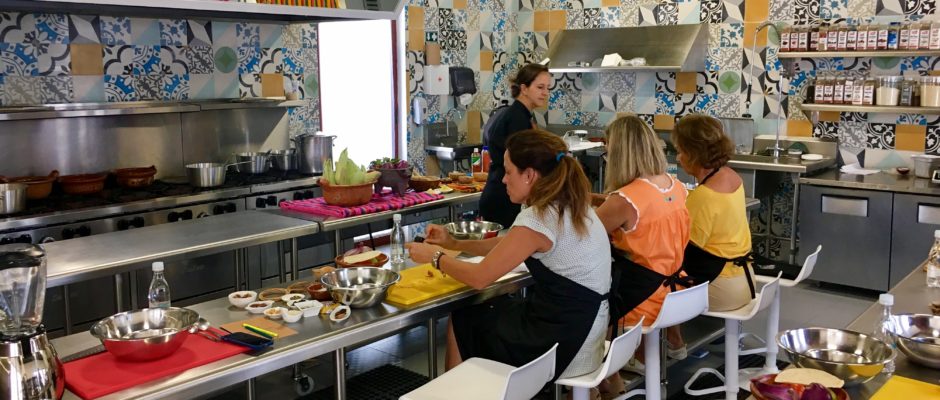 Taking tours to Mayan ruins
It is possible to visit all the Mayan ruins by yourself, but a tour can be not only cost effective but also fun. Here are some of the best tours to Chichen Itza and Coba to consider.
Local in town tours perfect for solo travelers
Here are some local tours in Playa Del Carmen where you can interact with others.
Shopping and strolling
Quinta Avenida of 5th Avenue as it is called in English, is the main pedestrian street in Playa Del Carmen. This street has about 20 blocks of restaurants, shops and attractions. This is a great place to walk in the day and also at night, because it is very different at different times of the day. Here you can people watch, shop, and see some street performers.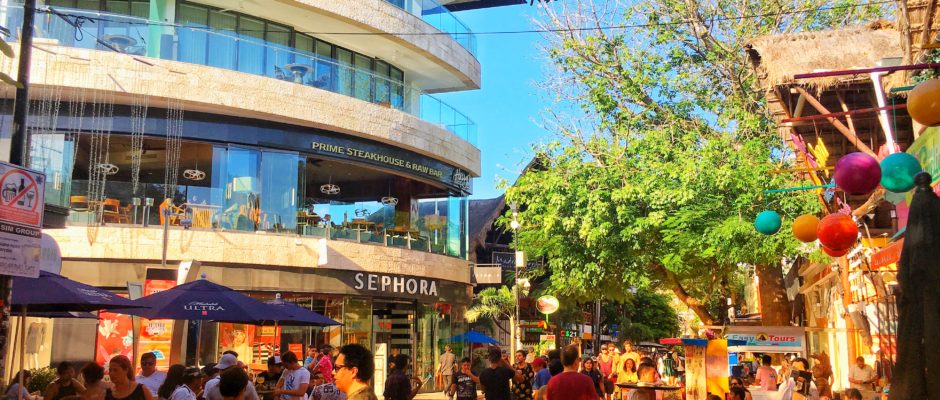 Staying active while traveling alone
Yoga classes are almost everywhere in Playa Del Carmen and Tulum. These are great ways to meet like minded people. Gyms in Playa Del Carmen offer day passes for people visiting. Here you can meet healthy people as well.
If you like paddle boarding you should check out Aloha Paddle Club. This is a great way to meet locals and other tourists while getting out on the ocean.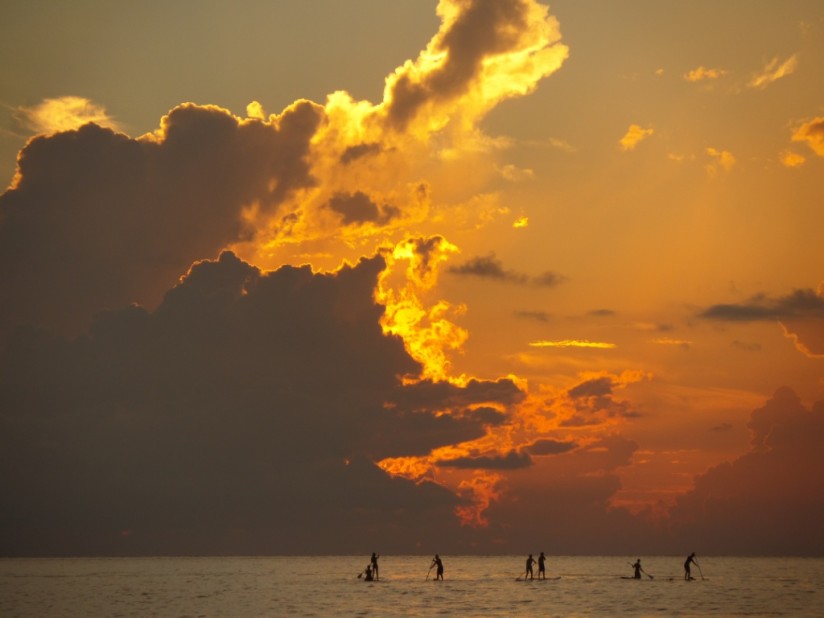 Tips for solo travelers to the Riviera Maya, Mexico
Here are some of our best tips for those traveling alone. Some of these tips can save you money and others can just make your trip more enjoyable.
When booking a hotel room, make sure you select one adult. Some website automatically selects two people. Some hotels have discounted rates for single travelers.
Bus travel is very affordable, clean and efficient. The main bus company is ADO. They have service from the airport, towns along the Riviera Maya, and other points in the Yucatan Peninsula. This is a great way to get around if you are traveling solo.
Make sure you book somewhere with Wifi. Traveling single often gives you a lot of free time and you want to share the experience with others. Some hotels only have wifi in the lobbies which is not very convenient since most people want to be in bed using internet.
Enjoy eating out. Take your time to enjoy the meal and atmosphere. So often a single person will eat fast and be done in half the time it normally takes with two people. Take your time to experience the restaurant. Read a book or even sketch during dinner.
Get out and explore! Traveling single gives you ultimate freedom to go to any place you want and explore your interest. The Riviera Maya is not just about the beaches. Take time to explore the colonial cities nearby, cenotes and Mayan ruins. Three close by places that cater more to independent tourist are Holbox, Bacalar and Valladolid. Be sure to look at these for a possible visit.
Thank you for reading our guide to solo travel to Playa Del Carmen and the Riviera Maya. Let us know if you have any tips for other single travelers in the comments below. Also be sure to check out our other travel guides here.