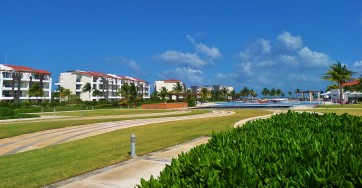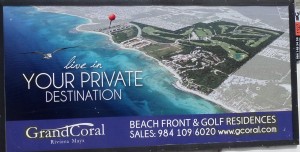 At the north end of Playa Del Carmen there was a very ambitious project to build a huge development called Grand Coral. You might have seen the signs advertising it like the one to the right. You can see the green area as being the  whole Grand Coral development and where the red pin is, that is the Mareazul development. Mareazul is huge in size in its own right.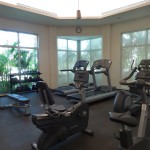 Mareazul is a large complex as well and is just a small part of Grand Coral. Just to tell you how big it is, there is a 10,000 Sq. Ft swimming pool. Also on the property is a spa, gym, and garden space for outdoor entertainment. There is actually double security, security at the entrance to Grand Coral as well as at the entrance to the Mareazul complex.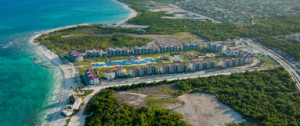 Mareazul offers condos for sale, rent and vacation rentals. Units come in 2 bedroom with 2 1/2 baths to 4 bedrooms with 5 1/2 baths.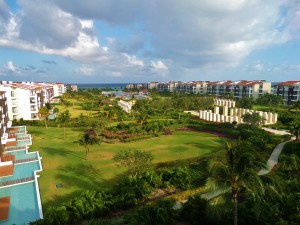 Living
People that buy here are usually looking to invest in a condo that is more secluded from the downtown and has its own amenities and a more remote beach. The beach is not easily walked from downtown and only has a few people on it. Most of the condos have good views of the ocean and get the ocean breeze sweeping into the complex. Being adjacent to the Nick Price golf course is an added perk some people like having by living here. It is predicted that Playa Del Carmen will continue to develop northward and the coast will continue to develop hence raising values and making this more centrally located. Just north of this development are two of the more luxurious resort complexes. Most people that have bought here use the property as an investment, either renting it out or coming for visits and living there when in Playa Del Carmen.
Renting
If you are looking for a long term rental on a luxury property in Playa Del Carmen then you might look here. It is definitely somewhere you will want to have a car. It is about a 7-10 minute drive to the center of Playa Del Carmen and there are no stores or attractions within walking distance. It is a quiet complex with very few people renting or even using their units. This would be ideal if you want seclusion and not to be bothered by the outside world. People that live here are used to driving everywhere but coming home to a large space both inside and out. Currently there are very few people that live here all the time so you will have the pool and beach to yourself. Compared to Playacar on the other end of Playa Del Carmen, this complex is very quiet feeling and has immediate access to the beach with a great pool. Playacar is more walkable and does afford you an opportunity to walk into town or catch a taxi a little more easily. Playacar is an older development that has been more development around it and Mareazul is more at the edge of Playa Del Carmen now.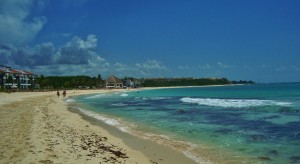 Vacation Renting
There are many units available for nightly and weekly stays. If you want one place to come to Playa Del Carmen and stay without being in the center, then you might like it here. It is very quiet. We have visited this property several times and often only see 4-6 people at the enormous pool.  There is no loud music, no entertainment and not a real onsite food service (except snack bar). You will need to set up or cook your own meals at this property. If you are on vacation without a car then it will mean taking a taxi everywhere. Taxis charge much more to enter the private Grand Coral development so expect to pay 120-140 pesos each way. You can catch cabs out of the property but they can be infrequent and there are empty streets outside the gates.
The people that stay here are the type that want something removed from downtown but close, likely have a car and are more independent travelers that set up tours and day trips by themselves. If you have a group or a few couples looking for a getaway, this could be a good option.
Prices for vacation rentals are about $215-400 a night and $2000-$4000 weekly. That can be a good value with a large amount of people that some of the condos hold.
For both renting and vacation renting you can contact North America Standards Property Management Company at www.nasplaya.com
Or www.grandcoralrivieramaya.com/rentals/