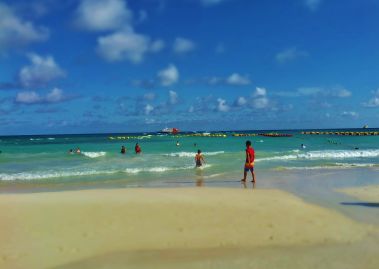 Want to go do Playa Del Carmen cheap? Here is how you can stay on a budget and have a great time exploring on vacation. We tell you have to save money on eating out, cheap tours, and how to get around on a budget.
Playa Del Carmen on the cheap
Does the thought of going on vacation scare you because you think it will cost too much? Maybe a trip to the Riviera Maya is in your budget and more affordable then you thought. Here are several areas where you can save money so you can enjoy what is here.
#1 Transportation to the Rivera Maya and on vacation
Cheap flights to Mexico
Transportation is going to be one of the biggest cost for your vacation. The flight to Mexico is something you can control somewhat. So planning around the best deals on flights will lower your cost. For example, if you have a three month window for your vacation, start looking at flights first to see when the deals are. Also look for alternative airports to travel from. For example if you live in Washington DC  you might also look at Baltimore's airport because it is close and there are direct flights to Cancun from Baltimore.
Choosing an airport to fly into for Mexico is pretty easy since Cancun Airport (CUN) is the biggest and usually the cheapest. For an alternative you can see what prices there are to the international airport in Cozumel (CZM).
Tips for cheap flights to Cancun
Check alternative days and lengths.
Tuesdays and Wednesdays tend to be the cheapest days to fly.
If you live far from Mexico, sometimes booking two separate flights will garner the cheaper price. For example if you are coming to Europe, you might find  cheap flight to Miami and then book a separate flight on another airline from Miami to Cancun.
Some  vacation packages include air and already get a discounted price for you.
You can book one way on one airline and back from another airline.
Sometimes earlier flights are cheaper but make sure you can get to the airport easily, This is important when flying out of Cancun.
If you want to plan loosely, some airlines with put tickets on sale about 14-16 days before the travel date. USairways used to do this before they merged with American Airlines.
Check your local airport's official website and/or Cancun's airport page to see a list of all airlines that fly into and out of the airport. There might be airlines that service the area that you did not know about and that can give you more options for cheaper flight tickets.
Don't try to get the cheapest flights around Easter or Christmas because these are very busy periods here. If you do get a cheap flight you will often be competing for hotel space and probably paying more then other times of the year.
If you are coming from Europe try searching from Manchester on Condor air or Thompson. Usually this is the cheapest route to Cancun and you can easily get a flight from anywhere in Europe to Manchester, UK.
Ground transportation in the Riviera Maya on a Budget
Getting from the airport to your destination:
Depending on how many people you are traveling with and if you are staying at an all inclusive hotel, you can decide what option is best for you.
Cheap transfers from Cancun Airport to your hotel
If you want private transportation from the airport to your hotel or rental then here is a great option! We teamed up with one of most reliable and best priced transportation companies. You can actually go one way for less than the bus and get to your destination faster with this option. To learn more about this private transfer option you can see prices and read our article here.
Cheap public transportation from the airport
If you are traveling solo or with just a few people you might choose taking the ADO bus from the airport to Cancun downtown, Puerto Morelos or Playa Del Carmen. All these destinations have direct busses from the airport. For example a one way ticket from the Cancun airport to Playa Del Carmen is 178 pesos.
You can also take the bus back to the airport in the same way you arrived.
If you are staying at an all inclusive resort see what options they have for transport from the airport. Sometimes it can be very affordable and convenient.
If you plan lots of day trips and you are several people traveling together, you might consider renting a car from the airport and using it for your stay in Mexico. Generally you can consider $40-60USD a day for a car with insurance.
Getting around in the Riviera Maya
How you get around depends on what you want to do. You may want to rent a car, just walk around and take a bus to some places or just take tours with included transportation.
Car Rentals
The real savings come in two ways. If you are a group or family you might want to look at renting a car for the time you are here. It can save on airport transfers and transportation to tourist destinations. This only really saves money though it you plan on doing multiple day trips. We have found that booking online is always better then walking into  a car rental agency. One recommended car rental company in Playa Del Carmen will actually pick you up from the airport if you do a longer rental. You will need to email them in advance to get this service since they are in demand.
Local transportation, colectivos
If you are more independent you can really save money by using the colectivos. These are vans that go from Cancun to Playa Del Carmen and Playa Del Carmen to Tulum. The colectivos stop at all the places in between. Some sample prices to show you just how cheap it is, for example Playa Del Carmen to Tulum for 40 pesos or Playa Del Carmen to Cancun for 34 pesos. Each of those trips is about 45 minutes. Try taking a van for that price in other parts of the world! For more on how to take the colectivos please see our comprehensive article here.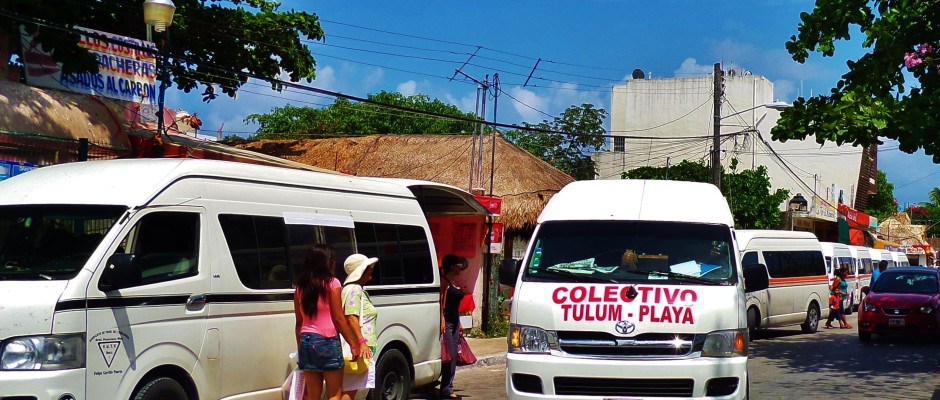 #2 How to stay for cheap at hotels in Mexico
The next big expense is going to be the hotel. Cost for hotels in the Rivera Maya generally go from $50USD a night to $300 a night. There are all kinds of options available, everything from hostels to all inclusive boutique hotels.
Hostels in Playa Del  Carmen
Hostels can start at about $10USD a night for a dorm bed. There are some upscale hostels in Playa Del Carmen as well that will make your stay more elegant then just bed. For a list of the Top 5 Hostels in Playa check out our article here.
Hotels
We have a recommended hotel list to narrow down the search from the thousands of rooms available. We also have a helpful guide on where to stay in Playa Del Carmen. This guides tells you about neighborhoods and what each area is really like.
All inclusive hotels can seem like a total package for your trip. Some have three meals a day included with drinks and entertainment as well. If this is your style of vacation, see if one of these fits your budget. If you figure a budget price of $10USD a meal, so that is $30USD a day on food and for two people that is $60USD and a budget hotel of $60USD a night, that is going to be $180 a day for two people.
You can see how a resort that is close to that price might be a good option for you.  These types of hotels will lower and raise prices according to the occupancy and sometimes there are exceptional deals in lower seasons. Sometimes these hotels will offer cheap prices to get guest on the property only to try to sell you everything else from photos to tours. Look for the details like how much airport transfers are, is there Wi-Fi in your room or is there a fee for that, is there a resort tax, and will you be satisfied with the included dinning options or will you want to upgrade and add more cost for premium dinning? Keep that in mind and mind your budget.


There are also small hotels that may not be found online but offer rates of about 500-600 pesos a night (about $35-40USD). Some of these hotels are right on 5th Avenue in Playa Del Carmen. It might require you finding an email address or phone number to contact them or just walking around and asking. The best places to look for these hotels is from 6th Street until 12th Street on 5th Avenue and from 24th Street to 26th Street also on 5th Avenue. These hotels change prices by the season but often will have a sign out front with a price.
Airbnb
Another form of staying is Airbnb. This is a new concept and a website dedicated to finding accommodation. These are non hotels but often are rental properties that are available by the night, week or month. These often have a kitchen and can save you from eating out all the time. Many of these are right downtown and only blocks from the beach.
Condo Rentals
There are many rental companies that specialize in weekly or other length stays for guest. Some of these can be cheaper then hotels especially if there is a kitchen where you can cook.
#3 Cheap Restaurants and saving money eating
Cheap Playa Del Carmen Restaurants
The best way to save money is by looking at our list of Cheap Eats where you can eat for less than 100 pesos for a meal with a drink. Our lunch guide to great deals also gives you some places to check out that will not break the bank.
If you stay at a hotel that includes breakfast that can save you about 65-100 pesos each morning because that is the minimum you will pay for coffee and something to eat. When booking a hotel take this into account. If a hotel offers a decent breakfast you might want to pay a little more for it in order to save in the end. In case a hotel offers "continental breakfast" ask if this is a box of cereal and a coffee pot. If this is the case then you might want to think again. You will end up going out to eat anyways.
Restaurants will offer deals at lunch time to get customers in. There are some great deals in Playa for lunch. On our lunch guide there are places that will give you two or three courses plus a drink for under 100 pesos! You can have a larger meal in the middle of the day and eat lighter later.
For dinner you can check out Cheap Eats list or if you have a rental with a kitchen you can go shopping for groceries.
Also in evenings many bars and restaurant will offer 2×1 drinks to entice customers in. This can be a nice way to stop and people watch while paying half for drinks. This is usually from about 4pm-7pm.
Saving Money at Grocery Stores
There are several grocery stores in the downtown area that are easy to get to. You can save money by cooking at home. There is prepped food at each store but there is not much for quality choices. If you like basic sushi, the only grocery store that has any is Walmart. You can get a package for about 40-70 pesos and make a meal of it.
Drinks at bars in Playa Del Carmen are relatively cheap compared to most places (60-120 pesos for cocktails and 30-40 for beer). It still can add up though. You can also stock up on your own liquor to do a little drinking at home to save on getting drinks out. Here is a list of places you can buy liquor in Playa Del Carmen.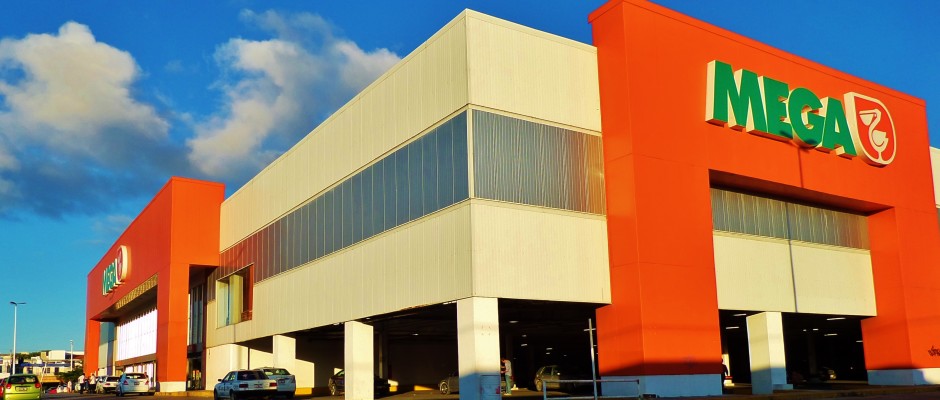 #4 How to Save Money on Tours
The quality of tours and attractions are high in the Riviera Maya. We are really impressed with what you get and often they offer good value. With that being said, many full day tours are $80-100USD each. That can really eat into your budget. Here are some alternative tours and ways to save money.
One great tip from us is booking ahead! You can save 15% off Xcaret tickets if you book 25 days in advance. This is significant because these tickets are more expensive but so worth it! We love this park and it does make for a very full day of activity all the way up until the two hour grand show at night. You can spend 12 hours here in one day and it will be one of the most memorable! Click the link above to save on Xcaret!
If you do want a tour….
Here are some tips to get the best prices on tours and save money.
Buying tours on the street is not really the best deal because the sellers try to sell you the tours that they get the most commission. You can miss out on a better tour just because the seller said it was cheaper or a good deal for you. Don't fall for the 2×1 tours on 5th Avenue. It is a cheap tour that is about 1/2 the price as other tours but not nearly as good!
If we see a good deal on a tour we will have an option on our site to book at a good price.
Tours sold on the street are priced to give commissions to the independent sellers.
You can save money by not paying for transportation to the tour, attraction, or park. Sometimes you can save money by figuring out on your own how to get to, lets say, Xcaret, Xplor, and Xel-Ha. See each of our guides for getting to these parks. We tell you how to get to these cheaply.
If you are a large group, email ahead of time to get a quote for a group price (usually 10 or more).
If you want to dive or snorkel in Cozumel, it is better to book there. Places will sell you a tour on the mainland but only have you meet another company in Cozumel for the tour and pocket the commission. The only time it is good to book in Playa Del Carmen is if the company actually does the tour.
Paying in pesos can sometimes save you money. Some tour operators with take dollars but at a worse rate.
Where should you book a tour?
You can shop around to see what price tour desks offer but there are actually just a few providers. Some care should be given to accepting offers from some independent sellers on the street or small offices because there can be misinformation. Sometimes the entrance fees are not included or meals are not included in the price of the tour and it ends up being more in the end.
Here is a special tip for those that want to go to one of the large parks all owned by the same company. The parks are Xel-Ha, Xplor and Xcaret. Food is included in the ticket price of Xel-Ha and Xplor but Xcaret does not do this. Food is very expensive in the park and you can end up paying a lot more for a day there. If you want to go to Xcaret we recommend you eat breakfast before you go. Plan on eating lunch there and then eating a late dinner after you leave the park. This way you only spend  about $29USD per person for the buffet at lunch (yes it is expensive). There are snack bars in the park but there are limited options however they do have some good burgers.
If you drive to Xcaret park you can even save more money by packing some food and eating at your car. You are allowed to enter and exit the park throughout the day with your bracelet. Note: There are no outside restaurants near to Xcaret. The nearest one is about 15 minutes away on the edge of Playa Del Carmen.
Tour alternatives save you money
This is where you can really save some money. Either by doing a similar activity or doing the tour independently.
Here are some similar activities that can save you some money.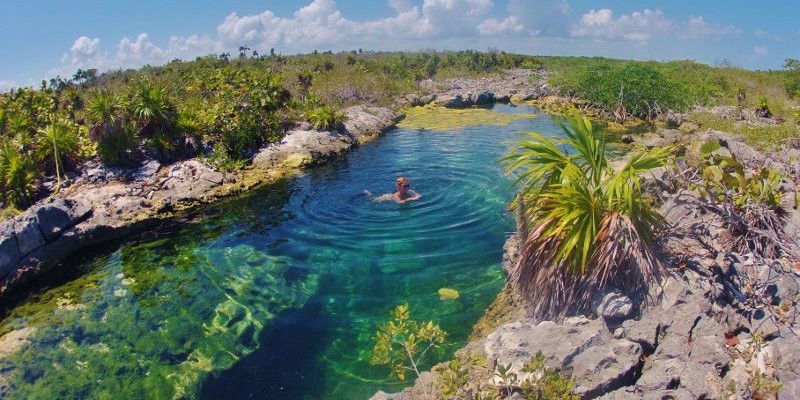 Want some free things to do while in Playa Del Carmen?
See our article on 13 Free Things to do in Playa Del Carmen! here.
Now come on vacation on the cheap in Playa Del Carmen!
The Riviera Maya has a wide variety of services and can accommodate everyone from backpackers to luxury guest. We hope this article helps saves you some  money and makes it more affordable for you to come on vacation here. Come here and enjoy and remember the best parts are free here! All the beaches, swimming in the ocean and sunrises are free everyday!
Do you have some tips for other readers? How have you done Playa Del Carmen on the cheap? Please comment below on how you can save money coming to the Riviera Maya, we would love to hear from you!