Cheap Eats in Playa Del Carmen-Under 100 Pesos!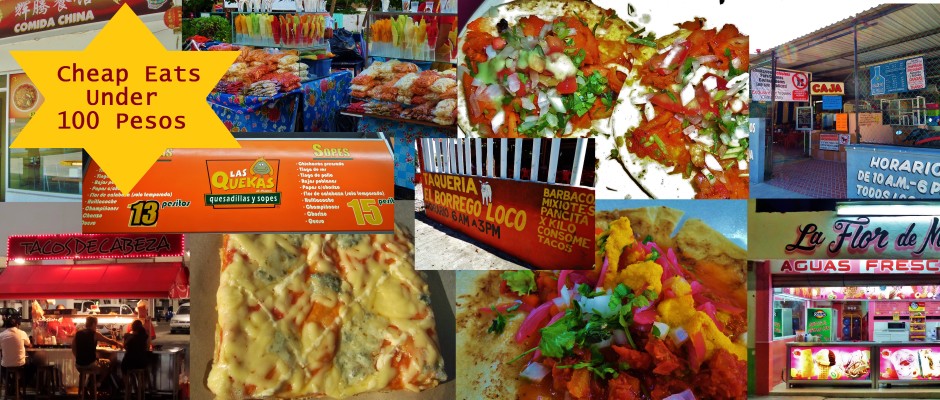 Restaurants in Playa Del Carmen are not the cheapest since it is a tourist town. Playa Del Carmen is booming with tourist so the prices of rent have been going up and that means prices for food have been going up as well. There are still some cheap restaurants in town though. There really should be more inexpensive Playa Del Carmen restaurants because the average person in Playa Del Carmen makes 150-400 pesos a day, that means eating out three times a day can eat up all your money.
If you are looking for other restaurant information in Playa Del Carmen, see links at the end of this article for many more of our guides.
Playa Del Carmen Restaurants that are cheap
We have complied this list of places to eat for those looking for an affordable meal while in town. This should give you a good range of choices.
Our criteria was:
Under 100 pesos.
The places needed somewhat of a consistent quality.
In a location that people can easily get to.
The price would be for food and most likely a drink. Some drinks and smoothies can run 40 pesos so it might not be available to eat for under 100 all the time at each place on the list, but close to it.
We will try to update and keep adding here when we find new places. As it goes with cheap places, they tend to open and close faster then other places.
If you eat at one of these places, mention you saw them here. Not that we make any money off this list in any way, but it is nice to hear feedback from restaurants that the list we provide is helping support small restaurants and helping people find good deals and good restaurants in Playa Del Carmen. It is also good for restaurants to know how people find them because so many of then spend precious resources advertising. Some restaurants pay for advertising when they may not actually get much in return. Help small businesses keep prices low and help them find the best ways to reach people.
Happy cheap eating everyone!!!
Our Video of Cheap Restaurants in Playa Del Carmen
Here is just a short video we made about some of these restaurants. Sometimes seeing things and actually being able to explain them in person is the best way. So we wanted to make this short video for you.  See the whole list of Playa Del Carmen restaurants below.

Playa Del Carmen Restaurants Map
We made this interactive map for you so you can find these great cheap eat restaurants in Playa Del Carmen. This map can make it easy for you see what is near to where you are staying. If you love one of these make sure you let us know in the comments below.
Cheap Restaurants in Playa Del Carmen
Chez Celine
We were really surprised to find out that this popular restaurant with good French quality has a menu each day that includes drink for under 100 pesos. Chez Celine is located on 5th Avenue and 34th St. Everyone knows this place as a great breakfast spot but now you can have lunch here as well on a budget.
Papa Charly Pasta Factory
This place is one of our favorites for lunch and offers an awesome combo meal deal. It is a little out of center but so worth the walk. You can have a drink of the day, salad or pasta dish, main plate and a desert for under 100 pesos!
The place has a menu of the day for 90 pesos that includes drink. Not only is this a great price it is also great quality and this makes this one of the best on this list to eat at! You will be treated like you are at a nice restaurant and feel like it too but only pay a little. You do have to go before 5:00pm though because they are only open weekdays 9:00am-5:00pm. Find this hidden Playa Del Carmen restaurant and enjoy a good meal here!
This small place is in Colosio neighborhood and offers some healthy cheap eats. They have juices and sandwich style food. Menu items are about 50-60 pesos each and with a juice that makes it about 80 pesos to eat here. They have a nice outside seating area. This is on 10th Avenue between 68th Street and 70th Street. Open daily from 7:00am-1:00am.
This is on the south end of town on 10th Avenue near Juarez Avenue. This is normally know as a seafood restaurant but they also do a menu of the day for only 75 pesos. This is from 2:00pm-6:00pm daily. What is different about this place is they offer a lot of options. This is their way to make the restaurant affordable to everyone.
El Arbolito Taqueria
This simple and really homemade taco restaurant in Playa Del Carmen will make you want to eat tacos all the time. We first found them in Puerto Aventuras and now they have brought their tacos to Playa. You can choose from 25 types of filling and you get hand made tortillas. Each one is just 12 pesos. You can really eat here on a budget.
El Arbolito Taqueria is on 8th Street between 10th Avenue and 15th Avenue.
Robin Bagels
Handmade bagels and sandwiches that are a great value can be found here. This restaurant is out of the center of Playa Del Camren but a great find and pilgrimage if you want to go. You can get sandwiches here from 40 pesos and drinks for under 20 pesos. For more on this restaurant in Playa Del Carmen see our article here.
Chimi Churri
This is a taste of Argentina in Playa Del Carmen. The lomito sandwich is a really good and don't forget to add chimi churri sauce. They also serve up empanadas. Sandwich prices are 50 pesos. This place is located on 6th St between 10th and 15th Avenue. Open from lunchtime until late in the evening. This place is small so keep an eye out for it. It is on the south side of the street in the middle of the block.
This is an Italian restaurant/café that has handmade pasta for under 100 pesos. You can get a dish for 80 pesos and drink for 95 pesos. Considering the clean and friendly place plus the fact they hand make everything, that is a great deal. This is a lunch spot and is located on 15th Avenue on the south end of town between Juarez Avenue and Calle 1 Sur.

Café Guajira
This is a family run little restaurant on 6th St between 15th and 20th Avenue. They have been a staple Playa Del Carmen restaurant for some time now. They offer breakfast and lunch items. Open from 8:30am-5pm Monday-Saturday. They offer a range of sandwiches and burgers for about 40-55 pesos and will usually have a promotion of the day. You probably have seen the delivery guy for this place. He rides a bike all around the city delivering their food. They do deliver only in the central downtown Playa Del Carmen area. If you want to order their number is 147-1265 (local land line number).
Rincon Yucateco
This is an authentic Mexican restaurant that serves regional food from the Yucatan. Each day there is a special for 73 pesos (drink separate). This restaurant has an open air palapa and serves up some of the best Yucatecan food in Playa Del Carmen. Open Mondays-Saturdays 8:00am-5:00pm. For more on Rincon Yucateco Restaurant see our article here which includes a video.
Guacamoles Restaurant
It is located on 10th Avenue between 8th and 10th Street. This festive Mexican place offers daily specials for under 100 pesos. This block has a few places on it that are on this list so you can look around and pick which one you want. This restaurant is also popular with the late night crowd for eating.
Dona Paula's Restaurant
By popular demand we are adding the Dona Paula Restaurant to the list. There is no sign so just look for the blue building set back from the street on 6th Street between 10th and 15th Avenues. This has been a long time staple in Playa Del Carmen and gets construction workers and budget seekers for the Mexican cooking. The women working here are very sweet and cook like they are at home. Prices are listed on neon paper signs out front. Most prices are about 40-60 pesos for a meal with drink. It is not the cleanest place but authentic and a neighborhood restaurant. Open all day and late until about 10pm.
Mi Kfe
Looking for Venezuelan food? Mi Kfe is a tiny place on 10th Avenue between 6th and 8th Streets that served up arepas Venezuelan style. This tiny café makes everything to order so it is not fast food but you will never get a bigger smile from the woman working there. Prices run from about 40-75 pesos plus cost of drink. They also sell bags of coffee from the local roaster Kaawa just in case you want to buy some good coffee.
Brochetas Restaurant
This restaurant is close to Mamitas Beach on 28th Street so it is a great place to grab something before or after the beach. Brochetas has skewers with fries or broccoli. It taste great and can be healthy for you. They also have mini burgers now. Combos start at about 80 pesos and with drink add 15-20 pesos.
Euro Grill
The Euro Grill is about the only place on 5th Avenue you can eat for under 100 pesos. This place offers a variety of sausage. This price is 65 pesos now. Located between Constituyentes and 20th. St on the east side of 5th Avenue.
Antojitos Playa Del Carmen
Salbutes are a very Yucatecan food that uses a fried tortilla with toppings. They are really yummy! Antojitos Playa Del Carmen is a local favorite spot for salbutes. It is located on 30th Avenue between 2nd and 4th St. on the east side. The sign is not visible from the outside so you can see more photos of the place in our article about salbutes in Playa Del Carmen. These delicious items for 7-12 pesos each. Most people can eat 2-5 per sitting. They have really good fresh juices here as well. Sitting is inside at picnic tables. You can get them to go if you want to enjoy them in another place.
Tortas Santa Fe
This convenient sandwich shop has huge tortas (sandwiches) for only about 48-60 pesos. They are make them fast and fresh! The fresh waters like lime and chia are a liter for only 20 pesos and will help wash down that huge torta.
This sandwich shop is on the corner of 30th Avenue and 16th Street right across from Mega grocery store. Make sure you get here before 6:00pm because they are only open during the day. If you read the comments below, people really like this place! This is one of the most popular cheap eat restaurants in Playa Del Carmen.
Cheap Chinese
People in Playa Del Carmen know that Asian food is a little hard to come by and quality Asian food even harder to find. Here is a cheap Chinese food restaurant in the center of Playa Del Carmen. You know you feel like something fried something salty and something with grease sometimes. Prices are based on the amount of sides you get but you can eat for as little as 32-48 pesos plus cost of drink. The location is right next to the AKI supermarket in the same building located on 30th Avenue and 12th Street.
Kiwis Restaurant
 This local favorite is not called by it's name (Kiwis) and people just know it by location. It is located on 10th Avenue between 8th St and 10th St. This place is what you might call a greasy spoon. You cannot beat the 25 pesos super torta they serve up. They have a selection of burgers and sandwiches. Their big smoothies are good too and cheaper then some other well know places in Playa Del Carmen. Seating is limited to the counter inside or the few tables. It can be pretty hot during the day here. This place is always open and is popular with the late night crowd that has been out drinking and wants a greasy burger to soak up the alcohol.
Asadero El Pollo
This is a long running roast chicken restaurant in Playa Del Carmen. They offer good value and meal packages. Here they offer packages for 60 pesos which include cut up roast chicken, rice, tortillas, salsas and a drink. The also have large packages for 110 pesos that can feed two or three people. That package does not come with a drink though. This is one of our favorite places to get chicken. This place is located on 20th Avenue and 2nd street on the corner.
You can see our video on YouTube here about this restaurant.
La Brocherie
This Playa Del Carmen restaurant is a French roast chicken place actually run by a French chef. They have good value herbed chicken packages starting around 60 pesos to 75 pesos which includes a drink. Paninis are served here as well. They are located on 15th Avenue between 4th and 6th St. Closed Sundays. Open Monday-Saturdays from around 10:30am- about 10pm or later depending on business. This location offers an enthusiastic tri lingual chef and a nice café feel all for a small price. Make sure you save room for dessert.
El Pechugon
There is a good chicken place on Juarez Avenue located at the corner of 10th Avenue called El Pechugon. This walk up restaurant with limited seating offers roast chicken with great mini roast potatoes. Meal packages go for about 49-70 pesos. This place is a good place to pick up something before going to the beach.
Tacontenedor
Seafood tacos in Playa Del Carmen can be found at a good price at Tacontenedor. This small place just off 5th Avenue offers up a good taste and quality. Tacos go for about 25 pesos each. Check for their daily promotions like the large marlin fish burrito for 50 pesos. You can find specials listed on their Facebook page. This place is located on Constituyentes Avenue between 5th and 10th Avenue. This place was listed for best seafood tacos in Playa Del Carmen by us.
This place is worth a mention because it is very good and something different. This taco restaurant is on 30th Avenue near the corner of 38th Street. Look for the orange awning. See our video here of this small Playa Del Carmen restaurant.
Taqueria Borrego Loco
Want some lamb tacos? Soft, tender barbacoa style meat with chopped onion and cilantro toppings. Tacos are 15 pesos each and they have some combo specials with soup but you have to ask, this place has no menus. It is a real local place and poplar on Sundays. Only open 6am-3pm so don't go late. Located on the highway road just north of Constituyentes Avenue on the east side. For more on lamb tacos in Playa Del Carmen you can read our article.
El Fogon
This taco place is the quintessential taco restaurant in Playa Del Carmen. They have two locations that are easy to get to in Playa Del Carmen. One on 30th Avenue between 6th and 8th St. and one on Constituyentes Avenue between 25th and 30th Avenue. We do like the first one the best though. Tacos go for 7-15 pesos. Try the local favorite drinks of horchata and Jamaica.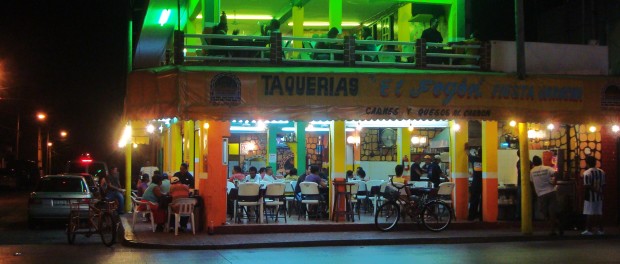 Don Sirloin Restaurant
Don Sirloin has two locations in the center of Playa Del Carmen. One on 10th Avenue between 12th and 14th St. and one on Constituyentes Avenue and 25th Avenue. Both serve up the same things and most people go for the tacos. Tacos go for 7-15 pesos each. The location 10th can be entertaining at night because it is close to all the nightclubs. They are open late into the night to serve the party crowd and open in the day to serve those looking for cheap tacos.
Tacos De Canasta
Have you tried tacos de canasta? That translates to tacos in a basket because they pre-make the tacos and stack them in a basket. The nice thing is that the flavors get soaked up in the tortilla. This place serves up different types of tacos. Known as just the taco de canasta place, it is located on 30th Avenue between 20th and 22nd St. Don't pay attention to the sign with hours, they are open everyday from about 8:30am-3pm. Although don't go to late because they run out sometimes. Tacos are 8 pesos each.
Taco Cart
This local taco cart is run by a sweet woman names Juana Cortez. She opens Monday-Saturday 8am-2:30pm. The serves up three types of tacos 10 pesos each, chilies rellenos for 20 pesos(which are a stuffed poblano pepper) and starting soon burritos for 30 pesos. She is located on 14 Bis Street (14 1/2 St) between 30th and 35th Avenues. Near Mega grocery store.
Las Quekas
This is practically an institution in Playa Del Carmen. They are a real Mexican quesadilla place that makes handmade and ready to order quesadillas for you with a range of fillings. They do have a few other things on the menu as well. The taste is fresh and salsas are good. There are multiple locations in Playa but here we list the two most accessible ones. One is located on the corner 30th Avenue and 14 Bis St. and another one is on the corner of 10 Bis St and 15th Avenue. Prices are about 13 pesos for each quesadilla and they are a decent size and filling. They have inexpensive drinks as well. This is a good late night places since they are open till late.
Las Quecas
This is an old favorite of locals right on 6th St between 10th and 15th Avenues. It is authentic quesadillas made to order. You can even get some very Mexican fillings like the fermented corn. The quesadillas are large. Prices are 22 each and a liter of drink is 23 pesos. Open very late till about 4am.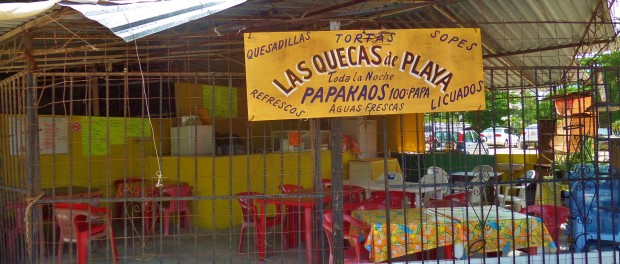 Tamales
Don't forget this very Mexican of foods. There is a street corner stand that sells tamales everyday. Tamales are 14 or 15 pesos depending on the kind you get. They are open from afternoon until about 1 am. They are located on the corner of 12 Bis St. and 30th Avenue (next to the fabric store). There is no seating really so plan on getting them to go. They are a good size and very filling. Try the sweet ones as well. Their red salsa is homemade and unique. For more on these tamales in Playa Del Carmen check out our story.
Hot Restaurant
Hot Restaurant is on the north end of 5th Avenue between 38th and 40th streets.  This is  café/Sandwich shop with juices and coffee  you can get a nice toasted sandwich for 68 pesos and a drink for 28 pesos. Check them out during the week for 2×1 specials on either drink or food.
Mama Mia Pizza
Pizza is always a cheap option. We named Mama Mia Pizza on 2nd. St the best street pizza in Playa Del Carmen. Prices range from 15-27 pesos a slice. They do have multiple locations in Playa. Our favorite is on 2nd St. between 10th and 15th Avenue. Another convenient location is on 10th Avenue between 8th and 10th Street.
This  food market in Playa Del Carmen has small food stalls and some options to choose from. There are tacos, sandwiches, and more. It is located on 10th Avenue between 8th Street and 10th Street.
Our other guides for Playa Del Carmen Restaurants
If you liked this guide to cheap restaurants in Playa Del Carmen, also be sure to check out our other guides like out our huge Restaurant Guide to Playa Del Carmen, Where to Eat in Playa Del Carmen in one week guide, Breakfast Guide to Playa, Bakery Guide and Coffee Shop Guide to Playa Del Carmen. Our lunch specials guide is great to because you can often eat a three course meal for under 100 pesos at some good restaurants in Playa Del Carmen.
Did you enjoy this list of cheap Playa Del Carmen restaurants? What is your favorite cheap eat place? Let us know in the comments below. We would love to hear from you.