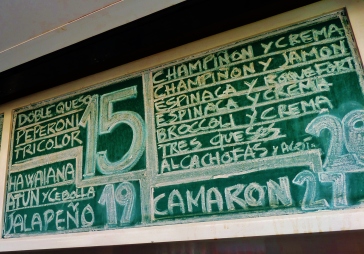 Mama Mia Pizza on 2nd Street has a great consistant slice or pizza for you. They usually have 5-7 different kinds of pizza ready for you and can heat it up for you in a few moments. The crust is light and flaky, not too big and not thin crust. We highly recommend the "tres queso" slice. The three cheeses includes a gorgonzola/blue cheese which is hard to get in products here since it is imported and more expensive. Last time we were there we saw two Mariachi players eating pizza, it must be good if these locals are eating there! Check them out the next time you are in the area.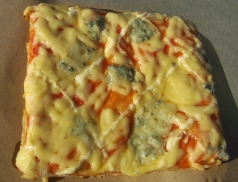 Price of a slice of pizza
Cost are based on topping but are mostly from 15-to 20 pesos a slice.
Location
Mam Mia is a chain and has several locations in Playa Del Carmen. the newest and most central location is on Constituyentes Avenue between 25th and 30th Avenue.
If you like the sound of this pizza and the price, be sure to check out our article on Cheap Eats in Playa and all the places you can eat for under 100 pesos.
If you are looking for good pizza from a sit down restaurant or take out you might also like to read this article about Don Chendo Restaurant.
Have you been here? What did you think? Let us know in the comment box below. We would love to hear from you.