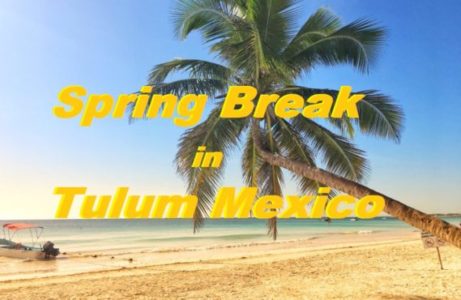 Spring Break Tulum Style
Spring break in Tulum is a growing trend among younger people looking for that warm beach getaway. Tulum offers spring breakers a little more upscale beach retreat or even that bohemian backpackers paradise. In this guide we will show you how to have the perfect spring break in Tulum. Everything from where to stay, what to see, the best beaches and how to get there.
Lets start with some basics of where is Tulum and how to get there.
Where is Tulum and how to get there
Tulum is in the Riviera Maya on the Yucatan Peninsula of Mexico. Tulum is about 1 1/2 hours south of Cancun and about 40 minutes south of Playa Del Carmen.
How do you fly to Tulum Mexico? Well Cancun Airport is going to be the one you fly into and then you will need to choose how you are going to get to Tulum. Below we list the three best ways to get to transfer from the Cancun Airport to Tulum. Since Tulum is a little farther away from the airport than other beach areas, it is good to plan ahead, especially after a long flight.
The best ways to get to Tulum from the Cancun Airport
The best option is a private transfer from the Cancun Airport to Tulum and your hotel. This is the fastest option, it offers a discount for a round trip purchase, you have a private driver that picks you up from the airport. This option is good if you don't want to take buses or multiple forms of transportation or have several people traveling together. The private transfers are recommended because taxis at the airport have no set prices and often are more expensive than the transfers. Uber does not operate from the airport or anywhere in the Riviera Maya. It is best to reserve a transfer now before your trip so you have is all set for your vacation.


These are what the private airport vans look like that will transport you to your hotel or rental.

ADO bus is the only public transportation from the Cancun Airport. There are a few buses a day that leave from the Airport to Tulum. You can check the current schedules on their website. If your flight does not line up with one of these buses you can take any bus to Playa Del Carmen and transfer to a Tulum bound bus from the same station. If you take two buses it will take about 2 hours or more to get to the center of Tulum. It should be noted that if you are not staying near the bus station in Tulum you will need a taxi. Taxis in Tulum are not that cheap nor have meters. If you are staying in the beach area we recommend a private transfer.
Renting a car. If you are going to be doing some day trips or driving around, a car can be a good option. See our driving in the Riviera Maya guide and how to avoid scams at the gas station if you are going to be renting a car.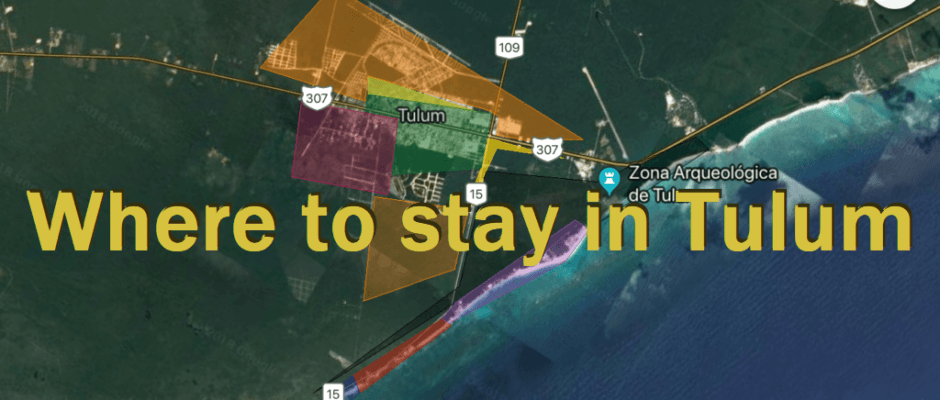 Where to stay in Tulum
There are basically two sections of Tulum to stay in and much will be based on your budget. There is the downtown area and then there is the beach area. See the photo above because Tulum really is divided up into different areas to stay. We will break down these two areas below and mention a few good places to stay. Be sure to book as soon as you can because places sell out fast.
Staying in the downtown of Tulum for spring break
The downtown of Tulum is generally much cheaper than at the beach. Here you can find everything from hostels, basic hotels, and boutique hotels.
Budget places
Midrange places to stay for spring break in Tulum
High end places to stay in Tulum
Staying in the Hotel Zone of Tulum
This area is close to the beach and some of the hottest restaurants and beach clubs. It is spread out, so having a bike is a good way to get around. Taxis can be very expensive to the downtown area (like $30 USD depending on time of day and amount of persons). There are limited food stores in this area so be sure to stock up before you make you way here.
Budget places in the Hotel Zone of Tulum
Midrange places to stay
Top end suggestions for spring break in Tulum
For more on the best area to stay in Tulum see our guide here.

Best beaches to go to and where to spend the day
If you go for spring break in Tulum you are definitely going to want to go to the beach! If you don't stay in the hotel zone of Tulum then that means you will be biking or taking a taxi to the beach. What are the best area to go to? Well that depends on what you want. You have two options. One is a beach club that has services like a bar, music, beach beds, and food and the other option is just the beach.
Beach Clubs in Tulum
The beach clubs in Tulum are more upscale and trendy and that is why you can find many celebrities visiting. With that being said, here are some of the ones that will appeal more to people going for Spring Break. Expect to pay $50-$150 USD for the day on food, drinks and access. Many come with a minimum consumption charge.
Beaches to go to in Tulum
All beaches in Mexico are public but access to them is not. Only at public access point can you pass to the beach. The beach road in Tulum has a few places that allow public access. Most of the places on the southern end of the beach road are all beach clubs and there is very little access to the beach. Where you can access the beach, it is not the best. The best beach in Tulum is called Playa Paradiso. This beach is on the north end of the Tulum beach road.
To get to Playa Paradiso area you can bike or take a taxi (see our Tulum transportation guide). Taxi can be rather expensive in Tulum so a bike is a fun way to get to the beach. You can rent them all over downtown for about $10 a day. From the main road in the downtown there is a bike path to the beach road. When you reach the traffic circle take the road going left. After going about 2.4 km (1.5 miles) you will see a faded sign on your right for the beach and a small beach parking lot. You can walk on to the beach and pick a place to go. There are a few small bars/restaurants and a few beach clubs like the one at Hotel Zazil Kin.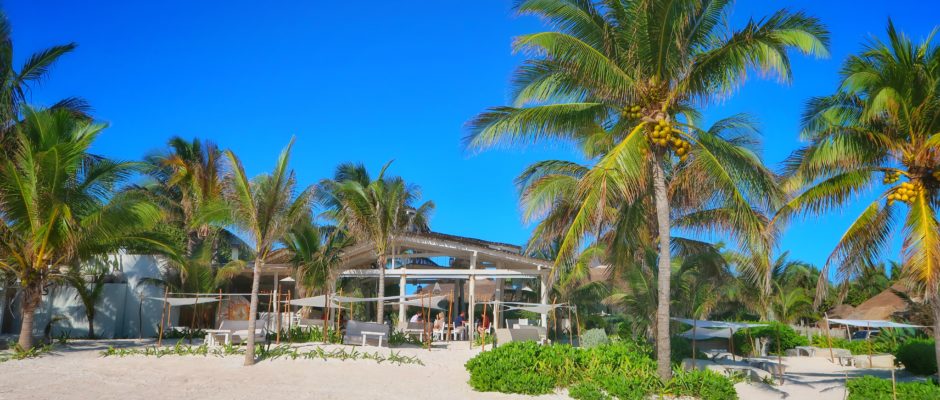 Day trips and really fun things to do around Tulum for spring break
Tulum is a central spot to a lot of adventures. You can swim in cenotes, dive and snorkel, visit eco parks or take in Mayan ruins. Best of all, these are all fun things to do with your friends. Lets start with a map of some of the best Tulum activities available. You can click on the map to see what each marker is.
Cenotes close to Tulum
Cenotes are something that make the Tulum area special. These are fresh water swimming holes where the ground water has worn away the limestone. Some cenotes are open and some are still with roofs in caverns. To many people, this is one of the best natural things to do in Tulum. The best thing is, there are a lot of good options to choose from while in the area. Here are our favorites.
Grand Cenote in Tulum
This is one of the most popular cenotes not only near Tulum but also in the Riviera Maya. It is popular because the water is crystal clear and the setting is gorgeous.
Entrance is 300 pesos and it is open daily from 8:00am-4:00pm. This cenote is close enough to Tulum to bike to. Just be careful along the road because it is a two lane road with small shoulder.
Cenote Cristal and Escondido
Cenote Cristal and Cenote Escondido are two cenotes across from each other just south of Tulum. Both of these cenotes are open, meaning not in a cavern. Around the two cenotes you can find tropical plants and places to lay in the sun.
It is possible to bike to these cenotes if you don't mind the two lane road leaving Tulum. The one entrance price of 120 pesos gets you into both cenotes.
To read more about Cenote Cristal and Cenote Escondido, see our article here.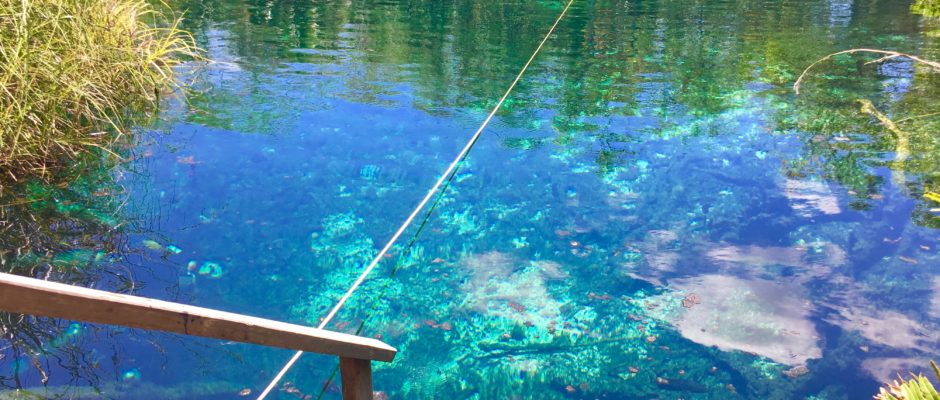 Eco parks to visit and have fun
These are not just parks with nature. These have zip lines, waterslides, and a whole lot of adventure! See what each one offers.
Xel Ha
The biggest one close to Tulum is Xel Ha. This is an all-day park where you can swim, snorkel, and have fun in the sun. We could write more but our video here shows you pretty much everything you need to know about visiting here. This should be a top pick for spring breakers because it is so much fun!
If you want to go to Xel Ha the best way to buy tickets is online here. Buying in advance can save you up to 15% off.

Xplor Park
This is the best place for adrenaline junkies! Xplor Park is the best place for zip lines in Mexico! Enjoy a full day going around this park with all food included.
If you like the looks of Xplor the best way to buy tickets is online here at the official website. Click the reserve now button and save when you buy in advance.

Mayan ruins near Tulum
Taking in a little culture never hurt anyone and with the Mayan ruins nearby you can feel like Indian Jones. Here are three of the closest and most popular Mayan ruins to Tulum.
Tulum Ruins
Tulum ruins are easy to get to from the center of town. Most people come just for the view and a photo since the bluff where these ancient ruins sit is so picturesque.
Muyil Ruins
These are the much lesser known ruins just south of Tulum. Muyil ruins are small but there is a nature tail in the back that leads to a lagoon which is nice. You can also use a tour here as jumping off for the Muyil river float. This is a really cool adventure you can do.
Coba Ruins
Coba ruins are about 45 minutes inland form Tulum. What makes these ruins so much fun to visit are the bike paths and bike rentals. The ruins are set in the jungle and most people rent bikes and go on the trails between areas. This is about a half day adventure from Tulum.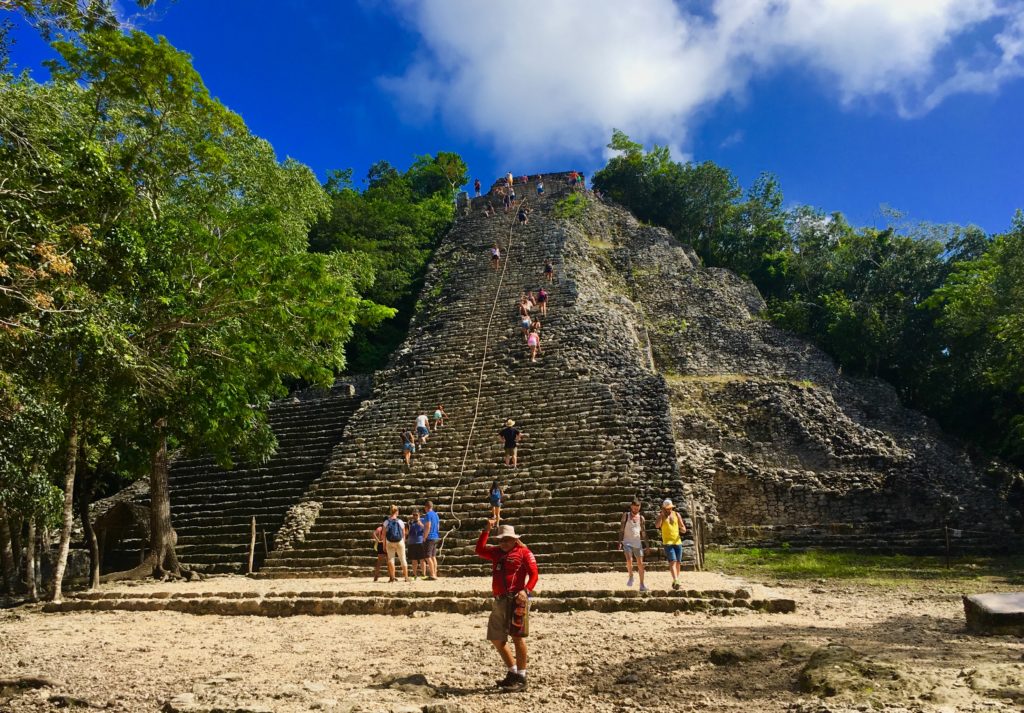 Safety for people on spring break in Tulum
If you are a parent sending your child on spring break to Mexico or a student, you will want to know about safety. In general, Tulum is requires a little more caution than Florida for spring breakers. We say this only because you are in a different country and there are different circumstances that spring breakers can run into that you would normally be accustomed to what to do in certain circumstances.
Here are some important tips for having a safe spring break in Tulum:
In general Mexico and the Riviera Maya is a very safe place to travel. When people come to party, the chances of getting into a bad situation become much greater. Being prepared and knowing what to do in certain circumstances will make for better decisions and a safer time in Mexico.
Thank you for reading our Spring Break in Tulum guide. If you have any questions or comments about places you like, let us know in the comments below.
See our guide also for Playa Del Carmen spring break! If you want to know how to get from the Cancun Airport to Tulum we have a full guide here.